Latest News, Tour Updates and More!
Welcome to our Latest News page where you can get summaries from the latest Zoothera tours, as well as other information. To sign up and receive our new E-newsletter with tour updates and more Click Here. Why not take a look at the Zoothera Blog for more tour news....


Check out some of our tour photos on Flickr - Zoothera FLICKR photos

We have also started to upload some videos on YouTube - Zoothera videos

Check out a selection of videos taken on our tours and we will upload more in due course - Tour Videos.

If you want to book a tour just follow this link - Booking Form
We are busy working on a new website design, so please bear with us as we change our tour itinerary format. A new Homepage has been created and we aim to have our new 'mobile friendly' website up and running just as son as we can.

In accordance with 'The Package Travel and Linked Travel Arrangement Regulations 2018' all EU/UK passengers booking a holiday are fully protected for all monies paid, arising from cancellation or curtailment of your travel arrangements due to the insolvency of Zoothera Global Birding Limited, who takes all payments. When booking a holiday, your booking is insured through Protected Trust Services (Member No 5396) and its panel of insurers. This insurance is only valid for passengers who book direct with Zoothera Global Birding Limited.
See our Terms and Conditions for more information.

Our Colombia - Andes & Santa Marta tour has just finished with over 550 species seen including 12 antpittas and 70 hummingbirds amongst a mouth-watering selection of other iconic South American birds. Our tour followed a special route across the majestic Andes beginning with a number of sites around Bogota seeing Bogota Rail, Sword-billed Hummingbird, Blue-throated and Golden-bellied Starfrontlet, Coppery-bellied Puffleg, Rufous-browed Conebill, Silvery-throated Spinetail, White-chinned Thistletail, Spillmann's Tapaculo, Plushcap, and more! Moving on to Otun-Quimbaya we were treated to Colombian Screech-Owl, Hooded & Moustached Antpittas, and Multicoloured Tanager for some. Montezuma and the fabled forests of Tatama National Park held numerous flocks with such iconic birds as Orange-breasted Fruiteater, Gold-ringed, Purplish-Mantled, Rufous-throated & Black-and-gold Tanagers, Chestnut-bellied Flowerpiercer, Munchique Wood Wren, Olive Finch, Crested Ant-Tanager etc. The hummer feeders at the lodge were mind-boggling with Rufous-gaped Hillstar, Green Thorntail and Empress Brilliant being stand-out birds. Rio Blanco was next up and lived up to all of our expectations with Bicoloured, Brown-banded, Chestnut-crowned, Slate-crowned, and a major surprise in an awesome Undulated Antpitta all being seen at incredibly close range. The endemic Buffy Helmetcrest at Nevado del Ruiz followed, and then we visited yet more antpitta feeding stations where Rufous and the super-scarce Crescent-faced Antpitta showed incredibly well. We also birded Jardin for Yellow-eared Parrot, explored Barranquilla and the Guijara Peninsula for a suite of very localised birds before reaching the fabled Santa Marta Mountains. It just doesn't get much better than cracking views of Rusty-breasted Antpitta and Santa Marta Antpitta here although there's so much more to see here and Santa Marta Woodstar & Santa Marta Blossomcrown were also seen well. What a tour and if you fancy joining us in 2020 then please let our office know - see Colombia: Andes & Santa Marta 2020 itinerary

View our full Colombia tour report

You can get the full story of this iconic tour on the Zoothera Blog at: https://zootherabirding.blogspot.com and see our Colombia photo gallery here - Colombia 2019 Photo Gallery

Our Monsoon India tour was a resounding success and seeing Lesser Florican displaying has to be one of the most amazing sights in nature. The group watched this individual for an hour as it sprang into the air, stretched its wings, tossed its head back, fluffed up its feathers and then dropped to the ground like a stone. It did this numeous times as the group watched - an amazing sight. There was also Rock Bush Quail and Rain Quail in the same area too. The previous day a Leopard was seen, along with Sind Sparrow, several Indian Pittas, 5 day roosting Jungle Nightjars, nesting Black-breasted Weavers and Striated Babbler. Moving on to Kashmir there was Kashmir Flycatcher, Kashmir Nutcracker, Kashmir and White-cheeked Nuthatches, Black-and-yellow Grosbeak, Variegated Laughingthrush, Scaly-bellied and Himalayan Woodpeckers and many other great birds. Our Ladakh extension was amazing with up to 100 Tibetan Sandgrouse surrounding our car at one point. We even found a pair with 2 recently fledged chicks. Other great birds included Tibetan Snowcock, Black-necked Crane, Ground-Tit, Great Rosefinch, Brown Accentor and both Blanford's & Black-winged Snowfinches. You can see photos from this tour here: Monsoon India Gallery

NEW TOUR! By popular demand we have added a brand new tour to search for the most magnificent predator on the planet - Snow Leopard. Our Ladakh tour ventures into the heart of Hemis National Park in Ladakh, India and we will spend a week camping in one of the remotest areas you can imagine as we search for the Grey Ghost. We'll have a full ground crew to look after our every need, expert trackers to help us locate this most elusive beast, and all we ask is that you have a reasonable level of fitness to hike to the various watchpoints at over 12,000 feet! This is going to be a true adventure and from experience, there's no bigger thrill than when you first lay eyes on this beautiful cat. There are birds as well of course, with Tibetan Partridge, Himalayan Snowcock, Wallcreeper, White-browed Tit-Warbler, Robin Accentor and both Streaked and Great Rosefinches all present. We will finish a spectacular tour at Tso Kar searching for Tibetan Sandgrouse, Ground-Tit and Blanford's Snowfinch amidst yet more stunning scenery. We can't wait! See here for our Snow Leopard Tour Itinerary.

NEW TOURS! Northern India provides an incredible birding adventure that is almost unparallelled across Asia for the diversity of birds and mammals on offer. Our take on this popular tour is very different to anything else you will see, as this obviously lends itself to two shorter tours. We have designed two back-to-back tours visiting all of the major birding sites and it is possible to do just one or both. Our Northern India tour visits Ranthambhore, Bharatpur, Agra and Chambal River. Highlights include Indian Skimmer, Painted Spurfowl, Indian Courser, Brooks's Leaf Warbler, Sind Sparrow and Tiger. Our Classic Himalayas tour heads up to Corbett National Park, Nainital & Sat Tal. We will be on the lookout for Cheer Pheasant, Pallas's Fish-Eagle, Ibisbill, Wallcreeper, Scaly-bellied & Himalayan Woodpeckers, Rufous-chinned Laughingthrush and Pink-browed Rosefinch amongst others. Let's go birding!

NEW TOUR! We have changed our Amazonian Brazil tour for July 2020. Visiting the bird-rich forests and rivers around Manaus, our itinerary takes in the best of Brazil's Amazon. The list of potential species is huge with a long list of 'Who's Who' including iconic species such as Agami Heron, Harpy Eagle, Amazonian Umbrellabird and others. But just take a look at our West Amazon - Manaus to see more. For a taster just a few of the awsome birds on offer includes Dark-winged Trumpeter, Zigzag Heron, Black-spotted Barbet, Varzea Piculet, Black-necked Red Cotinga, Crimson Fruitcrow, Alta Floresta Antpitta, White-plumed and Harlequin Antbirds, Reddish-winged Bare-eye, Black and Wire-tailed Manakins, Chestnut-belted Gnateater, Pelzeln's Tody-Tyrant, Dusky Purpletuft, Dotted Tanager and much more. See here for full tour itinerary.

NEW TOUR. We have just added a new tour to Coastal Kenya in 2020, visiting Amboseli, Tsavo West National Park, Taita Hills, Shimba Hills, Arabuko-Sokoke Forest, and Tsavo East National Park. There's an amazing variety of birds to see here including Crab Plover, Madagascar Pratincole, African Skimmer, Sokoke Scops-Owl, Sokoke, Malindi and Golden Pipits, Four-coloured Bush-Shrike, Pangani Longclaw, Taita Thrush, Taita White-eye, Yellow-throated Wood Warbler, East Coast Akalat, Retz's Helmet-Shrike, Taita Apalis, Black-bellied Starling and much more. Of course there will be plenty of mammals as well to keep the excitement ticking over and we can only hope for a sighting of African Wild Dog or Caracal, as well as all the usual mammals one would expect such as Lion, Cheetah and Leopard etc. A feature of this tour will be the great lodges we stay at throughout the tour and, in particular, we are looking forward to staying at Shimba Hills Lodge which has a large waterhole viewable from all the rooms here. We can expect great food and have excellent local guides to show us the best of this fascinating country. So we guarantee an exciting ride full of spectacular birds and animals - in fact it's the perfect African safari-birding tour. See here for full tour itinerary.

KASHMIR & RAJASTHAN JULY 2019 Our summer tour to see displaying Lesser Floricans is now a guaranteed departure and Nick Bray is looking forward to leading this small-group tour to one of his favourite countries. As well as seeing the much-wanted florican there's also a great chance to see Bristled Grassbird, Rain Quail, Rock Bush-Quail, Indian Eagle Owl and Leopard before heading into the Kashmir Hills for a whole new range of species. We will be looking for Kashmir Nutcracker, Kashmir and White-cheeked Nuthatches, Rufous-naped Tit, Kashmir Flycatcher, Variegated Laughingthrush, Tytler's Leaf Warbler, Black-and-yellow Grosbeak, Pink-browed Rosefinch and Spectacled Finch amongst others. An optional extension to Tso Kar in Ladakh is also offered as this is the best place in the world to see Tibetan Sandgrouse, which are usually present in good numbers. Also here are Black-necked Crane, Ground-Tit and both Tibetan & Blanford's Snowfinch. See here for full tour itinerary.

NEW TOUR! We have just added a new tour to West Papua in 2020. This is a carefully designed 14 day tour specifically to see as many Birds-of-Paradise as possible without the need for long, tough hikes and by staying in the best accommodation available. And there's definitely no camping! Our itinerary visits Nimbokrang, Arfak Mountains and Waigeo utilising some really good hotels with excellently located homestays. For an opportunity to see the stunning Wilson's Bird-of-Paradise, as well as Red Bird-of-Paradise, Vogelkop Superb Bird-of-Paradise, Twelve-wired Bird-of-Paradise, Papuan Frogmouth, Shovel-billed Kingfisher, Pale-billed Sicklebill, Western Parotia, Masked Bowerbird, Papuan Pitta, Hooded Pitohui, Long-tailed Paradigalla and so many more endemic and rare species: See here for full tour itinerary.

TOUR UPDATE. We have just had a flurry of bookings on our fantastic Uganda tour in July this year and it is now a guaranteed departure. This amazing destination has some incredible birds and wildlife with Shoebill, African Green Broadbill, Green-breasted Pitta, Gorilla and Chimpanzee the stand-out and undoubted stars of the tour. But there's so much more to see as we explore Queen Elizabeth National Park, Bwindi Impenetrable Forest, Lake Mburo, Mabamba Swamp and other sites. Our expert local guide Paul is among the best guides you will ever meet anywhere in Africa and you are guaranteed to have a great time. See here for full tour itinerary.

We have just had a cancellation on our August Colombia Highlights tour that includes a visit to the endemic-rich Santa Marta mountains. This is the classic Colombia tour with the typical Zoothera twist as we add a few differnt sites as well. There's so many great birds with chances of Santa Marta Screech-Owl, Bogota Rail, Blossomcrown, Green-bearded Helmetcrest, Munchique Wood-Wren, Santa Marta Tapaculo, Turquoise Dacnis, Vermilion Cardinal and so much more!
See here for full tour itinerary.

Nick has returned from NE Brazil where an amazing time was had by a great, fun group led by Ciro Albano. With 409 species seen, including 89 endemics it was definitely a quality tour. The Zoothera Blog is up and running and we are already taking bookings for our NE Brazil 2020 tour now. Our tour is devoted to seeing many of the regions spectacular endemics and highly sought-after species such as the incredible Araripe Manakin, Lear's Macaw, Great Xenops, Scarlet-throated Tanager, Slender Antbird, Hooded Visorbearer, Banded Cotinga and Pink-legged Graveteiro. The region is characterised by humid Atlantic rainforests on the coast, and endless rolling hills with dramatic canyons called the Caatinga. The Caatinga is home to a dry thorny forest with areas of more open grassland. It has its own special suite of endemic species that we will enjoy looking for on our many days of spectacular birding. With only 200 birds in the wild it is here that we will find the endangered Lear's Macaw quietly feeding on palm trees, while Atlantic forest and woodlands at Boa Nova with thick vine tangles and terrestrial bromeliads hold some of South America's most endangered species. We will also visit the Serra da Diamantina National Park at Lencois to explore some higher elevation habitats before heading back to the coast. A final visit to some mangroves and an area of cerrado will complete our tour of this complex yet fascinating region. Our local guide Ciro Albano has an unsurpassed knowledge of this region and an enviable reputation for success and finding the target species and we are sure this very special tour will meet the highest of expectations. We are also planning a Manaus & Amazonia tour to Brazil in July next year, so keep an eye out for the itinerary that is coming soon!

Our Yunnan itinerary in 2020 has been altered to include another valley with photo blinds/feeding stations giving us a great chance to observe Grey Peacock-Pheasant, Blue-naped Pitta and amazingly even Collared Falconet and Great Slaty Woodpecker amongst others. Although this is not strictly a photo tour, we cannot think of any other birding tour where you could have a better chance of getting those all-imporant pics of many endemic, rare and localised birds. Walking effort is minimal, although there are optional walks available if the thought of sitting in a hide for 4 hours at a time getting cripplingly close views of great birds isn't appealing! See the Yunnan tour itinerary 2020 here.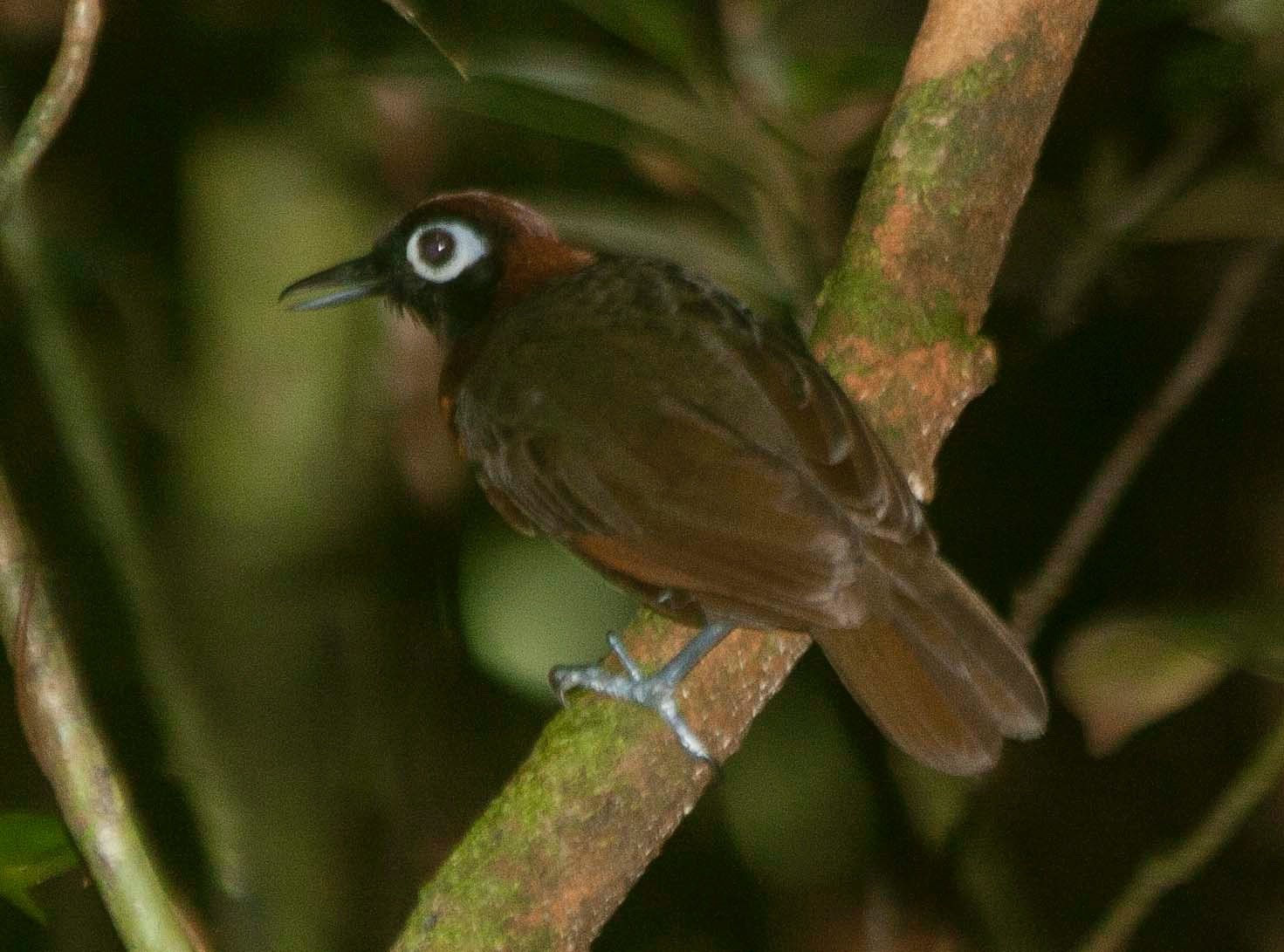 NEW TOUR! We have just added a fabulous new Amazonian Colombia tour visiting Mitú then travelling through the Magdalena Valley in search of even more endemics. Mitú is THE place to find most of the Colombian Amazon species and where mouth-watering highlights could include the stunning Chestnut-crested and White-plumed Antbirds, Orinoco Piculet, Tawny-tufted Toucanet, Bronzy Jacamar, Pompadour Cotinga, Imeri Warbling Antbird and Azure-naped Jay amongst a mind-boggling list of other potential species. Moving on to the Magdalena Valley we will visit several relatively 'new' sites as well as the Cerulean Warbler Reserve, Chestnut-capped Piha Reserve, El Paujil and others in our search for Blue-billed Curassow, Beautiful Woodpecker, Indigo-capped Hummingbird, Magdalena Antbird, Antioquia Bristle-Tyrant, Turquoise Dacnis and others. Take a look at our new Colombia 2020 itinerary.