Welcome to the Zoothera Birding Website
Here you can find a wide variety of exciting birding tours from around the world. Birding is our passion and we enjoy sharing our experience with other like-minded travellers, from beginners to expert alike. We truly believe that our combination of small groups, competitively priced and attractive itineraries, and our excellent leaders will provide you with the perfect birding and wildlife tour. So let's go birding!
If you have any questions about our tours or want to discuss them in detail, please call our office on 01803 - 472963, or email info@zootherabirding.com. Or use our Contact page to send us a message.

Temminck's Tragopan by Nick Bray. Our Sichuan tour provides a great opportunity to see this species.

So why not join a Zoothera tour and let us take you to some of the best birding locations to see some amazing birds? The stunning Lesser Florican can be seen on our Summer India tour this year.

The small strikingly attractive island of Taiwan is home to at least 30 endemics, depending on taxonomy. The often mist-laden and dramatic mountainous interior with lofty peaks cloaked in mature forest will be our base as we search for some very special birds. So inevitably most of our time will be spent in the mountains searching for Mikado and Swinhoe's Pheasants, Collared Bush-Robin, Rufous-crowned Laughingthrush, White-eared Sibia and others. Yet a whole new range of species awaits us along the coastal plain where some fine wetlands and estuaries are home to an impressive array of waders, as well as an important population of the endangered Black-faced Spoonbill. And we also visit to Lanyu Island for its endemic scops-owl and other extremely localised species.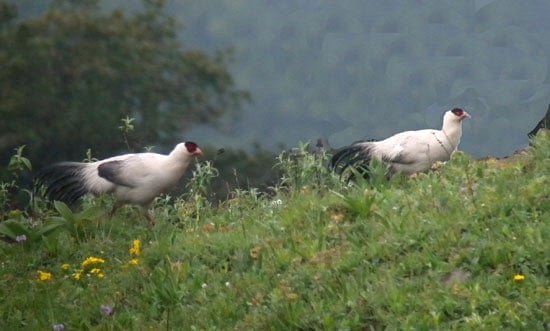 Sichuan lies in the very heart of China and is situated on the eastern edge of the vast Tibetan Plateau. There is a remarkable wealth of birdlife waiting in its rich evergreen and temperate forests, alpine meadows, mighty snow-capped mountains and grasslands of the Tibetan Plateau which form some of the most spectacular scenery of any bird tour! Our unique tour takes in the well-known sites of Balang Shan, Mengbi Shan and finishes with a spectacular visit to the Tibetan Plateau. With such enigmatic species as Temminck's Tragopan, Chinese Monal, Black-necked Crane, Firethroat, Red-winged Laughingthrush and much more, all seen amidst some of the most spectacular mountainous scenery imaginable and you can see why this is such an exciting tour.


Imagine a birding trip where you get to see iconic species such as Ibisbill, MacQueen's Bustard, Himalayan Snowcock, Caspian Plover, Sociable Plover, Pallas's Sandgrouse, Black Lark, Fire-fronted Serin and Himalayan Rubythroat - well that is birding in Kazakhstan. Kazakhstan has come into its own as a birding destination and is one of the most accessible places to see a wide range of exciting Central Asian species. For those who enjoy immersing themselves in vast open spaces, comprising expanses of flat steppe grasslands that merge into sandy and stony deserts with saline and freshwater lakes dotted around the country and are magnets to nesting and migrant birds. In sharp contrast, the massive towering peaks of the Tien Shan Mountains - an extension of the Himalayas - edging onto China rise to over 20,000 feet. This is an adventure not to miss!

Our new India tour will explore the hills of Jammu and Kashmir in search of some very special birds such as Kashmir Nutcracker, Kashmir and White-cheeked Nuthatches, Rufous-naped Tit, Kashmir Flycatcher, Variegated Laughingthrush, Tytler's Leaf Warbler, Black-and-yellow Grosbeak, Pink-browed Rosefinch and Spectacled Finch. We also look for Bristled Grassbird near Delhi before heading into Rajasthan where we will marvel at displaying Lesser Floricans and target some usually tricky species that are much more amenable in the rainy season such as Rain Quail and Rock Bush Quail. An extension to the edge of the Tibetan Plateau will give us a fantastic opportunity to get superb views of the high-altitude specialist, Tibetan Sandgrouse, as well as Black-necked Crane, Brown Accentor, Ground Tit and Blanford's Snowfinch.