Welcome to the Zoothera Birding Website
Birding Tours to Europe, Africa, Asia, The Americas & Beyond!
Here you can find a wide variety of exciting birding tours from around the world. Birding is our passion and we enjoy sharing our experience with other like-minded travellers, from beginners to expert alike. We truly believe that our combination of small groups, competitively priced and attractive itineraries, and our excellent leaders will provide you with the perfect birding and wildlife tour. So let's go birding!
If you have any questions about our tours or want to discuss them in detail, please call our office on 01782 - 929482, or email [email protected]
Or use our Contact Page to send us a message.
The strange Velvet Asity (on right) is one of the key targets on our Madagascar tour later this year.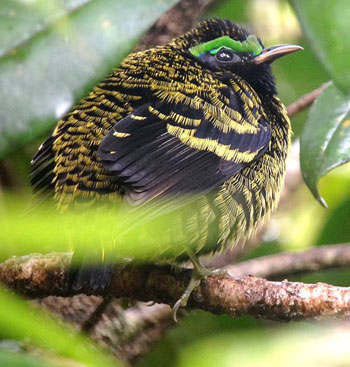 Brazil - Pantanal
5th - 17th October 2019
This classic tour now includes a visit to Jardim de Amazonia lodge and adds an extra dimension to our popular Pantanal tour. Of course we look for Jaguar and Giant Anteater etc. And the birds are awesome with a selection of stunning Amazonian and Pantanal specialities. Just 2 spaces left!
West Java & Sumatra
3rd - 24th September 2019
This tour is an endemic-rich, night-birding mega tour! There's Schneider's Pitta coming to a feeding station, Graceful Pitta, Oriental Bay-Owl, Large Frogmouth, Javan Kingfisher, Sumatran Trogon, Sumatran Cochoa, Spotted Crocias, Javan Tesia and much more! What a ride this is!!
Madagascar
27th Oct - 16th Nov 2019
What can you say about Madagascar? This is THE island of endemics, with numerous endemic species and endemic families. Birds such as Madagascar Sandgrouse, Pitta-like Ground-Roller, Scaly Ground-Roller, Helmet Vanga, Giant Coua and more. Oh and there's Lemurs too!
Another of our iconic South American tours is a guaranteed departure with just 2 spaces left:
Colombia: Andes & Santa Marta 23rd Aug - 10th Sept 2019

Colombia has quickly risen to stardom as the number one birding destination in South America. With its 1900+ species of birds, it holds more than any other country in the world. Of added interest are the almost 90 endemic species to be found here. Our route visits numerous sites around Bogota, Montezuma, Manizales, the fabulous Rio Blanco Reserve, Los Nevados, El Jardin and the wonderful Santa Marta Mountains and its numerous endemics.

There are so many great birds to see on this exciting tour:
Chestnut Wood-Quail, Santa Marta Screech-Owl, Bogota Rail, Yellow-eared Parrot, Yellow-billed Toucanet, Santa Marta Parakeet, Beautiful Woodpecker, White-mantled Barbet, White-tipped Quetzal, Green-bearded Helmetcrest, Blossomcrown, Black Inca, Moustached Puffbird, Orange-breasted Fruiteater (Photo left by Jose Castano), Red-bellied Grackle, Santa Marta Bush-Tyrant, Bicolored Antpitta, Santa Marta Antpitta, Ocellated Tapaculo, Santa Marta Warbler, Sooty Ant-Tanager, Yellow-headed Brush-Finch, Gold-ringed Tanager, Tanager Finch and so much more!