Uganda - Shoebill, Pitta, Broadbill & Gorillas Tour 2019
Tuesday 9th July – Thursday 18th July 2019

Uganda is one of Africa's most outstanding birding destinations – FACT! With its wide-variety of habitats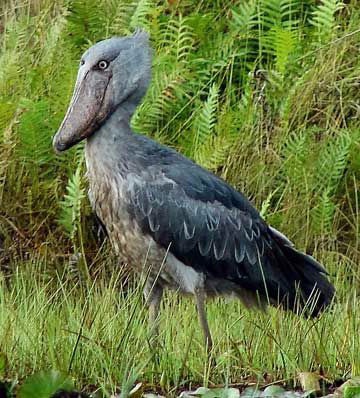 including breathtaking forests, world-famous waterfalls, awesome savanna and high-altitude grasslands. Only recently has this amazing country got to grips with issues of tourism development and infrastructure but it is now a fully-operational and rapidly-growing destination. The "jewel in the crown" must certainly be Bwindi Impenetrable Forest National Park which is one of the best places in the World to see GORILLAS, and this will be high on our list of targets on this spectacular trip. Of course there will be many other things to look for including African Green Broadbill and a bunch of Albertine Rift Endemics. In Kibale we will look for Chimpanzees and the rare Green-breasted Pitta as well as a host of other superb species. And don't forget the amazing Shoebill which is another must-see bird that we will have a great opportunity to find. Our very special short trip will give you a once-in-a-lifetime opportunity to see some of the world's most sought-after birds and mammals.



Targets:

Blue-throated Roller

Red-chested Owlet

Brown-chested Plover

Grauer's Warbler

Green-breasted Pitta

White-winged Warbler

Great Blue Turaco

Regal Sunbird

Purple-breasted Sunbird

Grauer's Rush Warbler

Ruwenzori Batis

Day 1

Flight to Entebbe

- 9th July
Plan to arrive today on international flights from UK, Europe, USA etc. Time permitting we shall have an introduction to the birds of Uganda at the Entebbe Botanical Gardens for some local birds. It gives us excellent birding and it has three bird-rich habitats - grassland, water and forest. While here we shall look out for African Grey Parrot, Broad-billed Roller, Grey Woodpecker, Klaas's, Diederick, African Emerald and Red-Chested Cuckoo, Superb, Red_chested, Scarlet-chested, Collared, Green-throated and Copper Sunbirds, Orange, Spotted-backed, Black-headed, Slender-billed and Golden-backed Weavers. Finding, which is a family of birds known only to Africa, will be extremely rewarding for this evening. There's also Giant Kingfisher, Bat Hawk, and both
Great Blue and Ross's Turaco h
ere.
Night at Boma Guest House, Entebbe.
Day 2 Entebbe - Kibale National Park
Today we will take an early breakfast before setting off on the drive to Kibale National Park. We will break this journey with birding stops and have more opportunities to see Grey-capped and White-winged Warblers, as well as Papyrus Gonolek. As we near Fort Portal we will pass through a section of the National Park and here a few roadside stops could produce an assortment of species. On the streams we could see African Black Duck, Cassin's Grey Flycatcher, and maybe Shining-blue Kingfisher, while the forest edges could produce Waller's, Narrow-tailed and Purple-headed Starlings, Joyful, Slender-billed and Toro-olive Greenbuls, Luhder's, Bocage's and Many-coloured Bush-shrikes, Senegal Coucal, African Emerald Cuckoo, Hairy-breasted and Grey-throated Barbets and Black-and-white Casqued Hornbill. Other possibilities include Afep and White-naped Pigeons, Red-headed Bluebill, Blue-throated Brown Sunbird, Crowned Eagle, Sabine's Spinetail and White-collared Oliveback. Leaving the main road we will then drive towards our accommodation. Again passing through forest we will make a couple of stops in search of Black Bee-eater, Blue-throated Roller, Green Crombec, Red-headed Malimbe, Crested Guineafowl, Grey-throated and Sooty Flycatchers, Great Blue Turaco, plus a variety of primates such as Olive Baboon, Blue, L'Hoest's and Red-tailed Monkeys, and Red Colobus. Depending on what time we arrive at the lodge we can either relax or take a short walk into the surrounding forest. Night Primate Lodge or Crater Safari Lodge

Day 3 Kibale National Park - Chimp Trek - Bigodi Wetland
After an early morning breakfast we will set off into the forest in search of one of its most difficult inhabitants – the shy Green-breasted Pitta. As dawn rises we hope to hear one displaying and with luck this will enable us to track it down and hopefully see it! Early morning in the forest can be alive with strange sounds and we may be able to coax a Red-chested Owlet to show itself, or even African Wood Owl. Some birds are more heard than seen and both Scaly-breasted Illidopsis and White-spotted Flufftail are prime examples although with patience we have a good chance for the latter. As the morning unfolds our tracker will head us towards a meeting with our closest living relative the Chimpanzee. A highlight of the Kibale forest, this will be an awe-inspiring experience and a major highlight of any tour to Uganda. After our meeting with the unpredictable Chimps, we will continue birding the area until lunch-time. Some of the species we can hope to come across include White-headed Wood-hoopoe, Black-billed Turaco, Red-tailed Ant-Thrush, Western Black-headed Oriole, Crowned and African Pied Hornbills, White-chinned Prinia, Narina Trogon, Olive, Blue-throated Brown and Green Sunbirds, Velvet-mantled Drongo, Afep Pigeon, Plain, Toro Olive and Honeyguide Greenbul. After lunch we will take the short drive to the Bigodi Wetland an area of dense Papyrus, pools and marshland. A walk around the trail that circles this reserve will give us chances for Papyrus Gonolek, Western Nicator, Grosbeak Weaver, Grey-winged Robin-chat, Red-faced Cisticola, African Green Pigeon, Olive-bellied Sunbird, the elusive White-spotted Flufftail, Vieillot's Black Weaver and maybe Grey Parrot, African Hobby, Ayre's Hawk-eagle, Long-crested Eagle and both Red Colobus, Black-and-white Colobus and Grey-cheeked Mangabey's. Night at Primate Lodge or Crater Safari Lodge


Day 4 Kibale – Queen Elizabeth National Park
In the morning we will head into Queen Elizabeth National Park which is the 2nd largest National Park in Uganda, with its varied habitats it boasts of 612 recorded species of birds. On this day, we shall do birding as we get into the park looking out for special savannah species like the African Moustached and Broad-tailed Warbler, Black and Senegal Coucals, Brown-backed and White-browed Scrub-Robins, Hollub's Golden Weaver, Common Quail and many more species. In the afternoon we take a two hours cruise along the Kazinga Channel. This is a natural channel joining Lakes George and Edward, and is one of the most productive birding cruises on the planet. Schools of hippos, huge families of buffalos, elephants and other antelopes come to cool off in the hot dry afternoons. Lots of birds are found here including African Skimmer, African Spoonbill, Striated Heron, African Crake, Water Thick-knee, Three-banded Plover, Marsh, Green, Wood and Common Sandpipers, Grey-headed Gull, Plain Martin, Lesser Swamp-Warbler, Collard Pratincole, Yellow-billed Oxpecker and much more. After dinner at Marafiki Safari Lodge, we can take a late evening drive to search for Spotted and Verreaux's Eagle Owls, Square-tailed, Black-shouldered and Swamp Nightjars.

Day 5 Queen Elizabeth NP - Bwindi via Ishasha and the Neck
This morning we head out of the park towards Ruhija - Bwindi Impenetrable Forest, home to Mountain Gorillas and a good selection of Albertine Rift Endemics. We shall be birding the southern part of Queen Elizabeth National Park where we have a chance to see a variety of typical African mammals such as Elephant and even tree climbing Lions. Depending on what we see and how many times we stop will dictate how much time if any, we have to bird after our arrival at our lodge which overlooks the forested mountains of Bwindi Impenetrable Forest. As we get into Bwindi, we spend some time at the neck looking out for Ayre's Hawk-Eagle, Mountain Buzzard, Mountain Wagtail, Cassin's Grey Flycatcher, Western Bronze-naped Pigeon, Black-faced Rufous Warbler, Barred and Dusky Long-tailed Cuckoo, White-headed Wood-Hoopoe, Grey and Petit's Cuckoo-Shrikes, Dusky Tit, Ludhur's Bush-Shrike, Grey-Green Bush-Shrike, Chestnut-throated Apalis, White-eyed Slaty Flycatcher, Streaky Seedeater, Stripe-breasted Tit, White-starred Robin, Little, Red-tailed, Cabanis's and Yellow-throated Greenbuls, Yellow-spotted Barbet, Yellowbill, Green and White-browed Crombecs, Brown-throated Wattle-eye, Grey, Green-headed, Blue-headed, Purple-breasted and Little Green Sunbirds, and if we are very lucky, Woodhouse's Antpecker. Night at Gorilla Mist Camp.

Day 6 Bwindi Impenetrable Forest
Today surely has to represent one of those truly "once in a life-time" experiences as we set out on an early morning trek into Bwindi Impenetrable Forest National Park. The forest is so named because of the steepness of the hills which used to make progress almost impossible, but thankfully these days most of the special birds can be observed from gently sloping trails or from roads. Today however the birds will not be our priority and with a packed lunch and led by our experienced team of guides and trackers we will go in search of a family of Mountain Gorillas. Tracking the Gorillas through the dense mountain forest is a magical experience, and we could spend anywhere between a couple of hours to a full day looking for these rare and docile animals. Once found we have a full hour to enjoy, quietly watch and take photographs on what will most likely be one of the best day's experiences ever! Many people go on Gorilla treks from Buhoma, but doing this from Ruhizha is by far the best experience as we will probably be the only people going out on our designated day. This really does make it special and a day never to forgot. Depending on the time we return from the Gorillas we may bird the Mine Trail where we have a chance for Grassland Pipit, Chestnut throated Apalis, Regal Sunbird, Black-headed and Yellow-bellied Waxbills, Dusky Twinspot, Mackinnon's Shrike, Red-throated Wryneck, and if we are lucky we may see a Spotted Eagle-Owl at a day roost. If for any reason you do not opt for the Gorilla trek then there will be birding opportunities where we can see some excellent species such as Western Bronze-naped Pigeon, Olive Long-tailed Cuckoo, Red-chested Owlet, Bar-tailed Trogon, Equatorial Akalat, Grey-throated Barbet, Yellow-spotted Barbet, African Broadbill, Petit's Cuckoo-Shrike, Grey-chested Illadopsis, Red-throated Alethe, White-bellied Robin-chat, Chubb's Cisticola, Black-faced Rufous Warbler, Grauer's Warbler, Cape Wagtail, Mackinnon's Fiscal, Slender-billed, Stuhlmann's and Waller's Starlings, Oriole Finch, Willcock's Honeyguide and maybe the curious and attractive Woodhouse's Antpecker. Night at Gorilla Mist Camp.

Day 7 Bwindi Impenetrable Forest
Today we have the full day to explore the area which includes the Old School Road, and sections of forest within a short distance of our lodge. One of our main targets for today will be trying to connect with the very rare and difficult African Green Broadbill: and it must be stressed that unless an active nest has been located then our chances of seeing this bird are very slim. They can move around with mixed species flocks and it will be these that we search for. Beside our lodge we can find Chubb's Cisicola, Yellow-headed Canary, African Dusky Flycatcher and the stunning Golden-breasted Bunting, while closer to the forest we could come across Dusky Twinspot, Klaas's Cuckoo, Rwenzori Batis, Stripe-breasted Tit, Chestnut-throated Apalis, Cinnamon-chested Bee-eater, African Hill Babbler, Willcock's Honeyguide, Grauer's Warbler, Mountain Masked, Collared and Black-throated Apalis. The gorgeous looking Doherty's Bush-shrike will be sought and other birds in this area include Purple-breasted, Blue-headed and Regal Sunbirds, Narina Trogon, Tullberg's Woodpecker, Grey Cuckoo-Shrike, Speckle-breasted Woodpecker, Archer's Robin-chat, Barred Long-tailed Cuckoo, Dusky Crimsonwing, Banded Prinia, White-starred Robin, Slender-billed Starling, Yellow-bellied and Black-headed Waxbill, Brown-crowned Tchagra, White-breasted Negrofinch, Handsome Francolin and hopefully Rwenzori Double-collared Sunbird. Mist lingers along the higher stretches, and the dense forest is covered in a profusion of epiphytes and mosses that create a rather damp atmosphere. This is an excellent locality for Black Bee-eater, as well as Cassin's Hawk-Eagle, Augur Buzzard, Handsome Francolin, Red-throated Wryneck, Archer's Robin-chat, Collared Apalis, Bronze Sunbird, Scarce Swift, Black Saw-wing, Cassin's Grey, Dusky Blue, African Blue, White-tailed Blue and White-eyed Slaty Flycatchers, Brown-crowned Tchagra, Toro Olive Greenbul, Black-faced Rufous Warbler, Red-faced Woodland Warbler, Doherty's, Many-coloured and Lühder's Bush-Shrikes, Ruwenzori Batis, Stripe-breasted Tit, Yellow Bishop, Purple-breasted Sunbird, White-naped Raven, Strange and Baglafecht Weavers, Dusky Crimsonwing, Yellow Bishop, Yellow-bellied Waxbill, Black-and-White Mannikin, the rare Dusky Twinspot, Yellow-crowned Canary and Streaky Seedeater. Other memorable species could include Black-billed Turaco, Elliott's Woodpecker, Blue-throated Roller, Shelley's Greenbul, White-browed Crombec, White-bellied Crested Flycatcher, Northern Double-collared and Blue-headed Sunbirds, Bar-tailed Trogon and African Broadbill. At dusk we could find Rwenzori Nightjar or African Wood Owl. Night Gorilla Mist Camp.

Day 8 Bwindi - Lake Mburo
Today, we will drive to Lake Mburo National Park where you will experience some of the more classic African wildlife. A network of game tracks through the park leads through a variety of landscape features including acacia woodland, wetlands, grassy hillsides, rock outcrops and seasonally flooded valley floors. Lake Mburo National Park is home to 350 bird species and 68 mammal species including Zebra, Impala, Eland, Water Buffalo, Oribi, Defassa Waterbuck, Leopard, Hippopotamus, Spotted Hyena, Topi and Reedbuck. A highlight of our visit here will be an evening boat ride on Lake Mburo. The Lake attracts a variety of species including some real global rarities like White-backed Night-Heron, African Finfoot and the range-restricted Red-faced Barbet. Night Rwakobo Rock, Lake Mburo.


Day 9 Mburo - Entebbe
We start early and drive through the parks trails looking out for some of the species on the massive list which include African Marsh Harrier, White-backed, Lappet-faced and White-headed Vultures, Brown Snake-Eagle, African Hawk-Eagle, African Darter, Spur-winged Goose, Coqui and Crested Francolins, Emerald-spotted Wood-Dove, Brown Parrot, Red-chested, Jacobin, Levaillant's, Klaas's and Diederik Cuckoos, Blue-headed Coucal, Bare-faced Go-away-bird, Striped Kingfisher, Lilac-breasted Roller, African Grey Hornbill, Green Woodhoopoe, Common Scimitarbill, Blue-naped and Speckled Mousebirds, Spot-flanked Barbet, Nubian and Bearded Woodpeckers, White-browed Scrub-Robin, Singing, Long-tailed and Siffling Cisticolas, Yellow-throated Longclaw, Chinspot Batis, Yellow-breasted Apalis, Red-faced Crombec, Lead-colored Flycatcher, White-winged Black Tit, African Penduline-tit, Black-headed Oriole, Tropical Boubou, White-crested Helmetshrike, Brubru, Black Cuckoo-shrike, and both Greater Blue-eared and Wattled Starlings. Our day here should be bird-filled to say the least and we'll add a few more of the iconic African mammals to our trip list as well. We will then travel back to Entebbe in time for dinner. Night Boma Guest House, Entebbe.


Day 10 Mabamba Swamp - Entebbe – 18th July
This morning we will visit Mabamba swamp where we stand an excellent chance to encounter Uganda's most famous bird, the enormous and thoroughly bizarre Shoebill. This prehistoric looking bird really has to be seen to be believed. Being paddled silently towards one of these huge birds in our wooden boats will be a life long memorable experience. Many other water birds will be searched for including a variety of herons and ducks, as well as Black Crake, African Jacana, Malachite Kingfishers and Swamp Flycatcher, and with luck we may find a Lesser Jacana, Saddle-billed Stork or smart looking Blue-breasted Bee-eaters. As African Fish Eagles soar overhead we will check for papyrus specialties, including White-winged Warbler and Papyrus Gonolek. We will then return to our guest house for lunch and an afternoon transfer to Entebbe airport in time for our international departure and end of a spectacular tour.

Leaders - Paul Tamwenya and Zoothera Guide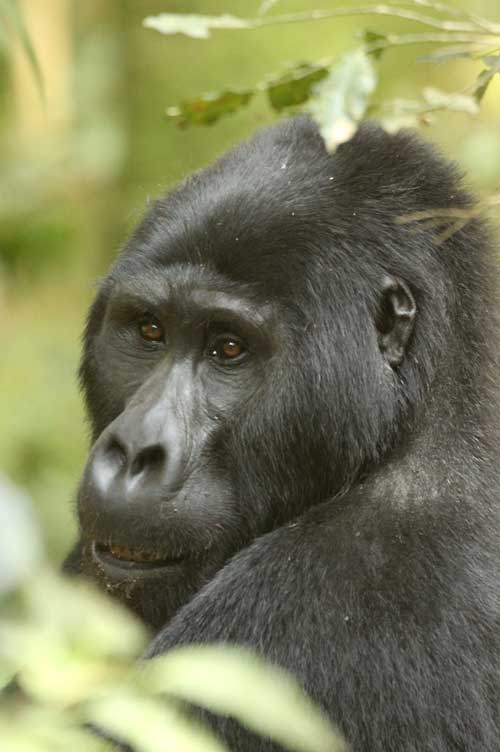 Ground Price: £2850.00 - Entebbe/Entebbe

Airfare: £650.00 - £725.00 - UK/UK

Single supplement:
£350.00
Group size: Minimum for tour to go ahead 5, and a maximum of 10 with 2 leaders
Included in cost: Full-board accommodation in twin or double en-suite rooms (according to availability), all meals from dinner on 9th July to lunch on 18th July, drinking water from van cool box, transport in exclusive 4x4 Land Cruisers which accommodate 6 guests, all boat excursions mentioned herein, all park and reserve entry fees, and services of all local driver-guides and leaders.

Not included: International airfare, insurance, entry visa fee and departure tax, drinks, tips, laundry and items of a personal nature. Plus:
• Gorilla permit (subject to availability), which is USD 600 per person.
• Chimpanzee permit (subject to availability), which is USD 150 per person.
Early booking recommended! You will need us to book you a permit if you intend looking for Gorillas or Chimpanzees.
PLEASE LET US KNOWN STRAIGHT AWAY IF YOU WANT TO DO EITHER OF THESE TWO TREKS.
Accommodation: Ranges from standard to good, food is generally of a high standard and mostly buffet-style.
Tour Code:
On this tour we will be looking for a variety of bird species that include many Albertine Rift Endemics as well as some very sought-after mammals such as Mountain Gorilla and Chimpanzees. The days can be long as it is important to be out at dawn and again out until dusk, as this is when most species are at their most active. but we shall endeavor to rest in the middle of the day or use this time to travel to our next destination. Each vehicle will hold up to 6 passengers, driver and a guide. The walking in most areas will be on well-defined mostly level tracks but at Ruhija the trek for Mountain Gorillas can take us away from forest trails and into areas that may be steep, slippery or thickly vegetated. Good walking boots and rain gear are essential in case of the off-chance of unseasonal showers.
Receive our e-newsletter:
Join the Zoothera e-mailing list for up-to-date news on new tours, tour reports and special offers.