Tanzania - Kilimanjaro and Beyond!
Wednesday 1st November - Tuesday 14th November 2017


This classic African adventure takes us through stunning landscapes from Kilimanjaro via many excellent birding sites, into the amazing Ngorongoro Crater and on to the spectacular and seemingly endless Serengeti Plains. This tour is also one of the few that takes birders all the way to Lake Victoria where we'll be greeted with a multitude of local specialities. Tanzania boasts some of the most exciting birding in Africa, combined with the most exciting wildlife viewing you could possibly imagine! We begin our journey in Arusha before heading to Mount Meru and Tarangire National Park, which will provide us with a multitude of quality bird sightings such as the mega-rare Beesley's Lark, and a wide variety of other species from francolins and lovebirds, kingfishers and trogons, rare starlings and weavers and so much more.Then we travel on to view the waterbird spectacle at Lake Manyara National Park before getting to the 'main course' as our next destination is the awe-inspiring Ngorongoro Crater - which undoubtedly provides one of the best wildlife viewing spectacles on the planet. Then we drop down onto the endless Serengeti and on to Lake Victoria. The regional bird list is sufficiently varied to whet the appetite of the most experienced birders, and the northern Tanzania safari circuit is never short on surprises and exciting encounters. Mammal highlights are many and we are hoping for over 60 species with such classic species as Lion, Leopard, Cheetah and Black Rhino, as well as Serval, Honey Badger, Bat-eared Fox, and there are opportunities for viewing rarely seen nocturnal species like Striped Hyena too. The accommodations are suitably comfortable and well positioned, and the food is of an excellent quality and variety. We'll be using good quality 4x4 Land Cruisers with pop-up roofs for improved observation and photographic opportunities and travel through some of the most magnificent and iconic landscapes in all Africa! As if that isn't enough, we are also offering an extension to the Western and Eastern Usambara Mountains for a whole host of rare, localised and truly stunning birds.


Targets:
Scaly Francolin

Shelley's Francolin

Yellow-throated Sandgrouse

Black-faced Sandgrouse

Bronze-winged Courser

Chestnut-banded Plover

Yellow-collared Lovebird

Fischer's Lovebird

Bat Hawk

Donaldson-smith's Nightjar

Square-tailed Nightjar

Tanzanian Red-billed Hornbill

Pangani Longclaw


Black-headed Gonolek

Angola Swallow

African Broadbill

Swamp Flycatcher

White-tailed Blue Flycatcher

Black-fronted Bush-Shrike

Grey-crested Helmet-Shrike

Retz's Helmetshrike

Buff-bellied Penduline-Tit

White-starred Robin

Eastern Nicator

Karamoja Apalis

Grey-capped Warbler

Kenrick's Starling

Abbott's Starling

Waller's Starling

Ashy Starling

Oriole Finch

Green-backed Twinspot

Lion, Leopard, Cheetah, Serval

Elephant, Black Rhino



Day 1

Arrival in Kilimanjaro - Arusha
- 1st November
Aim to arrive at the delightfully quiet and peaceful Kilimanjaro International Airport this evening via KLM's direct morning departure from Amsterdam Schiphol if you are coming from Europe or North America.
After clearing immigration and customs formalities, we will be met by our Tanzanian safari representatives and assisted to the transfer vehicle. Less than an hour's drive will see us at the African View Lodge beside the main gates of Arusha National Park and situated at an elevation of 1500m, where we will spend our first 3 nights in Tanzania.
Day 2
Arusha National Park - Mount Meru
On our first morning we will rise to the cheerful calls of a multitude of African hill and garden birds. At dawn the bell-like sound of Tropical Boubou and the musical call of Dark-capped Bulbuls quickly follow the raucous contact notes of Hadada Ibis and the soft melancholy whistles of Cape Robin-chats, uttered when it is only half light. Whilst the gentle yet insistent cooing of Red-eyed Doves and the chittering of Speckled Mousebirds provide a comforting backdrop throughout the day around these outskirts of the city of Arusha.
To open our Tanzanian adventure we have a full day in the verdant Arusha National Park where we will go on a guided walk
along the edge of the deep evergreen forests that cloak Mount Meru -
with an armed park ranger in tow for our protection from wild animals.
And we will eat our picnic lunch at a beautiful glade beside the Maio waterfall between giant juniper and yellow-wood trees on the slopes of this dormant volcano.
Afternoon activities will include our first game viewing from our open top Toyota Land Cruiser of grassy glades and meadows, grazed by our first 'African big game'. We will follow this with a drive up onto the forested rim of the smaller Ngurdoto Crater. In the early evening we will return to our comfortable lodge at the gate for dinner and overnight.
We can expect to see a wide variety of birds in Arusha National Park that will include species as diverse as Scaly Francolins beside the tracks,

Maccoa and White-backed Ducks on Momella lakes, the fearsome African Crowned Eagle, the almost dainty Ayres's Hawk-Eagle and Mountain Buzzard, both Bar-tailed and Narina Trogons, Red-fronted Parrot, Brown-hooded Kingfisher, some secretive Hartlaub's Turacos and perhaps an Olive Woodpecker. Overhead there should be the appropriately named Scarce Swift, as well as African Palm, Little, White-rumped and African Black Swifts. In the grasslands the very local Pangani Longclaw may be seen, whilst up in the hill forests the recently split Stripe-faced and Placid Greenbuls will utter their nasal calls from tall trees festooned with creepers, and the montane Ruppell's Robin-chat and beautiful White-starred Robin sing somewhat shyly from the undergrowth. There is an assortment of warblers such as Black-headed Apalis, African Moustached, Cinnamon Bracken and Evergreen Forest Warbler, and the very noisy Trilling Cisticola. There are three or four special starlings to be found here - Waller's, Kenrick's, Sharpe's and if we are very fortunate the rare Abbott's. We will also make a special effort to see the newly recognised Kilimanjaro White-eye that is restricted to the two million year old forests of Tanzania's higher volcanoes. And there are three sunbird species within the tall forest, Olive, Collared and Bronze Sunbird. The Baglafecht Weaver (P.b.reichenowi) is ubiquitous in the highlands and should be seen early on, but more restricted seed-eaters, such as the two estrildids of the evergreen forest floor, Abyssinian Crimsonwing and Green-backed Twinspot must be sought for here on mighty Mount Meru. Other species in the area include Black Crake, Red-knobbed Coot, African Jacana, African Fish Eagle, African Wood Owl, Giant and Malachite Kingfishers, White-eared and Brown-breasted Barbets, Cinnamon-chested Bee-eater, the huge Silvery-cheeked Hornbill, Black Cuckoo-shrike, African Stonechat, Grey-olive Greenbul, African Dusky Flycatcher, the stunning African Paradise Flycatcher, Black-throated Wattle-eye, Singing Cisticola, Malachite and Golden-winged Sunbirds, near-endemic Taveta Golden Weaver and Abyssinian Crimsonwing.

Top mammals that we should first encounter here in Arusha include the very numerous Maasai Giraffe, Common Bush-buck, the secretive forest-dwelling Harvey's Red Duiker and another forest antelope, the tiny Suni. Utterly splendid Black-and-white Colobus Monkeys grace the treetops, often accompanied in the lower storey by the far more approachable Sykes's Monkey. Whilst on the forest floor are ambling family groups of Olive Baboon and perhaps we will find the group that contains two albino females that usually stay around the brackish lakes at Momella. We will also keep a lookout for a tree trunk-haunting reptile, Jackson's Forest Lizard. And all the while we should be accompanied by many beautiful forest butterfly species, especially conspicuous being the several species of forest swallowtail. Night at African View Lodge.
Day 3
Lark Plains - Tarangire National Park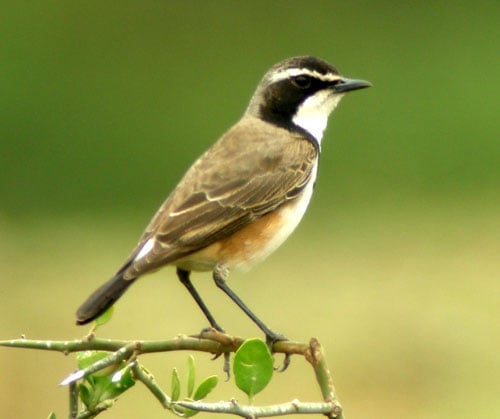 We will depart early with a picnic lunch and drive westwards to Oldonyo Sambu and then down to the famous "Lark Plains", which lie some 15 km to the north of the summit of Mount Meru. There are nine species of lark to be found in the semi-arid steppe and acacia-commiphora bush at this site. We will concentrate this morning on finding the Critically Endangered endemic Beesley's Lark, which was formerly called Pygmy Spike-heeled Lark. This little elf of a bird has a world population of less than fifty individuals, so it is very likely the rarest land bird in all of sub-Saharan Africa. Four other larks with restricted ranges also occur here. In the short grass plains we can find Athi Short-toed Lark and Short-tailed Lark, whilst in the dry bush-land there are both 'Southern' Foxy and Pink-breasted Larks. Other species found in this habitat include Lanner, the piping Rufous-crested Bustard, Temminck's and Double-banded Coursers, Donaldson-Smith's Nightjar, White-headed Mousebird, Black-throated Barbet,Taita Fiscal, Mouse-coloured Penduline-Tit, the scarce Red-throated Tit, Ashy and Tiny Cisticolas, the tiny tail-switching Red-fronted Warbler, Capped Wheatear, beautiful Rosy-patched Bushshrikes, Southern Grosbeak Canary and highly localised Somali Golden-breasted Bunting. Mammals we should encounter include Lesser Kudu, Gerenuk, Maasai Giraffe, Thomson's Gazelle and Plains Zebra.
After our picnic lunch in the bush we will continue our journey westwards, possibly birding at one or two productive spots en-route. As we descend into East Africa's Great Rift Valley we will see Lake Manyara and the western wall of the valley rising in front of us. I imagine that we will be excited at the prospect of spending the two full days exploring the famous senescent baobab parkland and extensive Rift Valley savannahs that grace the carefully protected Tarangire ecosystem. We will drive this afternoon around to the western edge of Tarangire National Park and should arrive at our accommodation by late afternoon. Along the way we could see substantial flocks of weavers including Red-billed and White-headed Buffalo-Weavers, Grey-capped Social Weaver, Chestnut Weaver, Red-billed and Cardinal Queleas and delightful Black Bishop, plus Helmeted Guineafowl, Yellow-necked Spurfowl, Speckled Pigeon, African and Diederik Cuckoos, Lilac-breasted Roller, Chestnut Sparrow, a variety of waxbills including Green-winged Pytilia, Blue-capped Cordon-bleu and hopefully some migrant warblers including Eastern Olivaceous and maybe an Upcher's. The unspoiled, naturalistic, grounds of our lodge are very rich in birdlife and we aim to have time for a short bird walk. We will target 3 of Tanzania's endemic birds - the anthropomorphic Yellow-collared Lovebird, the dapper Ashy Starling and the scaly plumaged and somewhat babbler-like Rufous-tailed Weaver. Other desirable species that occur in the vicinity of the lodge include Martial and Tawny Eagle, Wahlberg's Eagle, African Hawk-Eagle, African Pygmy Falcon, Long crested Eagle, Verreaux's Eagle-Owl, Pearl-spotted Owlet, Orange-bellied Parrot, Nyanza Swift, Northern Pied Babbler, Bare-eyed Thrush, Spotted Palm-thrush, Magpie Shrike, Crimson-rumped Waxbill and the spectacular Purple Grenadier. Night at African View Lodge.
Days 4 - 5 Tarangire National Park


Today we will make a full day's game drive within Tarangire National Park. We will rest for our picnic lunch at an open spot overlooking the vast freshwater swamps of Silale and will return to the lodge in the early evening. Some of the more exciting birds today should include the odd "herd" of Common Ostrich, Red-necked Spurfowl, uniquely fascinating Secretarybirds, the endangered and spectacular White-headed Vulture, migrant Lesser Spotted Eagles likely searching for frogs at the swamp, a party or two of flying termite-eating Amur Falcons, White-bellied Bustard, Black-faced Sandgrouse, family groups of turkey-sized Southern Ground Hornbill, Von der Decken's Hornbill, Abyssinian Scimitarbill, Blue-cheeked and Madagascar Bee-eater, the unbelievably plumaged Lilac-breasted Roller, Bare-faced Go-away Bird, Mottled Spinetail, Slender-tailed Nightjars (whose whistled 'churring' sounds like a distant car alarm), Red-and-Yellow Barbet and its only slightly less outrageous relative - d'Arnaud's Barbet, the polka-dotted Nubian Woodpecker, Greater Honeyguide, Wahlberg's Honeybird, plus a veritable host of widespread and often colourful bushland passerine birds such as African Pygmy Falcon, Eastern Chanting Goshawk, Buff-crested and Hartlaub's Bustards, Orange-bellied Parrot, Yellow-collared Lovebird, White-bellied Go-away-bird, African Grey and Von der Decken's Hornbills, Banded Parisoma, Northern Pied Babbler, Black-crowned Tchagra, Jameson's Firefinch, Cut-throat and much more.
The mammals in Tarangire are a delight. It is justly famous for its well studied African Savannah Elephants, its seasonal herds of Common Wildebeest and Plains Zebra, but less so for the enigmatic Eastern Bush and Southern Tree Hyraxes. In the drier areas, with luck, one may find the Fringe-eared Oryx. There are many herds of Common Waterbuck here, Impala is simply abundant, and there are many common smaller species including the charming and diminutive Kirk's Dik Dik. Consequently the park supports several prides of African Lion. Less frequently seen predators such as Serval Cat and the nocturnal Striped Hyaena are also a distinct possibility and there are several species of mongoose.

The following day we will make a morning game drive in the park searching for species that we may have missed on the previous day, returning to the lodge for a leisurely lunch. In the late afternoon we will walk from the lodge down to soda-rich Lake Burunge where we will scan the saline muddy shore and shallows for an array of water birds, species such as Lesser Flamingo, Cape Teal, Pied Avocet, Black-winged Stilt and the gorgeous Chestnut-banded Plover, a little sand-plover that only occurs on the very narrow band of glassy mud that surrounds just a few of the lakes along Africa's Rift Valley. Palearctic shorebird species, such as Little Stint, should be much more numerous and we will have ample opportunity to study them in detail through our telescopes. Nights at Tarangire Simba Lodge.
Day 6

Lake
Manyara National Park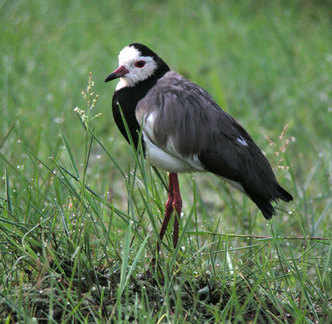 We will depart from our lodge with a picnic lunch this morning and drive through agricultural land to the pristine ground-water forests and acacia woodland of Lake Manyara National Park, entering through the southern gate (road conditions permitting). In the late afternoon, after spending as much time as possible around the legendary "hippo pools" we will drive up the switchback highway that climbs the western wall of the Great Rift Valley to the easternmost edge of the town of Karatu, arriving at Karatu-Rhotia lodge (1600m), and its wonderful view, hopefully just in time for sunset followed by a fine dinner.
There are so many new birds to watch out for at Lake Manyara and these include one very beautiful game bird of the deep forest shade, the Crested Guineafowl and the skulking yet vociferous Purple-crested Turaco in the treetops. Parties of Silvery-cheeked Hornbill are typically first seen in 'whooshing' flight above the forest canopy, wherein the loud but secretive Eastern Nicator blends perfectly into the foliage. Down on the floor Red-capped Robin-chats flick-over leaves, whilst in the more open areas the soft song of the Collared Palm-thrush may be heard.
The old acacia woodland, streams and scattered pools of Manyara supports many interesting birds and we can see additional species that we may not have seen in Tarangire such as Brown Snake-eagle, Gymnogene, Gabar Goshawk, Giant and Woodland Kingfisher, Bearded Woodpecker, Lesser Honeyguide, Yellow-bellied Greenbul, Black-necked Weaver, Southern Black Bishop
, Eastern Paradise Whydah, Green-winged Pytilia and African Firefinch.
Where perennial streams flow off the spectacular cliffs of the forested escarpment, the margins of this shallow soda lake become less brackish. Here there are little deltas filled with tall emergent reeds and great sedges and exotic rushes such as giant Papyrus. In good years, i.e. those with plentiful rains, it often feels as if there are just too many birds to cope with at these mini-wetlands.
Species that should not be missed will include Greater Flamingo (with Lessers further out), Spur-winged Goose, Comb Duck, Fulvous and White-faced Whistling-Ducks, Great White and Pink-backed Pelicans, Black Egret, Yellow-billed and Saddle-billed Stork, Blacksmith, Spur-winged and Long-toed Lapwings, Collared Pratincole, the exotic Greater Painted Snipe, several smaller shorebirds including many of the old world sandpipers and peeps – Temminck's Stint (with a bit of luck), Marsh, Wood, Common, Green and Curlew Sandpipers, and hopefully one or two long-billed Eurasian Curlews from Central Asia. In the air two species of Marsh Harrier may be seen quartering the swamps, yelping African Fish-Eagles circle in the sky above us, where Whiskered and White-winged Black Terns and several species of swallow hawk the wetland insects. And this may be the time when we first encounter dancing pairs of the Grey Crowned Crane, an unbeatable bird indeed.

Night at Karatu-Simba lodge.


Day 7 Ngorongoro Crater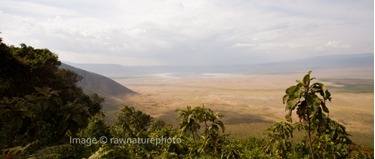 In the morning we will drive the short distance from our lodge up into the forests of the Ngorongoro Crater highlands, where we will go for a leisurely bird walk up to the Endoro waterfall and famous "elephant caves". Birds that we will be searching for today include Hildebrandt's Francolin, the long-crested Schalow's Turaco, the secretive African Broadbill, Moustached Green Tinkerbird, Brown-headed Apalis, the warbler-like Green-backed Honeybird, Eastern Double-collared Sunbird, the recently split Black-headed Mountain Greenbul, shining Purple-throated Cuckoo-shrike, the rather restricted Black-throated Wattle-eye, Grey-capped Warbler, East African Citril and Yellow-bellied Waxbill. By scanning the canopy we will hope to enjoy the dancing tail-flirting antics of that sprite of the forest the White-tailed Blue Flycatcher and hopefully Black-fronted Bush-Shrike, whilst in the leaf-litter and dense tangles there should be Grey-olive Greenbuls, Mountain Thrushes and two secretive finch-like birds, the drab plumaged Thick-billed Seed-eater and the exquisite Oriole Finch. In the late afternoon we will walk to the boundary of the low stature forest beside our lodge in order to observe not only some bird species of the forest edge but also those birds typical birds of the East African highland agricultural zone, some of which we may not yet have seen. Night at Ngorongoro Rhino Lodge.

Day 8 Ngorongoro Crater


We will leave our lodge after breakfast with the aim of reaching the Ngorongoro Conservation Area's main gate by 0900 hrs. Once inside the protected area we will drive eastwards along the crater rim and then make our way down into the Ngorongoro Crater, via the delightfully quiet eastern descent road. We will have the rest of the day to explore the fabled Ngorongoro Crater stopping for our picnic lunch at a special site. The Ngorongoro Crater floor has to be experienced to be believed, the birds of course are always wonderful, but the mammal spectacle is quite often well nigh incredible. The sheer number of gazelles, zebra and wildebeest criss-crossing the tracks quite often simply astounds. Our birding experience varies from watching the plume-wafting "Moulin Rouge" display of Common Ostrich, and that of another unmissable hulk of a bird, the Kori Bustard, to the tiny Pectoral-patch Cisticola that buzzes back and fore in display flight over the grassland, sounding like a grasshopper. Special birds down here might include the Gyps vultures, several pairs of African White-backed nest in the tall yellow-barked fever trees at the Lerai Forest and a few pairs of Lappet-faced Vultures breed in strangler figs, especially along the lower cliffs, whilst Ruppell's Griffons and Hooded Vulture are eager guests at any of the Lion and Spotted Hyaena kills.
In the late afternoon we must tear ourselves away from this unique experience and return to the crater rim via the western ascent road. The forested slopes of the crater are also home to Eastern Bronze-naped Pigeon, Tambourine, Lemon and Dusky Turtle Dove, Green-backed Woodpecker, Cabanis's Greenbul, Mountain Yellow Warbler, White-tailed Blue Flycatcher, and both Collared and Green-headed Sunbirds. Dinner and overnight will be within the NCCAA at Rhino Lodge that is set in a buffalo-grazed forest pasture near the rim. With luck a Brown-backed Woodpecker may be scoped coming to its roost site high in a dead juniper snag from the balcony. And at this season glorious Malachite and Tacazze Sunbirds and the utterly spectacular Golden-winged Sunbird should be coming to sip nectar among the flowering herbaceous borders! Small flocks of Southern Citril and Streaky Seed-eaters haunt the shrubbery whilst along the highland forest edge near our lodge there should be small flocks of Speke's Weaver and Yellow-crowned Canary - the latter are charming birds who have a tinkling conversational song, so reminiscent of goldfinches. After sunset sombre-plumaged Montane Nightjars whistle querulously from the lawns and Small-eared Greater Galagos screech and chatter from the denseness of the African Yellow-wood trees. Mammals at the lodge, most often seen at night, include Large-spotted Genet, Bushpig, Defassa Waterbuck and African Buffalo. Night at Rhino Lodge again (2,300 m).

Day 9

Ngorongoro Crater -

Serengeti National Park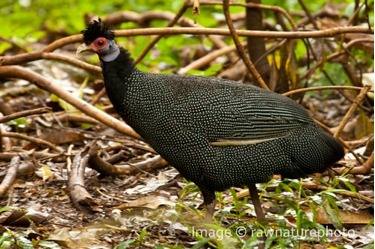 After an early breakfast we will depart from Rhino Lodge and proceed west down into the short grass plains of the eastern Serengeti ecosystem; the wonderland that surrounds Naabi Hill. We aim to reach Naabi, so that the vehicle may exit the Ngorongoro Conservation Area by 0900 hrs.
Once at Naabi we will be able to take a leisurely walk up onto the kopje itself, not only to enjoy the amazing views of this world-famous wild-scape but also to find certain birds and reptiles that are harder to see elsewhere.
After leaving Naabi we will devote the day to "classical game viewing" as we drive across the seas of grass that constitute much of the central Serengeti National Park. Then we will make our way westward to the more varied habitats beyond Fort Ikoma Gate. We will enjoy a unique picnic lunch beside the visitor centre at Seronera, and in the late afternoon will arrive at our perfectly situated lodge near the park gate at Robanda where we will spend the final four nights of our safari.
Birds of particular note today should include numerous species typical of open-country - vultures and birds of prey, including three migrant harrier species, Eastern Chanting Goshawk and both Mountain and Greater Kestrel. The vast plains support Ostrich, Secretarybird and in the damper areas where watercourses dissect the landscape we should see piebald male Black-bellied Bustards bouncing into the air as they perform their remarkable display. There are also wintering Caspian Plovers, Chestnut-bellied and Yellow-throated Sandgrouse frequently pass overhead in small flocks, Capped and Pied Wheatears, Red-fronted Barbet, the range-restricted Usambiro Barbet may be found where there are patches of scrub, Northern White-tailed Lark (among others), Cape Crow, White-browed Robin-chat, Silverbird, Croaking Cisticola, Grey-backed Fiscal, numerous iridescent smaller sunbirds, Little Weaver and a very pretty seed-eating bird the Grey-headed Silverbill. What you see depend upon where you stop! And here mammals, as much as birds, dictate the pace.
As regards mammals today might be the start of something big! We will look for our first groups of bay-coloured Topi antelope, often together with their sandy-fawn neighbours, Coke's Hartebeest. And if we are very lucky, in addition to Lions, we may see both Leopard and Cheetah today! And fear not, we will have ample opportunity to search for these supreme cats, and any other mammal, in the course of the three days that follow. Night at Ndutu Kati Kati Camp.

Days 10 - 11 Serengeti National Park
We will depart early on Day 10 with a picnic lunch and spend the entire day game viewing and birding in a different section of Serengeti National Park, the exact routes taken each day will vary according to the prevailing weather conditions. In the course of our three full days of birding within the ecosystems of the western Serengeti we will endeavour to find as many as possible of the special birds and mammals. First priority will perhaps be two distinguished Tanzanian endemics, Grey-breasted Spurfowl and Tanzanian Red-billed Hornbill. However we will also want to see some other special birds of this region such as Coqui Francolin, Hartlaub's Bustard, the dashing Red-necked Falcon, Eastern Grey Plantain-Eater, White-headed Barbet, White-headed Saw-wing, dark-cheeked Red-breasted Swallow, the soon-to-be-split zenkeri Plain-backed Pipit, Silverbird, comical Grey-crested Helmet-shrikes, Black-lored Babbler, African Penduline Tit, the very localised Karamoja Apalis and a great variety of other warblers, cisticolas, weavers and finches.


The following morning we will again make a game drive, but along a different transect of the Serengeti National Park and its buffer zones. We may depart with picnic lunch and spend a full day out in the park, or return to the lodge for a late lunch, with an afternoon spent bird and mammal watching in the highly productive "wildlife management zone" of Ikoma and Ikorongo at the eastern boundary of which our lodge is situated. Amongst a huge variety of potential species we also hope to see Crested Francolin, flocks of the nomadic Abdim's Stork, Kori Bustard, African Wattled and Senegal Lapwings, Double-banded and Temminck's Coursers, Martial Eagle, Lanner, Black-winged Kite, flocks of Lesser Kestrel, Grey Kestrel, African Hobby and a variety of migrant raptors including Steppe Eagle, Steppe Buzzard and Amur Falcon, Pearl-spotted Owlet, African Scops Owl, Verreaux's Eagle Owl, Meyer's Parrot, Namaqua Dove, African Grey-headed Woodpecker plus smaller residents such as Spot-flanked Barbet, Common and Grey-backed Fiscals, Blue-naped Mousebird, Black Saw-wing, Red-rumped, Mosque, Lesser Striped and the beautiful Rufous-chested Swallows, Yellow-throated and Rosy-breasted Longclaws, Anteater Chat, Striped Pipit, Foxy and Rufous-naped Larks, Fischer's Sparrow-Lark, the noisy Hunter's Cisticola, both Stour and Winding Cisticola, White-eyed Slaty Flycatcher, Montane White-eye, Magpie Shrike, Red-billed and Yellow-billed Oxpeckers, Eastern Violet-backed, Marico and Beautiful Sunbirds, Brubru, Bronze Sunbird, Yellow-bellied Waxbill, Streaky Seedeater, African Quailfinch, Jackson's Widowbird, Steel-blue Whydah, White-bellied Canary, Wattled, Superb, Hildebrandt's and Ruppell's Long-tailed Starlings and Cinnamon-breasted Bunting, Rufous-tailed Weaver, as well as the huge White-naped Raven, On the wetlands we'll strive to locate a good selection of waterfowl including Spur-winged Goose, Knob-billed Duck and Red-billed Teal, plus waders such as Three-banded Plover, African Snipe and Collared Pratincole. Nearby, the attractive Kittlitz's Plover should be easy to find and we hope to connect with a flock of Caspian Plover here as well. There's sure to be penty of mammal action and let's keep our fingers crossed for a sighting of Serval, but Black Rhino, Maasai Giraffe, African Elephant and Cape Buffalo will be the stars of the big game here but the variety of antelope is also impressive with mixed herds of Thomson's and Grant's Gazelle, Eland and Topi. Nights at Serengeti Simba Lodge.

Day 12 Lake Victoria
We will leave the lodge in the morning, driving westward along the Ikorongo road to Speke Bay at the eastern shoreline of Lake Victoria. We will take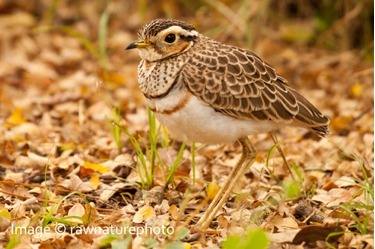 a late lunch at a place called "Serenity on the Lake" where a short bird walk in the naturalised grounds is often very productive. Birding along the lakeshore will yield further new species for our list, some of them more westerly birds such as Angola Swallow, Swamp Flycatcher, African Thrush, Black-headed Gonolek, Red-chested Sunbird, Yellow-backed, Northern Brown-throated and Slender-billed Weaver. This locality will provide an opportunity to search for species that we may not have seen, or not seen especially well, at wetlands farther east. In particular birds such as White-breasted and Reed Cormorants, African Openbill, Black Crake, Pied and Malachite Kingfishers, various migrant warblers and 'complicated' Cisticolas, migrant Blue-cheeked Bee-eaters and European Rollers, Cardinal Quelea, and both Grosbeak and Golden-backed Weavers. There's also Heuglin's Courser, Spotted Thick-knee, African Pygmy Kingfisher, Horus Swift, Slender-billed, Northern Brown-throated, Jackson's Golden-backed and Yellow-backed Weavers, plus passage migrants such as Semi-collared Flycatcher and numerous types of Yellow Wagtail. We'll head to the lake edge where we aim to locate the scarce White-fronted Plover, plus Striated Heron, Heuglin's Gull and Blue-headed Coucal. By mid-afternoon we will depart via the Fort Ikoma road (the same route) to our lodge - Serenity on the Lake.

Day 13 Serengeti - Fort Ikomo - Kilimanjaro
For some this may be a morning at leisure around our lodge, yet there's an opportunity of a birdwatching walk in the immediate surroundings of the lodge that will no doubt prove compelling. Lunch will be taken at the lodge before, sadly, the time will come when we must leave the miracles of the Serengeti by driving to Fort Ikoma Airstrip. Here we will depart by a scheduled flight to Kilimanjaro International Airport that departs in the late afternoon in time to connect with our return international flights back to the UK or elsewhere.
Day 14

End of Tour
- 14th November
Arrival in London and conclusion of what will have been a fantastic tour.


Leaders
:
Nick Bray
and James Wolstencroft.
Ground Price:
£3850.00
- Kilimanjaro/Kilimanjaro
Airfare:

£700.00 - £800.00
(Approx) - UK/UK
Single supplement:
£400.00
Group size: Minimum for tour to go ahead 5 and maximum 12 with 2 leaders.

Included in cost: Accommodation in twin or double en-suite rooms (according to availability), all meals from dinner on day 1 to lunch on last day, bottled water, transport in exclusive 4x4 game vehicles which accommodate 6 guests each with guaranteed window seats, all parks, reserve and conservation areas entry fees, and services of all local driver-guides and leaders.
Not included: International airfare, insurance, visa fee, departure tax, drinks, tips, and items of a personal nature.

Accommodation: Ranges from good to very good, food is generally of a high standard and mostly buffet-style.
Tour Code: This tour is the classic African safari with the added bonus of hundreds of species of birds. The days can be long as it is important to be out at dawn and again out until dusk, we will endeavour to rest in the middle of the day or travel to our next destination as this is generally the least active time of day. Each vehicle will hold up to 6 passengers and we have pop-up roofs to enable easy wildlife viewing. Most of the parks require us to remain within the vehicle, although outside the parks there are many areas that we can explore on foot.


Receive our e-newsletter:
Join the Zoothera e-mailing list for up-to-date news on new tours, tour reports and special offers.
e-mail [email protected] to sign up.