Uganda Tour Report 2016
8th July - 16th July 2016
TOUR HIGHLIGHTS:
Either for rarity value, excellent views or simply a group favourite.
Shoebill

African Green Broadbill

Green-breasted Pitta

Brown-chested Lapwing

Red-faced Barbet

Chimpanzee

Mountain Gorilla

African Grey Parrot

Ross's Turaco

Black-billed Turaco

Black Bee-eater

Madagascar Bee-eater

Black and White Casqued Hornbill

African Finfoot

Handsome Francolin

Grauer's Rush Warbler

Red-faced Woodland Warbler

Grauer's Warbler

Rwenzori Apalis

Mountain Masked Apalis

Yellow-eyed Black Flycatcher

Cassin's Grey Flycatcher

Rufous-bellied Heron

Rwenzori Batis

Mountain Black Boubou

White-tailed Blue Flycatcher

Oriole Finch
Rwenzori Hill Babbler
Stripe-breasted Tit
Rwenzori Nightjar
Pennant-winged Nightjar
Regal Sunbird
Rwenzori Double-collared Sunbird
Luhder's Bush-shrike
Papyrus Gonolek
Orange Weaver
Strange Weaver
Blue-breasted Bee-eater
Dusky Crimsonwing
African Crowned Eagle
Grey Crowned Crane
Great Blue Turaco
Long-toed Lapwing
African Pygmy Kingfisher
Elliot's Woodpecker
Ugandan Kob
African Elephant
Hippopotamus
Black-fronted Duiker
Red-tailed Monkey
Grey-cheeked Mangabey
Eland
SUMMARY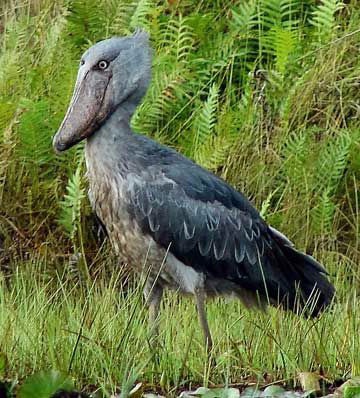 This may only be a short trip to Uganda but we certainly packed a lot in with a superb set of birds and some incredible mammal encounters. The varied habitat visited, from swamps to lowland forest, and from savanna to montane forest, increased the chances of seeing a good selection of species and we were not to be disappointed. Our local guide for the trip, Paul Tamwenya, was excellent and his knowledge of Uganda and its birds and animals is second to none. We started the tour with a visit to Kibale National Park and, after a bit of searching, had excellent views of Green-breasted Pitta feeding on the ground. We followed this with a very successful Chimpanzee trek. Taking the scenic route to Bwindi Impenetrable Forest National Park we drove though Queen Elizabeth National Park which gave us the chance to enjoy a mini-safari and add a number of good birds and mammals to our ever expanding list. Bwindi, as ever, did not disappoint. The Gorilla trekking was just fantastic and the group managed an incredible 17 of the 25 Albertine Rift endemic birds, which occur in Uganda, during our stay in this wonderful area. The highlight had to be African Green Broadbill at the nest, feeding young, along the Mubwindi Swamp trail. Next up was Lake Mburo National Park where African Finfoot, Rufous-bellied Heron, Red-faced Barbet and 3 species of nightjar were all seen well. On our last morning we took a boat trip in to Mabamba Swamp where we had a fantastic encounter with a couple of Shoebill, surely the most sought after bird in Uganda and a great finale to our trip.