West Papua (Irian Jaya) 2018
Tuesday 26th June – Sunday 22nd July 2018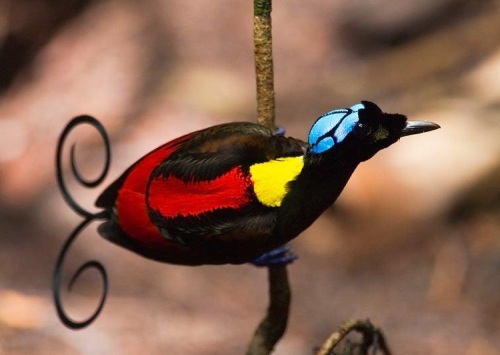 West Papua, also known as Irian Jaya, is the western side of the huge island of New Guinea. It is host to an astonishing degree of endemism with a variety of habitats ranging from some of the largest areas of original, intact forest on the planet, lowland swamp forests and alpine grassland where very few birders have had the privilege to explore this amazing area. We begin in Biak for our first taste of the fantastic birding on offer and our first endemics such as Biak Paradise-Kingfisher, Biak Coucal and Geelvink Pygmy Parrot. Then we take a boat to Numfor Island for Numfor Paradise-Kingfisher before having a 4-night stay in the Snow Mountains for such delights as Macgregor's Honeyeater, Greater Ground-Robin, Painted Tiger Parrot and many others. Moving on to the Cyclops Mountains for 3 days to look for Twelve-wired Bird-of-Paradise, Lesser Bird-of-Paradise, King Bird-of-Paradise, Pale-billed Sicklebill, Rufous/Papuan Babbler, Blue-back Kingfisher and the rare Shovel-billed Kingfisher. Our 5 full days in the Arfak Mountains are sure to be an exciting time, as we search for some of New Guinea's least-known species and we hope to find Western Parotia at a display, Vogelkop Bowerbird, Magnificent Bird-of-Paradise, Spotted Jewel-babbler, Orange-crowned Fairy-wren and Arfak Astrapia. For a grand finale, we will take a short flight and then a boat to the seldom-visited island of Waigeo and the display grounds of the absolutely stunning Wilson's Bird-of-Paradise. There's also Red Bird-of-Paradise here and the stunning Western crowned Pigeon amongst others to round off a fabulous tour.

This is a uniquely adventurous tour and it is important to realize that our visit to this very remote region should be considered more of an expedition than any other birding tour. There are tough hikes and rough camping but West Papua does offer an unforgettably exciting birding experience for the adventurous birder. We will stay in some comfortable hotels in the main towns, but once we are 'off the beaten track' our accommodation will be in remote, basic villages or in small tents deep in the forest and well away from habitation. But the results are going to be worth it!
TARGETS:
Wilson's Bird-of-Paradise

King Bird-of-Paradise

Lesser Bird-of-Paradise

Red Bird-of-Paradise

Magnificent Bird-of-Paradise

Twelve-wired Bird-of-Paradise

Vogelkop Meledictes

Archbold's Nightjar

Feline Owlet-Nightjar

Mountain Owlet-Nightjar

Papuan Hawk-Owl

Western Parotia

Jobi Manucode

Snow Mountains Quail

Red-breasted Pygmy Parrot

Biak Red Lory

Black-capped Lory

Painted Tiger Parrot

Brehm's Tiger Parrot

Biak Lorikeet

Salvadori's Fig-Parrot

Biak Megapode

New Guinea Harpy Eagle

Yellow-bibbed Fruit-Dove

Victoria Crowned Pigeon

Western Crowned Pigeon

Purple-tailed Imperial-Pigeon

Biak Paradise-Kingfisher

Shovel-billed Kingfisher

Black Sicklebill

Vogelkop Bowerbird

Lesser Melampitta

Yellow-breasted Boatbill

Mountain Firetail

Macgregor's Honeyeater

Greater Ground Robin

Mountain Robin

Garnet Robin

White-winged Robin

Habenicht's Pitta

Papuan Pitta

White-eared Catbird

Western Crested Berrypecker

Long-tailed Paradigalla

Fairy Gerygone

Mottled Berryhunter

Arfak Honeyeater

Papuan Logrunner

Biak Monarch

Vogelkop Scrubwren

Papuan Scrubwren

Spotted Honeyeater

Arfak Astrapia

Raja Ampat Pitohui

Blue-capped Ifrita

Western Alpine Mannikin
Day 1 Arrival in Biak, West Papua - 26th June
This is purely an arrival day in Biak, an island in Geelvink Bay that is north of the mainland of New Guinea. Night in a hotel in Biak. Please note that flights may well depart from UK the day before.
Day 2 Biak
Early this morning we will depart on a long drive to a good forest where we will have a full day's birding looking for endemics that can only be foundon a few small islands in Geelvink Bay. We expect to see our first endemics that include Biak Paradise-Kingfisher that can be quite common here, Biak Coucal, Biak Black Flycatcher, Biak Gerygone, Biak Monarch, Geelvink Pygmy Parrot, Biak Lorikeet (split from Rainbow Lorikeet), Biak Red Lory, Long-tailed Starling and Biak White-eye, although a great deal of luck will be needed to see the shy endemic Biak Megapode. Other good birds present include Spice Imperial-Pigeon, Claret-breasted and Yellow-bibbed Fruit-Doves, Variable Goshawk, Great Cuckoo-Dove, Superb Fruit-Dove, Coconut Lorikeet (split from Rainbow Lorikeet), Eclectus Parrot, Hooded Pitta, Black-browed Triller, Black Sunbird, Dusky Myzomela and Hooded Butcherbird. In the evening we will try to spotlight the endemic Biak Scops-Owl, which is usually difficult to see, and the rather more conspicuous Papuan Frogmouth. Night in Biak.
Day 3 Biak - Numfor Island
After some final birding on Biak we travel by boat to Numfor island, southwest of Biak in Geelvink Bay, for an overnight stay.
Day 4 Numfor - Biak
We spend the morning birding on Numfor where our main target is the fabulous endemic Numfor Paradise-Kingfisher. Beach Kingfisher is also possible here and we hope to see local race of Island Leaf-Warbler that is sometimes split as Numfor Leaf-Warbler. In the afternoon we return to Biak for an overnight stay.
Day 5 Biak - Wamena
Morning flight to the small town of Wamena (1600m) in the Grand Baliem Valley. Night at Wamena.
Days 6 - 9 Snow Mountains
Early morning drive with 4WD vehicles to Lake Habbema in the fabled Snow Mountains, and in particular the Grand Baliem Valley. The journey is along winding roads, through wonderful forests where we will make several birding stops in search of our first specialties such Black-breasted Mannikin and Mountain Kingfisher. During our stay in this area we will explore some areas near Lake Habbema and up into the cloud forest where we hope to see some difficult birds such as Greater Ground Robin, White-winged Robin, Mountain Mouse-Warbler, the rare Archbold's Bowerbird, Painted Tiger-Parrot, Large and Papuan Scrub-Wrens, Mountain Robin, Lesser Ground Robin, Fan-tailed Berrypecker, Mountain Peltops, Lesser Melampitta, Crested Berrypecker, Splended Astrapia, the wonderful Macgregor's Honeyeater, Yellow-billed, Papuan and Plum-faced Lorikeets, Painted, Brehm's and Modest Tiger-Parrots, Papuan Scrub-wren, and we'll also try for New Guinea Woodcock at dusk. Other species in the vicinity include Black-billed Cuckoo-Dove, Western Alpine Mannikin, Common Smoky and Black-throated Honeyeater, Sooty and Short-bearded Melidectes, Brown Sicklebill, Orange-cheeked and Grey-streaked Honeyeaters, Red-collared Myzomela, Lorentz's Whistler, Island Thrush and Alpine Pipit. We will also search for other special birds such as Salvadori's Teal, and if our luck is in Snow Mountain Quail can be flushed from the grasslands and Papuan Harrier are often patrolling the more open areas.
Also here are Spotless Crake, Black-mantled Goshawk, Australian Kestrel, Mountain Firetail, Great Woodswallow, White-breasted Cuckoo-Dove, Papuan Mountain-Pigeon, Plum-faced, Papuan and Orange-billed Lorikeets, Rufous-throated Bronze-Cuckoo, Fan-tailed Cuckoo, Belford's Melidectes, Friendly and Black Fantails, Rufous-naped Whistler, Papuan Treecreeper, Black Sittella, Crested Berrypecker, Hooded and Black-bellied Cuckoo-Shrikes, Buff-faced Scrub-Wren, New Guinea Thornbill, Ashy (or Grey) Gerygone, Canary Flycatcher, Black-breasted Boatbill, Black-throated and Slaty Robins, Regent Whistler, Papuan Sittella (split from Varied), Grey-streaked and Marbled Honeyeaters and Blue-faced Parrotfinch. We also will try and find Greater Sooty Owl one evening. We will camp for four nights.
Day 10 Snow Mountains - Wamena
After our last morning searching for some missing birds we will return along the road to Wamena where we hope to see Brown Falcon, Black Sittella, Western Mountain White-eye, Mountain Swiftlet, Brown-breasted Gerygone, Island Leaf-Warbler, Superb Bird-of-Paradise, Black-breasted Mannikin, Red-capped Flowerpecker, Red-collared Myzomela and Ornate Melidectes to name just a few. Night at Wamena, where we are sure to enjoy a hot shower and sleep in a proper bed!

Day 11 Wamena - Jayapura/Sentani - Nimbokrang
From Wamena we will fly to Sentani at the eastern side of West Papua and then drive to Nimbokrang for four nights, staying at a basic homestay from where we will explore this bird-rich area later in the afternoon. Night in homestay.
Days 12 - 14 Nimbokrang - Cyclops Mountains
We will have three full days to explore the lowland forests of Nimbokrang in the shadow of the massive Cyclops Mountains where we hope to see such great birds as Twelve-wired Bird-of-Paradise, Lesser Bird-of-Paradise, King Bird-of-Paradise, Pale-billed Sicklebill, Rufous/Papuan Babbler, Blue-back Kingfisher, the rare Shovel-billed Kingfisher, Rufous-bellied Kookaburra, Vulturine Parrot, Salvadori's Fig-Parrot, Buff-faced Pygmy Parrot, Rainbow Lorikeet, Western Black-capped and Brown Lories, Red-flanked Lorikeet, Sulphur-crested Cockatoo, Palm Cockatoo, Victoria Crowned Pigeon, White-eared Catbird, Lowland Peltops, Blue Jewel-Babbler, Yellow-faced Myna, Brown-headed Crow, Crimson Finch, Hooded Mannikin, Streak-headed Mannikin and even Brown-collared Brush-Turkey if we are very lucky.
There are many other birds in these mountains and they include Rufous Night-Heron, Long-tailed Buzzard, Grey-headed Goshawk, Papuan Nightjar, Wompoo, Coroneted, Pink-spotted and Beautiful Fruit-Doves, Stephan's Ground-Dove, Pinon and Zoe Imperial-Pigeons, Double-eyed Fig-Parrot, Red-cheeked Parrot, Oriental Hobby, Shining and Gould's Bronze-Cuckoos, Lesser Black and Greater Black Coucals, White-crowned and Dwarf Koels, Blyth's Hornbill, Moustached Tree-swift, Rufous-bellied Kookaburra, Hook-billed Kingfisher, Papuan Spine-tailed Swift, Rufous-collared and Spot-winged Monarchs, Boyer's, Black and Grey-headed Cuckoo-Shrikes, Golden Cuckoo-Shrike, Rufous Babbler, Emperor Fairy-wren, Rusty Mouse-Warbler, Large-billed Gerygones, Sooty and White-bellied Thicket-Fantails, Northern Fantail, Shining Flycatcher, Yellow-breasted Boatbill, Black-sided Robin, Little Shrike-Thrush, Variable and Rusty Pitohuis, Long-billed, Plain and Streak-headed Honeyeaters, Meyer's Friarbird, Metallic and Singing Starlings, Black Butcherbird, Lesser Bird-of-Paradise, Jobi Manucode, Brown Oriole, Yellow-faced and Golden Mynas and Grey Crow. Night birding could bring us Marbled and Papuan Frogmouths. Nights in homestay.
Day 15 Nimbokrang - Sentani
After some final birding on Nimbokrang searching for any birds we still need for our lists, we will depart in the afternoon to Sentani for overnight stay. There may be some time to check out the lakeshore here for species such as Whistling Kite, Collared Sparrowhawk, the crepuscular Spotted Whistling-Duck, Pacific Black Duck, Brown and King Quails, Comb-crested Jacana, Rufous-tailed Bush-hen, Orange-fronted and Orange-bellied Fruit-Doves, Channel-billed Cuckoo, Black-billed Coucal (split from Pheasant), Blue-tailed and Rainbow Bee-eaters, Tree Martin, White-bellied Cuckoo-Shrike, Papuan Grassbird, White-shouldered Fairy-Wren, Scrub, White-eared and Mimic Meliphagas, New Guinea Friarbird, Great-billed, Hooded and Chestnut-breasted Mannikins, White-breasted Wood Swallow, Fawn-breasted Bowerbird, Glossy-mantled Manucode and Torresian Crow. Night in Sentani.
Day 16 Sentani - Arfak - Arfak Mountains
From Sentani we fly to Manokwari on the west shore of Geelvink Bay, and then drive up into the Arfak Mountains. We will stay for six nights in this area, splitting our time between a very basic guesthouse in Mokwam village situated at 1600m (5,250 ft) and we will also spend one or two nights camping near the top of the Arfak Mountains where necessary.
Days 17 - 21 Arfak Mountains
We will have five full days to explore the forests of the remote Arfak Mountains in search of some of New Guinea's least-known species. When camping high up in the Arfak Mountains we will take a steep walk to our camp site where species such as Spotted Jewel-babbler, Orange-crowned Fairy-wren, Arfak Astrapia, Black Sicklebill, Ashy Robin, Western Smoky Honeyeaters, Vogelkop Melidectes and Vogelkop Bowerbird. Papuan Lorikeet and Smoky Robin are often seen near our camp site. The next morning we will walk down a narrow track to the Western Parotia display site where we hope to see the bird mating in the afternoon, from a discretely positioned hide. We may have to wait quite a while for the male to appear and a great deal of patience is required before he comes into the dancing ground arena, calling for some females to join him before we see his extravagant 'ballerina dance'. Not far from this site we hope to see Vogelkop Bowerbird at a display site and there's also a stake-out for displaying Magnificient Bird-of-Paradise nearby as well.
We also expect to see species such as White-throated Pigeon, Bronze Ground-Dove, Rufescent Imperial-Pigeon, Josephine's and Yellow-billed Lorikeets, Blue-collared Parrot, White-eared Bronze Cuckoo, Vogelkop Scrub-wren, Cinnamon-browed Melidectes, Perplexing Scrub-wren, Grey-green Scrub-wren, Garnet, Green-backed and White-rumped Robins, Hooded Pitohui, Black and Friendly Fantails, Tit Berrypeckers, Rufous-sided and Western Smoky Honeyeaters, Mountain Meliphaga, Olive-crowned Flowerpecker and many others. We can always hope to see Long-tailed Paradigalla, a species that has only been seen by a handful of birders. We also expect to see Mountain Owlet-Nightjar and Felline Owlet-Nightjar at their roosting trees, and at night we will try and call in Papuan Boobook. There are also chances, albeit pretty slim, to see White-striped Forest-Rail or New Guinea Harpy Eagle.
Day 22 Arfak Mountains - Manokwari
Our last birding here will be from the main road and we could see species such as Masked Bowerbird, Variable Pitohui, Josephine's Lorikeet and Black-chinned Robin before departing to a nice hotel in Manokwari for an overnight stay.
Day 23 Manokwari - Sorong - Waigeo Island
From Manokwari we will fly to Sorong and then take a boat to Waisai on Waigeo island, where we will stay for three nights.
Days 24 - 25 Waigeo
The seldom visited island of Waigeo is the best place to see the absolutely stunning Wilson's Bird-of-Paradise, one of the most beautiful birds in the world at their display grounds. We will watch the bird from a hide overlooking the display grounds where we will have good chances to enjoy a male in full action calling and displaying vigorously to any females that enter his arena. Around this productive area we can find good birds such Black-sided Robin, Wompoo Fruit-dove, Raja Ampat Pitohui, and the shy Western Crowned Pigeon. Another main target here is Red Bird-of-Paradise, and if our luck is in we may see around ten or more males in their tree-top arena calling for the females and be able to watch at leisure their fascinating display.
Other species here include White-headed Shelduck, Pygmy Eagle (split from Little Eagle), Pheasant Pigeon, Purple-tailed Imperial-Pigeons, Yellow-capped Pygmy-Parrot, Great-billed Parrot, Chestnut-breasted Cuckoo, Common Paradise-Kingfisher, Raja Ampat Pitohui, Papuan Pitta, Pale-billed Scrub-Wren, Green-backed Gerygone, Frilled Monarch, Grey Whistler, Yellow-bellied Longbill, Puff-backed Meliphaga and Tawny-breasted Honeyeater. Nights in homestay.
Day 26 Waigeo - Sorong
After a final morning on Waigeo we return by boat to Sorong for an overnight stay.
Day 27 Sorong - Makassar - End of Tour - 22nd July
Transfer to the airport for our flights back to the UK and conclusion of our West Papua adventure.
Leaders: Nick Bray, Royke Mananta and local guides.
Ground Price: £6850.00 – Biak/Sorong
Airfare: £750 - £950 (approx) - UK/UK

Single supplement: £395.00 - hotels only. In homestays and when camping will probably have to share.

Deposit: £1000.00

Group size: Minimum for tour to go ahead 4 and maximum 8.

Included in cost: Accommodation in twin rooms en-suite, all meals including picnic lunches, bottled water, overland transport in 4x 4's and minibus/cars, domestic flights as stated in itinerary (on Days 5, 11, 16, 23) all park entrance fees, and services of local guides and leaders.

Not included: International airfare and domestic flights (to Biak on Day 1 and from Sorong on Day 27), insurance, visa fee, any departure taxes, camera fees, drinks, tips and items of a personal nature.

Accommodation: The hotels we use are of a reasonable standard and most of them have private facilities. Shared facilities are inevitable on this tour at some stage. The homestays are rather basic with shared facilities, whilst we have many nights camping at temporary sites with basic facilities, which will involve 'bush' washes and basic toilet facilities. To help make your nights more comfortable it would be advantageous for all participants to bring their own sleeping bags and Thermarest-type sleeping mats.

Tour Code: This is a strenuous birding tour and a fairly decent level of fitness is necessary. Long days in the field with early starts are expected, and the walking effort is mostly moderate (easy in only a few areas). Access is greatly improving year on year, negating some of the long walks birders used to have to do in previous years. But there are still quite a few strenuous hikes, with steep slopes to negotiate. Weather is unpredictable, but this is the drier season so it should be hot and humid in the lowlands, and at higher alttudes it can get quite damp and cold overnight. Please note there are some long drives on this tour.


Receive our e-newsletter:
Join the Zoothera e-mailing list for up-to-date news on new tours, tour reports and special offers.

Click Here to sign up.