SE China Tour report 2017
25th April - 7th May 2017
TOUR HIGHLIGHTS:
Either for rarity value, excellent views or simply a group favourite.
Scaly-sided Merganser (E)

Chinese Bamboo Partridge

Cabot's Tragopan

Elliot's Pheasant

Oriental Stork (E)

Chinese Egret

Brown Crake

Long-billed Plover

Asian Dowitcher

Little Curlew

Nordmann's Greenshank

Grey-tailed Tattler

Great Knot (E)

Spoon-billed Sandpiper (CR)

Saunders's Gull

Northern Boobook

Rufous Woodpecker

Pied Falconet

Sultan Tit

Manchurian Bush Warbler

Manchurian Reed Warbler

Brown Bush Warbler

Marsh Grassbird

Grey-sided Scimitar Babbler

Chinese Hwamei

Courtois's Laughingthrush

Buffy Laughingthrush

Short-tailed Parrotbill

Grey-headed Parrotbill

Reed Parrotbill

Black-chinned Yuhina

Spotted Elachura

White's Thrush

Pale Thrush

Blue-and-white Flycatcher

Rufous-tailed Robin

Siberian Rubythroat

Yellow-rumped Flycatcher

Narcissus Flycatcher

Yellow-browed Bunting

Chestnut Bunting

Pallas's Reed Bunting



SUMMARY:
This list of highlight species above, illustrates the level of success on this Zoothera Birding Spring Migration Tour to Southeast China. We obtained good views of a high proportion of our target species across a wide range of habitats although covering just a small part of this vast but welcoming country. Beginning near Shanghai our trip began in the reedy wetlands at Nanhui where stunning views of the magnificent Reed Parrotbill was a hard act to follow. A short flight took us to Fuzhou where we got our first fill of shorebirds and Silver Pheasant at a rather wet Fuzhou Forest Park. Better weather greeted us at Emei Feng where attractive scenery and sunshine made for some nice birding and many excellent birds including both Elliot's Pheasant and Cabot's Tragopan. Moving a little further north we visited some very birdy farmland, wooded areas and river valleys to enjoy species such as Courtois's Laughingthrush, Pied Falconet, Long-billed Plover and Short-tailed Parrotbill. A relaxing train ride took us back to Nanhui and then on to Rudong to enjoy migrating birds which included a wonderful experience with tens of thousands of shorebirds, which included our most hoped for species; Spoon-billed Sandpiper, Asian Dowitcher and Nordmann's Greenshank, as well as a wide range of passerine species. For a wide variety of migratory birds and a number of rare and range-restricted species, Southeast China in Spring is a great place for birding.
Day 1; 25th April
Having assembled the group and made our introductions to each other in the foyer of the Shanghai International Airport Hotel by 10am we met our local guide, Steven An, and boarded our bus to make the short journey to Nanhui where we were to enjoy our first birding in China together. I had scouted out the area the previous day and had located one of the trickier target birds of the trip so we headed straight to a field in the process of being ploughed where we successfully located more than 30 Little Curlews. Following the plough they gave us great views alongside Oriental Pratincole, Crested Myna, White-cheeked Starling and a single Richard's Pipit; what a great way to start the trip. Well, after that really cool bird we headed straight into some reed beds to look for some other target birds and it did not take long at all before everyone in the group was "oohing" and "aahing" over a pair of wonderful Reed Parrotbills which kept diving into thick cover before creeping up the reed stems to show themselves off. Parrotbills are a really nice group of birds generally and Reed Parrotbill has to be one of the best, making for great photos, oh, not to forget the garrulous groups of Vinous-breasted Parrotbills seen all around us, a species we would get very familiar with as the trip proceeded.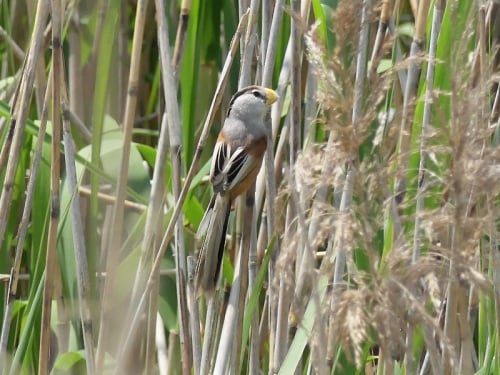 Although the environment here is under pressure here it is still an important area not only for the parrotbills but also for Marsh Grassbird and in calm weather they were fairly easy to locate from their song performed in a parachuting flight. However, seeing them well was another issue altogether but eventually we all managed to see this species clearly in the 'scope. Just as one would hope for the beginning of a trip the birds came quickly with a few flyover Red-rumped Swallows, a Common Snipe, Plain Prinia, Zitting Cisticola, Chinese Bulbul, Magpie, Black Drongo and Long-tailed Shrikeas well as a few very pale Common Reed Buntingsof the pyrrhulina subspecies.
After lunch we birded around a patch of trees that is well-known for turning up migrant species but little was to be seen until we found a group of 5 Chinese Grosbeaks feeding in some nearby trees, giving great views. As is often the case other migrants were in close attendance with Black-faced Bunting, 2 Yellow-browed Warblers and an Eastern Crowned Warbler all together in a small bush – very nice to be able to study these birds in detail. Moving on to a reed-fringed pool we added Great Egret to the list as well as a group of 5 very nice Falcated Duck. Birding in the reeds close to this pool was rewarding too, finding another pair of Reed Parrotbills, Oriental Reed Warbler and a couple of Chinese Penduline Tits, which gave their location away by call. Well, it's funny how one bird leads to another and that is exactly what happened here because as we were enjoying the Penduline Tits I heard the call of a Pallas's Reed Bunting. It was not easy to catch up with but eventually we did just that only for our attention to be taken away from it by a singing Manchurian Reed Warbler. This one took even more effort (and quite a bit of luck) to see but most of us got a decent view of this rare species with its long tail and thin black eyebrow to separate it from the much commoner Black-browed Reed Warbler; flyover Purple Heron, 2 Great Bitterns and Black-crowned Night Heron were also good. By this time the weather was changing so we began to head back to the airport to catch our evening flight but along the way we stopped at a funny little park next to a station where we saw Eurasian Collared Dove, Spotted Dove, Japanese Tit, as well as a female Grey-backed Thrush and a nice Pale Thrush. A weird place to finish a good day of birding but it turned up a couple of good birds before taking an hour to get back to the airport, dinner and a short flight to Fuzhou where we spent the night.

Day 2; 26th April
A flight delay caused by a drunk passenger the previous evening meant that sleep had been at a premium and everyone was a little dazed when we started but an interesting stop for breakfast at a street corner in a small village woke us all up and gave the locals something to remember. Anyway, it did not take long to get to our rendezvous with a local fisherman who was to help us cross a narrow, muddy channel on an incoming tide to reach a small, sandy island where we were in hope of finding Chinese Crested Tern, a bird with a tiny world population. The short wade across the channel was not as bad as we had expected and we were soon overlooking and area of mudflats and sand with an incoming tide promising good things. It did not take long before we started spotting a variety of shorebirds and as the tide came in we got increasingly good views of Terek Sandpiper, Sanderling, Lesser Sand Plover, Dunlin, Far Eastern Curlew and Eurasian Curlew. Sand Plovers in breeding plumage looked incredible with large numbers of mongolus Lesser Sand Plovers assembling to roost at high tide and smaller numbers of atrifrons differentiated by the white spots on the forehead. There were also small numbers of Greater Sand Plovers and Kentish Plovers, both stunning in their breeding colours.
In the scrub and reeds bordering the mud flats and beach there were also some interesting birds with a few Oriental Reed Warblers singing from reed tops, a small flock of Chinese Penduline Tits showing themselves very well, a Yellow-browed Warbler passing through, a Dusky Warbler and a pair of Masked Laughingthrushes in the adjacent trees a little strange in such habitat.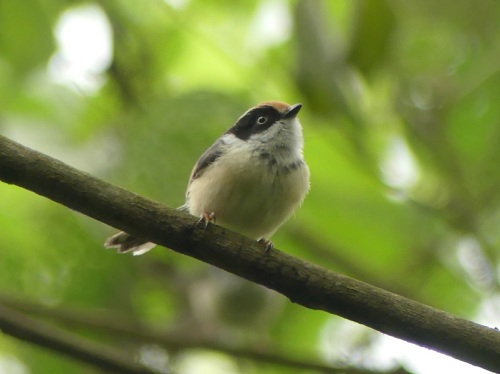 With great expectation a few terns began to arrive with a pair of Common Terns and several Little Terns passing through early on later to be joined by a few Caspian Terns but great excitement ensued when a couple of distant Crested Terns were spotted flying towards us, but as they neared it was clear that they were Great Crested Terns. We found ourselves a good spot to sit and wait where birds were congregating to roost at high tide and watched a steady, but small, stream of Great Crested and Caspian Terns arriving along with an adult Heuglin's Gull. The shorebirds, by this time, were quite spectacular with large numbers in breeding plumage and in excellent light we enjoyed great views of Broad-billed Sandpiper feeding alongside Grey-tailed Tattler, Grey Plover, Common Redshank, Spotted Redshank and a breeding plumage American Golden Plover, a real rarity for this part of the world! However, the wait for our target bird continued with everyone in the party scanning the whole area and looking out for birds in flight. We spotted several Western Ospreys, Eastern Spot-billed Ducks and a flock of Eurasian Wigeon in flight and every time a Great Crested Tern was seen there was a moment of excitement before disappointment. An Oriental Skylark and Richard's Pipit put in an appearance before the tide started to turn and go out again with birds beginning to move again we investigated every spot where terns seemed to be gathering, only to find a single Black-headed Gull among the previously seen species. Eventually the tide was coming in rapidly and we were forced to retreat and re-cross the channel by boat seeing 4 Black-tailed Gulls as we departed. Despite waiting in the right spot for 6 hours we failed to see our target bird and obviously this was a disappointment but everyone was at least able to reconcile that birding just goes like that sometimes, you can do everything right but sometimes the birds just do not oblige.
After lunch we made the journey across the city to Fuzhou Forest Park which looked very lovely apart from the fact that the weather was rapidly getting poorer with dark skies and drizzle. Well, we did not come here to sit in the bus so the birding began with a very nice Chestnut Bulbul, a bird we were to see frequently throughout the rest of the trip and one which we all agreed was one of the best of the bulbuls. A couple of Black Bulbuls showed, a flock of very cute Black-throated Tits, a calling Common Tailorbird as well as both Scarlet Minivet & Grey-chinned Minivet before we had even got through the gate; things looked promising! Walking slowly through the beautiful forest here it did not take long before spotting a magnificent male Silver Pheasant looking like a ghost in the dark undergrowth, wow! However, as the weather got worse it was tough to see anything at all, although we did see more Black-throated Tits and bulbuls before finally coming across a party of Greater Necklaced Laughingthrush and a fantastic Rufous Woodpecker, which posed at eye-level for everyone to appreciate. However, the weather stopped the birding and we headed off to our hotel nearby but considering the poor weather we had seen some good birds and hoped for more in the morning while we enjoyed a nice dinner and some local beer.

Day 3: 27th April
An early start got us to the Forest Park gate for a nice picnic breakfast but things did not look too promising with even wetter weather than the previous evening. Oh well, "once more unto the breach dear friends". While it was very wet and very difficult birding throughout the morning we did find 2 Chestnut-winged Cuckoos which performed nicely, a pair of Grey Treepies, a White-crowned Forktail, a small group of Lesser Necklaced Laughingthrushes, as well as most of the birds from the previous afternoon. However, it got to a point when the weather was really making it impossible to find forest birds so we decided to leave early and make an improvised stop somewhere along the way to our next destination.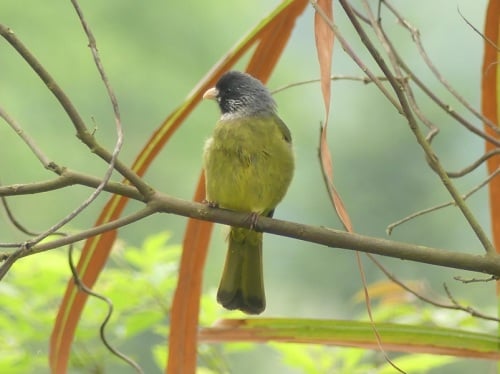 This stop at first seemed unpromising as it was at a motorway service station and there was still a lot of annoying rain but the next hour or so turned out to be a really pleasant and surprising session of birding. One of the first species was a flyover Large Hawk Cuckoo, followed by a small flock of White-browed Laughingthrushes in bushes behind one of the service station buildings along with a few White-rumped Munias. There was plenty of farmland with woodland patches in this area so we took a walk through some pleasant scenery finding some nice birds including Red-billed Blue Magpie, a fly-by Cinnamon Bittern, some Masked Laughingthrushes and some wonderful Collared Finchbills. We were trying to find Short-tailed Parrotbill and as they often associate with other small birds we checked out the bushes finding our first Huet's Fulvetta and Rufous-capped Babbler of the trip, but we would have another chance at the parrotbill later in the trip. A couple of Greater Coucals were good records for this part of China and a Grey-capped Pygmy Woodpecker showed itself well, while migrants included small numbers of Hair-crested Drongo and a group of half a dozen Grey-streaked Flycatchers. This stop provided us with very nice birding, just the tonic we needed after the early morning weather and at the end of it we had lunch and continued our journey to Emei Feng arriving at around 4.30pm giving us time to do some more birding in far better weather.
Our local guide, Steven, thought we had a good chance at some key species in the lowlands here so we used the late afternoon sunshine to look for them. Our first birds were 5 Mandarin Ducks sitting in a rice field followed by Collared Finchbill, Black-throated Tit, Japanese Tit and Oriental Turtle Dove. We spent the remainder of our time along a track through some nice pine woodland and although birds were very thin on the ground the group slit up a little which enabled us to search more thoroughly and allowed Brad & Ingrid to find a female Elliot's Pheasant – what a find! After getting everyone together people got varying views of this bird as we tried to follow it through the forest and after we eventually lost it I found the male which proceeded to fly into a tree giving some of the group a nice views before it flew away. A great bird and we would have other chances to get everyone to see it later. With the light beginning to fade we walked back to the bus finding a pair of Grey-sided Scimitar Babblers before we drove back into town to our accommodation and dinner.

Day 4; 28th April
With only a short drive from our accommodation we were out in the field very early this morning driving slowly uphill through forest hoping to find Elliot's Pheasant and Cabot's Tragopan. Finding birds like this is usually much easier on a misty morning which brings them out onto the road but for the first time we had blue skies and sunshine which meant that our drive only turned up Chestnut-bellied Rock-thrush and a couple of Eye-browed Thrushes. At the top of the road we spent the remainder of the morning walking along a forest trail and although finding birds was not easy we got lovely views of Chestnut-crowned Warbler singing in the sunshine and later on a couple of Rufous-faced Warblers. Huet's Fulvetta proved common along here as did White-spectacled Warbler although the latter was much harder to actually see. The weather was glorious, the scenery lovely and the ambience of the peaceful forest was very relaxing as we slowly moved through the forest listening and looking for secretive ground birds, when after about one hour I spotted a male Cabot's Tragopan in the forest. As it moved away through the undergrowth everybody managed to get views of it varying from moderate to good quality, with most people able to see the bright red wattles of the bird. The remainder of the morning was spent trying to find more of these wonderful creatures and although we heard another we had to be content with Yellow-cheeked Tit, Hume's Leaf Warbler, White-bellied Erpornis, Buffy Laughingthrush and a displaying Black Eagle before having lunch.
After a very good lunch we spent the afternoon walking the upper stretches of the road where Steven said we had a good chance to find more tragopans. The most obvious bird of the afternoon was Indochinese Yuhina with lots of small flocks of this species feeding on seeding trees and we also had regular encounters with more Huet's Fulvettas, White-spectacled Warblers and Rufous-faced Warblers. But then some excitement! The faint call of Cabot's Tragopan alerted me to its presence but before we could spot it the bird flew out of a tree onto the ground. However, I managed to spot the bird and alert the group to where it was walking towards and everyone shifted position up the road to get some really good views of this special target bird, wonderful. Things were low for some time after that and after a nice afternoon tea and cake in the forest we decided to drive further down the road in pursuit of Elliot's Pheasant. Slowly driving down the road we were vigilant but unlucky for some kilometres until I looked back along a gulley and saw a male move. Good work by the driver stopping quickly and everyone moving up to the right point in a tight pack we were soon watching a superb male Elliot's Pheasant moving through the open pine forest; what a result!
With the afternoon drawing on we went back up to the top of the road, seeing a male Silver Pheasant along the way, and birded around the temple area. Here we saw many of the day's birds again but also got superb views of a Claudia's Leaf Warbler and the only Grey Bushchat of the trip. Well, with two of the main target birds found on our first day at Emei Feng we had to be happy and a good supply of local beer was useful in celebrating it.

Day 5; 29th April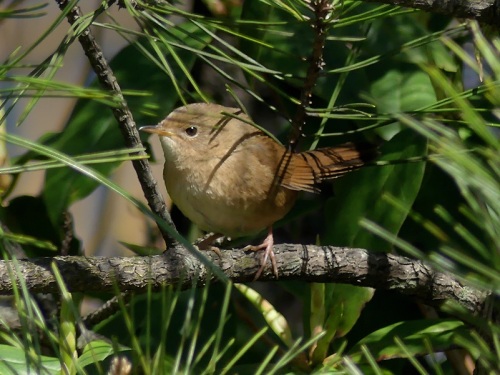 We woke up to the sounds of the morning and breakfast in one of our bungalows, still chilly after a cold night – those electric blankets were brilliant! We spent the whole morning walking the upper part of the road and the trail with some people getting lucky with Chinese Bamboo Partridge very early on at the gate to the trail. As the sunshine fell onto the forest along the upper part of the road small groups of birds became active with large numbers of Indochinese Yuhinas the most obvious species but we also came across a nice group of Black-chinned Yuhinas, while a flock of Buffy Laughingthrushes foraging next to the road were a real star attraction. The early morning light really made a couple of Chestnut-bellied Rock-thrushes illuminate to their fullest and White-spectacled Warbler was beginning to be familiar to all. Another one the local specialities then put in an appearance, a pair of Streak-breasted Scimitar Babblers feeding alongside the road delighted everyone as they poked around in the moss to find various insect prey items.
Close to the temple we were able to watch a few nice birds at close range active in some fruit trees with a couple of Hartert's Leaf Warblers causing a fair bit of confusion until they were seen clearly in good light. A pair of Orange-bellied Leafbirds were easier to deal with and lovely to watch as they moved around noisily mimicking the calls of other birds, while along the trail a small flock of Grey-headed Parrotbills stole the show and hung around on their seeding tree for ages so that everyone could photograph them although it wasn't easy as they always, somehow, ended up behind a leaf or twig. A stunning Red-billed Leothrix unfortunately did not hang around for long and only a few of us got to see it although more of us were able to hear its pleasing song.
After lunch we had a real change of scenery with a walk up to the highest part of area to a radar station passing through low shrubby vegetation, totally different to the forest we had spent most of our time in. This scenic walk was mainly to find a couple of very unassuming birds and the first of these that we saw was Buff-throated Warbler. This is a small, golden-brown Phylloscopus which although is fairly non-descript, it did at least show itself very well, singing from the top of large shrubs. Our next target was not very far away in the lowest vegetation: Brown Bush Warbler. It is not often that a "little brown job" is a contender for bird of the day but the performance put on by a couple of these inquisitive little Locustellas was enjoyed by us all and there were plenty of photo opportunities. Small parties of other birds included Black-throated Bushtit, Indochinese Yuhina and our best views of Chestnut-crowned & White-spectacled Warblers, while a colourful Chinese Bamboo Partridge gave us a wonderful view. The remainder of the day was spent back along the trail but a flyover Bay Woodpecker was the only addition to the list. Dinner was a delicious affair, washed down with local beer in a nice steamy room that kept the cold night air out!

Day 6; 30th April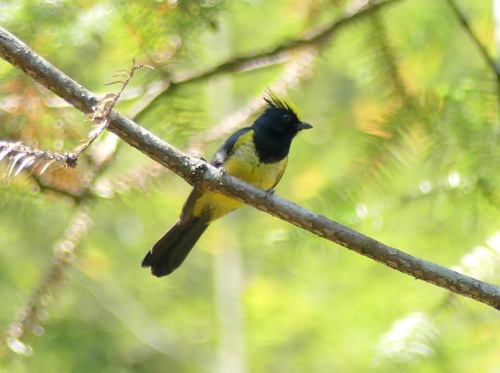 For our last morning at Emei Feng we spent the first hour or so of light along the trail again where one very patient member of our party eventually saw White-necklaced Partridge while the rest of us had to be happy with Yellow-cheeked Tit, Grey-headed Parrotbill, Black-throated Yuhina and Rufous-faced Warbler, but a Kloss's Leaf Warbler unfortunately went down as "leader only" – don't you hate those ones?
We descended the mountain, saying goodbye to the people who had looked after us so well, and went for a total change of scenery birding along a valley with a fast-flowing, stony river running along it. It is always nice to go birding in a habitat like this and we found Brown Dipper, Grey Wagtail, many Plumbeous Water Redstarts, a Common Kingfisher resplendent in the sunshine, a fantastic pair of singing Hwamei and quite a number of Chinese Sparrowhawks on migration. At one stop we were admiring the sparrowhawks and photographing some obliging Collared Finchbills when I heard a short burst of the call of Sultan Tit. This is always a stunning bird and quite a rarity here so with raced up the road towards the sound and although it took a few minutes we ended up with classic views of this much hoped for species, indeed, it was a "most-wanted" bird for some of the group – wonderful! As lunch approached we drove through farmland where there was an abundance of open-country species on wires including Black Drongo, Red-billed Starling, Black-collared Starling, Brown Shrike and others but there would be more of this type of habitat later in the trip.
With the remainder of the day involved in travel we settled down in comfort in the bus and enjoyed the scenery on our way to Wuyuan.
Day 7; 1st May
An early start saw us taking breakfast on a quiet bridge over a wide river set among forest and farmland, a really birdy piece of habitat in fact. As we enjoyed our coffee, bread, jam and cakes we racked up quite a list of birds with Black-crowned Night Herons flying overhead, a flock of Masked Laughingthrushes, a Grey-capped Pygmy Woodpecker, nest-building Red-rumped Swallows and a number of Chinese Blackbirds dashing back and forwards. On the river itself we were hoping for Long-billed Plover, but no luck today although we did find Green Sandpiper, Common Greenshank, Chinese Pond Heron and Common Sandpiper, while next to the bus we got some very close views of handsome Red-billed Starlings collecting food for their chicks.
Although the scenery was really nice here the weather did not match and throughout the course of the morning it got gradually worse, going from overcast to light drizzle onto persistent rain. Well, hardly the best weather for it but we walked along a trail where we did find some interesting birds including a few pairs of Short-tailed Parrotbills, which we eventually got everybody onto by the third pair. Black-throated Tits were present in good numbers, a couple of Grey-headed Lapwings flew overhead calling noisily which we also saw settled on some rice fields and a White-crowned Forktail perched in a tree; I guess the strange weather made it behave in this strange way. A few of us saw Moustached Laughingthrush skulking in the undergrowth, but as the weather closed in we were all feeling a bit soggy so retreated to the bus for a warming coffee and more cake!
However, a let up in the worst of the weather allowed us to do a bit of birding further along the river where although we did not add anything new to our list we did come across high bird abundance and great views of Collared Finchbill, Red-billed Blue Magpie, Yellow-bellied Prinia, White-rumped Munia, Yellow-browed Warbler, Huet's Fulvetta, Rufous-capped Babbler and lots more of the commoner birds, very nice even if many of them did look rather bedraggled in the rain.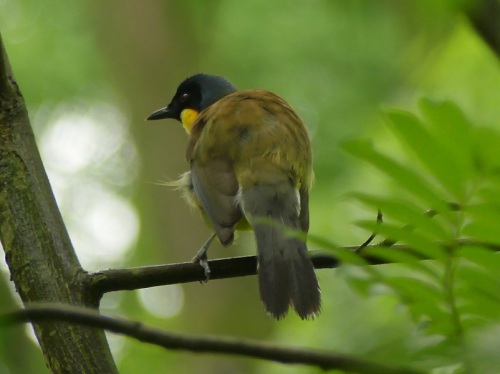 After lunch we were looking forward to one of the potential high points of the trip as our next port of call was to be a small community woodland next to a riverside village for an extremely rare bird that has built a particular relationship with these small groves of mature trees in the Wuyuan area. On arrival our parking spot was not exactly what we expected, under a flyover, but a short walk took us to a peaceful wooded island in a medium-sized river in search of our quarry. Unfortunately the local guardian of the site was not exactly overjoyed at our arrival and Steven had to negotiate with him constantly to ensure we had time here to find what we were after. A number of false alarms resulted in sightings of Eurasian Jay, Grey Treepie, Great Spotted Woodpecker and many Chinese Blackbirds until, eventually, a flock of Courtois's Laughingthrushes arrived like a gang of unruly teenagers; what stunning birds! For about the next twenty minutes a group of about two dozen of these lovely birds foraged around in the treetops and then descended to perform close-up at eye level giving us a wonderful experience with one of the world's scarcest and least-known birds. Unfortunately our time at this site came to an end but we had another special species in store for us later. A drive of around an hour took us to another small village where we were able to go to a rooftop observation area to wait for Pied Falconet, which was expected to arrive before heading to its roost hole. Well, the weather was not very compliant with the rain becoming quite persistent but we had the cover of a small roof, some friendly local photographers to talk to and a nice cup of tea to make our wait more comfortable. Distant Black Bulbul, White-throated Needletails and Dollarbird passed the time but it was with great relief that this cool bird eventually arrived, quite a bit after its expected arrival time – Pied Falconet. Great 'scope views were had by all and that was that, with the rain getting harder we went back to the hotel to dry off and enjoy a nice dinner together.

Day 8; 2nd May
As it had been a very birdy spot we started our day at exactly the same location as the previous day, taking our breakfast on the bridge that gave us an excellent view of the surrounding area. Of course we saw most of the same species as the day before and with persistent rain already a feature we did not feel that hopeful of adding to our list. Well, I am happy to report that we were wrong! As we were eating breakfast Steven and myself heard a Spotted Elachura singing in nearby forest and we ushered the whole group over to where the song was coming from. With the drizzle and low light it was going to be tricky to see this little skulker but with a little bit of call play back I was able to lure the bird onto a likely looking perch – a mossy log – and everyone managed to get a good view of this mouse-like bird, although it did take a lot of patience. It was also nice to see that the weather was beginning to improve and this trend continued throughout the day, thankfully. We took another walk along yesterday's trail in search of some of the missing species and almost immediately came across a small flock of migrants which included Yellow-browed Warbler, singing Arctic Warbler, Taiga Flycatcher, Grey-streaked Flycatcher, a female Mugimaki Flycatcher and a singing Sakhalin Leaf Warbler. Unfortunately the latter was only seen briefly but there would be more chances at these migrants later in the tour.
We had also heard some singing Rufous-tailed Robins in the rain the previous day so we tried to lure out this much-wanted species. Unfortunately the vegetation was too thick and we were restricted to brief views but we were luckier further down the trail with a 'scope view of a male Fork-tailed Sunbird singing as the sun began to emerge; nice to catch up with this one. Another interesting species that we also managed to see despite its best efforts to elude us was a noisy Dusky Fulvetta but some excellent work by Shaun resulted in him finding a female Scaly-sided Merganser, which had been reported to us the day before. We all rushed to where he had found the bird where we could get great 'scope views of it resting on a rock in the middle of the river. This was a totally unseasonal record but the bird was known to be in the area and presumably injured or unwell and unable to migrate; an extremely welcome "bonus bird". On our way out of the site we spotted a couple of Pied Kingfishers flying along the river and hovering to look for prey.
After this successful morning lunch was followed by a journey towards a second site for the wonderful Courtois's Laughingthrush but along the way we stopped at a number of riverside lookouts finding Little Ringed Plover and Stejneger's Stonechat, but our real target was found at the last river crossing we made where we found a pair of Long-billed Plovers which delighted those for whom it was a most-wanted species. This time we had a rooftop lookout for the laughingthrushes and we did not have to wait long before we saw some come to the tree where the colony where nesting. In this way we were able to see them at close quarters and the photographers among us were very happy. Eurasian Jay on the nest, Chinese Blackbird, Crested Myna and Oriental Magpie Robin were also seen and here we all got good views of several Brown-rumped (Swinhoe's) Minivets. A walk along the river did not reveal too much apart from a nice pair of Orange-bellied Leafbirds so we all boarded the bus and headed off to a small reservoir where we spent the last of the daylight. This turned out to be quite a nice little stop with the highlight being a pair of Brown Crakes creeping around the edge of a pond close to us, even allowing photos. A couple of other birds new for our list were Brown-breasted Bulbul and Scaly-breasted Munia but with large numbers of Black-crowned Night Herons emerging and the light fading we were all very happy with this wonderful day and ready to go back for a shower and an interesting Chinese banquet.

Day 9; 3rd May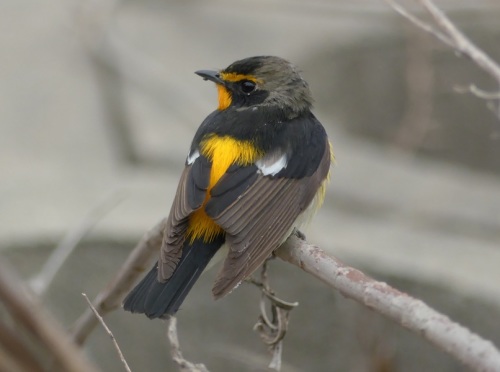 Our morning was one that was consumed by travel. We had an enjoyable and comfortable train journey back to Shanghai which gave everyone some time to recharge their batteries, both metaphorical and actual, before the next leg of the trip, looking for migrants along the Shanghai coast. On our return to Nanhui we checked into our hotel, had some lunch and went straight out birding. Although the weather was not what we had hoped for there were some interesting species to be found with Narcissus Flycatcher being one of the more numerous migrants but decent numbers of Black-faced Bunting andTristram's Bunting were also seen along with a female Siberian Rubythroat, a male Japanese Thrush, a Rufous-tailed Robin and a male Green-backed Flycatcher, although due to the conditions it was tricky to get people onto many of these birds. Most people, however, did get a good view of a Northern Boobook perched in a low tree before it flew away. Commoner birds included many flocks of Vinous-throated Parrotbills and some very showy Long-tailed Shrikes.
Away from looking for passerine migrants we also inspected the mudflats finding an adult Black-tailed Gull and several Chinese Egrets, which were conveniently alongside Little Egrets for comparison. There were also small numbers of waders with a small group of Grey-tailed Tattlers and a few Far Eastern Curlews being the most notable but as the light faded we went back to our comfortable rooms to prepare for dinner, beer and the checklist.

Day 10; 4th May
Everyone was keen to be out early looking for migrant birds but the weather conditions certainly were not ideal for a major "fall". However, a Whimbrel posed for photos and other migrants found included Hair-crested Drongo, Siberian Blue Robin, a female Japanese Thrush and a small group of Japanese White-eyes but windy weather made birding hard and birds were thin on the ground. One success was relocating the Northern Boobook enabling everyone to get superb views and photographs; sometimes one bird makes a morning and this was certainly true with this species.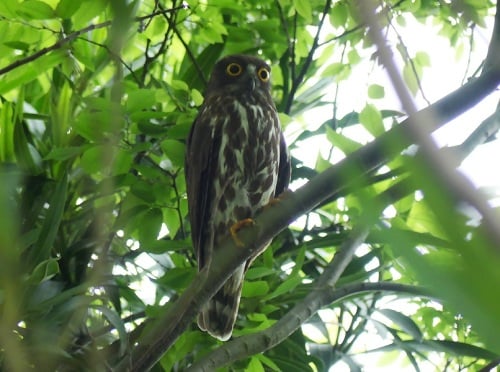 We decided to cut things short here and move north up the coast to the Rudong area, a journey of a few hours through some rainy weather and this allowed us to arrive with time for a full afternoon. Steven found us a very attractive and promising area close to the coast where we could go birding along a quite road lined with small trees and bushy undergrowth with wet pools and ditches alongside it and as soon as we got out of the bus things looked promising with a small flock of migrant birds which included Mugimaki Flycatcher, several Grey-streaked Flycatchers and Narcissus Flycatcher. Chinese Blackbirds here kept attracting our attention in expectation of a migrant thrush and suddenly from having seen none on the entire trip Azure-winged Magpie was common as was Chinese Grosbeak, both pleasant surprises to be able to see such attractive birds in abundance. The afternoon provided us with some very enjoyable birding, walking along the avenue of trees with nice views of Sharp-tailed Sandpiper, Black-winged Stilt and Long-toed Stint in nearby pools and gradually we picked out Two-barred Warbler,Yellow-browed Warbler and Eastern Crowned Warbler in the foliage. One of the most pleasing species was Manchurian Bush Warbler, which we found singing from the top of small trees with individuals found all along the road; although it was just another "LBJ" it is always satisfying to see these types of birds well with their song to aid identification. Many of these species were seen again and again along this road with the addition of Asian Brown Flycatcher so we used our last hour to go and look for pipits in some open country. Ultimately this proved unsuccessful although we did find a few Pintail Snipe and finished with more great views of Reed Parrotbill before making the short trip to the comfortable hotel that would be our base for the next few days.

Day 11; 5th May
We had seen some really cool birds over the course of the trip including some very spectacular species and rare ones but this morning there was a real sense of anticipation as our search for "The Big One" approached. For some people in the group Spoon-billed Sandpiper would be a new bird but even for those who had seen it before, the chance to see it in breeding plumage still made us a little nervous as picking out this tiny shorebird on the miles of mudflats would not be an easy task. On arrival at the coast the most obvious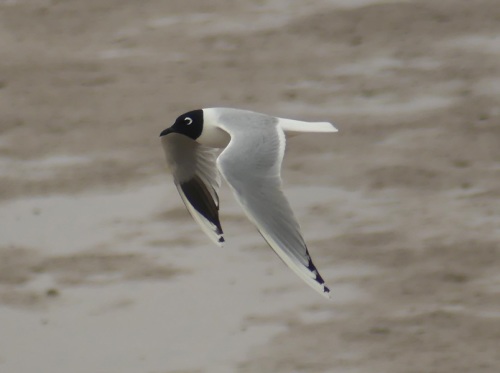 species was Saunder's Gull which was quite abundant and treated us to very many close-up fly-past views with which to study this elegant species. Several Pied Avocets on coastal lagoons were another addition to our list but after breakfast it was on with the wellies and out onto the mudflats to look for the birds. Well, for those among us who were shorebird enthusiasts this was something of a sensory overload, just appreciating even familiar species such as Dunlin, Grey Plover, Black-tailed Godwit and Ruddy Turnstone all in breeding plumage was fantastic, but throw in Far Eastern Curlew, Great Knot, Red-necked Stint, Sharp-tailed Sandpiper and a couple of Eurasian Oystercatchers of the osculans subspecies and you have something really special. Of course we spent most of our time scanning through the large flocks of smaller shorebirds in search of our main target a task which was made trickier by the fact that they kept moving around in groups. We noticed an area where large numbers of small shorebirds were feeding and trudged through the mud towards them when something we had not bargained for happened. As the tide was beginning to go out we were up against the clock and then our efforts were hampered by a local dressed in a military-type uniform marching towards us while yelling at us like a rabid baboon. Steven did well by intercepting him and delaying the guy in conversation while we scanned and then I came across a distant bird that had the jizz I recognized from my many Spoonie searches in Thailand, yes, a Spoon-billed Sandpiper, although not in the breeding plumage we had been expecting. With our irate accomplice screaming at us like a banshee there was some level of panic as we desperately tried to get everyone onto the bird, which we did while Steven pleaded with him to allow us to continue undisturbed and I calmed him down by confusing him by speaking in tongues! The mood of the group was buoyant as everyone enjoyed this critically endangered bird but our crazed friend had an accomplice who was not so easily placated and as he walked towards our birds they began to disperse and eventually flew away as a log was thrown at them by this second nincompoop. To have found a Spoon-billed Sandpiper in poor light conditions, at long range while being harassed by a pair of Chinese lunatics was quite pleasing and we were all extremely pleased with our sighting as we walked back to the bus for lunch.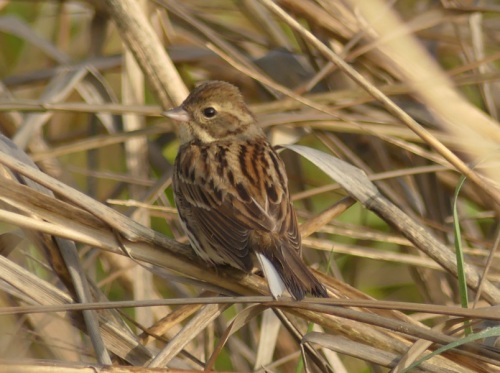 As we had our picnic we were treated to very many excellent views of Saunders's Gull as well as a nice study of both Eurasian and Far Eastern Curlews. We then drove slowly along the track on the sea wall until Denis spotted something that we should check out. A quick look through the 'scope confirmed what he thought, an Asian Dowitcher looking magnificent in full breeding plumage: oh, what a beauty! But would you believe it? When many of the group headed down to get photos of the dowitcher we spotted another top target bird: Nordmann's Greenshank. From a great morning this was turning into an exceptional one with all three of the rare shorebirds found and the Asian Dowitcher even being a "lifer" for Steven. It doesn't get much better than that. We enjoyed more shorebirds as we headed along the track and eventually settled on an area of trees next to some freshwater wetlands and farmland to spend the late afternoon and what a place to choose this turned out to be. Walking through the trees turned up Siberian Rubythroat, several Tristram's Buntings, a few Japanese White-eyes, Grey-streaked Flycatcher, Red Collared Dove, Black-faced Bunting and several Yellow-browed Warblers, but it was out in the open areas that we found a really unexpected "star bird" an Oriental Stork on a very distant nest. But there was better to come because as we were watching a Black-shouldered Kite hovering the stork came flying in and landed in a small pool very close by; wow! It fed in the pool for a few minutes before flying off back to its nest and some of the photos obtained on take-off were very impressive. An elevated spot was a good place to scan the area from and we got nice views of two subspecies of Black-faced Bunting and Grey-capped Greenfinch feeding on fallen grain on a track. We could see good numbers of buntings on some rough ground through our 'scopes so a short walk towards them was in order, although we were distracted for a while by a Lesser Coucal posing for photos. At the bunting hotspot we got superb views of many Black-faced Buntings followed by a single Chestnut-eared Bunting and then a wonderful singing male Yellow-breasted Bunting, certainly worth the walk.

Day 12; 6thMay
Spoon-billed Sandpiper is a special bird and the aim of this trip had been to see it in breeding plumage, so as wonderful as it was to see a "Spoonie" on our first attempt, we decided to head back to the mudflats to get the views we wanted of a breeding plumage bird. After walking quite some way out onto the mud it did not take long before we found our first Spoon-billed Sandpiper, rather closer than yesterday's bird but still in non-breeding plumage. Still, we were among huge numbers of shorebirds and large flocks of breeding plumage Dunlin were truly stunning to see and took our attention until another "Spoonie" was found. As people got their eye in we found up to 7 Spoon-billed Sandpipers and some of them were breeding plumage birds, wonderful.
We spent quite some time observing these birds at close range and enjoying an incredible array of shorebirds throughout the morning including marvellous breeding plumage Lesser Sand Plovers, rusty-red Bar-tailed Godwits, Grey-tailed Tattler, Terek Sandpiper, Great Knot, breeding plumage Red-necked Stints, Sharp-tailed Sandpiper, Broad-billed Sandpiper, Far Eastern Curlew and many others. In fact it was another big wader day with 34 species recorded, truly a fantastic experience not only to see them, but to actually be among the flocks; a superb experience for lovers of waders.
After lunch we paid a visit to the so-called "Magic Temple", much of the magic having disappeared as it has become a touristic and strange little gardens with caged birds and loud music to accompany the birding! Still, it turned up some good stuff with the big excitement being a nice Yellow-browed Bunting. Here there were also Olive-backed Pipits, our only Forest Wagtails of the trip and a number of interesting Phylloscopus warblers including Yellow-browed Warbler, Sakhalin Leaf Warbler, Pale-legged Leaf Warbler and plenty of Eastern Crowned Warblers. Around the back of the temple we came across a small copse of trees which were acting as a real migrant magnet and spending time here with all eyes looking for birds we turned up some good stuff including Blue Rock-thrush, Yellow-rumped Flycatcher, Narcissus Flycatcher, Mugimaki Flycatcher, Eye-browed Thrush, Dusky Warbler, Siberian Rubythroat and a nice male Blue-and-white Flycatcher.
The remainder of our day was spent walking along the tree-lined roads that act as migrant magnets and we managed to find plenty of new and much hoped-for species. There were plenty of the, by now, familiar Narcissus Flycatcher, Grey-streaked Flycatcher and Asian Brown Flycatcher, as well as a single Taiga Flycatcher. Many of the birds we saw were the same as in previous days but it gave us time to enjoy Asian Azure-winged Magpie, Manchurian Bush Warbler, Chinese Grosbeak and many other species as well as finding a nice male Chestnut Bunting and an Indian Cuckoo before heading back to our hotel for another delicious dinner.

Day 13; 7th May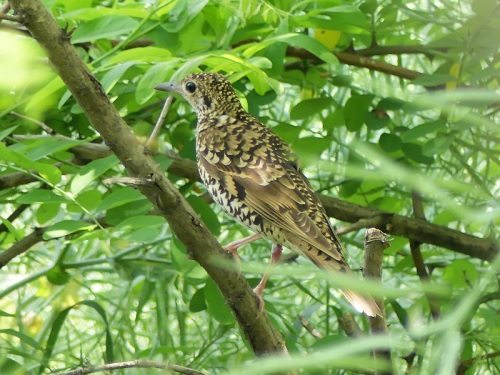 For our last day of birding we began at the site where we had seen Oriental Stork as that had been one of the most productive spots we had visited and it did not disappoint us this time. Early on in the fields everyone managed to get to grips with a Meadow Bunting and lots of Black-faced Buntings. The bunting theme continued with Yellow-breasted, Little and a Chestnut-eared Bunting while we got great views of Tristram's and Chestnut Bunting in wooded patches. A flyby White's Thrush was not that satisfying but excellent views of a female Red-flanked Bluetail and several Rufous-tailed Robins were wonderful. There were also plenty of Leaf Warblers to deal with including singing Sakhalin and Pale-legged Warblers, plenty of Arctic Warblers and a singing Kamchatka Leaf Warbler too.
With our time time quickly expiring we spent our last session at the Magic Temple/discotheque where we found most of the same species as the day before but added a real cracker to finish the trip with: White's Thrush. Actually, we were not done at this point as we spotted an adult Mongolian Gull in flight as we headed back to our bus to begin our journey back to Shanghai and enjoy our last dinner together, reflecting on all the great birds we had seen, the good company we had enjoyed and took our vote for bird of the trip.

Bird Of The Trip
By allocating points for each member's top three birds we came to a result for our top three birds of the trip. It may be a surprise that Spoon-billed Sandpiper in breeding plumage did not make it to the top of the list!
Courtois's Laughingthrush– such was the quality of our encounter with these beautiful birds that it just pipped "Spoonie" to number one spot.

Spoon-billed Sandpiper– it takes a lot to beat this critically endangered and unique shorebird in breeding plumage.

Reed Parrotbill– one of the first target birds of the trip made a huge impression on all of us due to its size, colour, character and great views/photos.


SYSTEMATIC LIST – SOUTH EAST CHINA APRIL/MAY 2017
ANSERIFORMES: Anatidae

Mandarin Duck

Aix galericulata

Falcated Duck

Anas falcate

Eurasian Wigeon

Anas penelope

Eastern Spot-billed Duck

Anas zonorhyncha

Scaly-sided Merganser

Mergus squamatus

GALLIFORMES: Phasianidae

Japanese Quail

Coturnix japonica

White-necklaced Partridge

Arborophila gingica gingica

Chinese Bamboo Partridge

Bambusicola thoracicus

Cabot's Tragopan

Tragopan caboti caboti

Silver Pheasant

Lophura nycthemera fokiensis

Elliot's Pheasant

Syrmaticus ellioti

Common Pheasant

Phasianus colchicus torquatus

PODICEPEDIFORMES: Podicepedidae

Little Grebe

Tachybaptus ruficollis poggei

Great Crested Grebe

Podiceps cristatus cristatus

CICONIIFORMES: Ciconiidae

Oriental Stork

Ciconia boyciana

PELECANIFORMES: Ardeidae

Eurasian Bittern

Botaurus stellaris stellaris

Cinnamon Bittern

Ixobrychus cinnamomeus

Black-crowned Night Heron

Nycticorax nycticorax nycticorax

Striated Heron

Butorides striata actophila

Chinese Pond Heron

Ardeola bacchus

Eastern Cattle Egret

Bubulcus coromandus

Grey Heron

Ardea cinerea jouyi

Purple Heron

Ardea purpurea manilensis

Great Egret

Ardea alba alba

Intermediate Egret

Egretta intermedia intermedia

Little Egret

Egretta garzetta garzetta

Chinese Egret

Egretta eulophotes

ACCIPITRIFORMES: Pandionidae

Western Osprey

Pandion haliaetus haliaetus

ACCIPITRIFORMES: Accipitridae

Black-winged Kite

Elanus caeruleus vociferus

Crested Honey-buzzard

Pernis ptilorhynchus orientalis

Crested Serpent Eagle

Spilornis cheela ricketti

Black Eagle

Ictinaetus malaiensis malaiensis

Crested Goshawk

Accipiter trivirgatus indicus

Chinese Sparrowhawk

Accipiter soloensis

Japanese Sparrowhawk

Accipiter gularis sibiricus

Pied Harrier

Circus melanoleucos

GRUIFORMES: Rallidae

Brown Crake

Amaurornis akool coccineipes

White-breasted Waterhen

Amaurornis phoenicurus phoenicurus

Common Moorhen

Gallinula chloropus chloropus

Eurasian Coot

Fulica atra atra

CHARADRIIFORMES: Haematopodidae

Eurasian (Far Eastern) Oystercatcher

Haematopus ostralegus osculans

CHARADRIIFORMES: Recurvirostridae

Black-winged Stilt

Himantopus himantopus

Pied Avocet

Recurvirostra avosetta

CHARADRIIFORMES: Charadridae

Grey-headed Lapwing

Vanellus cinereus

Pacific Golden Plover

Pluvialis fulva

American Golden Plover

Pluvialis dominica

Grey Plover

Pluvailis squatarola squatarola

Long-billed Plover

Charadrius placidus

Little Ringed Plover

Charadrius dubius jerdoni

Kentish Plover

Charadrius alexandrines nihonensis

Lesser Sand Plover

Charadrius mongolus mongolus

Lesser Sand Plover

Charadrius mongolus stegmanni

Greater Sand Plover

Charadrius leschenaultii leschenaultii

CHARADRIIFORMES: Jacanidae

Pheasant-tailed Jacana

Hydrophasianus chirurgus

CHARADRIIFORMES: Scolopacidae

Pin-tailed Snipe

Gallinago stenura

Common Snipe

Gallinago gallinago galinago

Asian Dowitcher

Limnodromus semipalmatus

(Eastern) Black-tailed Godwit

Limosa limosa melanuroides

Bar-tailed Godwit

Limosa lapponica baueri

Little Curlew

Numenius minutus

Whimbrel

Numenius phaeopus variegatus

Eurasian Curlew

Numenius arquata orientalis

Far Eastern Curlew

Numenius madagascariensis

Spotted Redshank

Tringa erythropus

Common Redshank

Tringa tetanus terrignotae

Marsh Sandpiper

Tringa stagnatilis

Common Greenshank

Tringa nebularia

Nordmann's Greenshank

Tringa guttifer

Green Sandpiper

Tringa ochropus

Wood Sandpiper

Tringa glareola

Grey-tailed Tattler

Tringa brevipes

Terek Sandpiper

Xenus cinereus

Common Sandpiper

Actitis hypoleucos

Ruddy Turnstone

Arenaria interpres interpres

Great Knot

Calidris tenuirostris

Red Knot

Calidris canutus rogersi

Sanderling

Calidris alba alba

Red-necked Stint

Calidris ruficollis

Little Stint

Calidris minuta

Long-toed Stint

Calidris subminuta

Sharp-tailed Sandpiper

Calidris acuminate

Curlew Sandpiper

Calidris ferruginea

Dunlin

Calidris alpine sakhalina

Spoon-billed Sandpiper

Eurynorhynchus pygmeus

Broad-billed Sandpiper

Limnicola falcinellus sibirica

Red-necked Phalarope

Phalaropus lobatus

CHARADRIIFORMES: Glareolidae

Oriental Pratincole

Glareola maldivarum

CHARADRIIFORMES: Laridae

Black-headed Gull

Chroicocephalus ridibundus

Saunders's Gull

Chroicocephalus saundersi

Black-tailed Gull

Larus crassirostris

Mongolian Gull

Larus mongolicus

Heuglin's Gull

Larus heuglini taimyrensis

Gull-billed Tern

Gelochelidon nilotica affinis

Caspian Tern

Hydroprogne caspia

Greater Crested Tern

Thalasseus bergii cristatus

Little Tern

Sternula albifrons sinensis

Common Tern

Sterna hirundo longipennis

Whiskered Tern

Chlidonias hybrida hybrida

White-winged Tern

Chlidonias leucopterus

COLUMBIFORMES: Columbidae

Feral Pigeon

Columba livia

Oriental Turtle Dove

Streptopelia orientalis orientalis

Eurasian Collared Dove

Streptopelia decaocto decaocto

Red Collared Dove

Streptopelia tranquebarica humilis

Spotted Dove

Spilopelia chinensis chinensis

CUCULIFORMES: Cuculidae

Greater Coucal

Centropus sinensis sinensis

Lesser Coucal

Centropus bengalensis lignator

Chestnut-winged Cuckoo

Clamator coromandus

Large Hawk Cuckoo

Hierococcyx sparverioides

Indian Cuckoo

Cuculus micropterus micropterus

Common Cuckoo

Cuculus canorus canorus

STRIGIFORMES: Strigidae

Northern Boobook

Ninox japonica florensis

APODIFORMES: Apodidae

White-throated Needletail

Hirundapus caudacutus nudipes

Pacific Swift

Apus pacificus kanoi

House Swift

Apus nipalensis nipalensis

CORACIIFORMES: Coraciidae

Oriental Dollarbird

Eurystomus orientalis cyanocollis

CORACIIFORMES: Alcedinidae

White-throated Kingfisher

Halcyon smyrnensis fokiensis

Common Kingfisher

Alcedo atthis bengalensis

Pied Kingfisher

Ceryle rudis insignis

BUCERITOFORMES: Bucerotidae

Eurasian Hoopoe

Upupa epops epops

PICIFORMES: Megalaimidae

Great Barbet

Psilopogon virens virens

PICIFORMES: Picidae

Grey-capped Pygmy Woodpecker

Yungipicus canicapillus scintilliceps

Great Spotted Woodpecker

Dendrocopos major cabanisi

Bay Woodpecker

Blythipicus pyrrhotis sinensis

Rufous Woodpecker

Micropternus brachyurus fokiensis

FALCONIFORMES: Falconidae

Pied Falconet

Microhierax melanoleucos

Eurasian Hobby

Falco Subbuteo subbuteo

Peregrine Falcon

Falco peregrinus japonensis

PASSERIFORMES: Campephagidae

Black-winged Cuckooshrike

Coracina melaschistos intermedia

Swinhoe's Minivet

Pericrocotus cantonensis

Grey-chinned Minivet

Pericrocotus solaris griseogularis

Scarlet Minivet

Pericrototus speciosus fohkiensis

PASSERIFORMES: Lanidae

Bull-headed Shrike

Lanius Bucephalus bucephalus

Brown Shrike

Lanius cristatus lucionensis

Long-tailed Shrike

Lanius schach schach

PASSERIFORMES: Vireonidae

White-bellied Erpornis

Erpornis zantholeuca griseiloris

Blyth's Shrike Babbler

Pteruthius aeralatus ricketti

PASSERIFORMES: Oriolidae

Black-naped Oriole

Oriolus chinensis diffusus

PASSERIFORMES: Corvidae

Eurasian Jay

Garrulus glandarius pekingensis

Azure-winged Magpie

Cyanopica cyanus cyanus

Red-billed Blue Magpie

Urocissa erythroryncha erythroryncha

Grey Treepie

Dendrocitta formosae sinica

Eurasian Magpie

Pica pica serica

PASSERIFORMES: Paridae

Sultan Tit

Melanochlora sultanea seorsa

Japanese Tit

Parus minor minor

Yellow-cheeked Tit

Machlolophus spilonotus rex

PASSERIFORMES: Remizidae

Chinese Penduline Tit

Remiz consobrinus

PASSERIFORMES: Alaudidae

Oriental Skylark

Alauda gulgula weigoldi

PASSERIFORMES: Pycnonotidae

Collared Finchbill

Spizixos semitorques semitorques

Brown-breasted Bulbul

Pycnonotus xanthorrhous andersoni

Light-vented Bulbul

Pycnonotus sinensis sinensis

Mountain Bulbul

Ixos mcclellandii holtii

Chestnut Bulbul

Hemixos castanonotus canipennis

Black Bulbul

Hypsipetes leucocephalus leucocephalus

Black Bulbul

Hypsipetes leucocephalus

PASSERIFORMES: Cettidae

Rufous-faced Warbler

Abroscopus albogularis fulvifacies

Manchurian Bush Warbler

Horornis borealis

PASSERIFORMES: Aegithalidae

Black-throated Bushtit

Aegithalos concinnus concinnus

PASSERIFORMES: Phylloscopidae

Dusky Warbler

Phylloscopus fuscatus

Buff-throated Warbler

Phylloscopus subaffinis

Pallas's Leaf Warbler

Phylloscopus proregulus

Yellow-browed Warbler

Phylloscopus inornatus

Hume's Leaf Warbler

Phylloscopus humei mandellii

Arctic Warbler

Phylloscopus borealis borealis

Kamchatka Leaf Warbler

Phylloscopus examinandus

Two-barred Warbler

Phylloscopus plumbeitarsus

Pale-legged Leaf Warbler

Phylloscopus tenellipes

Sakhalin Leaf Warbler

Phylloscopus borealoides

Eastern Crowned Warbler

Phylloscopus coronatus

Claudia's Leaf Warbler

Phylloscopus claudiae

Hartert's Leaf Warbler

Phylloscopus goodsoni fokiensis

Kloss's Leaf Warbler

Phylloscopus ogilviegranti

White-spectacled Warbler

Seicercus affinis intermedius

Chestnut-crowned Warbler

Seicercus castaniceps laurenti

PASSERIFORMES: Acrocephalidae

Oriental Reed Warbler

Acrocephalus orientalis

Black-browed Reed Warbler

Acrocephalus bistrigiceps

Manchurian Reed Warbler

Acrocephalus tangorum

Thick-billed Warbler

Iduna aedon rufescens

PASSERIFORMES: Locustellidae

Brown Bush Warbler

Locustella luteoventris

Marsh Grassbird

Locustella pryeri sinensis

PASSERIFORMES: Cisticolidae

Zitting Cisticola

Cisticola juncidis tinnabulans

Yellow-bellied Prinia

Prinia flaviventris sonitans

Plain Prinia

Prinia inornata extensicauda

Common Tailorbird

Orthotomus sutorius longicauda

PASSERIFORMES: Timaliidae

Grey-sided Scimitar Babbler

Pomatorhinus swinhoei

Streak-breasted Scimitar Babbler

Pomatorhinus ruficollis hunanensis

Rufous-capped Babbler

Stachyridopsis ruficeps davidi

PASSERIFORMES: Pellorneidae

Dusky Fulvetta

Alcippe brunnea superciliaris

Huet's Fulvetta

Alcippe hueti hueti

PASSERIFORMES: Leiothrichidae

Chinese Hwamei

Garrulax canorus canorus

Moustached Laughingthrush

Garrulax cineraceus cinereiceps

Masked Laughingthrush

Garrulax perspicillatus

Lesser Necklaced Laughingthrush

Garrulax monileger melli

Greater Necklaced Laughingthrush

Garrulax pectoralis picticollis

Blue-crowned (Courtois's) Laughingthrush

Garrulax courtoisi courtoisi

Buffy Laughingthrush

Garrulax berthemyi

White-browed Laughingthrush

Garrulax sannio sannio

Red-billed Leiothrix

Leiothrix lutea lutea

PASSERIFORMES: Syliviidae

Vinous-throated Parrotbill

Sinosuthora webbiana webbiana

Short-tailed Parrotbill

Neosuthora davidiana davidiana

Grey-headed Parrotbill

Psittiparus gularis fokiensis

Reed Parrotbill

Paradoxornis heudei heudei

PASSERIFORMES: Zosteropidae

Indochinese Yuhina

Yuhina torqueola

Black-chinned Yuhina

Yuhina nigrimenta

Japanese White-eye

Zosterops japonicus simplex

PASSERIFORMES: Elachuridae

Spotted Elachura

Elachura formosa

PASSERIFORMES: Sturnidae

Crested Myna

Acridotheres cristatellus cristatellus

Red-billed Starling

Spodiopsar sericeus

White-cheeked Starling

Spodiopsar cineraceus

Black-collared Starling

Gracupica nigricollis

PASSERIFORMES: Turdidae

White's Thrush

Zoothera aurea toratugumi

Grey-backed Thrush

Turdus hortulorum

Japanese Thrush

Turdus cardis

Chinese Blackbird

Turdus mandarinus mandarinus

Eyebrowed Thrush

Turdus obscurus

Pale Thrush

Turdus pallidus

Brown-headed Thrush

Turdus chrysolaus

PASSERIFORMES: Muscicapidae

Oriental Magpie Robin

Copsychus saularis saularis

Grey-streaked Flycatcher

Muscicapa griseisticta

Asian Brown Flycatcher

Muscicapa dauurica dauurica

Small Niltava

Niltava macgrigoriae signata

Blue-and-white Flycatcher

Cyanoptila cyanomelana cyanomelana

Siberian Blue Robin

Larvivora cyane cyane

Rufous-tailed Robin

Larvivora sibilans

Bluethroat

Luscinia svecica przevalskii

Siberian Rubythroat

Calliope calliope calliope

Red-flanked Bluetail

Tarsiger cyanurus

Slaty-backed Forktail

Enicurus schistaceus

White-crowned Forktail

Enicurus leschenaultia sinensis

Spotted Forktail

Enicurus maculatus bacatus

Blue Whistling-thrush

Myophonus caeruleus caeruleus

Yellow-rumped Flycatcher

Ficedula zanthopygia

Narcissus Flycatcher

Ficedula narcissina narcissina

Green-backed Flycatcher

Ficedula elisae

Mugimaki Flycatcher

Ficedula mugimaki

Taiga Flycatcher

Ficedula albicilla

Plumbeous Water Redstart

Phoenicurus fuliginosus fuliginosus

Blue Rock-thrush

Monticola solitaries philippensis

Blue Rockthrush

Monticola solitaries pandoo

Chestnut-bellied Rockthrush

Monticola rufiventris

Stejneger's Stonechat

Saxicola stejnegeri

Grey Bushchat

Saxicola ferreus haringtoni

PASSERIFORMES: Cinclidae

Brown Dipper

Cinclus pallasii pallasii

PASSERIFORMES: Chloropseidae

Orange-bellied Leafbird

Chloropsis hardwickii melliana

PASSERIFORMES: Nectariniidae

Fork-tailed Sunbird

Aethopyga christinae latouchii

PASSERIFORMES: Passeridae

Eurasian Tree Sparrow

Passer montanus saturatus

PASSERIFORMES: Estrilididae

White-rumped Munia

Lochura striata swinhoei

Scaly-breasted Munia

Lonchura punctulata topela

PASSERIFORMES: Motacillidae

Forest Wagtail

Dendronanthus indicus

Eastern Yellow Wagtail

Motacilla tschutschensis tschutschensis

Grey Wagtail

Motacilla cinerea cinerea

White Wagtail

Motacilla alba leucopsis

Richard's Pipit

Anthus richardi

Olive-backed Pipit

Anthus hodgsoni hodgsoni

Red-throated Pipit

Anthus cervinus

PASSERIFORMES: Fringillidae

Chinese Grosbeak

Eophona migratoria sowerbyi

Grey-capped Greenfinch

Chloris sinica sinica

PASSERIFORMES: Emberizidae

Meadow Bunting

Emberiza cioides castaneiceps

Tristram's Bunting

Emberiza tristrami

Chestnut-eared Bunting

Emberiza fucata kuatunensis

Little Bunting

Emberiza pusilla

Yellow-browed Bunting

Emberiza chrysophrys

Yellow-breasted Bunting

Emberiza aureola

Chestnut Bunting

Emberiza rutila

Black-faced Bunting

Emberiza spodocephala sordida

Black-faced Bunting

Emberiza spodocephala personata

Black-faced Bunting

Emberiza spodocephala spodocephala

Pallas's Reed Bunting

Emberiza pallasi pallasi

Common Reed Bunting

Emberiza schoeniclus pyrrhulina
Our next visit to Se China can be viewed here: SE China Migration Special 2019