SE China Spring Migration Special
Saturday 4th May – Sunday 12th May 2019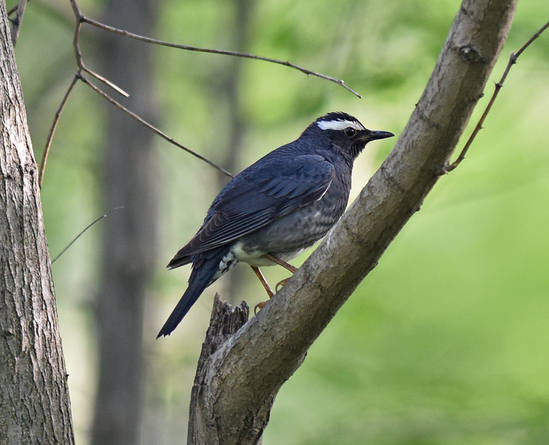 The south-east coast of China is one of the hottest Spring migration destinations anywhere in Asia. Every year this eastern birding mecca plays host to a mouth-watering selection of Siberian vagrants and in the right conditions can produce spectacular falls of migrants. The coast just north of Shanghai has a surprisingly good selection of habitats ranging from coastal marshes, reedbeds, lagoons, scrub, arable fields and pockets of woodland that can entice wave upon wave of tired migrants to linger. Quite often they are exhausted and birds that are extremely shy on their breeding grounds are remarkably tame here and allow unparalleled opportunities to study them up close and personal! We will begin by visiting what has been called the best site in the world for seeing Spoon-billed Sandpipers. This is their last staging post before leaving for their breeding grounds in eastern Russia and we have a chance of seeing one in its breeding finery if we are lucky. A multitude of other migrant waders should also be seen, such as flocks of Great Knots, Red-necked Stints, Little Curlew and hopefully a rare Asian Dowitcher or Nordmann's Greenshank. The coastal wetlands hold Black-faced Spoonbill and Chinese Egret and Saunder's Gulls patrol the area, whilst Chinese endemics Reed Parrotbill and Marsh Grassbird nest in the reedbeds.

We have timed our visit when Spring migration will be in full flow and we should see a good selection of 'eastern vagrants' as we explore the varied habitats. On previous visits we've been totally amazed at the number of birds moving through Temple Wood and Magic Wood and it's been hard to know where to look fIrst. All those near-mythical Siberian rarities we can only dream about seeing in the UK and Europe are possible such as Siberian Blue Robin, Siberian Rubythroat, Pechora Pipit, Thick-billed, Lanceolated, Two-barred Greenish and Pallas's Grasshopper Warblers, Siberian, White's and Dusky Thrushes, and Black-faced and Pallas's Reed Buntings amongst many others.
If you have ever dreamed of cleaning up on those eastern rarities that occasionally straggle to our shores, then this is the chance.
Chinese Egret

Black-faced Spoonbill

Amur Falcon

Yellow-legged Buttonquail

Baillon's Crake

Great Knot

Little Curlew

Swinhoe's Snipe

Far Eastern Curlew

Grey-tailed Tattler

Long-toed Stint

Red-necked Stint

Spoon-billed Sandpiper

Nordmann's Greenshank

Asiatic Dowitcher

Saunder's Gull

Northern Boobook

Oriental Cuckoo

Blyth's Pipit

Pechora Pipit

Chinese Grosbeak

Rufous-tailed Robin

Siberian Blue Robin

Siberian Rubythroat

White's Thrush

Siberian Thrush

Grey-sided Thrush

Grey-backed Thrush

Eye-browed Thrush

Pale Thrush

Brown-headed Thrush

Dusky Thrush

Japanese Paradise-Flycatcher

Asian Stubtail

Manchurian Bush Warbler

Pallas's Grasshopper Warbler

Lanceolated Warbler

Marsh Grassbird

Thick-billed Warbler

Eastern Crowned Warbler

Pale-legged Leaf-Warbler

Two-barred Warbler

Arctic Warbler

Pallas's Warbler

Radde's Warbler

Narcissus Flycatcher

Yellow-rumped Flycatcher

Mugimaki Flycatcher

Blue-and-white Flycatcher

Green-backed Flycatcher

Reed Parrotbill

Chinese Penduline-Tit

Asian Azure-winged Magpie

Chestnut-eared Bunting

Tristram's Bunting

Yellow-breasted Bunting

Pallas's Reed Bunting

Japanese Reed Bunting
Day 1
Arrival in Shanghai - Nanhui
-
4th May
Following an overnight flight we will arrive in Shanghai (Pudong) Airport this morning and begin our exploration of this fascinating country by driving for around an hour to an area of marshes and reed beds, where we can search for the stunning endemic Reed Parrotbill. The parrotbill is usually rather inquisitive and very active as it flies over the reeds before perching on a tall stem to survey its territory. The other key species here is Marsh Grassbird (also known as
Japanese Swamp Warbler), which usually betrays its presence by its diagnostic song flight where it rises high into the air before parachuting back into the reeds.

There are a number of other birds here and considering it is migration time, anything could possibly turn up. We may well see Eurasian Bitterns here, as well as migrating Japanese Sparrowhawks or Amur Falcons, Pacific Swifts, Chinese Penduline-Tit, the hulking Manchurian Bush-Warbler, Vinous-throated Parrotbill, Narcissus Flycatcher, or even Pallas's Reed Bunting amongst many other possibilities. There's a great patch of trees and scrub around the local Convention Centre that has become something of a migrant hot-spot and this is the place to get some really close views of Siberian Blue Robin, Japanese and Chestnut-flanked White-eyes, Chinese Grosbeak or an Eastern Crowned Warbler. After an action-packed first day we will retire to a decent hotel for some much-needed rest and a good meal. Night in Nanhui.
We can spend the whole morning checking out various migration hot-spots as we work our way along the coast and this is a particularly good area for waders with species such as Terek Sandpiper, Grey-tailed Tattler, Long-toed and Red-necked Stint, Oriental Pratincole and Sharp-tailed Sandpiper all distinctly possible. Our previous visits have turned up Little Curlew, Citrine Wagtail, Narcissus, Mugimaki and Asian Brown Flycatchers, Red-throated and Pechora Pipits, Grey-crowned, Pale-legged and Eastern Crowned Warblers, as well as some stunning Chinese Grosbeaks. After lunch we will drive for a few hours to Xiao Yang Kou, or more simply known as Rudong. Night in Rudong.
Days 3 - 7
Rudong - Yangkou
From our conveniently situated hotel we will make day excursions to a variety of migrtion hot-spots, all within an easy drive of our base. Where we go will depend on the prevailent weather conditions but we'll work each area and will undoubtedly turn up plenty of great birds. This is the single best site in the whole of China, and arguably the most accessible reliable site in the world for Spoon-billed Sandpiper, one of the world's rarest and most enigmatic waders. We have timed our visit to give us a chance of seeing these exceedingly rare birds in their splendid brick-red breeding finery just before they depart for their breeding grounds in north-east Russia – something that very few western birders have had the privilege to witness. It will take some finding in this vast area, especially considering that tens of thousands of shorebirds pass through here each spring, so we'll need a good slice of luck as well!

Indeed, it is realistic to expect to see over thirty species of wader here in a day! Amongst a superb selection of other shorebirds we can find such sought-after species as Lesser and Greater Sandplovers, Far Eastern Curlew, Pacific Golden Plover, Great Knot, Kentish Plover, Broad-billed, Sharp-tailed and Terek Sandpipers, Spotted Redshank, Red-necked and Temminck's Stints and Grey-tailed Tattler. There are also good opportunities to find the highly-prized Asiatic Dowitcher and Nordmann's Greenshank amongst huge flocks of more familiar waders. The recently discovered White-faced (or Swinhoe's) Plover and Black-faced Spoonbill are also a distinct possibility here. Further searching of the mudflats should reveal Gull-billed Tern and if we are lucky, a fine Saunder's Gull.


At this time of year migration will be well underway and this opens up a whole new realm of possibilities to add to the resident population. The nearby Magic Forest is a local migrant trap where many surprises can turn up and we could find Grey-streaked, Dark-sided, Yellow-rumped, Mugimaki and Taiga Flycatchers, Forest Wagtail, Brown Shrike, Siberian Rubythroat, Siberian Blue and Rufous-tailed Robins, White-throated Rock-Thrush, Siberian, Eye-browed, Pale and Grey-sided Thrushes, Forest Wagtail, Olive-backed and Pechora Pipits, Black-browed Reed Warbler, Dusky, Arctic, Pale-legged and Claudia's Warblers and Chestnut, Chestnut-eared and Elegant Buntings. Other species we may encounter in the general area include Falcated Duck, Yellow Bittern, Intermediate Egret, Pied Harrier, Grey-headed Lapwing, Oriental Turtle-Dove, Black-capped Kingfisher, Lesser Coucal, Pacific Swift, Chinese Grosbeak, Ashy Minivet, Chinese Blackbird, Asian Azure-winged Magpie, Japanese White-eye, Yellow-browed, Meadow and Black-faced Buntings and Crested Myna. Nights in Rudong.
Day 8 Rudong - Nanhui - Shanghai
We can spend the morning around the estuary and woodland looking for recently arrived migrants and new birds will almost certainly delay our departure! We could well find Lesser Cuckoo, Amur Paradise-Flycatcher, Radde's and Two-barred Warblers, Daurian Starling, Tristram's, and Chestnut, Little and Meadow Buntings. Sometimes Radde's and Dusky Warblers can be extremely numerous and you can find them on any patch of wasteground, no matter how small. During our last visit we managed to find a beautiful Japanese Paradise-Flycatcher, both Blue-and-white and Elisae's Flycatchers, Lanceolated Warbler and Japanese Grosbeak. We will then make one last visit to the Nanhui area to see if we can find anything new. Slightly later migrants can include Pallas's Grasshopper and Lanceolated Warblers, whilst there's always the possibility of something mega turning up such as a Schrenck's Bittern,
Fairy Pitta, Japanese Robin, Japanese Thrush, Sakhalin and Kamchatka Leaf-Warblers,
Middendorff's Grasshopper Warbler, Manchurian Reed Warbler or even something rarer!
Day 9
End of Tour
- 12th May
Transfer to the international airport for your onward journey home and the conclusion of a wonderful tour.
Leaders: Nick Bray and local guides.

Ground Price: £1950.00

Airfare: £550.00 - £630.00 (Approx) - Shanghai/Shanghai

Single supplement: £195.00

Deposit: £350.00

Group size: Minimum for tour to go ahead 5 and maximum 10 with 2 leaders.

Included in cost: Accommodation in twin rooms, all en-suite, all meals from lunch on Day 1 to breakfast on Day 9, all entrance fees, all transport throughout, and services of leaders and an English speaking guide.

Not included: International airfare (Virgin Atlantic is the preferred carrier for this tour), visa fee, insurance, drinks, tips, and items of a personal nature.

Accommodation: Comfortable hotels close to the birding sites.

Tour Code: Expect good food, decent hotels, and a mixture of weather. Above all, you need to expect the unexpected! We will be out in the field all day, so expect the days to be quite long. The weather is generally unsettled at this time of year, so expect some cooler weather and odd showers mixed in with periods of quite warm and sunny weather. Driving times are minimal and the birding sites at Nanhui and Rudong are under half an hour away from the hotels we stay in at each site.