SABAH - BORNEO 2019
Tuesday 26th March – Monday 8th April 2019


The rainforest-cloaked island of Borneo is one of the richest places on our planet for wildlife and is one of those 'must-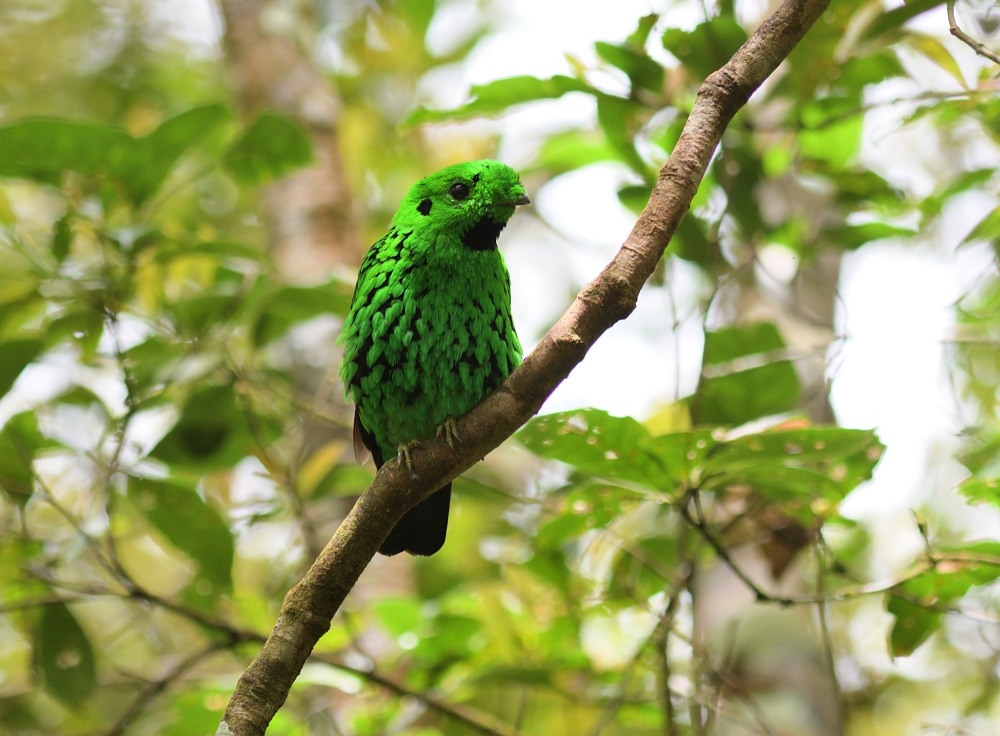 visit' places on every birders wish-list. We will be based in the northern state of Sabah, which is part of Malaysia and begin our exciting journey with a visit to the Rafflesia Reserve in the Crocker Mountain Range for our first endemics that are more difficult elsewhere such as Bornean Leafbird, and both Bornean and Mountain Barbets. Moving to higher elevations and the cool montane forests of the very impressive Mount Kinabalu we will spend several days looking for such enigmatic species as Everett's Thrush, Bornean Stubtail, Kinabalu Friendly Warbler and Whitehead's Trogon amongst a fine cast of endemic and localised species. There will also be some time at Poring Hot Springs before descending into the verdant lowlands, the lush riverine forest and mangroves on the Kinabatangan River and two different lowland rainforest areas at Sepilok and the famous Borneo Rainforest Lodge at Danum Valley. This is an exciting, bird-filled ride in search of some stunningly beautiful endemics, from Bornean Bristlehead and Blue-headed Pitta to Great Argus and Storm's Stork and everything else in between! In addition to a mouth-watering collection of endemic birds, the forests of Borneo are spectacularly rich in many more widespread tropical Asian species including up to eight species of hornbill, six species of broadbill, five species of trogon, pittas, babblers, barbets and many others such as Buffy Fish Owl, Wallace's Hawk-eagle and Bat Hawk. While birds are our priority the incredibly rich forests of Borneo also offer a chance of some spectacular mammals such as Proboscis Monkey and Orang-utan.
TARGETS:
Red-breasted Partridge

Crimson-headed Partridge

Bornean Crested Fireback

Great Argus

Storm's Stork

Bat Hawk

White-fronted Falconet

Bornean Ground-Cuckoo

Blue-banded Kingfisher

Bornean Barbet

Helmeted Hornbill

Wrinkled Hornbill

Bushy-crested Hornbill

Great Slaty Woodpecker

Olive-backed Woodpecker

Whitehead's Broadbill

Whitehead's Trogon

Blue-headed Pitta

Black-crowned Pitta

Blue-banded Pitta

Bornean Bristlehead

Bornean Stubtail

Everett's Thrush

Bornean Spiderhunter

Fruithunter

Bornean Forktail

Eye-browed Jungle-Flycatcher

Bornean Wren-babbler

Mountain Wren-Babbler

Bare-headed Laughingthrush

Rufous-headed Laughingthrush

Friendly Bush Warbler

Whitehead's Spiderhunter

Bornean Black Magpie

Bornean Green Magpie

Whitehead's Spiderhunter

Bornean Orangutan

Proboscis Monkey



Day 1

Arrival in Kota Kinabalu

- 26th March
Following an overnight flight to Kuala Lumpur and onward connection to Kota Kinabalu, plan to arrive today (26th March) where you will be met at the airport and transferred to a hotel in the town for an overnight stay. Night in Kota Kinabalu.
Day 2
Kota Kinabalu - Rafflesia Centre - Mount Kinabalu
An early start will see us head to the Rafflesia Reserve in the Crocker Mountain Range in search of Mountain Serpent-Eagle, Bornean Leafbird, Bornean Bulbul, Bornean and Mountain Barbets, Whiteheads Broadbill, Pygmy Ibon, and both Whitehead's and Streaky-breasted Spiderhunters. We will then transfer to Kinabalu National Park for a four night stay.
Days 3 - 5 Mount Kinabalu
At 4,101 metres Mount Kinabalu and its forested slopes hold a rich diversity of montane and sub-montane fauna and flora. During our time at Mt. Kinabalu we'll explore the extensive trail system and also do some birding along the road. A typical day will begin with an early drive up the road to the Timpohon Gate, the highest driveable point in the park, with a chance of the shy Everett's Thrush or Bornean Forktail along the way before exploring the numerous trails. The trickier upland endemic species such as Whitehead's Broadbill, Black-breasted Fruithunter, Bare-headed Laughingthrush, Whitehead's Trogon, Whitehead's Spiderhunter, Whitehead's Broadbill, and both Crimson-headed and Rufous-chested Partridge are always foremost in our minds here. But there are many other species to see including such delightful endemics and near-endemics as Mountain Serpent-eagle, Bornean Swiftlet, Mountain and Bornean Barbets, Bornean Whistling-thrush, Eye-browed Jungle-Flycatcher, Bornean Crested and Cinereous Bulbuls (split by HBW as Green-winged Bulbul and endemic to Borneo), Black-capped White-eye, Mountain Black-eye, Chestnut-crested Yuhina, Bornean Whistler, Mountain Leaf-warbler, Short-tailed Green Magpie, Bornean Treepie, Bornean Stubtail and Temminck's Babbler. On one morning we will visit Mesilau, about 40 minutes away, which gives us the easiest access to the habitat of Kinabalu Friendly Warbler and White-browed Shortwing - the latter split by HBW as Bornean Shortwing. In the event of bad weather on the mountain, a not infrequent occurrence, we have the option of driving into the lowlands where the extensive ricefield complex at Kota Belud offers the chance to see a host of waders and other wetland species including, Wood Sandpipers, Long-toed Stint, Oriental Pratincole, Wandering Whistling-duck, Intermediate Egret, Javan Pond Heron, Cinnamon and Yellow Bitterns, and if we are lucky the recently established Buff-banded Rail. During our time on the mountain we should encounter many mixed feeding flocks and add a few more species to our lists such as Mountain Imperial-pigeon, Checker-throated Woodpecker, Golden-naped Barbet, Sunda and Chestnut-capped Laughingthrushes, Sunda Cuckooshrikes, Ochraceous Bulbul (split by HBW as Chestnut-vented Bulbul and endemic to Borneo), Little Pied and Indigo Flycatchers, Mountain Tailorbird, Sunda Bush-warbler, Yellow-breasted Warbler, White-throated Fantail, Grey-chinned Minivet, Grey-throated Babbler, Blyth's Shrike-babbler, Mountain Wren-babbler, Temminck's Sunbird, Black-sided Flowerpecker, Hair-crested Drongo and Black-and-Crimson Oriole amongst others. We will also pay a visit to Poring Hot Springs in search of a totally different avifauna and where we have chances of finding Bornean Banded and Blue-banded Pittas. This is also the site where Hose's Broadbill can sometimes be found. There are also other rare birds seen occasionally here such as Chestnut-capped Thrush, and even White-tailed Blue Flycatcher.
Days 6 - 7 Kinabalu - Sepilok - Rainforest Discovery Centre
After some final birding at Kinabalu Park we'll pack up and drive east to Sepilok, a journey of 4-5 hours. On arrival at Sepilok for a two-night stay we'll have time to do some introductory lowland primary forest birding at the edge of the Sepilok Rainforest Reserve which hosts numerous new species such as Rufous-bellied Eagle, Rufous-collared Kingfisher, Blue-throated Bee-eater, Grey-rumped Treeswift, Silver-rumped Spinetail, Red-naped and Scarlet-rumped Trogons, Buff-rumped and Buff-necked Woodpeckers, Black-and-red and Black-and-yellow Broadbills, plus a wide selection of spiderhunters, sunbirds, malkohas, hornbills, kingfishers and others in the vicinity of our lodge. Those who wish to will have an opportunity this afternoon to visit the Sepilok Orang-utan Rehabilitation Centre just around the corner.
The following morning at dawn we will take up our positions on the impressive canopy walkway at the nearby Sepilok Rainforest Discovery Centre. This is an excellent vantage point from which to see the comings and goings of numerous canopy species but foremost in our minds here will be the enigmatic Bornean Bristlehead; this is the most reliable site for this species anywhere, though some luck is still required to connect with a flock as they roam extensively through the tall emergent trees of the area. Other species likely to be present include Bushy-crested and Rhinoceros Hornbill, Long-tailed Parakeet, Raffles's and Chestnut-breasted Malkoha, Rufous-backed Kingfisher, Whiskered Treeswift, Buff-rumped, White-bellied, Maroon, Banded and Rufous Woodpeckers, with a chance of Great Slaty Woodpecker too, Gold-whiskered Barbet, Blue-headed Pitta, Diard's Trogon, Greater Green Leafbird, White-crowned Shama, Black-winged Flycatcher-Shrike, Ashy and Rufous-tailed Tailorbirds, Olive-winged and Buff-vented Bulbul, Thick-billed and Spectacled Spiderhunters, Red-throated Sunbird and Bornean Black Magpie. We will then return to our hotel for a late breakfast and a rest, though with continued birding in the hotel grounds always an option, as we could find Van Hasselt's Sunbird, Little Spiderhunter, Scarlet-backed Flowerpecker and Silver-rumped Needletails flying over. In the afternoon we will return to the Rainforest Discovery Centre and explore some of the trails there before returning to the Canopy Walkway for a further Bristlehead vigil.
Days 8 - 9
Sepilok - Gomantong Caves - Sukau - Kinabatangan River
Our day will begin with a return to Sepilok Rainforest Discovery Centre to catch up with any species still missing from our lists. Later in the morning we will move on towards our next base on the Kinabatangan River at Sukau. However we will break our journey with an afternoon visit to the forest around Gomantong Caves where we can take some time to admire the spectacle provided by these awesome caverns. Our primary focus here will be to view the breeding colonies of Black-nest, Mossy-nest, Edible-nest and Glossy Swiftlets, amongst the masses of Wrinkle-lipped Bats. As the bats emerge towards dusk we have an excellent opportunity of encountering Bat Hawks which gather to feed on them. There is also a particularly rich fragment of rainforest along the entrance road with up to five species of hornbill possible including the amazing Rhinoceros, White-crowned and Bushy-crested Hornbills. It is also a good area for the endemic White-fronted Falconet and we will make a special effort to find this sought-after species. Amongst the many other possibilities here we could find Square-tailed Drongo Cuckoo, Whiskered and Grey-rumped Treeswifts, Hooded Pitta, Black-throated and Chestnut-winged Babblers and others. There is always a chance of finding an Orang-utan in this area as well, as we did on one of our previous tours. From here it is a short drive to the lower Kinabatangan River where a boat will be waiting to transfer us to our comfortable riverside lodge for a two night stay.
The floodplain of the Lower Kinabatangan River is a low-lying wilderness covered by a patchwork of natural rainforest, dotted with oxbow lakes and limestone outcrops. During our time at Sukau we will spend each morning and evening exploring the main river and its tributaries by boat. This attractive area is home to several very special species and is one of the few remaining strongholds of Storm's Stork. Although often elusive there is a chance of the enigmatic Bornean Ground Cuckoo along some quieter tributaries, while Black-and-yellow and Red-and-Black Broadbills are relatively common, as are White-crowned and the localized Wrinkled Hornbills. This is a good area for Hooded Pitta and several other pitta species are also possible. While out on birding cruises we should certainly see Proboscis Monkeys and there is a very real chance of Orang-utan too and mayve even Bornean Pygmy Elephant. A night cruise will give an opportunity to look for Buffy Fish Owl or perhaps Oriental Bay-owl or Large Frogmouth, plus a host of mammals such as Colugo and Leopard Cat. Other species present in this fabulous area include Lesser Adjutant, White-bellied Sea-eagle, Jerdon's Baza, Lesser Fish-eagle, Wallace's Hawk-eagle, Jerdon's Baza, Blue-eared Kingfisher, Sunda Frogmouth, Long-tailed Parakeet, Little and Thick-billed Green-pigeons, Moustached Hawk-cuckoo, Orange-backed and Great Slaty Woodpeckers, Red-billed, Raffles's and Chestnut-breasted Malkohas, Diard's and Red-naped Trogons, Helmeted, Asian Black, Oriental Pied, Bushy-crested and Wreathed Hornbills, Whiskered Treeswift, Blue-winged and Blue-headed Pittas, Straw-headed, Grey-bellied, Spectacled, Puff-backed, Grey-cheeked, Yellow-bellied, Hairy-backed, Buff-vented, Cream-vented and Olive-winged Bulbuls, Malaysian Blue Flycatcher, Asian Paradise-Flycatcher, Lesser Cuckoo-Shrike, Black-winged Flycatcher-shrike, Fiery Minivet, Large Woodshrike, White-chested Babbler, Greater Racket-tailed and Bronzed Drongos, Green Iora, Lesser Green and Greater Green Leafbirds, Crimson Sunbird and Dark-throated Oriole. A boardwalk behind our lodge offers access to the jungle on foot and between boat trips we will explore this in hope of finding a variety of species including Dusky Broadbill, Maroon-breasted and Rufous-winged Philentomas, Horsefield's Babbler, Fluffy-backed Tit-babblers, and other lowland forest species.
Days 10 - 12
Lahad Datu - Danum Valley
After a final morning's birding along the Kinabatangan River we will move on to our final destination at the famous Borneo Rainforest Lodge in the wonderful Danum Valley for a three night stay. This amazing site comprises 438 square kilometres of virgin undisturbed primary and secondary lowland rainforest and boasts a reserve list of over 270 species. Amazingly, there are more species of tree here than in Amazonia, and the attendant flora and fauna is just something you have to see to believe! We will concentrate on the remaining lowland specialities in this very rich area which includes many Borneo specialities. And the birding begins from our lodge which is nestled close to the banks of the Danum River and is totally surrounded by the forest. Highlights here include Great Argus and Crested Fireback, Olive-backed and Great Slaty Woodpeckers, Blue-headed and Black-crowned Pittas, as well as the recently split Bornean Banded Pitta, Bornean Bristlehead, Chestnut-backed Scimitar-Babbler, Crested Jay and Rufous-chested Flycatcher. Nearby forest trails provide a chance of Hooded Pitta, Little Bronze-cuckoo, and ground dwelling species such as Chestnut-necklaced Partridge, Black-capped and Short-tailed Babblers and Striped and Bornean Wren-babblers, whilst Black-throated Wren-babbler is also present. Babblers are always a feature of south-east Asian birding and this area is particularly rich in them, so we have a chance of finding Chestnut-rumped, Chestnut-winged, Scaly-crowned, Horsfield's, Ferruginous, Sooty-capped, Short-tailed, Black-capped and Rufous-fronted, as well as Bold-striped and Fluffy-backed Tit-babblers amongst others!
Birding other trails offers a better chance of more arboreal species such as Rhinoceros, Bushy-crested, Wreathed, Helmeted and Wrinkled Hornbills, Rufous-collared Kingfisher, Rufous Piculet, Buff-rumped, Buff-necked, Orange-backed and Crimson-winged Woodpeckers, Yellow-crowned, Red-throated, Gold-whiskered and Brown Barbets, Blue-crowned Hanging-parrot, Violet Cuckoo, Chestnut-breasted, Raffles's and Red-billed Malkohas, Whiskered Treeswift, Blue-throated Bee-eater, Diard's and Red-naped Trogons, Lesser Cuckooshrike, Hairy-backed and Finsch's Bulbuls, Streaky-breasted, Yellow-eared, Long-billed and Thick-billed Spiderhunters, Pygmy White-eye, Bornean Black Magpie and White-bellied Munia. Both Wallace's Hawk-eagle and White-fronted Falconet are also sometimes present here and worth keeping an eye out for.
At some clearings in the dense forest various pigeons are often attracted to the bare treetops with a good chance of the rare Large Green-pigeon amongst the commoner Thick-billed and Little Green-pigeons, as well as the scarce Jambu Fruit-dove, and we may well hear the reclusive Giant Pitta here as well. Our superb lodge itself lies in a wooded valley where feeding flocks frequently pass by, and the surrounding area offers us chances of Lesser Fish-eagle, Brown Wood-owl, Cinnamon-headed Green-pigeon, Maroon Woodpecker, Scarlet-rumped Trogon, both Green and Banded Broadbills, Streaked Bulbul, Lesser Cuckooshrike, Maroon-breasted Philentoma, Brown Fulvetta and Spotted Fantail amongst others. Along the river there is sometimes a Blue-banded Kingfisher in residence. We also have the opportunity for a night excursion which could produce a Reddish Scops-owl, Brown Wood-owl or Buffy Fish-owl, and we could try spotlighting some of the shyer mammals found here such as Red Giant Flying Squirrel, Greater Mouse-Deer or even a Malay Civet. Other mammals we could find in daytime include Bornean Gibbon, Orang-utan, Bornean Pygmy Elephant, Common Palm Civet, Colugo, Thomas's Flying Squirrel or even a Leopard Cat.
Day 13

Danum Valley -
Lahad Datu - Kota Kinabalu - Kuala Lumpur
We have a final morning's birding at Danum Valley to look for any new species and you just never know what can turn up. Our last few hours here on a previous visit produced Giant Pitta and Great Argus in a magic 20 minute spell, and on our last tour we had Bornean Banded and Blue-banded Pitta within an hour of each other before we had to leave for the airport!! After lunch we will return to the nearest town of Lahad Datu from where flights back to Kota Kinabalu depart. Evening connection to Kuala Lumpur for onward international flights or transfer to a local hotel.
Day 14

Kuala Lumpur - UK

- 8th April
Morning flight from Kuala Lumpur and the conclusion of the tour.
Ground Price:
£3545.00
- Kota Kinabalu/Lahad Datu
Airfare:

£700 - £840.00

(Approx) - UK/UK
Single supplement:
£450.00
Deposit:
£500.00
Group size:
Minimum for tour to go ahead 5 and maximum 8.
Included in cost: Accommodation in twin rooms en-suite, all meals including picnic lunches (from dinner on Day 1 to lunch on Day 14) where necessary, all entrance fees to National Parks, transport throughout in air-conditioned vehicles, boat trips, and services of leaders.
Not included: International airfare, insurance, departure tax, optional hotel in Kuala Lumpur or Kota Kinabalu for night of 7th April (if requested), camera fees, drinks, tips and items of a personal nature. Please note the tour ends upon our return to Lahad Datu - we can arrange flights back to Kota Kinabalu, so please ask our office for details.
Accommodation: Ranges from standard to very good. We will stay in the best available lodges close to the birding sites we visit to cut-out the necessity of any long drives before reaching the best birding areas each day.
Tour Code: This is a standard birding tour with regular birding walks along roads and well marked trails. Some of the trails on Mt. Kinabalu are a little steep in places but the pace is slow so anybody of average fitness should have no problems. However the hike for Friendly Warbler is much steeper than any other trail we will do on this tour. Some trails can be rather muddy after rain. Early morning starts are the norm, either after an early breakfast or as a pre-breakfast excursion, there are also some night time activities. The climate on Mt. Kinabalu is relatively fresh while elsewhere it is tropically hot and humid. Rain is likely at times, most often in the form of afternoon thunderstorms. Be prepared for all eventualities.

2014 Tour Report - Borneo Report

2017 Tour Report - Borneo Report
2014 Photo Gallery - Borneo Gallery.

2017 Photo Gallery - Borneo Gallery.
Receive our e-newsletter:
Join the Zoothera e-mailing list for up-to-date news on new tours, tour reports and special offers.
e-mail: [email protected] to sign up.