Sabah - Borneo Tour Report 2014
8th February - 25th February 2014
TOUR HIGHLIGHTS:
Either for rarity value, excellent views or simply a group favourite.
Malayan Partridge (ext)
Red-breasted Partridge
Chestnut-necklaced Partridge
Crimson-headed Partridge
Bornean Crested Fireback
Great Argus
Storm's Stork
Mountain Serpent-Eagle
Bat Hawk
White-fronted Falconet
Bornean Ground-Cuckoo
Dark Hawk-Cuckoo (ext)
Barred Eagle-Owl
Blue-banded Kingfisher
Blue-eared Kingfisher
6 Trogon species
Helmeted Hornbill
Bushy-crested Hornbill
Rhinoceros Hornbill
White-crowned Hornbill
Golden-naped Barbet
Fire-tufted Barbet
Mountain Barbet
Yellow-crowned Barbet
Golden-naped Barbet
Bornean Barbet

Blue Nuthatch (ext)
11 Woodpecker species
6 Broadbill species
Giant Pitta
Black-crowned Pitta
Blue-banded Pitta
Bornean Bristlehead
Bornean Whistler
Bornean Black Magpie
Crested Jay
18 Bulbul species!
Bornean Stubtail
Black-throated Wren-babbler
Fluffy-backed Tit-Babbler
Bare-headed Laughingthrush
Sunda Laughingthrush
Pygmy Ibon
Chestnut-crested Yuhina
White-crowned Shama
Eye-browed Jungle-Flycatcher
Everett's Thrush
Chestnut-naped Forktail
Bornean Forktail
Bornean Spiderhunter
Bornean Orang-Utan
Proboscis Monkey
SUMMARY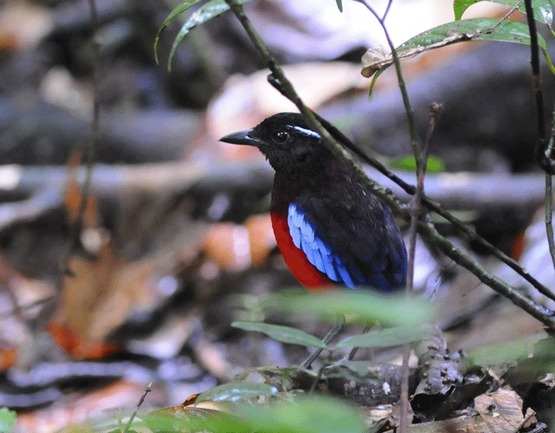 The first ZOOTHERA tour to Sabah & Fraser's Hill in Peninsular Malaysia resulted in a very respectable 310 species, with 42 Bornean endemics recorded. We began at the Rafflesia Reserve in the Crocker Mountain Range which gave us our first endemics – Mountain and Bornean Barbets. We then spent the next few days at Mount Kinabalu where low cloud and rain hampered our birding but we still managed to find some great birds with Red-breasted & Crimson-headed Partridges and an Everett's Thrush being particular favourites. Moving on to Sepilok and the fabulous Rainforest Discovers Centre with its excellent network of trails and superb canopy walkway we were fortunate to find Bornean Bristlehead almost immediately. We spent many enjoyable hours floating along the Kinabatangan River getting Storm's Stork, Bornean Pygmy Elephants, troops of Proboscis Monkeys and best of all, an incredible encounter with Bornean Ground-Cuckoo. We finished with a flourish at the incredible Borneo Rainforest Lodge in Danum Valley with a female Giant Pitta and Great Argus. There was also Crested Fireback, Chestnut-necklaced Partridge, Bat Hawk, Blue-banded and Black-crowned Pittas, fantastic Helmeted Hornbills and many other classic south-east Asian species. And who could forget our 3 sightings of truly wild Orang-utans that makes a visit to this wildlife-rich island so amazing? Our extension to the cool montane forests of Fraser's Hill gave us Malayan Partridge, Fire-tufted Barbet, Malayan and Chestnut-capped Laughingthrushes, some great broadbills and brought our hornbill list up to 9 species. This was an incredible adventure and a fantastic wildlife experience with a creditable 37 species of mammal, making this a superb all-round wildlife holiday.