Nepal - Phulchowki, Chitwan and Koshi Tappu
Sunday 4th February – Saturday 17th February 2018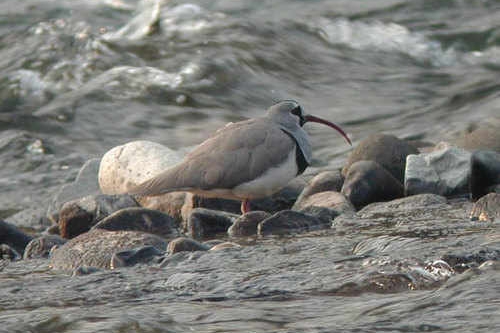 The small Himalayan kingdom of Nepal lies between Tibet to the north and India to the south. Hugely diverse in habitats, it has recorded over 850 species of bird - a remarkably high number for such a small country. Our tour covers the three top birding sites. We begin and end the tour at Phulchowki, the highest peak in the Kathmandu Valley at just over 9,000ft and will search the oak and rhododendron covered slopes for large, mixed species flocks and is a great way to get the tour started. Leaving here we will check out various sites along the Rapti River for forktails, Wallcreeper and the much sought-after Ibisbill, a few of which winter along the quieter stretches of the river. We'll have a 4 night stay at Chitwan National Park, with its fine selection of grassland and tropical forest specialties, where the highlight may well be our elephant ride in search of Indian Rhinoceros, Sloth Bear and possibly Tiger or Leopard. Driving east we will visit the bird-rich Koshi Tappu, which is one of the finest wetlands in all Asia, and it is possible to see well over 100 species in a day including mouth-watering gems such as Siberian Rubythroat, Swamp Francolin, Pied Harrier, or even the rare Gangetic Dolphin. Nepal is a wonderful country with friendly people, fantastic wildlife and some of the most breathtaking scenery anywhere in the world.
Grey-headed Fish-Eagle

Red-necked Falcon

Collared Falconet

Black-bellied Tern

Himalayan Parakeet

Blue-eared Kingfisher

Brown-fronted Woodpecker

Himalayan Flameback

Red-headed Trogon

Golden Bush-Robin

Small-billed Scaly Thrush

Long-billed Thrush

White-collared Blackbird

Green Shrike-Babbler

White-browed Fulvetta

Grey-sided Laughingthrush

Hoary Barwing

Yellow-breasted Bunting

Indian One-horned Rhinoceros

Bengal Tiger

Gangetic River Dolphin
Day 1
Kathmandu
- 4th February
Following an afternoon arrival you will be met and transferred to our hotel in the Thamel District of this magical city for a 3 night stay.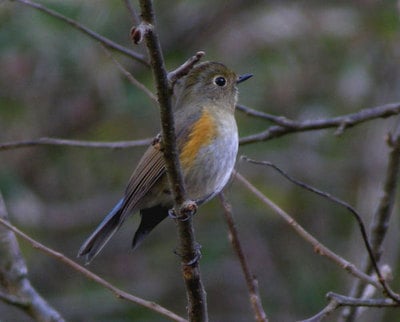 We will spend two days birding on the forested slopes of Phulchowki and Godaveri Botanical Gardens. By driving to the top of the mountain in the early morning, we should get a good view of the snow-clad Great Himalaya, including many of the world's highest peaks. We shall then spend the rest of our time here covering different altitudes by walking down the mountain, through its fine temperate and subtropical forests, with picnic lunches en-route. These forests are internationally famous for their richness of birdlife and remain an excellent place to see some birds that are rare or local in Nepal. Amongst the huge variety of species that it is possible to see here, we will search for some of the area's special birds such as Kalij Pheasant, Bay Woodpecker, Himalayan Cutia, Long-billed and Chestnut Thrushes, Grey-bellied Tesia, Golden-throated Barbet, Hodgson's Redstart, Golden Bush Robin, Grey-sided and Rufous-chinned Laughingthrush and Black-throated Parrotbill. We will undoubtedly find several mixed-species feeding flocks that have the potential to delight and frustrate all at once, and are guaranteed to make both these days exciting! Depending on our altitude, species that are often caught up in these flocks include Speckled Piculet, Yellow-bellied Fantail, Orange-bellied Leafbird, Fire-breasted Flowerpecker, Red-billed Leiothrix, Rufous Sibia, Green-backed and Yellow-browed Tits, Whiskered, Stripe-throated and Rufous-vented Yuhinas, White-tailed Nuthatch, Brown-throated Treecreeper, Grey-throated Babbler, Great Barbet, Chestnut-crowned, Black-faced, Whistler's, Buff-barred and Ashy-throated Warblers, White-throated, Striated, Streaked and Chestnut-crowned Laughingthrushes, Blue-winged and Chestnut-tailed Minlas, Rufous-gorgeted Flycatcher, Maroon Oriole, White-browed and Green Shrike-Babblers, Fire-tailed, Green-tailed and Black-throated Sunbirds, Himalayan, Mountain and Black Bulbuls, Nepal, Rufous-winged and White-browed Fulvettas and Long-tailed Minivet. There will be many other birds which are regularly recorded such as Spotted Forktail, Asian Barred Owlet, Scaly-breasted Wren-Babbler, White-collared and Grey-winged Blackbird, Darjeeling and Rufous-bellied Woodpeckers, Chestnut-bellied Rock Thrush, Dark-throated and Plain-backed Thrushes, Orange-flanked Bush Robin, Red-billed Blue Magpie, Rufous-breasted Accentor, and Black and Mountain Hawk Eagles. Nights in Kathmandu.
Days 4 - 7
Chitwan National Park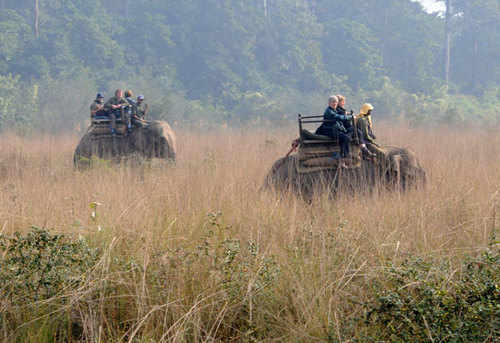 After breakfast we will leave for our drive south to the Chitwan National Park, and by making an early start we aim to reach our lodge in the late afternoon. This fascinating journey passes through a variety of villages and towns, giving a unique insight into the Nepalese way of life, and also giving us our first chance of finding Ibisbill along the Rapti River. This is undoubtedly one of the most stunning birds in the world, but can be very had to pick out amongst the large, grey boulders at the water's edge. As the road descends through a spectacular valley, we will make several stops en-route and search for species such as Wallcreeper, Spotted and Little Forktail, Brown Dipper, Plumbeous and White-capped Water Redstart, White-browed Wagtail, and this is our best chance of finding the scarce Red-headed Vulture.
The National Park comprises 976 square kilometres of Sal forest, grasslands and riverine jungle, a magnificent environment with a greater variety of wildlife than any other area of Nepal. Over 480 species of birds have been recorded here, and some of the more regular species that occur are Bar-headed Goose, Red Junglefowl, Lesser Adjutant, Woolly-necked Stork, Black Ibis, Indian Peafowl, Oriental Pied Hornbill, Brown Crake, Small Pratincole, Pintail Snipe, Bronze-winged Jacana, Large-tailed Nightjar, Oriental Scops and Brown Hawk Owls, Rufous Woodpecker Lineated Barbet, Velvet-fronted and Chestnut-bellied Nuthatches, Plain Martin, Stork-billed Kingfisher, Changeable Hawk-eagle, Oriental Honey-buzzard, Collared Falconet, White-rumped Needletail, Crested Treeswift, Black-hooded Oriole, Bar-winged Flycatcher-Shrike, Oriental Skylark, Paddyfield Pipit, Citrine Wagtail, Striped Tit-Babbler, Black-crested Bulbul, Greater Racket-tailed Drongo, Red-billed Blue Magpie and Common Hill-myna.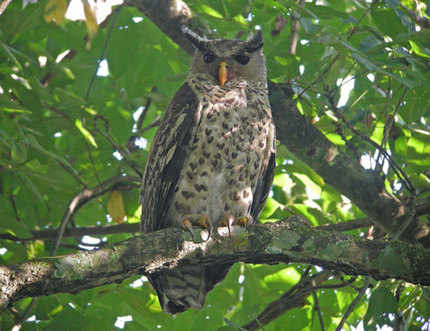 We will make use of jeeps to travel into the heart of the park and, in fact, there is so much to see and do, that time will pass all too quickly! There are numerous tracks leading out into the surrounding Sal forest, and species which are regularly seen include Mountain Hawk-eagle, Grey-headed Fish-eagle, Jungle Owlet, Brown Fish and Brown Wood Owl, Greater Yellownape, Himalayan Parakeet, Fulvous-breasted Woodpecker, Himalayan Flameback, Emerald and Red Turtle Doves, Common and Large Woodshrike, Common Iora, Red-breasted Parakeet, Streak-throated, Grey-capped Pygmy and Grey-headed Woodpeckers, Himalayan, Black-rumped and Greater Flamebacks, Lesser Yellownape, Black-backed Forktail, Orange-bellied and Golden-fronted Leafbird, Scarlet Minivet, White-bellied Erpornis, Grey-headed Starling, Ashy Bulbul, Yellow-eyed and Puff-throated Babblers, Blyth's Leaf and Western Crowned Warblers, Crimson Sunbird, Verditer Flycatcher, White-rumped Shama, Lesser Racket-tailed, Bronzed and Spangled Drongos,. Some of the scarcer species we will look for include Great Hornbill, Blue-eared Kingfisher, Blue-bearded Bee-eater, Red-headed Trogon, Pale-footed Bush Warbler, Spot-winged Starling, White-browed Piculet, White-browed Scimitar-Babbler, Greater and Lesser Necklaced Laughingthrushes, Pale-chinned Flycatcher, Green-billed Malkoha, Streaked and Little Spiderhunters, Common Green Magpie and possibly even a rare Sultan Tit.
The diversity of habitats is what makes Chitwan so special, and as a complete contrast to woodland birding we will spend a couple mornings searching the tall grasslands for some rather special and secretive species including Grey-crowned and Yellow-bellied Prinias, Chestnut-crowned Bush-warbler, Rufous-rumped Grassbird, White-tailed Stonechat, Chestnut-capped, Striated, and the localized Slender-billed Babbler, and the delightful Himalayan Rubythroat. There will be plenty of other avian delights to keep us entertained in this open landscape such as Pallid Harrier, Barred Buttonquail, Black-breasted Weaver, Grey-breasted and Ashy Prinias, and Red Avadavat. One morning we will sail down the river in a dugout canoe which can afford exceptionally close views of many birds, including Goosander, Ruddy Shelduck, Oriental Darter, Stork-billed and Lesser Pied Kingfishers, River Lapwing, Little Ringed Plover, Temminck's Stint, Citrine Wagtail, Rosy Pipit, as well as the strange fish-eating Gharial and the commoner Marsh Mugger.
A highlight of our stay will be the rather unique experience of an elephant ride through the grassland and forest. From our vantage point on the back of this huge beast, which also acts as a mobile hide, we can get incredibly close to many species of bird and mammal. Indian Rhinoceros is possible, and you can't beat the thrill of seeing one of these awesome creatures. Other animals to be found around the park, and which we will spend time looking for, include Rhesus Macaque, Grey Langur, Golden Jackal, Indian Grey Mongoose, Wild Boar, Muntjac, Chital, Sambar, and the huge bison-like Gaur. But we would have to be very lucky to see Tiger, Sloth Bear, or a Leopard. Nights at Machan Paradise View or similar.
Days 8 – 11 Koshi Tappu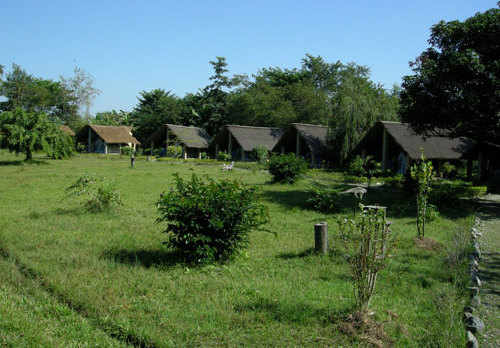 By making an early start we aim to reach Koshi Tappu Wildlife Camp by late afternoon. En-route we will make several stops along the Rapti River where we will have further opportunities to search the shallow, fast-flowing stretches of water for the very sought-after and beautiful Ibisbill if we still need it. Our delightful camp, complete with dining hall and well stocked bar, lies on the edge of the Koshi Tappu Wildlife Reserve beside the great Koshi River. From here we can explore the vast expanse of open water created by the Koshi Barrage, plus the marshes, lagoons, sandbanks, mudflats and arable land that surround it. Almost all of Nepal's long list of wildfowl, waders, storks, ibises, egrets and terns occur here, plus a great variety of landbirds, especially warblers and birds of prey, making this one of Asia's finest wetlands and an outstanding place to see birds. Well in excess of 100 species should be seen each day, amongst them such local specialities as Swamp Francolin, Red-necked Falcon, Pied Harrier and Striated Grassbird. A few of the other bird species to whet the appetite include Bar-headed Goose, Cotton Pygmy-Goose, Black Bittern, Pallas's Gull, River and Black-bellied Terns, 4 species of Vulture, Pallas's Fish Eagle, Tawny, Steppe, Eastern Imperial and Greater Spotted Eagles, Long-legged and White-eyed Buzzard, Black-shouldered Kite, Pied Harrier, Small Pratincole, Pheasant-tailed Jacana, Spotted Owlet, Streak-throated Woodpecker, Little Green Bee-Eater, White-bellied Drongo, Coppersmith Barbet, Large Cuckooshrike, Lesser Coucal, Plum-headed Parakeet, Graceful Prinia, Bright-headed Cisticola, Tickell's Leaf Warbler, Taiga Flycatcher, White-throated Fantail, Sand Lark, Olive-backed Pipit, Citrine Wagtail, and the much sought after Siberian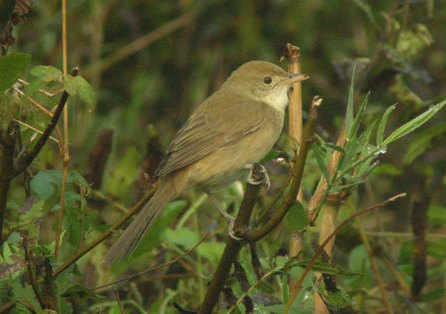 Rubythroat. Warblers are well represented, from Himalayan Aberrant, Spotted and Grey-sided Bush Warblers which are all possible, to species with a more Western Palearctic influence such as Dusky, Blyth's Reed, Greenish, Hume's, Paddyfield, Clamorous Reed and Thick-billed. Surrounding fields and scrub hold Yellow-wattled Lapwing, Blyth's, Paddyfield, Richard's and Tawny Pipits, Rufous-winged Bushlark, Ashy-crowned Sparrow-Lark, as well as Little, Black-faced, Black-headed and Crested Bunting, and if we are lucky Grey-headed Lapwing. Excursions will be taken on foot, by jeep and boat in order to explore the many wonders of this fantastic area. With luck we could also see Water Buffalo, Fishing Cat, Jungle Cat, Nilgai and the rare Ganges River Dolphin. Our camp has its own reserve, complete with shallow pools, reeds and scrub and offers brilliant birding for those who wish to opt out of any excursion. Here you can watch Cinnamon Bittern, Ruddy-breasted Crake, Greater Painted Snipe, Dusky and Smoky Warbler, Brown Shrike, Coppersmith and Blue-throated Barbet, Yellow-breasted Bunting, and Baya Weaver amongst a host of other species – all within 200 yards of our tents! Nights at Koshi Camp.
Day 12 Koshi – Fly to Kathmandu
This morning we must drive to Biratnagar Airport, from where we catch our return flight to Kathmandu, passing some of the highest peaks in the world including Mount Everest and Kanchenjunga. The afternoon can be spent at leisure, with sightseeing opportunities and some great shopping all close at hand. Night in Kathmandu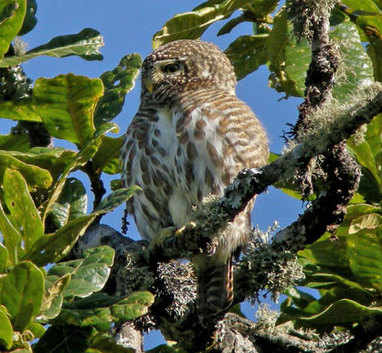 We have another full day on Phulchowki and we'll target those species still missing from our lists. Maybe a skulking Chestnut-headed Tesia, Streak-breasted or Rusty-cheeked Scimitar-Babblers, White-tailed Robin, Black-eared Shrike-Babbler or Snowy-browed Flycatcher will be the highlight. We can visit Godaveri Botanical Gardens which offer a more open habitat where Oriental Turtle Dove, Pygmy Wren-Babbler, Grey-hooded and Lemon-rumped Warblers, Black-lored Tit, Asian Barred Owlet, Black-chinned Babbler, Small and Rufous-bellied Niltavas, Grey-headed Canary Flycatcher, Fire-breasted Flowerpecker, Grey-backed Shrike, Grey Bushchat, Blue-fronted Redstart, Blue Whistling-thrush, Grey Treepie, and both Scaly and Tickell's Thrushes occur. Both of our days on this magical mountain are bound to bring the odd surprise and we could always find something really unusual, such as Collared Owlet, Gold-naped Finch, Tibetan Siskin, Brown Bullfinch, Maroon-backed Accentor, Dusky or Long-billed Thrush or a Yellow-billed Blue Magpie. Night in Kathmandu.
Day 14
Return flight to UK/Europe and End of Tour
- 17th February
Transfer to the international airport and the conclusion of this wonderful tour.
Single supplement

:
£430.00
Deposit

:
£500.00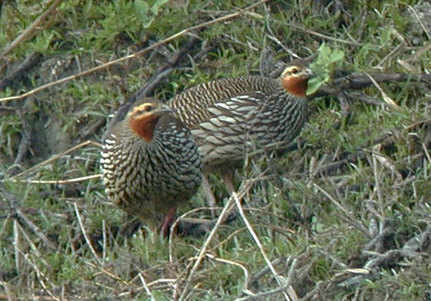 Group size: Minimum for tour to go ahead 4 and maximum 9 with 2 leaders.
Included in cost: Accommodation in twin rooms en-suite, all meals including picnic lunches where necessary, all entrance fees to National Parks, Internal flight, transport throughout in air-conditioned coach, jeep safaris, boat rides and services of leader.
Not included: International airfare, insurance, visa, departure tax, camera fees at National Parks, drinks, tips and items of a personal nature.
Accommodation: Is of a good standard throughout the tour. In Kathmandu and Chitwan the facilities are en-suite, whilst at Koshi Camp there are 2 separate toilet/shower blocks. The tents are large, 2 person, walk-in safari style and very comfortable. We are using the best accommodation available closest to the birding sites to utilise our time to best effect.
Tour Code: This is a standard birding tour where early starts and some late finishes when owling can be expected. Usually there is some time off during the middle of the day to relax. Most of our birding walks will be of a usual slow pace and relatively easy. The weather is variable from warm - hot in the lowlands to cold on Phulchowki and cool in the mornings/evenings at Chitwan. Rain is not expected at this time of year.


Receive our e-newsletter:
Join the Zoothera e-mailing list for up-to-date news on new tours, tour reports and special offers.
e-mail [email protected] to sign up.


Previous Tour Report: November 2009

Nepal Photo Gallery.
Recommended Books, CD's and more from NHBS. Click on - Buy from NHBS - to go straight to website!





The air holidays and flights shown are ATOL protected by the Civil Aviation Authority. Our ATOL number is 10436.
Please see our Terms and Conditions for more information.