For anyone with a sense of adventure, it is with an almost mystical regard that they look towards the Qinghai - Tibetan Plateau and the list of mouth-watering species that resides here. This isolated, high-altitude region has long held a certain fascination for birders and now, with 'new' areas opening up, we are pleased to present our take on the region, which surely holds some of the most spectacular scenery on the planet. Our birding on 'The Roof of the World' as the Tibetan Plateau is widely known, begins around the mountains close to Xining before moving slowly up onto the Tibetan Plateau as we visit all of the prime sites to find those very special birds. Our tour is timed for the early summer period when the weather is at its mildest and bird activity is at its highest. Amongst the very impressive scenery of snow-capped mountains, high-altitude passes, hidden valleys and tumbling streams we will search for such charismatic and much-wanted species such as Szecheny's Monal-Partridge, Pink-tailed Finch, a species recently placed into its own family, Tibetan and Himalayan Snowcocks, Henderson's Ground-Jay, Tibetan and Pallas's Sandgrouse, Pale and Roborovski's (Tibetan) Rosefinches, Kozlov's Bunting, 6 species of Snowfinch, and a whole host of other endemic, scarce and localised species. To add to the main targets we will look for Daurian Partridge, White Eared-Pheasant, Severtzov's Grouse, Saker, Chinese Nuthatch, Siberian Bluetail, Tibetan Grey Shrike, White-browed Tit-Warbler, White-browed Tit, Smoky Warbler, Tibetan Snowfinch, Brown and Robin Accentors, Pine Bunting, and both Red-fronted and Streaked Rosefinches amongst others.

Our tour will also focus on the amazing mammals of the region, and in particular we will spend two full days searching a remote area for the Grey Ghost of the Mountains - Snow Leopard. With the help of local trackers and villagers we will have a reasonable chance of catching a glimpse of this apex predator, which in this region, has the highest density of Snow Leopards on the planet. Unlike other Tibet tours, we will go off the beaten track and visit Wild Yak Valley in search of truly wild Wild Yaks! Other mammalian possibilities include Pallas's Cat, Wolf, Lynx, Tibetan Antelope and Przewalski's Gazelle.

Just to add to this already incredible adventure we will cross some of the most remotest areas of the plateau on an overnight sleeper train bound for Lhasa, the historical capital of the Tibetan region. Our focus will be on the three main ornithological attractions to be found here, Tibetan Eared-Pheasant, Giant Babax and Prince Henri's Laughingthrush. This will be a thrilling climax to our Tibetan adventure and we have plenty of time to soak up the special atmosphere of this fabled city before we have to head back home. An optional extension to the far north-west of China and Xinjiang Province will see us explore the vast Taklamakan Desert where the near-mythical Biddulph's Ground-Jay resides, along with Central Asian specialities such as White-winged Woodpecker, Saxaul Sparrow and Tarim Babbler. A day in the Tien Shan Mountains will round off our visit as we search for Eversmann's Redstart, Fire-fronted Serin and Red-mantled Rosefinch amongst other species.
Main: Weds 5th - Weds 26th June 2019
Xinjiang Ext: Weds 26th - Sun 30th June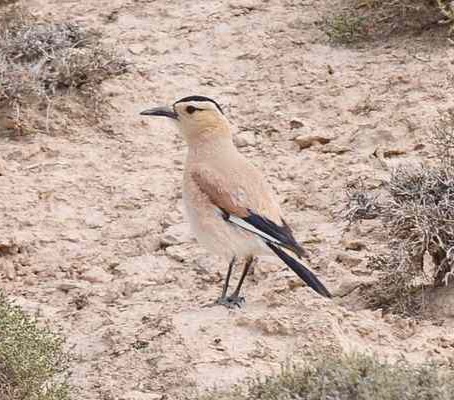 Leaders: Nick Bray and local guides.

Ground Price (Main Tour): £4950.00 – Xining/Lhasa

Ground Prince (Extension): £1750.00 - Lhasa/Urumuqi

Airfare: £800 - £940 (approx) - UK/UK

Single Supplement (Main): £475.00

Single Supplement (Ext): £100.00

Deposit: £500.00

Group size: Minimum for tour to go ahead 5 and maximum 10 with 2 leaders.

Included in cost: Accommodation in twin rooms mostly en-suite, all meals including picnic lunches, bottled water, snacks, transport throughout in air-conditioned vehicles, domestic flights Lhasa - Chengdu - Urumuqi - Korle, all park entrance fees, and services of local guides and leaders.

Not included: International airfare to Xining and departure international flights from Lhasa or Urumuqi, insurance, visa fee, departure tax, excess luggage charges, drinks, tips, and items of a personal nature.

Accommodation: Ranges from simple to good – please remember we are visiting areas way off the regular tourist circuit. We endeavour to stay in the best available accommodation close to the birding sites to cut out any unnecessary long drives before reaching the best birding areas each day.

Tour Code: This is a long and relatively adventurous tour where early starts can be expected every day and several late finishes may well occur. Most of our birding walks will be at an altitude of over 3,500m (11,000 feet) in Qinghai and the Tibetan Plateau and we will go up to a maximum height of 4,850m. When at such altitudes we will try to walk at a slow pace and limit any excessive uphill walking and at a few key sites there are no paths and we will walk over uneven ground. There are also a few days of very long drives on this tour, with just a few birding stops en-route which you get on any tour to this region. The weather will be variable with the possibility of some rain and even snow in Qinghai, and at the higher elevations it could well be freezing when we begin birding early in the morning. This is definitely a tour for birders who have a keen sense of adventure and can accept that we will be visiting areas that few western birders have ever been. From a physical point-of-view there are some long hikes, especilly at the site for Tibetan Sandgrouse at Er La Pass. This is optional though as we have a back-up site later in the tour that involves much less physical effort. So anyone with a reasonable degree of fitness should be able to cope with the amount of walking necessary to connect with the main birds on this tour. There will be optional harder walks to search for Himalayan Snowcock for anyone who wants, but the majority of our birding will be alongside the road. But please bear in mind that we will be walking at a high altitude and so we will take all necessary precautions and be sensible!