Thailand Northern Specialties Tour report 2015
20th February - 5th March
TOUR HIGHLIGHTS:
Either for rarity value, excellent views or simply a group favourite.
Mountain Bamboo-Partridge
Rufous-throated Partridge
Hume's Pheasant
Chinese Egret
Milky Stork
Black-faced Spoonbill
Eurasian Bittern
Eastern Water Rail
Black Baza
Pied Harrier
Collared Falconet
Asiatic Dowitcher
Long-billed Dowitcher
Nordmann's Greenshank
Spoon-billed Sandpiper
Malaysian Plover
Small Pratincole
Oriental Pratincole
Asian Emerald Cuckoo
Blossom-headed Parakeet
Hodgson's Frogmouth
Speckled Woodpigeon
Indochinese Cuckooshrike
Dark-sided Thrush

Vivid Niltava
Pale Blue Flycatcher
White-bellied Redstart
Scarlet-faced Liocichla
Burmese Shrike
Slaty-backed Forktail
Baikal Bush Warbler
Lanceolated Warbler
Grey-crowned Warbler
Daurian Starling
Red-billed Starling
Giant Nuthatch
Fire-capped Tit
Slaty-bellied Tesia
White-necked Laughingthrush
Pygmy Wren-Babbler
Clicking Shrike-Babbler
Black-throated Parrotbill
Grey-headed Parrotbill
Spot-breasted Parrotbill
Asian Golden Weaver
Black-headed Greenfinch
Spot-winged Grosbeak
Crested Bunting
SUMMARY: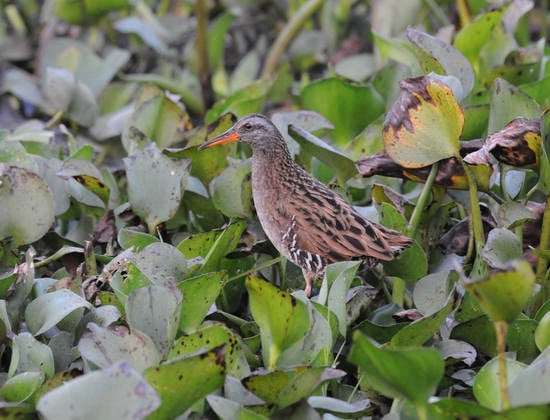 The focus of this tour is to enjoy the wonderful birds of Thailand's northern mountains of Doi Lang, Doi Ang Khang and Doi Inthanon. Each tour we do to this wonderful country produces an enviable list of quality birds and we always seem to find quite a few extra special species. This particular tour certainly provided our keen group with quite a few highlights with a nesting Hodgson's Frogmouth being a particular favourite, although a close flock of Black-headed Greenfinches was pretty good, and who could forget the male Hume's Pheasant or the singing Baikal Bush Warbler? Photo opportunities at the numerous feeding stations were superb and sometimes the birds are just too close! With a post-tour extension to see Spoon-billed Sandpiper resulting in 40 species of shorebird including a Long-billed Dowitcher in a flock of Asian Dowitchers, some Nordmann's Greenshanks and nesting Asian Golden Weavers we really had a fun time! For the most complete birding experience in Asia, then Thailand remains the no 1 destination.