Thailand Tour Report 2015
20th January - 8th February 2015

TOUR HIGHLIGHTS:
Either for rarity value, excellent views or simply a group favourite.
Rufous-throated Partridge
Bar-backed Partridge
Scaly-breasted Partridge
Siamese Fireback
Hume's Pheasant
Brown-cheeked Rail
Pied Harrier
Black-thighed Falconet
Nordmann's Greenshank
Asiatic Dowitcher
Spoon-billed Sandpiper
Malaysian Plover
White-faced Plover
Black-headed Woodpecker
Banded Woodpecker
Great Slaty Woodpecker
Great Hornbill
Tickell's Brown Hornbill
Red-headed Trogon
Asian Emerald Cuckoo
Blossom-headed Parakeet
Great Eared Nightjar
Yellow-vented Green-Pigeon
Blue Pitta
Black-and-red Broadbill

Black-and-yellow Broadbill
Banded Broadbill
Dusky Broadbill
Long-tailed Broadbill
Ratchet-tailed Treepie
Dark-sided Thrush
Mugimaki Flycatcher
Ultramarine Flycatcher
Siberian Blue Robin
Himalayan Bluetail
Firethroat
Black-backed Forktail
Golden-crested Myna
Giant Nuthatch
Blyth's Reed Warbler
Chestnut-headed Tesia
Black-throated Laughingthrush
Silver-eared Mesia
Large Scimitar-Babbler
Limestone Wren-Babbler
Clicking Shrike-Babbler
Collared Babbler
Grey-headed Parrotbill
Spot-breasted Parrotbill
Spot-winged Grosbeak




SUMMARY: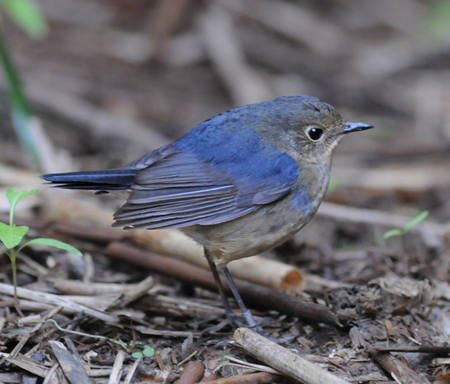 The above list of great birds seen on our annual visit to Central and Northern Thailand says it all really. As ever we encountered many truly iconic south-east Asian birds, obtaining wonderful views of most of them along the way. Beginning in the north, the bird-filled mountains of Doi Ang Khang, Doi Lang and Doi Inthanon were as good as ever, and we even saw the first Firethroat for Thailand as well. Heading further south to the forests of Khao Yai and Kaeng Krachen we did particularly well seeing 5 species of broadbill. There was also plenty of time spent with the shorebirds of Pak Thale and our sighting of 6 Spoon-billed Sandpipers at Pak Thale was extraordinary. In fact this is probably the No 1 site for waders in the world and an amazing experience. For the most complete birding experience in Asia, then Thailand remains the no 1 destination.