Sulawesi & Halmahera Tour Report 2014
5th - 26th September 2014
TOUR HIGHLIGHTS:
Either for rarity value, excellent views or simply a group favourite.
Bulwer's Petrel
Sulawesi Goshawk
Small Sparrowhawk
Gurney's Eagle
Sulawesi Hawk-Eagle
Moluccan Scrubfowl
Maleo
Moluccan Megapode
Dusky Megapode
Red-backed Buttonquail
Sulawesi Hawk-Eagle
Spot-tailed Sparrowhawk
Small Sparrowhawk
Sulawesi Black Pigeon
Red-eared Fruit Dove
Oberholser's Fruit Dove
White-bellied Imperial-Pigeon
Violet-necked Lory
Ornate Lorikeet
White Cockatoo
Yellow-breasted Racquet-tail
Moluccan King Parrot
Yellow-billed Malkoha
Sulawesi Masked Owl
Ochre-bellied Boobook
Cinnabar Boobook

Sulawesi Scops-Owl
Moluccan Owlet-Nightjar
Satanic Nightjar
Lilac-cheeked Kingfisher
Green-backed Kingfisher
Common Paradise-Kingfisher
Sulawesi Dwarf Kingfisher
Purple-bearded Bee-eater
Purple-winged Roller
Sulawesi Dwarf Hornbill
Ashy Woodpecker
Ivory-breasted Pitta
Sulawesi Pitta
Pygmy Cuckooshrike
Cerulean Cuckooshrike
Rufous-bellied Triller
White-naped Monarch
Piping Crow
Wallace's Standardwing
Great Shortwing
Gray's Grasshopper Warbler
Red-backed Thrush
Lompobattang Flycatcher
Sulawesi Crested Myna
Halmahera Flowerpecker
Hylocitrea
SUMMARY: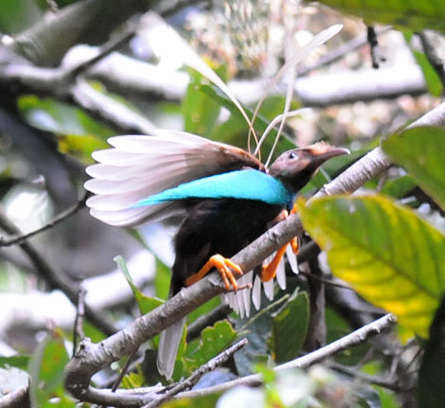 Our third roller-coaster of a ride to these endemic-rich Indonesian islands produced a plethora of much-wanted birds and we ended up seeing a very respectable 111 endemics. We began amidst the wonderful forested hills of Lore Lindu where Purple-bearded Bee-eater, Satanic Nightjar and Hylocitrea were amongst the highlights. We followed this with a successful visit for the extremely localised endemic Lompobattang Flycatcher – and currently we are the only tour group visiting this site. We then flew to the endemic-heaven that is Halmahera and based ourselves at Foli in a comfortable hotel. What a fantastic time we had here with an easy walk for lekking Wallace's Standardwing, stunning Ivory-breasted Pitta, skulking Dusky Megapodes and so much more. Another patch of forest held Sombre Kingfisher and Common Paradise-Kingfisher, but it was a shame that Invisible Rail lived up to its name and only called back at us! Returning to Sulawesi we visited Tangkoko where Sulawesi Pitta and a veritable feast of endemic kingfishers followed. We ended at Dumoga Bone and Tambun for a final flourish with Ashy Woodpecker, Maleo and Matinan Flycatcher amongst others. These islands continue to produce a fantastic array of rare and localised specialities, as well as some of the most stunningly beautiful birds on the planet. We cannot wait to return!