Southern Ecuador 2019
Saturday 12th January – Thursday 31st January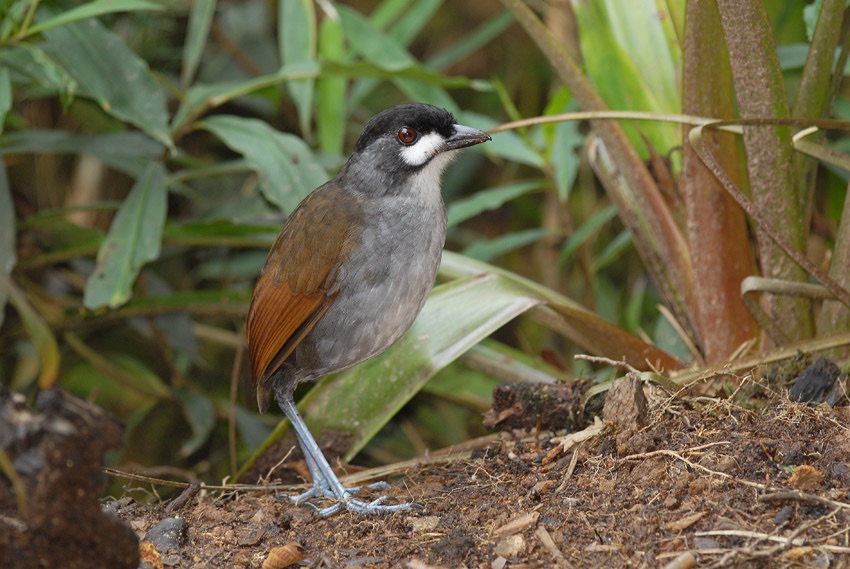 The bird-rich country of Ecuador has always had a lot to offer the travelling birder and our tour to Southern Ecuador will fill in many gaps in your lifelist with numerous rare, exciting and seldom-seen species. Our tour is designed to find some of the very special birds of this region including the Tumbesian endemics, with many localised species not seen on other regular birding routes in Ecuador. With the skills of our knowledgable local guide, Roger Ahlman, we will be looking for incredible birds such as El Oro Parakeet, Jocotoco Antpitta, Fiery-throated Fruiteater, Chestnut-bellied Cotinga, Long-wattled Umbrellabird, Orange-throated and Black-and-white Tanagers and the extraordinary Esmeraldas Woodstar amongst a host of other highly localised and sought-after species. We will begin in Guayaquil and make our way to the Manglares-Churute Reserve for our first Tumbesian endemics before we traverse hidden Andean valleys, Amazonian lowlands, moss-encrusted and epiphyte-laden cloud forests before reaching the arid regions in the south of this amazing country. By staying in many of the Jocotoco Foundations lodges we will help support vital conservation projects in the region.
Pale-browed Tinamou

Horned Screamer

Grey-capped Cuckoo

West Peruvian Screech-Owl

El Oro Parakeet

Golden-plumed Parakeet

Bluish-fronted Jacamar

Jocotoco Antpitta

Crescent-faced Antpitta

Watkin's Antpitta

Fiery-throated Fruiteater

Scaled Fruiteater

Chestnut-collared Swallow

Spangled Coquette

Rainbow Starfrontlet

Neblina Metailtail

Violet-throated Metaltail

Baron's Hermit

Long-wattled Umbrellabird

Zimmer's Antbird

Hairy-crested Antbird

Henna-hooded Foliage-Gleaner

Giant Conebill

Tit-like Dacnis

Orange-crowned Euphonia

Orange-banded Flycatcher


Pacific Royal Flycatcher

Red-billed Tyrannulet

Black-crested Tit-Tyrant

Crimson-breasted Finch

Black-headed Hemispingus

Orange-throated Tanager

Paynter's Brush-Finch
Day 1

Arrive - Guayaquil

-

Sat 12th January
This is purely an arrival day in Guayaquil where we will transfer to a nearby hotel and spend our first night in South America's most popular birding destination. Night in Guayaquil.
Day 2

Guayaquil - Manglares-Churute Reserve
We will have an early start for a one hour drive to Manglares-Churute Reserve, where we start by looking for Horned Screamer. Moving on to the trails we will explore the dry forest where Tumbesian endemics like Pacific Royal-Flycatcher, Jet Antbird, Orange-crowned Euphonia, as well as Grey-cheeked Parakeet, Red-billed Scythebill, Ecuadorian Thrush and plenty of other common species. If the tide is low we visit the edge of the mangroves for Mangrove Warbler and
 a chance of Rufous-necked Wood-Rail. When it starts to get warm we will drive for a couple of hours to El Cajas National Park where we will have lunch and look for the endemic Violet-throated Metaltail. In the nearby

polylepis

woodlands species such as Giant Conebill and Tit-like Dacnis reside but we will still have a few hours drive to reach our final destination of the day at La Union where we will spend the night.
Day 3

Yunguilla Reserve - El Cajas NP
The nearby Yunguilla Reserve has been preserved by the Jocotoco Foundation and will be our focus this morning as it is home to Pale-headed Brush-Finch, arguably one of the rarest birds on earth with about 100 pairs only in this reserve. While we look at them we may also see
Chestnut-crowned
Antpitta
, Slaty-backed Nightingale-Thrush, Line-cheeked Spinetail,
Black-lored yellowthroat and
Grey-browed Brush-Finch
amongst others. When we are done here we will head south and stop at a stake-out for White-tailed Shrike-Tyrant before continuing to Saraguro where we can spend the afternoon looking for Red-faced Parrot. While we wait for them we may find flocks with a nice selection of temperate forest species, and there's Bearded Guan and Grey-breasted Mountain-Toucans here as well. We will spend the night in Saraguro and have dinner at a restaurant you don't expect to find in a town like this!
Day 4

Acanama Forest - Yantzaza
We will spend all morning at the Acanama forest to look for such prizes as Cresent-faced Antpitta, Chestnut-bellied Cotinga, Andean Pygmy-Owl, Mountain Caracara, Black-headed Hemispingus, Masked and Black-chested Mountain-Tanagers, Golden-crowned Tanager and Mouse-colored Thistletail. There should be a dazzling variety of slightly more widespread species here including Grey-breasted Mountain-Toucan, Mountain Velvetbreast, Glowing Puffleg, Ocellated Tapaculo, Black-headed Hemispingus, Buff-breasted Mountain-Tanager, Red-hooded and Golden-crowned Tanagers and many more! We then have a few hours drive to Yantzaza where we plan to spend the night.
Day 5

Yantzaza - Yankuam Lodge
All morning will be spent on a road where no other birders go but it holds some good birds and we will stop at a stake-out for Subtropical Pygmy-Owl. While other roadside birding here may yield Roraiman Flycatcher, Spectacled Prickletail, Rufous-browed and Plumbeous-crowned Tyrannulets, Bar-winged Wood-Wren and Spot-winged Parrotlet. After lunch we will head south to Yankuam lodge with a stop at a stake-out for Bluish-fronted Jacamar at its only known site in Ecuador. Many other birds in this secondary habitat are present including Blackish Rail, Black-billed Seed-Finch, Olive-chested Flycatcher, Black-throated Hermit, Rusty-fronted Tody-Flycatcher, Striped Manakin, Lined Antshrike and the distinctive amazonian subspecies of Southern Beardless-Tyrannulet which is sure to be a split. Night at Yankuam Lodge.
Days 6 - 7

Yantzaza - Yankuam Lodge
We will spend the whole day birding along the road, just south of the lodge where our main target here is the spectacular Orange-throated Tanager, which moves around in family groups and are usually heard before they are seen. The east slope foothills are very rich and there are numerous possibilities here such as
Black-and-white Hawk-Eagle,
Military Macaw,
Zimmer's Antbird, White-bellied Pygmy-Tyrant,
Bamboo Foliage-Gleaner,
Blackish Pewee,
Fiery-throated Fruiteater, Grey-tailed Piha, Black-and-white and Golden-winged Tody-Flycatchers, Red-billed Tyrannulet, Olive-chested Flycatcher, Yellow-cheeked Becard, Wing-banded Wren and Yellow-shouldered Grosbeak amongst many other target species we hope to see today. We should also try to spend some time birding the garden of the lodge as their flowers often attract Glittering-throated Emerald and sometimes Amethyst Woodstar, whilst Uniform and Chestnut-headed Crakes call from the undergrowth and at dusk Band-bellied Owl sometimes puts in an appearance. Night at Yankuam lodge.
Our second day here will continue in the much the same manner as we continue to bird along the road looking for species such as White-throated Woodpecker, White-eyed Tody-Tyrant, Hairy-crested Antbird, Dusky Spinetail, Lanceolated Monklet, Striolated Puffbird, Masked and Yellow-backed Tanagers and many other common Amazonian species such as Blue-tailed Emerald, Green-backed Trogon, Lemon-throated Barbet, Scale-breasted Woodpecker, White-thighed Swallow, Peruvian Warbling Antbird, Southern Nightingale-Wren, Yellow-bellied, Opal-rumped and Turquoise Tanagers. Hummingbirds will have to be seen in 'the wild' as the lodge doesn't have feeders and that is obviously much more diffcult but possibilities include Grey-breasted Sabrewing, Black-eared Fairy, Fork-tailed Woodnymph, Green Hermit, Buff-tailed Sicklebill and Golden-tailed Sapphire. Night at Yankuam lodge.
Day 8

Yankuam - Podocarpus NP - Copalinga Lodge
We will start our day birding along the road north of the lodge at first light searching for any new species we still need before setting out on the drive to the excellent Copalinga Lodge near the Bombuscara entrance to

Podocarpus

National Park. Flowers and feeders here have Wire-crested Thorntail, Violet-headed Hummingbird, Violet-fronted Brilliant, Green Hermit and sometimes Spangled Coquette and Little Woodstar. Fruit-feeders can at times be busy with
Speckled Chachalaca,
Black-billed Thrush, Russet-backed Oropendola,
Orange-billed Sparrow, and
a nice selection of tanagers. There has also been a Grey Tinamou at the feeders here and at dusk we shall visit a stake-out for Blackish Nightjar. Night at Copalinga Lodge.
Day 9

Copalinga Lodge
The wide trails at Bombuscara can provide excellent birding with species such as
White-breasted Parakeet, the newly-described
Foothill Elaenia, Coppery-chested Jacamar, Lanceolated Monklet, Black-streaked Puffbird, Andean Cock-of-the-Rock and Amazonian Umbrellabird all present but can be diffcult. We should encounter numerous flocks that could have Red-headed Barbet, Ash-browed Spinetail, Orange-eared and
Golden-eared Tanagers,
and with luck Equatorial Graytail. After lunch at the lodge we bird the old Loja-Zamora road and flocks here can be very good with Grey-mantled Wren, Ashy-throated Bush-Tanager, Streaked Xenops, Black-billed Treehunter, Western Striped Manakin, Chestnut-vented Conebill, Lemon-browed Flycatcher, Subtropical Cacique and even Olive Finch. It's also worth checking the rivers as we may find such classic species as Torrent Duck, White-capped Dipper and Fasciated Tiger-Heron. Night at Copalinga lodge.
Day 10

Copalinga - Vilcabamba
Morning birding around Copalinga and along the old Loja-Zamora road. The birds along the old road are to some extent similar to Copalinga and Bombuscara, but we will be at slightly higher altitude so have a better chance of some subtropical species like White-breasted Parakeet and Chestnut-tipped Toucanet. After lunch we drive for a couple of hours to Vilcabamba where we look for Chestnut-collared Swallow and Plumbeous Rail. Night at a nice hostería in Vilcabamba.
Day 11

Vilcabamba - Tapichalaca Lodge
An early departure is necessary to reach the upper slopes of the usually mist-enshrouded Cerro Toledo where we will start birding at the tree-line and look for the near-endemic and extremely localised Neblina Metaltail and we should also see Rainbow-bearded Thornbill and Glowing Puffeg as well. If lucky with flocks we may find both Masked and Lacrimose Mountain-Tanagers, Plushcap and Pale-naped Brush-Finch, and there's also Scaly-naped Amazon, Mouse-coloured Thistletail, Paramo Tapaculo and Paramo Seedeater. Most of our time is spent birding along a quiet secondary road, so should be quite easy going and as we walk lower down we may find Red-hooded Tanager and Bearded Guan and plenty of flocks with more widespread mountain species. After a packed lunch we will drive another hour down to another member of the Jocotoco Foundation, the delightful Tapichalaca Lodge, where new hummingbirds such as Flame-throated and Amethyst-throated Sunangels, Long-tailed Sylph, Chestnut-breasted Coronet and White-bellied woodstar are all possible. Night at Tapichalaca Lodge.
Day 12

Tapichalaca Reserve
Today we will make the short pilgrimage to the feeding station for the spectacular Jocotoco Antpitta and on the way we hope to see White-throated Quail-Dove come in to feed on corn. We also hope to see a good variety of cloud-forest species that inhabit the mature, epiphyte-laden forest here including
Bearded Guan,
Bar-bellied and Powerful Woodpeckers, Andean Pygmy-Owl, White-capped Parrot, Golden-plumed Parakeet, Barred Antthrush, Black-capped Tyrannulet,
Orange-banded Flycatcher, Rufous-headed Pygmy-Tyrant, Russet-crowned Warbler, Chusquea Tapaculo, Turquoise Jay, Maranon Thrush, Grey-hooded Bush-Tanager, Red-hooded Tanager, Grass-green Tanager and among others in the focks. Sometimes they have Chestnut-naped and Undulated Antpittas coming in to feed as well, but we may at least hear them as well as Slate-crowned and Rufous Antpittas. In the afternoon we will wait for Golden-plumed Parakeets coming in to nest-boxes and the spectacular White-capped Tanager is always a possibility. At dusk we will try for Swallow-tailed Nightjar and White-throated Screech-Owl near the lodge. Night at Tapichalaca lodge.
Day 13

Tapichalaca - Urraca Lodge
In the early morning we will drive a short way down the road and look for 'Paynter's Brushfinch', which may be a split from White-winged Brushfinch and has a very small distribution in southernmost Ecuador and northern Peru. We shall also look for Highland Elaenia amongst others in the nearby vicinity. After packing up at the lodge we will drive for several hours west to Jorupe and the Jocotoco Foundation's Urraca Lodge, which is located quite close to the Peruvian border. Depending on the weather we may do some afternoon birding at Utuana or El Tundo. At Jorupe we may be greeted with Watkin's Antpitta, Pale-browed Tinamou, Whooping Motmot and others around the lodge and coming in to their fruit and corn feeders. Night at Urraca Lodge.
Days 14 - 15

Urraca Lodge
Our first full day here will be spent on the trails and tracks amidst this moss-encrusted forested reserve where we shall look for Pale-browed Tinamou, West Peruvian Pygmy-Owl, Pacific Pygmy-Owl,
Grey-backed Hawk,
Scarlet-backed Woodpecker,
Red-masked Parakeet,
Pacific Parrotlet,
Ecuadorian Trogon,
Henna-hooded Foliage-Gleaner,
Red-billed Scythebill,
Collared Antshrike, Grey-breasted Flycatcher, Pacific Elaenia, Tawny-crowned Pygmy-Tyrant, Yellow-olive Flatbill, Plumbeous-backed Thrush, One-coloured Becard, Long-tailed Mockingbird, Speckle-breasted Wren, White-tailed Jay, Elegant Crescentchest and Black-capped Sparrow, whilst lower down we could find the rare Blackish-headed Spinetail to mention just a few. The feeders here pull in some surprising species and it is possible to see White-tailed Jay, Plumbeous-backed and Ecuadorian Thrushes, and both White-edged and Yellow-tailed Orioles.
The following day will see us make a day-trip up to Utuana, which is at a higher altitude with its dwarf forest and this site holds several range-restricted species but we may need two chances to see everything. Possibilities here include Scaled Antpitta, Grey-headed Antbird, Chapman's Antshrike, Tumbesian Tyrannulet, Rufous-crowned Tody-Tyrant, Rufous-necked Foliage-Gleaner, Black-cowled Saltator, Blackish Tapaculo, Piura Hemispingus, Bay-crowned Brush-Finch, Jelski's Chat-Tyrant, Black-crested Tit-Tyrant and Rufous-chested Tanager are the main targets. There are also more feeders here that have the stunning Rainbow Starfrontlet and Purple-throated Sunangel amongst others. Nights at Urraca lodge.
Day 16

Urraca - Umbrellabird Lodge
Early morning departure for Zapotillo in the lowlands where in the desert scrub we look for Black-and-white Tanager, Grey-capped Cuckoo, Tumbes Sparrow and Tumbes Hummingbird, Short-tailed Woodstar and Crimson-breasted Finch. When it starts to get warm we will drive north for a few hours to a small village at the edge of the mangroves. If we are lucky and come here at low tide, then we have a good chance to see Rufous-necked Wood-Rail. We will enjoy a nice sea-food lunch at one of the restaurants here. Masked Water-Tyrant and Vermilion Flycatcher are just some species we look for along with more widespread wetland birds. In the afternoon we continue driving for another hour up to the Buenaventura Reserve and Umbrellabird lodge. We aim to arrive in plenty of time to make our first attempt at Long-wattled Umbrellabird this afternoon at a lek in the forest that is now protected by the Jocotoco Foundation. Night at Umbrellabird Lodge.
Day 17

Umbrellabird Lodge
All day on the trails and tracks in and around the reserve where we shall look for El Oro Parakeet and with luck also El Oro Tapaculo. Many other birds occur here including Grey-backed Hawk, Scaled Fruiteater, Emerald-bellied Woodnymph, White-tipped Sicklebill, Unifor Treehunter, Rufous-winged Tyrannulet, Club-winged Manakin at a lek, Ochraceous Attila, Slaty Becard, Guayaquil Woodpecker, Pacific Tuftedcheek, Esmereldas Antbird, Ochre-breasted Antpitta, and with some luck we may catch up with an undescribed subspecies of Speckled Tanager. Hummingbird feeders at the lodge are very busy with species such as Brown Violetear, Long-billed Hermit, White-whiskered Hermit, Green Thorntail, Violet-bellied Hummingbird, Crowned Woodnymph, Andean Emerald, Purple-crowned Fairy, White-necked Jacobin, Green-crowned Brilliant, Violet-tailed Sylph and Long-billed Starthroat. There's also a troop of South American Coatis often working their way through the dining area, whilst Rufous-headed Chachalaca usually comes to the fruit feeders. There are many common species to distract us in this area including Swallow-tailed Kite,

Barred Hawk, Bronze-winged Parrot, White-collared and Grey-rumped Swifts, Wedge-billed Hummingbird, Collared Trogon, Crimson-rumped Toucanet, Pale-billed Aracari, Choco Toucan, Golden-olive and Smoky-brown Woodpeckers, Scaly-throated Foliage-gleaner, Spotted Woodcreeper, Golden-winged Manakin, White-throated Spadebill, Brown-billed Scythebill, Uniform and Russet Antshrikes, Checker-throated and Slaty Antwrens, Zeledon's Antbird, Whiskered Wren, Yellow Tyrannulet, Bronze-olive Pygmy-Tyrant, Andean Solitaire, , Olive-striped, Slaty-capped and Dusky-capped Flycatchers, Golden, Flame-faced, Ochre-breasted, Rufous-throated, Golden-naped, Silver-throated and Bay-headed Tanagers, Black-and-white Seedeater, Black-winged Saltator, and Dusky Brush-Finch.
Night at Umbrellabird Lodge.
Day 18

Umbrellabird Lodge - Guayaquil
We'll spend the mornign birding below the lodge searching for any new species before setting out on the long drive back to Guayaquil. We will end the day at Puerto Hondo just west of town with yet another chance for Rufous-necked Wood-Rail, but more importantly we will await the Red-lored Amazons coming in to roost in the mangroves - this endemic and rare subspecies has been proposed as a split. There are plenty of commoner lowland birds along the drive such as Savanna Hawk, Black-cheeked and Red-rumped Woodpeckers, Peruvian Meadowlark, Jet Antbird, Masked Water-Tyrant, Crimson-breasted Finch, Chesnut-throated Seedeater, Large-billed Seed-Finch, Lemon-rumped Tanager and more. Night in Guayaquil.
Day 19

Guayaquil - Ayampe
Early departure for an hour and a half drive towards Salinas on the westernmost tip of Ecuador. In the desert we shall look for Necklaced Spinetail, Grey-and-white Tyrannulet, Short-tailed Field-Tyrant and Parrot-billed Seedeater. With some luck we may find Sulphur-throated Finch or Peruvian Thick-knee. We shall also make a visit to the saltpans where we will see a nice selection of North American waders along with Chilean Flamingos, Brown and Peruvian Pelicans, maybe a lingering Grey Gull and some Roseate Spoonbills. If time permits we could drive out to the very tip for some sea-watching, where Blue-footed and Peruvian Boobies are usually present and we can also look for Wandering Tattler. After lunch at a nice seaside restaurant north of Salinas we then have another hour's drive to Ayampe where we stay in a lodge right next-door to a garden with flowers that attract Esmeraldas Woodstar, which will be the quest for the afternoon.
Day 20

Ayampe - End of Tour
– Thur 31st January
If we didn't seen the Esmereldas Woodstar yesterday, we can look for it today. Morning birding will be along a track where we could see Little Woodstar, Saffron Finch and the western subspecies of White-backed Fire-eye, as well as many species we have already seen elsewhere during the trip. We then have a few hours drive back to Guayaquil and our late afternoon/evening flights home.



Leaders:

Roger Ahlman



Ground Price:

£4450.00 - Guayaquil/Guayaquil
Airfare:

£750.00 - £1100.00 (Approx) - UK/UK.

Single supplement:

£395.00
Group size: Maximum 8
Included in cost: Accommodation in twin rooms, en-suite, all meals from breakfast on Day 2 to lunch on Day 20, ground transport throughout, entrance fees, water and snacks and services of leaders.
Not included: International airfare, insurance, drinks, tips, and items of a personal nature.
Accommodation: Our hotels and lodges vary in quality from excellent to medium quality, and all are within easy reach of the areas we wish to bird. By staying in several Jocotoco foundation lodges we will be helping out by providing valuable income to several very important projects. Note that these lodges have limited number of rooms and single rooms may not available.
Tour Code: This is a standard birding tour with all day birding. We will generally take picnic lunches unless close to our lodge where we will take a restaurant lunch. The weather can be unsettled at this time of year, so expect some cooler weather and possible cold weather with very good chances of a shower or two. Note that birds are far more active in rain than in sunshine!



Receive our e-newsletter: Join the Zoothera e-mailing list for up-to-date news on new tours, tour reports and special offers.
e-mail [email protected] to sign up