South Korea Tour Report 2017
21st January - 31st January 2017
TOUR HIGHLIGHTS:
Either for rarity value, excellent views or simply a group favourite.
Hazel Grouse
Swan Goose
Lesser White-fronted Goose
Baikal Teal
Harlequin Duck
Stejneger's Scoter
Scaly-sided Merganser (E)
Oriental Stork (E)
Steller's Sea Eagle
Cinereous Vulture
Rough-legged Buzzard
White-naped Crane
Red-crowned Crane (E)
Hooded Crane
Sandhill Crane
Solitary Snipe
Saunders Gull
Relict Gull
Glaucous-winged Gull
Brunnich's Guillemot
Spectacled Guillemot
Long-billed Murrelet
Ancient Murrelet

Rhinoceros Auklet
Japanese Pygmy Woodpecker
White-backed Woodpecker
Bull-headed Shrike
Chinese Grey Shrike
Varied Tit
Yellow-bellied Tit
Chinese Penduline Tit
Vinous-throated Parrotbill
White-cheeked Starling
Pale Thrush
Dusky Thrush
Naumann's Thrush
Siberian Accentor
Japanese Wagtail
Chinese Grosbeak
Long-tailed Rosefinch
Pallas's Rosefinch
Meadow Bunting
Black-faced Bunting
Pallas's Reed Bunting
Asian Rosy Finch
SUMMARY:

The list of highlights above, seen on Zoothera Birding's second winter tour to South Korea, illustrates exactly why this country remains an exciting birding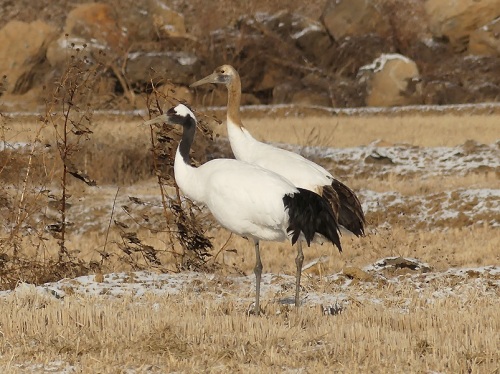 destination. Once again we found an extremely high proportion of our target species with most of them being seen more than once, allowing us to feel like we "knew" the birds rather than just a one off experience. Beginning near Seoul we began with woodland birding at the National Arboretum where the undoubted highlight was Solitary Snipe. Although cold the dawn flypast of Red-crowned and White-naped Cranes at Cheorwon was superb and from here we went south of Seoul to the forest at Namhansanseong for Hazel Grouse followed up with the Han River for Steller's Sea Eagle. From here we headed to the northeast coast and enjoyed birding along the harbours, headlands and beaches, as well as a boat trip, for Gulls, Alcids, Divers and Sea Ducks. We then moved along the south coast visiting the Nakdong Estuary, Junam Reservoir and Suncheon Bay all of which provided exceptional quality birding. Heading up the west coast we gorged our eyes on half a million Baikal Teal, got close to Saunder's Gull, studied the features of Pallas's Reed Bunting before finishing the trip with more views of the superb Steller's Sea Eagle. For a wide variety of birds and a number of rare and range-restricted species, South Korea is a great country for a mid-winter birding trip.