South India & Andamans Tour Report 2016
9th January - 28th January 2016
TOUR HIGHLIGHTS:
Either for rarity value, excellent views or simply a group favourite.
Andaman Teal

Jungle Bush Quail

Painted Bush Quail

Red Spurfowl

Grey Junglefowl

Andaman Serpent-Eagle

White-eyed Buzzard

Andaman Crake

Watercock

Great Stone-Curlew

Andaman Cuckoo-Dove

Violet Cuckoo

Andaman Masked Owl

Walden's Scops-Owl

Spot-bellied Eagle-Owl

Mottled Wood Owl

Hume's Hawk-Owl

Andaman Hawk-Owl

Sri Lanka Frogmouth

Malabar Barbet

Andaman Woodpecker

Indian Pitta

Andaman Cuckooshrike

White-bellied Minivet

White-bellied Treepie

Yellow-throated Bulbul

Streak-throated Swallow colony

Tytler's Leaf-Warbler

Sykes's Warbler

Black-chinned Laughingthrush

Kerala Laughingthrush

White-headed Starling

Nilgiri Thrush

Andaman Shama

White-bellied Blue Flycatcher

Nilgiri Flycatcher

White-bellied Blue Robin

Nilgiri Blue Robin

Black-and-orange Flycatcher

Crimson-backed Sunbird

Nilgiri Pipit

Asian Leopard
SUMMARY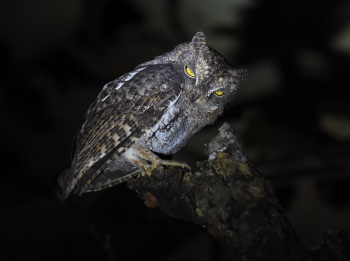 Our endemic-laden journey around the Andaman Islands and into the impressively scenic hills of South India certainly proved to be action-packed, with a grand total of 344 species seen. 99 of these were endemic, with 19 Andaman endemics, 46 subcontinent endemics, 34 Indian endemics (mainland), plus 2 near endemics. It's always exciting birding on the Andamans and we enjoyed good views of the 5 endemic owls on the first couple of nights, out of a tour total of 13 owls! But the amazing views of Andaman Crake in a secluded forest were a personal highlight and left everyone speechless. Leaving this tropical paradise we flew to Cochin and spent a few days amidst the wonderful forests of Thattekkad Bird Sanctuary, before heading up into the splendid hills of Munnar and the spectacular Eravikulam National Park. Next up were more endemic-rich areas of Topslip and Ooty before we reached Mudumalai where an unexpected Nilgiri Thrush provided tantalising views. From here we reached Nagarhole National Park and some leisurely wildlife viewing from jeeps and a great afternoon boat ride based at the wonderful Kabini River Lodge, where an Asian Leopard sleeping in a tree was the highlight. A final boat ride near Mysore on our last afternoon brought us exceedingly close views of a nesting colony of Streak-throated Swallows to round off a fabulous tour.