Sichuan Tour Report 2017
6th May - 25th May 2017


TOUR HIGHLIGHTS:
Either for rarity value, excellent views or simply a group favourite.


Smew
Chinese Grouse
Snow Partridge
Verreaux's Monal-Partridge
Tibetan Snowcock
Temminck's Tragopan
Koklass Pheasant
Chinese Monal
White Eared Pheasant
Blue Eared Pheasant
Golden Pheasant
Lady Amherst's Pheasant
Black-necked Crane
Pere David's Owl
Chinese Tawny Owl
Saker Falcon
Tiger Shrike
Sichuan Jay
Collared Crow
White-browed Tit
Pere David's Tit
Ground Tit
Chinese Wren Babbler
Tibetan Lark
Sooty Bushtit
Black-browed Bushtit
White-browed Tit-Warbler
Crested Tit-Warbler
Sichuan Bush-Warbler
Baikal Bush Warbler
Golden-fronted Fulvetta
Chinese Babax
Black-streaked Scimitar-Babbler
Rusty-capped Fulvetta

Snowy-cheeked Laughingthrush
Barred Laughingthrush
Giant Laughingthrush
Spotted Laughingthrush
Red-winged Laughingthrush
Buffy Laughingthrush
Emei Shan Liocichla
Golden-breasted Fulvetta
Rufous-tailed Babbler
Spectacled Fulvetta
Great Parrotbill
Three-toed Parrotbill
Grey-hooded Parrotbill
Fulvous Parrotbill
Golden Parrotbill
Przewalski's Nuthatch
Wallcreeper
Sichuan Forest Thrush
Long-tailed Thrush
Chinese Rubythroat
Firethroat
Tibetan Snowfinch
Rufous-necked Snowfinch
Maroon-backed Accentor
Przevalski's Finch
Collared Grosbeak
Dark-rumped Rosefinch
Streaked Rosefinch
Sharpe's Rosefinch
Long-tailed Rosefinch
Three-banded Rosefinch
Red-fronted Rosefinch
Crimson-browed Finch
Slaty Bunting
SUMMARY: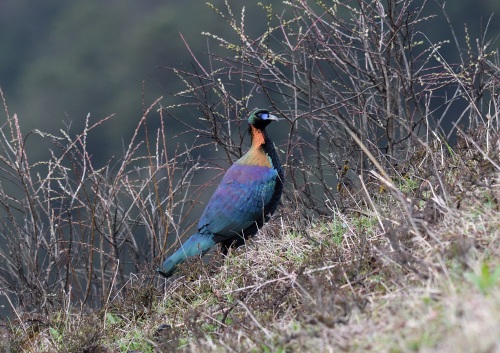 Sichuan continues to provide some of the most memorable birding on the planet, with its combination of high quality target species and stunning scenery. Amongst the 325 species seen on this tour, it is always the 'chickens' that stand out and this year's tour gave us incredible looks at 3 displaying male Temminck's Tragopans, point-blank views of male Chinese Monal, and an incredibly confiding male Golden Pheasant. Watching a pair of Tibetan Snowcocks charging towards us in a blizzard was also pretty incredible, as were repeated looks at Chinese Grouse. Our tour followed our regular itinerary, beginning at Longcanggou where an incredible variety of forest birds including all the usual cuckoos, warblers, flycatchers, parrotbills and laughingthrushes were seen. However, great views of Chinese Tawny Owl, Chinese Wren Babbler and Grey-hooded Parrotbill really stand out from our time here. Erlang Shan was our next port of call and although it is a little 'out of the way' is really worth a visit for the superb views we experienced of Lady Amherst's Pheasant, Rufous-tailed Babbler, Rusty-crowned Fulvetta, Long-tailed Rosefinch and the stunning Firethroat. Two full days on incredible Balangshan are always exciting, and you just know you are going to see some awesome birds here. Being surrounded by snow-capped peaks, watching monals and tragopans right in front of you is an experience never to be forgotten, although the more demure Sichuan Forest Thrush singing in front of us was also pretty cool. Moving on to Mengbishan and then up onto the wide-open plains of the Tibetan Plateau also proved productive, with impressive Blue Eared-Pheasants, Przevalski's Finch singing on a scrub-covered hillside, nesting Tibetan Snowfinch beside the road, dashing Saker Falcons, and diminuitive Crested Tit-Warblers in the pine forest. It took a long time but we eventually nailed Sichuan Jay with a flock moving across a forested hillside – a huge result. A majestic Pere David's Owl staring balefully down at us from his lofty perch signalled the end of our main tour before setting off to wonderful Tangjiahe. Our remote hotel was perfectly located to explore the trails and a number of special birds such as Spectacled Fulvetta, Fulvous Parrotbill, Baikal Bush Warbler, Slaty Bunting and a stunning pair of Temminck's Tragopans refusing to move from the path in front of us were among numerous highlights. Oh and the male Golden pheasant charging down a grassy slope towards us was also superb. Sichuan is quite simply awesome!