Sichuan & The Tibetan Plateau Tour Report 2015
1st June to 17th June 2015


TOUR HIGHLIGHTS:
Either for rarity value, excellent views or simply a group favourite.
Chinese Grouse
Snow Partridge
Verreaux's Monal-Partridge
Tibetan Snowcock
Tibetan Partridge
Temminck's Tragopan
Koklass Pheasant
Chinese Monal
White Eared Pheasant
Blue Eared Pheasant
Lady Amherst's Pheasant
Black-necked Crane
Pere David's Owl
Sichuan Jay
White-browed Tit
Ground Tit
Tibetan Lark
Black-browed Bushtit
White-browed Tit-Warbler
Crested Tit-Warbler
Sichuan Bush-Warbler
Golden-fronted Fulvetta
Chinese Babax

Snowy-cheeked Laughingthrush
Barred Laughingthrush
Giant Laughingthrush
Red-winged Laughingthrush
Emei Shan Liocichla
Golden-breasted Fulvetta
Rufous-tailed Babbler
Great Parrotbill
Three-toed Parrotbill
Grey-hooded Parrotbill
Przewalski's Nuthatch
Wallcreeper
Long-tailed Thrush
White-tailed Rubythroat
Firethroat
Rufous-necked Snowfinch
Collared Grosbeak
Streaked Rosefinch
Long-tailed Rosefinch
Three-banded Rosefinch
Red-fronted Rosefinch
Crimson-browed Finch
Slaty Bunting
SUMMARY: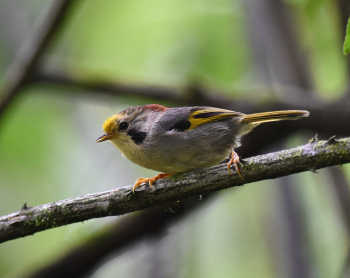 Sichuan is home to some truly exciting species and what has been described as the best scenery of any birding tour! Amongst the 306 species seen on this tour there were an incredible 14 species of galliformes, 28 warblers, 8 parrotbills and 8 rosefinches. As usual, the stunning Firethroat stole the show with repeated views of several different individuals. Or was the male Temminck's Tragopan bird of the trip? Then again, a delightful Crested Tit-Warbler dancing in the pines of Mengbishan takes some beating. Other highlights include a Chinese Monal strutting across an alpine meadow, a Tibetan Snowcock calling from its craggy perch, a delightful Ground Tit posing on the Tibetan Plateau, Chinese Grouse in the scope for ten minutes, Snowy-cheeked Laughingthrush too close to focus our binoculars on, a pair of the rare Golden-fronted Fulvettas feeding young, and a Przewalski's Nuthatch seemingly close enough to touch. Such wonderful memories and all set amidst snow-capped peaks, lush forest-cloaked mountains and the wide-open plains of the Tibetan Plateau. This tour just seems to get better each year!