Sichuan Tour Report 2014
8th May - 28th May 2014
TOUR HIGHLIGHTS:
Either for rarity value, excellent views or simply a group favourite.
Crested Ibis
Black Baza
Lammergeier
Saker Falcon
Severtzov's Grouse
Verreaux's Monal-Partridge
Tibetan Snowcock
Blood Pheasant
Temminck's Tragopan
Koklass Pheasant
Blue Eared-Pheasant
White Eared-Pheasant
Chinese Monal
Lady Amherst's Pheasant
Black-necked Crane
White-throated Needletail
Black Woodpecker
Himalayan Rubythroat
Firethroat
Blackthroat
Indian Blue Robin
Emei Shan Liocichla
Grandala
Kessler's Thrush
Crested Tit-warbler
White-browed Tit-warbler

Sukatschev's Laughingthrush
Barred Laughingthrush
Red-winged Laughingthrush
Spotted Laughingthrush
Chinese Cupwing
Spectacled Fulvetta
Brown Parrotbill
Great Parrotbill
Spectacled Fulvetta
Przewalski's Nuthatch
Chinese Nuthatch
Sichuan Treecreeper
Sooty Tit
Pere David's Tit
Black-browed Tit
Tibetan Grey Shrike
Spotted Bush-Warbler
Maroon-backed Accentor
Sichuan Jay
Collared Crow
Hume's Ground-tit
Collared Grosbeak
Streaked Rosefinch
Red-fronted Rosefinch
Slaty Bunting
Pallas's Reed Bunting
SUMMARY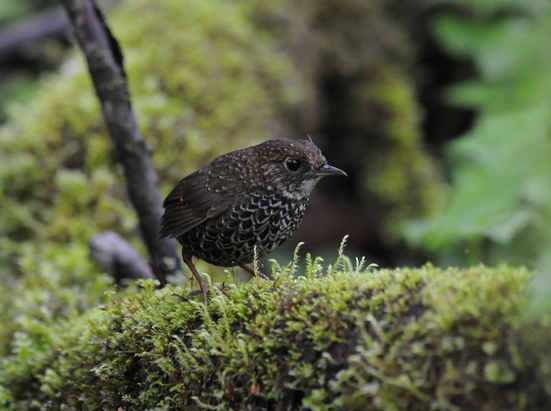 Our exploration of amazing Sichuan started in the huge city of Chengdu, before we ventured into the mountainous wilderness that is a constant backdrop to our birding. Past experience really helped us in securing several new species for this tour and we also had the added excitement of some brilliant passage migrants as well. Longcanggou gave us Sichuan Treecreeper and Pere David's Tit, plus many other crackers! Fantastic views of Firethroats followed, as well as a couple of migrating Pallas's Reed Buntings found at over 3400m, before we reached Balangshan. A veritable feast of rare and stunning birds were seen here, such as Chinese Monal and Tibetan Snowcock. Moving on to Mengbishan and its Sichuan Jays preceded another exciting visit to the stunning Tibetan Plateau. There's just too many good birds but, as always Black-necked Cranes, cute Ground-Tits and elegant Blue Eared-Pheasants stole the show. This year we had an extension to remote Foping Nature Reserve and other areas which bumped up the trip list and enabled us to see the incredibly rare Crested Ibis at a nest and many other scarce birds. We ended up with 309 species, including many endemic and rare birds on this brilliant tour. With some of the best scenery imaginable, good food and a very keen group all contributing in finding some great birds this truly was a wonderful tour!