SE China Tour Report 2015
2nd - 15th May 2015
TOUR HIGHLIGHTS:
Either for rarity value, excellent views or simply a group favourite.
White-necklaced Partridge
Chinese Bamboo Partridge
Cabot's Tragopan
Silver Pheasant
Elliot's Pheasant
Black-faced Spoonbill
Chinese Egret
Pied Harrier
White-faced Plover
Little Curlew
Grey-tailed Tattler
Spoon-billed Sandpiper
Saunders's Gull
Chinese Crested Tern
Northern Boobook
White-throated Needletail
Pied Falconet
Blyth's Shrike-Babbler
Japanese Paradise-Flycatcher
Japanese Waxwing
Manchurian Bush Warbler
Asian Stubtail
Kloss's Leaf Warbler
White-spectacled Warbler
Grey-crowned Warbler

Marsh Grassbird
Grey-sided Scimitar-Babbler
Dusky Fulvetta
Huet's Fulvetta
Chinese Hwamei
Courtois's Laughingthrush
Buffy Laughingthrush
Short-tailed Parrotbill
Grey-headed Parrotbill
Reed Parrotbill
Indochinese Yuhina
Spotted Elachura
Siberian Thrush
Pale Thrush
Blue-and-white Flycatcher
Siberian Blue Robin
Rufous-tailed Robin
Siberian Rubythroat
Yellow-rumped Flycatcher
Narcissus Flycatcher
Fork-tailed Sunbird
Pechora Pipit
Asian Buff-bellied Pipit
Yellow-breasted Bunting
Pallas's Reed Bunting
SUMMARY: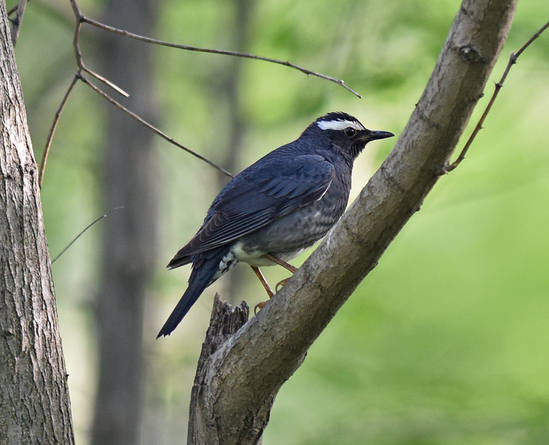 SE China provides a wonderful all-round birding experience with some amazingly rare birds, stunning endemics and the exciting spectacle of Spring migration at some of Asia's prime birding hot-spots. We began at the migrant meccas of Nanhui and Yangkou near Shanghai where Little Curlew, Japanese Paradise-Flycatcher, Asian Stubtail, Grey-crowned Warbler and a superb male Siberian Thrush were the highlights. We also found 5 Spoon-billed Sandpipers along the coast, along with 41 other species of shorebird. We then moved on to Wuyuan and a breeding colony of the very rare Courtois's Laughingthrush, and we also found Short-tailed Parrotbill and Pied Falconet in the same region. The wonderfully scenic forested mountain of Emei Feng gave us several Cabot's Tragopans and the shy Elliot's Pheasant also showed well. A visit to the Minjiang Estuary produced one of the rarest birds on the planet, Chinese Crested Tern, and ended at Fuzhou Forest Park where White-necklaced Partridge was found. There were just so many quality birds seen on this tour and you just have to read the full tour report. This was definitely China birding at its best!