Day 1 RIYADH - RAWDAT NOURAH - JEBEL TOWKI

After picking Peter up from the airport at 5am I collected the rest of the group and we headed an hour north to Rawdat Nourah, the alleged hotspot for Arabian Lark. Well, after spending 2 days in January and yesterday afternoon failing miserably to find one, I was amusingly optimistic about our chances today. The weather was clear, calm and bright, contrary to yesterday's rain, wind, sandstorm and general dull weather. And we began at an area north of the road where I had found a pair of Red-necked Phalaropes yesterday, and luckily they were still present along with the same group of Little Stints, a Kentish Plover and Wood Sandpiper (unfortunately yesterday's Curlew Sandpiper had departed overnight). Then things really kicked off as we walked along a line of very green and lush vegetation, finding an amazing bunch of northward bound migrants that must have been waiting for yesterday's poor weather to clear. I mean there were groups of Willow Warblers, with a lone Chiffchaff tagging along but the best was yet to come. A large leafy tree held singles of Great Reed Warbler, Marsh Warbler and a superb Barred Warbler and made for a fantastic sighing out here in the desert. Then a Common Whitethroat appeared, followed by 2 Red-backed Shrikes, 1 Daurian Shrike, 2 Greater Hoopoe Larks, 3 Bar-tailed Larks, Spotted Flycatcher and Whinchat, with Blue-cheeked Bee-eaters and several Chestnut-bellied Sandgrouse flying over, quickly followed by 4 European Bee-eaters… Best of all a single Little Swift proved to be our rarest sighting so far. Phew!
We then moved along a bit to some large trees where Common Redstart, Garden Warbler, Eastern Olivaceous Warbler and a pair of Eurasian Golden Orioles were found. Moving south of the road, crisscrossing the desert in search of Arabian Lark, we saw European Roller, more Red-backed Shrikes, a Lesser Grey Shrike, many more Greater Hoopoe Larks (21), more Bar-tailed Larks (17) and 12 Temminck's Larks.
In the mid afternoon we drove 50 minutes to Jebel Towki and found the scenery a refreshing change with rocky wadis, huge escarpments and nice scenery. In a roadside wadi we found Long-legged Buzzard, Desert Lark, Brown-necked Raven, more European Bee-eaters, Pale Crag Martins, Pallid Swifts, and a fine White-crowned wheatear. A nearby wetland held flocks of Western Yellow Wagtails, double figures of Red-throated Pipits, Little Stint, Wood Sandpiper and even an Eurasian Whimbrel. Once it got dark we tried a spot of owling but failed to get any response from Pharaoh Eagle Owl..
Day 2 AYN HAMRAN - KHAWR MUGHSAYL - AYN MUGHSAYL

Back up to Rawdat Nourah for Arabian Lark, heading straight to the last sighting of this invisible species from the end of February this year. Another 5 hours of driving around continuously grilling every Bar-tailed Lark resulted in the 'same old same old' and feeling disgruntled and thinking I'm in the wrong job! We did get more Willow Warblers passing through the desert, followed by a Menetries's Warbler and 2 Rufous-tailed Scrub-Robins, as well as a fine Montagu's Harrier as well. So by lunchtime we headed back to the hotel in Riyadh, packed up after a bit of a rest and took our early evening flight to Al Baha excited about the prospective birding to follow....
Day 3 AL KHAIRAH FOREST PARK

Off early to Al Khairah Forest Park where Philby's Partridge was scoped from the hillside above us. Several Arabian Waxbills were almost constantly on view, as were numerous Yemen Linnets, a few Arabian Serins, Yemen Thrush, and a pair of Little Rock Thrush. We followed this rush of activity with Arabian Wheatear, Ruppell's Weaver, Cinnamon-breasted Bunting and a few Gambaga Flycatchers - all at our first stop. We checked out Wadi Shabraqah and other sites during the morning, seeing many of the same species including even closer Gambaga Flycatchers with one on a nest, and many Eurasian Hoopoes. Lunch in a scenic wadi saw us being joined by a Grey-headed Kingfisher, but we were losing a little optimism at our prospects of finding Arabian Grosbeak by now. And that was the whole point of us coming here rather than flying further south to Abha!
We then drove just under an hour to Thee Ain Ancient Village and picked up several new trip birds quite quickly: Black Scrub-Robin, Arabian Sunbird, Bruce's Green-Pigeon, African Palm Swift, Arabian Babbler, Blackstart and some Tristram's Starlings. Returning to Al Khairah Forest Park we nailed an Arabian Scops-Owl in daylight and heard several Abyssinian Nightjars on the slopes above.
Day 4 AL KHAIRAH FOREST PARK - AL BIRK - TANOMAH

This was an epic day as we had a long drive to the coast and back up to the highlands in front of us, in order to try and connect with some very special birds. In the past couple of days news had come out of a colony of Arabian Golden Sparrows along the coast north of Al Birk – a good 3h 30mins drive away and nowhere near my intended route. Our day began on one of the higher reached of Khairah Forest Park where a particular hillside was alive with birds. We were still after Arabian Golden-winged Grosbeak and were fortunate to find around 8 birds either feeding in the grass on the slope above us or flying along the wadi on the opposite side of the road. Apparently, according to our good friend Greg Askew of Saudi Birding, this is the highest total ever recorded in Saudi..! We were treated to several great perched views of this much wanted species over the course of an hour, along with Arabian Warbler, more Arabian Waxbills (where were you in January?!), Yemen Linnet, Arabian Wheatear, Little Rock Thrush, Cinnamon-breasted Bunting and all the other usual highland species. So by 6.45am we were finished and drove back to our great hotel for a quick breakfast before loading our luggage and setting out on what proved to be a 4 hour drive towards the coast. It was lucky we had such a good, comfortable SUV with a decent sound system to listen to music! Along the way we stopped at a huge reed-fringed lake where we discovered a colony of over 80 Squacco Herons nesting, as well as Glossy Ibis, Hamerkop, Western Reef Heron, several Whiskered and White-winged Terns, a Spotted Redshank, Pink-backed Pelican, Black-winged Stilt, Black Scrub-Robin and Nile Valley Sunbird.
By the time we reached the coast it was a very sultry 40 degrees centigrade but that proved to be a good thing as we found the previously reported Arabian Golden Sparrows coming to a drinking trough for goats and we must have had around 60 individuals that kept appearing from the nearby breeding colony about 300m away. Wow! We spent a great hour watching all of the activity before deciding the heat was too much and we retreated to our air-conditioned car. From here we drove down the coast a ways to the beach and parked under an awning for shade and ate our field lunch, whilst watching 3 Caspian Terns, 5 Brown Boobies, 5 Lesser Crested Terns, Sooty Gulls, Terek Sandpiper, Lesser Sandplover and some other common shorebirds as well.
Leaving here we headed another 3 hours up into the cooler highlands to Tanomah and headed straight for Mahfar Tourist Park, seeing Abyssinian Roller and several White-throated Bee-eaters en-route. After ascending the escarpment along a very steep and winding road we eventually arrived at the park at 5.45pm and immediately began to scour the area for birds, seeing Gambaga Flycatcher, our first Arabian Woodpecker, Shikra, Alpine Swift, Long-legged Buzzard, Fan-tailed Raven, and at dusk the very obliging Arabian Eagle-Owl. At one point we even saw the eagle-owl hunting for frogs on the floor of the car park! A few Abyssinian Nightjars called in the distance but I was amazed to hear a Desert Owl calling from the huge cliffs in the distance as well. What an awesome day this was!
Day 5 TANOMAH - ABHA - HABALA

Just after first light we were in place at our viewing point in one of our favourite wadis, overlooking a nice habitat of rocky hills, scrub, Junipers and small pools. We spent the next hour watching a constant stream of activity beginning with a nearby Arabian Wheatear, followed by several Eurasian Hoopoes, a cracking little Scrub Warbler (buryi), 4 Grey-headed Kingfishers (one pair watched nest-building in a sandy bank), flyover Blue-cheeked Bee-eaters, a close Arabian Woodpecker, stunning African Paradise-Flycatcher, Arabian Warbler, and several Violet-backed Starlings.
A short walk into the wadi gave us a close Long-billed Pipit, Sand Martin, closer Violet-backed Starlings, Yemen Thrush, even closer Yemen Warbler, Gambaga Flycatcher, more Arabian Waxbills, Arabian Serins, Yemen Linnet and some Cinnamon-breasted Buntings.
Moving on to Mahfar Park we well and truly nailed African Pipit with stunning views, whilst some raptor watching proved to be successful with at least 5 Eurasian Griffon Vultures, Oriental Honey Buzzard, Verreaux's Eagle for Jonathan and a female Western Marsh Harrier. Other species included a large flock of European Bee-eaters flying around constantly during our visit, and all the usual commoner species.
Leaving here we returned to our nice hotel, collected our luggage and drove 90 minutes to Abha where we went straight to Habala for Rufous-capped Lark, many of which were seen amidst the rocky plateau. We also saw a few Red-backed and Lesser Grey Shrikes here, as well as a pair of cracking Buff-breasted Wheatears. So not a bad day at all. We enjoyed a fine and lavish Arabian dinner tonight in a good restaurant right next to our hotel to round off the day's events in fine style!
Day 6 AL SOUDAH CREEK - EITHER MANGROVES - AL SAAD LAKE

Began at Al Soudah Creek but couldn't walk down into the wadi as it was flooded, so we stayed on the road and saw a few nice species including 5 Dusky Turtle Doves, a Bruce's Green-Pigeon, African Paradise-Flycatcher, Yemen and Arabian Warblers, Gambaga Flycatcher, Little Rock-Thrush, and yet again, Arabian Waxbills. Moving on to another wadi a close and confiding Diderik Cuckoo was the highlight, but African Stonechat and 2 Buff-breasted Wheatears were also cool. We also called in to Abha Dam but it was very quiet, so we collected our luggage at the nearby hotel and drove just over 2 hours to Either Mangroves north of Jizan. Along the way we passed a small lake with 1500+ Cattle Egrets just stood around in the midday heat. At Either Mangrove Park we searched for the previously reported Wattled Starlings without luck, but found a good selection of migrants. Highlights include a Thrush Nightingale, 2 Barred Warblers and Icterine Warbler (a rarity here), with a fine supporting cast of 8 Red-backed Shrikes, several Garden Warblers, Blackcap, Red-throated Pipit and the only Ortolan Bunting of the tour. Moving on to Corniche Park we found another Thrush Nightingale, 6 Rufous-tailed Scrub Robins hopping around the lawns, African Pipit, Eastern Olivaceous Warbler, many Red-backed, Lesser Grey and Woodchat Shrikes, and a few White-eyed Gulls were on the rocks along the shoreline with Heuglin's and Baltic Gulls.
As it was only half an hour to our hotel in Abu Arish we drove there and checked-in before heading out immediately to Al Saad Lake, arriving just before dusk where we had crippling views of a Nubian Nightjar, which at one point was scared away by a Plain Nightjar that flew in and almost landed on top of it to round off a great day!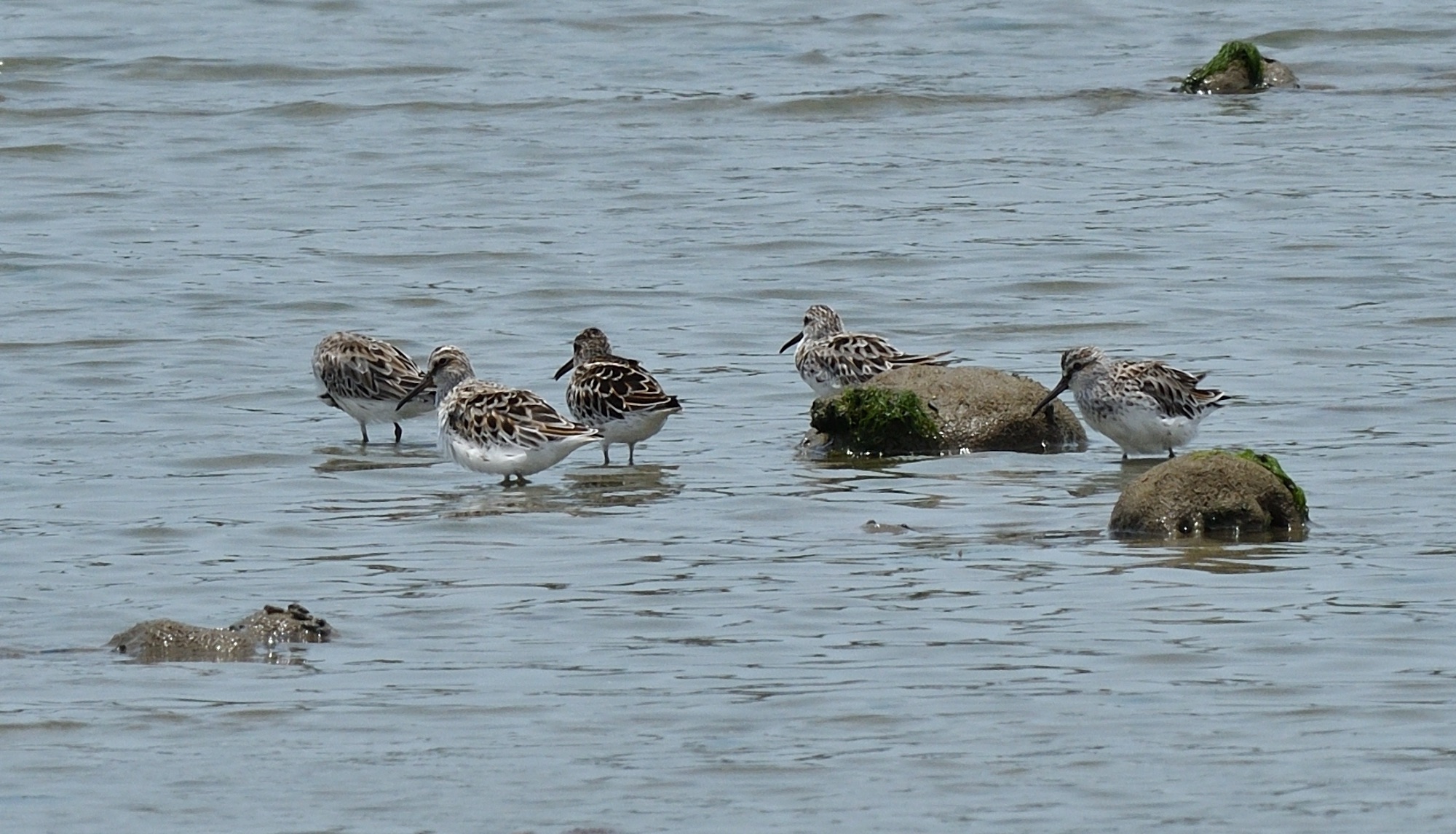 Day 7 AL SAAD LAKE - JAZAN HERITAGE VILLAGE

We drove just 25 minutes to Al Saad Lake, one of the best birding sites in south-west Saudi Arabia at 5.15am and began scanning the southern end of the lake from a viewpoint. We had a nice view over several arms of the lake, which were all fringed by reeds and bushes. There were lots of new birds for the trip including Little Bittern, Garganey, Northern Shoveler, Ferruginous Duck, Purple Heron, Red-eyed Dove, White-browed Coucal and several Nile Valley Sunbirds. With a supporting cast of Pink-backed Pelicans, Glossy Ibis, Spur-winged Lapwings, White-winged Terns, many Namaqua Doves, and other commoner species.
We then drove around trying to find other access points to different parts of the lake, which proved problematical to say the least as my intended route was flooded and impassable unless you had a dinghy! However, we did see our one and only covey of Helmeted Guineafowl, as well as several White-throated Bee-eaters, Bruce's Green-Pigeon, more White-browed Coucals, several Black Scrub-Robins, Arabian Babbler, Zitting Cisticola, and many Graceful Prinias. Along the lake shore a Clamorous Reed Warbler was an expected find, but a migrating Marsh Warbler had us perplexed for a minute or two, and there were plenty of Red-backed and Lesser Grey Shrikes dotted around the landscape.
We headed around to the northern shore seeing a Gabar Goshawk and Black-crowned Sparrow-Lark, but the water level was too high to find anything interesting around this part of the lake, although an Arabian Eagle-Owl at a day roost was pretty cool. With temperatures soaring to 41 degrees centigrade we returned to the hotel for lunch and a rest before checking out some fields this for tomorrow morning's quail hunt. Along the way 2 White-tailed Kites, more White-throated Bee-eaters and a few Abdim's Storks were seen.
Then we drove to Jazan Heritage Village for another cracking Saudi birding session. The first pools held 15 Crab Plovers, along with summer-plumaged Lesser Sandplovers, Ruddy Turnstones, Terek Sandpipers, and many Curlew Sandpipers in fine breeding refinery. A 'Mangrove' Reed Warbler gave itself up without too much hassle, 5 Pink-backed Pelicans and a Caspian Tern were also seen. A quick drive just around the corner and along the coast took us to a good seawatching point with a strong onshore breeze producing a stunning sighting of a Sooty Shearwater flying up the Red Sea, along with 50+ Common Noddy, 25 Brown Booby, many White-cheeked Terns, and surprisingly lots of Common Terns heading north. An inland pool here also held Striated Heron, Eurasian Spoonbills and a Western Reef Heron as well.
Day 8 SABYA FIELDS - EITHER MANGROVE - JWTP MANGROVE

At 5.45am we were stood in an open landscape of green fields at one of the many farms around Sabya, where we heard a few Harlequin Quails calling, and saw 3 flyover Black-headed Herons, a songflighting Singing Bushlark, African Palm Swifts, and a couple of Chestnut-bellied Sandgrouse in flight as we drove there. Moving on to Sabya Pivot Fields there were numerous Black Scrub-Robins and Nile Valley Sunbirds. Then we visited Either Mangroves and nailed Mangrove White-eye (just an Abyssinian White-eye but it's distinctive, lives in the mangroves year-round unlike the highland Abyssinian White-eye it is lumped in) and had further views of Mangrove Reed Warbler (avicenniae subspecies of Eurasian Reed Warbler), along with a Crab Plover, 2 Broad-billed Sandpipers, Curlew Sandpiper, Western Reef Heron and some other commoner shorebirds. In the park an Eurasian Golden Oriole looked odd in this desert environment, and there were a few Red-backed Shrikes, 15 Western Yellow Wagtails of various races (thunbergi and flava mainly), a few Spotted Flycatchers, a few Isabelline Wheatears, a Marsh Warbler, several Greater Whitethroats and a Red-throated Pipit. So we left here in the 42 degrees centigrade heat and returned to the hotel to shower, stopping to view a Crested Honey Buzzard en-route, and have lunch, before packing and heading back into Jizan where we'd be spending our last night.
We drove south of Jizan to JWTP Mangroves and enjoyed a cracking session of shorebird watching, where most of the birds were in fine breeding dress. At the first stop I drove out along a narrow track between tidal pools and we had birds either side of us. To our right we enjoyed a gathering of terns that held one small individual, which unfortunately turned out to be just a Little Tern, an Osprey flew in but I was mesmerized by the Crab Plovers that just looked so crisply black and white and we even saw one pair mating. Ooh err Mrs! Meanwhile, to our left was a large gathering of Lesser Sandplovers complete with bright red chest bands. There were also many stunning Curlew Sandpipers and Little Stints, and even the Common Ringed Plovers looked fantastic in the sunny weather.
Leaving here we drove a bit further down the road where a large gathering of Greater Flamingo's usually hold some Lessers - well today they didn't. A flock of 15 White-winged Terns were comprised of mostly breeding adults as well, and there was also Slender-billed Gull, Sandwich Tern, 2 Pied Avocets and all the regular shorebirds. We drove further out to the park along the beach where more shorebirds were seen, plus Greater Hoopoe Lark as well.
We ended the day back at Jazan Heritage Village scanning the Red Sea and enjoying 100+ White-cheeked Terns milling about, as well as several Common Noddy and Brown Booby before we headed to our posh hotel for an early finish.
Day 9 CORNICHE PARK - WADI DARBAT - KHAWR JANUF

Our last day in Saudi Arabia saw us visit Corniche Park just a couple of minutes away from our hotel. What a good move it turned out to be as we had an amazing session looking for migrants and found at least 3 Barred Warblers, Great Reed Warbler, Marsh Warbler, a few Garden Warblers, several Blackcaps, Greater Whitethroat (4), a Thrush Nightingale, Tree Pipit, Woodchat, Lesser Grey (3) and Red-backed Shrike (7). Seeing all of these migrants with 4 Abdim's Storks patrolling the lawns and White-eyed Gulls out in the bay made for a great session. Returning to the hotel for breakfast we were amazed to see a few White-eyed Gulls loafing around our swimming pool…!
Afterwards we drove to a few sites around Jizan, notching up first class views of Crab-Plovers, a flock of 6 Broad-billed Sandpipers, Eurasian Curlew (trip tick), Terek Sandpiper, White-winged Terns and plenty of previously seen species. We returned to the hotel before 1pm, had lunch and a rest before leaving for the airport at 4pm and our flight back to Riyadh and the conclusion of a very successful tour. To have seen 194 species in 9 days in Saudi Arabia is pretty good going.
SPECIES LIST TO FOLLOW:
ANSERIFORMES: Anatidae
Garganey Spatula querquedula
Northern Shoveler Spatula clypeata
Ferruginous Duck Aythya nyroca

GALLIFORMES: Numididae
Helmeted Guineafowl Numida meleagris

GALLIFORMES: Phasianidae
Philby's Partridge Alectoris philbyi

CAPRIMULGIFORMES: Caprimulgidae
Nubian Nightjar Caprimulgus nubicus
Montane Nightjar (H) Caprimulgus poliocephalus
Plain Nightjar Caprimulgus inornatus

APODIFORMES: Apodidae
African Palm Swift Cypsiurus parvus
Alpine Swift Tachymarptis melba
Pallid Swift Apus pallidus
Little Swift Apus affinis

CUCULIFORMES: Cuculidae
White-browed Coucal Centropus superciliosus
Diederik Cuckoo Chrysococcyx caprius

PTEROCLIFORMES: Pteroclidae
Chestnut-bellied Sandgrouse Pterocles exustus

COLUMBIFORMES: Columbidae
Dusky Turtle Dove Streptopelia lugens
Eurasian Collared Dove Streptopelia decaocto
African Collared Dove Streptopelia roseogrisea
Red-eyed Dove Streptopelia semitorquata
Laughing Dove Spilopelia senegalensis
Namaqua Dove Oena capensis
Bruce's Green Pigeon Treron waalia

GRUIFORMES: Rallidae
Common Moorhen Gallinula chloropus
Eurasian Coot Fulica atra

GRUIFORMES: Gruidae
Demoiselle Crane Grus virgo
Common Crane Grus grus

PODICIPEDIFORMES: Podicipedidae
Little Grebe Tachybaptus ruficollis

PHOENICOPTERIFORMES: Phoenicopteridae
Greater Flamingo Phoenicopterus roseus

CHARADRIIFORMES: Haematopodidae
Eurasian Oystercatcher Haematopus ostralegus

CHARADRIIFORMES: Recurvirostridae
Black-winged Stilt Himantopus himantopus
Pied Avocet Recurvirostra avosetta

CHARADRIIFORMES: Charadriidae
Spur-winged Lapwing Vanellus spinosus
Grey Plover Pluvialis squatarola
Common Ringed Plover Charadrius hiaticula
Kentish Plover Charadrius alexandrinus
Greater Sand Plover Charadrius leschenaultii
Lesser Sand Plover Charadrius mongolus

CHARADRIIFORMES: Scolopacidae
Eurasian Whimbrel Numenius phaeopus
Eurasian Curlew Numenius arquata
Bar-tailed Godwit Limosa lapponica
Black-tailed Godwit Limosa limosa
Ruddy Turnstone Arenaria interpres
Ruff Calidris pugnax
Broad-billed Sandpiper Calidris falcinellus
Curlew Sandpiper Calidris ferruginea
Dunlin Calidris alpina
Little Stint Calidris minuta
Terek Sandpiper Xenus cinereus
Red-necked Phalarope Phalaropus lobatus
Common Sandpiper Actitis hypoleucos
Common Redshank Tringa totanus
Wood Sandpiper Tringa glareola
Spotted Redshank Tringa erythropus
Common Greenshank Tringa nebularia

CHARADRIIFORMES: Dromadidae
Crab-plover Dromas ardeola

CHARADRIIFORMES: Laridae
Brown Noddy Anous stolidus
Slender-billed Gull Chroicocephalus genei
White-eyed Gull Ichthyaetus leucophthalmus
Sooty Gull Ichthyaetus hemprichii
Lesser Black-backed Gull Larus fuscus fuscus
Heuglin's Gull Larus fuscus heuglini
Gull-billed Tern Gelochelidon nilotica
Caspian Tern Hydroprogne caspia
Greater Crested Tern Thalasseus bergii
Lesser Crested Tern Thalasseus bengalensis
Sandwich Tern Thalasseus sandvicensis
Little Tern Sternula albifrons
Bridled Tern Onychoprion anaethetus
Common Tern Sterna hirundo
White-cheeked Tern Sterna repressa
Whiskered Tern Chlidonias hybrida
White-winged Tern Chlidonias leucopterus

PROCELLARIIFORMES: Procellariidae
Sooty Shearwater Ardenna grisea

CICONIIFORMES: Ciconiidae
Abdim's Stork Ciconia abdimii

SULIFORMES: Sulidae
Brown Booby Sula leucogaster

PELECANIFORMES: Threskiornithidae
Glossy Ibis Plegadis falcinellus
Eurasian Spoonbill Platalea leucorodia

PELECANIFORMES: Ardeidae
Little Bittern Ixobrychus minutus
Black-crowned Night Heron Nycticorax nycticorax
Striated Heron Butorides striata
Squacco Heron Ardeola ralloides
Western Cattle Egret Bubulcus ibis
Grey Heron Ardea cinerea
Black-headed Heron Ardea melanocephala
Purple Heron Ardea purpurea
Great Egret Ardea alba
Little Egret Egretta garzetta
Western Reef Heron Egretta gularis

PELECANIFORMES: Scopidae
Hamerkop Scopus umbretta

PELECANIFORMES: Pelecanidae
Pink-backed Pelican Pelecanus rufescens

ACCIPITRIFORMES: Pandionidae
Osprey Pandion haliaetus

ACCIPITRIFORMES: Accipitridae
Black-winged Kite Elanus caeruleus
Crested Honey Buzzard Pernis ptilorhynchus
Griffon Vulture Gyps fulvus
Gabar Goshawk Micronisus gabar
Shikra Accipiter badius
Western Marsh Harrier Circus aeruginosus
Montagu's Harrier Circus pygargus
Long-legged Buzzard Buteo rufinus

STRIGIFORMES: Strigidae
Arabian Scops Owl Otus pamelae
Arabian Eagle-Owl Bubo milesi
Desert Owl (H) Strix hadorami

BUCEROTIFORMES: Upupidae
Eurasian Hoopoe Upupa epops

CORACIIFORMES: Coraciidae
Abyssinian Roller Coracias abyssinicus
European Roller Coracias garrulus

CORACIIFORMES: Alcedinidae
Grey-headed Kingfisher Halcyon leucocephala

CORACIIFORMES: Meropidae
White-throated Bee-eater Merops albicollis
Arabian Green Bee-eater Merops cyanophrys
Blue-cheeked Bee-eater Merops persicus
European Bee-eater Merops apiaster

PICIFORMES: Picidae
Arabian Woodpecker Dendrocoptes dorae

FALCONIFORMES: Falconidae
Common Kestrel Falco tinnunculus

PASSERIFORMES: Oriolidae
Eurasian Golden Oriole Oriolus oriolus

PASSERIFORMES: Monarchidae
African Paradise Flycatcher Terpsiphone viridis

PASSERIFORMES: Laniidae
Masked Shrike Lanius nubicus
Lesser Grey Shrike Lanius minor
Woodchat Shrike Lanius senator
Isabelline Shrike Lanius isabellinus
Red-backed Shrike Lanius collurio

PASSERIFORMES: Corvidae
Asir Magpie Pica asirensis
House Crow Corvus splendens
Brown-necked Raven Corvus ruficollis
Fan-tailed Raven Corvus rhipidurus

PASSERIFORMES: Alaudidae
Greater Hoopoe-Lark Alaemon alaudipes
Desert Lark Ammomanes deserti
Bar-tailed Lark Ammomanes cinctura
Black-crowned Sparrow-Lark Eremopterix nigriceps
Singing Bush Lark Mirafra javanica
Crested Lark Galerida cristata
Temminck's Lark Eremophila bilopha
Rufous-capped Lark Calandrella eremica

PASSERIFORMES: Pycnonotidae
White-eared Bulbul Pycnonotus leucotis
White-spectacled Bulbul Pycnonotus xanthopygos

PASSERIFORMES: Hirundinidae
Sand Martin Riparia riparia
Pale Crag Martin Ptyonoprogne obsoleta
Barn Swallow Hirundo rustica
Western House Martin Delichon urbicum
Red-rumped Swallow Cecropis daurica

PASSERIFORMES: Scotocercidae
Streaked Scrub Warbler Scotocerca inquieta buryi

PASSERIFORMES: Phylloscopidae
Willow Warbler Phylloscopus trochilus
Common Chiffchaff Phylloscopus collybita
Brown Woodland Warbler Phylloscopus umbrovirens

PASSERIFORMES: Acrocephalidae
Great Reed Warbler Acrocephalus arundinaceus
Clamorous Reed Warbler Acrocephalus stentoreus
Sedge Warbler Acrocephalus schoenobaenus
Common Reed Warbler Acrocephalus scirpaceus avicenniae
Marsh Warbler Acrocephalus palustris
Eastern Olivaceous Warbler Iduna pallida
Icterine Warbler Hippolais icterina

PASSERIFORMES: Cisticolidae
Zitting Cisticola Cisticola juncidis
Graceful Prinia Prinia gracilis

PASSERIFORMES: Sylviidae
Eurasian Blackcap Sylvia atricapilla
Garden Warbler Sylvia borin
Barred Warbler Curruca nisoria
Lesser Whitethroat Curruca curruca
Yemen Warbler Curruca buryi
Arabian Warbler Curruca leucomelaena
Menetries's Warbler Curruca mystacea
Common Whitethroat Curruca communis

PASSERIFORMES: Zosteropidae
Abyssinian White-eye Zosterops abyssinicus

PASSERIFORMES: Leiothrichidae
Arabian Babbler Argya squamiceps

PASSERIFORMES: Sturnidae
Common Myna Acridotheres tristis
Violet-backed Starling Cinnyricinclus leucogaster
Tristram's Starling Onychognathus tristramii

PASSERIFORMES: Turdidae
Yemen Thrush Turdus menachensis

PASSERIFORMES: Muscicapidae
Black Scrub Robin Cercotrichas podobe
Rufous-tailed Scrub Robin Cercotrichas galactotes
Spotted Flycatcher Muscicapa striata
Gambaga Flycatcher Muscicapa gambagae
Thrush Nightingale Luscinia luscinia
Bluethroat Luscinia svecica
Common Redstart Phoenicurus phoenicurus
Little Rock Thrush Monticola rufocinereus
Whinchat Saxicola rubetra
African Stonechat Saxicola torquatus
Buff-breasted Wheatear Oenanthe bottae
Isabelline Wheatear Oenanthe isabellina
Blackstart Oenanthe melanura
White-crowned Wheatear Oenanthe leucopyga
Arabian Wheatear Oenanthe lugentoides

PASSERIFORMES: Nectariniidae
Nile Valley Sunbird Hedydipna metallica
Palestine Sunbird Cinnyris osea
Arabian Sunbird Cinnyris hellmayri

PASSERIFORMES: Passeridae
House Sparrow Passer domesticus
Arabian Golden Sparrow Passer euchlorus

PASSERIFORMES: Ploceidae
Rüppell's Weaver Ploceus galbula

PASSERIFORMES: Estrildidae
African Silverbill Euodice cantans
Arabian Waxbill Estrilda rufibarba

PASSERIFORMES: Motacillidae
Western Yellow Wagtail Motacilla flava
Western Yellow Wagtail Motacilla flava flava
Western Yellow Wagtail Motacilla flava feldegg
Western Yellow Wagtail Motacilla flava thunbergi
African Pipit Anthus cinnamomeus
Long-billed Pipit Anthus similis
Tree Pipit Anthus trivialis

PASSERIFORMES: Fringillidae
Arabian Golden-winged Grosbeak Rhynchostruthus percivali
Arabian Serin Crithagra rothschildi
Yemen Linnet Linaria yemenensis

PASSERIFORMES: Emberizidae
Ortolan Bunting Emberiza hortulana
Cinnamon-breasted Bunting Emberiza tahapisi