Qinghai & Xinjiang Tour Report 2014
5th June - 28th June 2014

TOUR HIGHLIGHTS:
Either for rarity value, excellent views or simply a group favourite.
Szechenyi's Monal-Partridge

Tibetan Partridge

Tibetan Snowcock

Himalayan Snowcock

Przevalski's Partridge

Daurian Partridge

Blue Eared Pheasant

Black-necked Crane

Ibisbill

Tibetan Sandgrouse

Pallas's Sandgrouse

Salim Ali's Swift

White-winged Woodpecker

Three-toed Woodpecker

Bearded Reedling

Mongolian Lark

Tibetan Lark

Robin Accentor

Black-throated Accentor

White-tailed Rubythroat

Siberian Rubythroat

Siberian Bluetail

A La Shan Redstart

Guldenstadt's Redstart

Eversmann's Redstart

Grandala

Crested Tit-warbler

Kozlov's Babax

Azure Tit

Wallcreeper

Przewalski's Nuthatch

Henderson's Ground-Jay

Biddulph's Ground-Jay

Kozlov's Bunting

Pink-tailed Finch

Pale Rosefinch

Spotted Great Rosefinch

Roborovski's Rosefinch

Saxaul Sparrow

Pere David's Snowfinch

Grey Wolf

Pallas's Cat
SUMMARY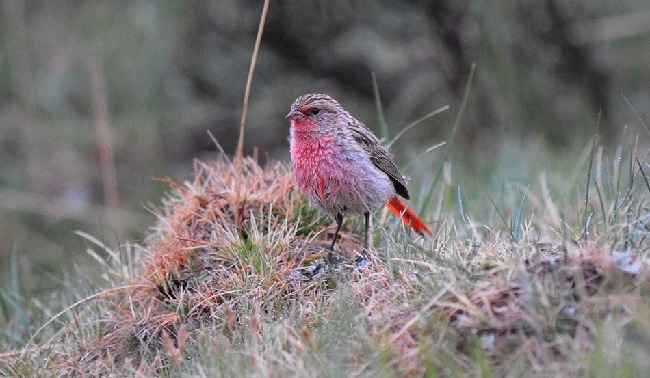 Our exciting adventure to some of the remotest regions of China resulted in a large number of endemic and extremely localised species. However, on this journey it is not about the number of birds you see, but more importantly it is the overall experience of birding in one of the most beautiful environments imaginable. We visited all of the best birding sites in Qinghai, including Koko Nor Lake, Rubber Mountain, Er La Pass, Kande Shan, Chaka and many places in between. Of course there are some wonderful birds such as Himalayan Snowcock, Tibetan Sandgrouse, A La Shan Redstart, Tibetan Rosefinch and plenty of other mouthYwatering, highYaltitude species. We were also fortunate to see a Pallas's Cat at close quarters, a hunting Wolf, and several stunning Tibetan Fox. We also visited the far northYwest and a quest to the remote Taklamakan Desert where we found the rangeYrestricted Biddulph's GroundYJay amidst a stark desert landscape that provided a total contrast to the snowYcapped mountains and beautiful valleys of the Tibetan Plateau. We enjoyed WhiteYwinged Woodpecker and Saxaul Sparrow here as well, before ending in the Tien Shan Mountains. Overall, a simply great experience and a privilege to be able to visit such a vast and remote region.