Peninsular Malaysia 2020
Tuesday 17th March – Friday 27th March 2020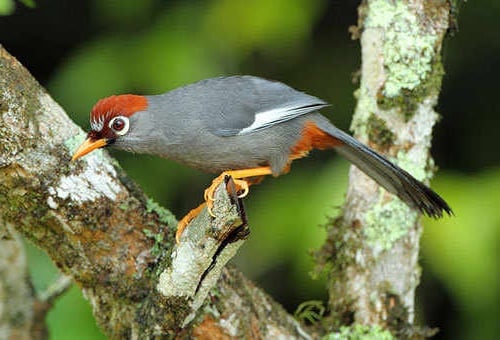 The Malay Peninsula is home to an amazingly wide selection of mouth-watering south-east Asian specialities and on this tour we visit the classic destinations of Fraser's Hill and Taman Negara, as well as some other lesser-known sites where the birding can be very good. Just north of Kuala Lumpur along the coast is the small town of Kuala Selangor which provides access to a variety of habitats such as coastal mudflats, lagoons, pools, marshes and mangroves. Key targets here include Mangrove Blue Flycatcher, Pied Triller, Mangrove Whistler, Laced and Sunda Pygmy Woodpeckers and the incresingly difficult Mangrove Pitta. Leaving the heat of the lowlands behind we will then head to the cool montane forests of Fraser's Hill which provides us with an excellent opportunity to explore the mist-enshrouded forests that harbour a bewildering variety of birds. From the comfort of our conveniently located lodge we make daily excursions along a network of trails and quiet roads that bisects this vast wilderness in search of an interesting mix of tropical and Himalayan species. This is a perfect destination for the visiting birder with its temperate climate and an abundance of spectacular birds, and it is no wonder that this former British hill station is one of the most famous birding locations in the world. The broadleaved evergreen forests in the Malay highlands harbour a spectacular avifauna with such delights as Red-headed Trogon, Fire-tufted Barbet, Malayan Whistling-thrush, Marbled Wren-babbler and Rufous-browed Flycatcher amongst many others. The little-known Krau Forest will be our next stop, and here there is a chance of Garnet Pitta and a few other species that are more difficult elsewhere. From here we will head into one of the most ancient and magnificently pristine rainforests in the world at Taman Negara, where we will make daily excursions on foot and by boat as there are no roads here. There is a superb network of trails bisecting this vast wilderness and we will search for a bewildering variety of distinctly tropical birds which includes many local specialities and range-restricted species. Our base in this vast wilderness of the largest remaining tract of virgin rainforest in the Malay Peninsula will be at the very comfortable and conveniently Mutiara lodge, close to all the birding sites for a 4-night stay. A veritable feast of amazing birds reside in the forest and we will look for Great Argus, Malayan Banded and Garnet Pittas, Scarlet-rumped Trogon, and the elusive Rail Babbler amongst a bewildering assortment of woodpeckers, kingfishers, barbets, trogons, hornbills, babblers and much more! Leaving here, we will head back towards Kuala Lumpur but not before heading up into the hills once more and looking for the ever-elusive Mountain Peacock-Pheasant, which would provide a fitting finale to our exciting tour across the Malay Peninsula.
Targets:
Mountain Peacock-Pheasant

Crested Fireback

Blyth's Frogmouth

Dark Hawk-Cuckoo

Blue-crowned Hanging-parrot

Rhinoceros Hornbill

Bushy-crested Hornbill

Garnet Pitta

Rufous-collared Kingfisher

Blue-banded Kingfisher

Green Broadbill

Yellow-crowned Barbet

Orange-backed Woodpecker

Great Slaty Woodpecker

Red-naped Trogon

Scarlet-rumped Trogon

Malaysian Rail Babbler

Malayan Whistling-Thrush

Whiskered Treeswift

Spectacled Laughingthrush

Fluffy-backed Tit-babbler

Chestnut-naped Forktail
Day 1
Arrival in Kuala Lumpur – Kuala Selangor
- 17th March
Following an overnight flight from the UK we will drive to the coastal town of Kuala Selangor for an overnight stay. After checking into our conveniently situated hotel, we can begin our birding with an exploration of the nearby Kuala Selangor Nature Park. There are a number of key species to find here and around the mangroves and lagoons we will look for Black-capped and Collared Kingfishers, Laced and Sunda Pygmy Woodpeckers, Greater and Common Flamebacks, Mangrove Blue Flycatcher, Mangrove Whistler, Pied Triller, Olive-winged Bulbul, and Ashy Tailorbird. Other species here include Lesser Adjutant, Pink-necked Green-Pigeon, Blue-throated Bee-eater, Golden-bellied Gerygone, Grey Tit, Olive-winged Bulbul, Ruby-cheeked and Brown-throated Sunbirds, Dollarbird, and Asian Glossy Starling. At night Large-tailed Nightjar can be spotlighted near the hotel, whilst there is always a chance of a Buffy Fish-owl or even a Barred Eagle-owl. Night at Kuala Selangor.
Days 2 - 5 Kuala Selangor - Fraser's Hill
An early morning visit along the coast gives us the opportunity to look for the elusive Mangrove Pitta and further chances to catch up with any species we missed yesterday, maybe a cute little White-headed Munia or skulking Chestnut-bellied Malkoha. But with the hills beckoning we will soon head out on the drive to the mist-enshrouded former British hill station of Fraser's Hill, situated in the central Malay highlands. There is no escaping the former colonial charm of this picturesque site and it is one of Asia's classic birding destinations. With a pleasantly cool climate and a bountiful selection of tropical birds we are sure of a fantastic time here. After checking in to our lodge for a 4-night stay there should be plenty of time to begin our exploration of the surrounding forest. Set amidst mature broadleaved evergreen forest at around 1000m this is a wonderful area of forested hills that stretch to the horizon. Our birding will usually be done from well marked trails or from the road which enables pretty decent viewing conditions to sift through the numerous mixed feeding flocks that occur. As always we will target the special birds which here include Malaysian Partridge, Rhinoceros Hornbill, the endemic Malayan Whistling-thrush, Malayan, Spectacled and Black Laughingthrushes, Fire-tufted Barbet, the incredibly tough Rusty-naped Pitta, Black-and-Crimson Oriole, Javan Cuckooshrike, Rufous-browed Flycatcher, Blue Nuthatch, Collared Babbler and Marbled Wren-babbler. A huge variety of other species are possible here and include an interesting mix of Himalayan and distinctly tropical species including Blyth's Hawk-eagle, Rufous-bellied Eagle, Black-thighed Falconet, Green-billed Malkoha, Mountain Imperial-pigeon, Yellow-vented Green-pigeon, Little Cuckoo-dove, Sunda Cuckoo, Collared Owlet, Glossy Swiftlet, Whiskered Treeswift, Helmeted and Wreathed Hornbills, Orange-breasted and Red-headed Trogons, Red-bearded Bee-eater, Speckled Piculet, Buff-rumped, Checker-throated, Bamboo and Bay Woodpeckers, Greater and Lesser Yellownapes, Black-browed, Brown and Gold-whiskered Barbets, Banded, Black-and-yellow, Silver-breasted and Long-tailed Broadbills, Pale Blue, Hill Blue and Little Pied Flycatchers, Large Niltava, White-tailed Robin, Lesser Shortwing, Grey-chinned Minivet, Ochraceous, Black-crested and Mountain Bulbuls, Greater and Lesser Racket-tailed Drongos, Sultan Tit, Pygmy and Streaked Wren-babblers, Large and Chestnut-backed Scimitar-babblers, Buff-breasted Babbler, Grey-throated and Golden Babblers, Silver-eared Mesia, White-browed and Black-eared Shrike-babblers, Blue-winged Minla, Mountain Fulvetta, White-bellied Erpornis, Long-tailed Sibia, Slaty-backed Forktail, Yellow-bellied and Mountain Leaf-warblers, Mountain Tailorbird, Everett's White-eye, Black-throated Sunbird, Fire-breasted Flowerpecker, Streaked Spiderhunter and Green Magpie.
Day 6 Fraser's Hill – Krau Forest - Taman Negara
We will set off early this morning on the drive towards Taman Negara, stopping along the way at the interesting Krau Forest where we have our first chance of finding Black Hornbill, Blue-eared and Gold-whiskered Barbets, Garnet Pitta, Scarlet-backed Trogon, Black-and-yellow Broadbill, and both Black-throated and Short-tailed Babblers. Afterwards we will continue our journey to Taman Negara National Park where will stay at the wonderful Mutiara Resort for the next 4 nights.
Days 7 - 9 Taman Negara
Taman Negara National Park protects 4343 square kilometres of virgin tropical rainforest and is widely regarded as one of the finest reserves in the whole world. To walk the secluded trails deep into the forest immediately leaves one in awe at the serene tranquillity as immense trees tower over you and a lush understorey hides a bewildering variety of birds. From our comfortable lodge located beside the rainforest we will make daily excursions via a network of trails, returning for lunch each day. There are no roads in the National Park so all of our birding is on foot, or we may take a boat to reach areas further upriver. But our birding begins in the immediate vicinity of our lodge as fruiting trees can attract an amazing variety of species with upwards of 10 species of bulbul possible including Puff-backed, Grey-bellied, Stripe-throated, Cream-vented, Red-eyed, Spectacled, Grey-cheeked, Yellow-bellied, Hairy-backed, Straw-headed and Streaked. There could also be other frugivores like Little, Thick-billed and Large Green-pigeons, Gold-whiskered, Yellow-crowned, Red-throated, Blue-eared and Brown Barbets, Green Broadbill, Green, Greater Green, Lesser Green and Blue-winged Leafbirds, Yellow-eared, Spectacled and Grey-breasted Spiderhunters, Crimson-breasted and Yellow-breasted Flowerpeckers, plus Plain, Red-throated and Purple-naped Sunbirds. There is an excellent network of trails which will let us explore many different sections of the forest in search of such delights as Great Argus, Crested Partridge, Malayan Peacock-pheasant, Crested Fireback, Black-thighed Falconet, Jambu Fruit-dove, Long-tailed Parakeet, Blue-rumped Parrot, Blue-crowned Hanging-parrot, Violet, Asian Drongo, Banded Bay and Plaintive Cuckoos, Raffles's, Black-bellied, Red-billed and Chestnut-breasted Malkohas, Brown-backed and Silver-rumped Needletails, Grey-rumped and Whiskered Treeswifts, Red-naped, Diard's and Scarlet-rumped Trogons, Rufous Piculet, Crimson-winged, Checker-throated, Banded, Buff-rumped, Buff-necked, Great Slaty, White-bellied, Maroon and Orange-backed Woodpeckers, Banded, Rufous-collared, Rufous-backed and Blue-banded Kingfishers, Black and Rhinoceros Hornbills, Blue-winged, Hooded, Garnet and Malayan Banded Pittas, Black-and-Yellow, Black-and-Red, Green, Dusky and Banded Broadbills, Black-winged Flycatcher-shrike, Rufous-tailed Shama, Dark-throated Oriole, Rufous-chested Flycatcher, Rufous-winged and Maroon-breasted Philentomas, Black-capped, Grey-headed, Chestnut-rumped, Short-tailed, White-chested, Horsfield's and Ferruginous Babblers, Fluffy-backed Tit-Babbler, White-crowned and Chestnut-naped Forktails, Dark-necked and Rufous-tailed Tailorbirds, Large Wren-babbler, Brown Fulvetta, Black Magpie and Crested Jay. If we are very lucky then we could even have a chance encounter with a Malaysian Rail-Babbler. Night birding can also be productive with Malaysian Eared Nightjar, Oriental Bay Owl, Reddish Scops-Owl, or even a Large, Gould's or Javan Frogmouth possible.
Day 10
Taman Negara – Bukit Tinggi
We will spend the morning birding at Taman Negara trying to connect with any species still missing from our lists before driving to Bukit Tinggi. Night at Bukit Tinggi.
Day 11
Bukit Tinggi - Kuala Lumpur - End of Tour
- 27th March
Our primary focus here will be finding the elusive Mountain Peacock-Pheasant, which, in recent years, has been visiting a small feeding station set up by local photographers. There are plenty of other great birds here including Blyth's Hawk-Eagle, Crimson-winged Woodpecker, Orange-breasted Trogon, Banded Kingfisher, Banded Broadbill, Bushy-crested Hornbill, Scaly-breasted Bulbul and others. From here we will drive to Kuala Lumpur International Airport for our late evening flight back to the UK and conclusion of a wonderful tour.
Leaders
:
Nick Bray and local guides.
Ground Price

:
£
2775.00
-
Kuala Lumpur/Kuala Lumpur
Airfare:
£550 - £650.00
(Approx) - UK/UK
Single supplement

:
£450.00
Deposit

:
£500.00
Group size

:
Minimum for tour to go ahead 4 and maximum 8 with 2 leaders.
Included in cost

:
Accommodation in twin rooms en-suite, all ground transport, all meals, boat rides, all entrance fees, bottled water and services of leaders.
Not included

:
International airfare, insurance, drinks, tips, camera fees and items of a personal nature.
Accommodation

:
Good.We will stay in a comfortable hotel at the hill station of Fraser's Hill and close to all the birding sites and a good lodge at Taman Negara.
Tour Code

:
This is a standard birding tour, where early starts and some late finishes are necessary. There is the opportunity to opt out of any excursion as we will usually return to our hotels for lunch most days. There will be optional early morning bird walks and some long days in the field. Most of our time will be spent on foot, although our bus will always be close by - except at Taman Negara. Expect a rather pleasant climate at Fraser's Hill with days being generally warm, but cooler in the early morning and overnight. In the lowlands it is typically hot and rather humid and there is a chance of some light showers.


View Nick's Blog from his visit in 2012 - Zoothera Blog

2018 Tour Report - coming soon!
Receive our e-newsletter:
Join the Zoothera e-mailing list for up-to-date news on new tours, tour reports and special offers.
Click Here to sign up.