Bhutan - The Ultimate Himalayan Birding Adventure!
Saturday 26th March – Friday 15th April 2016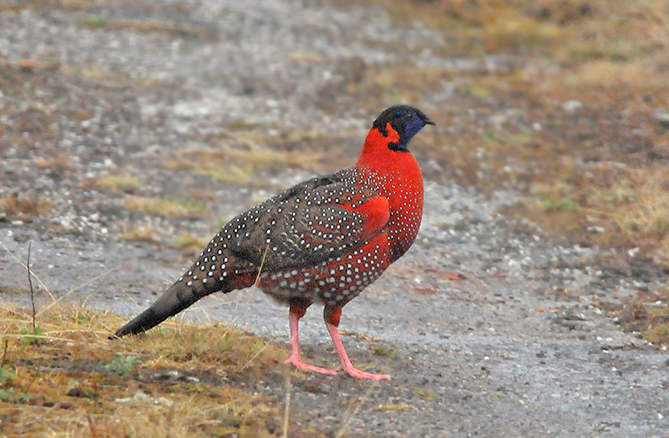 The remote Buddhist kingdom of Bhutan is nestled within the majestic peaks of the ornithological treasurehouse of the mighty Himalayan mountain range. With a restricted tourist quota and a fascinating historical culture combined with some of the most fascinating, stunningly beautiful and much-wanted birds on the planet then this really is one of the top birding destinations imaginable. Any tour here is always going to be something of an adventure as we visit remote bird-filled valleys, moss-encrusted forests and stunning high-altitude forested passes seldom visited by birders including the fabled Lingmethang Road – possibly the greatest birding road in Asia! Overall the scenery is breath-taking to say the least, and it is quite incredible that 70% of the land surface is forested and over 600 species have so far been recorded here. Imagine watching a stunningly bright-red male Satyr Tragopan feeding alongside a quiet mountain road, or a pair of amazingly iridescent Himalayan Monals standing sentinel on a sunlit slope with snow-capped mountains as a backdrop, or finally tracking down the montane-dwelling Ward's Trogon as it calls from a mossy branch. And let's not forget how amazing it would be to watch a Fire-tailed Myzornis sipping nectar in a rhododendron bush, a calling Beautiful Nuthatch filling the scope, or what a Sikkim Wedge-billed Wren-babbler would be like to see for real! This is Bhutan birding! This tiny country has undoubtedly the most diverse range of Himalayan species and amongst a mouth-watering selection there are multiple other 'dream' species such as Blue-fronted Robin, Yellow-rumped Honeyguide, both Long-billed and Bar-winged Wren-Babblers, Spotted Elachura, Slender-billed Scimitar-babbler, Bhutan Laughingthrush, Crimson-browed and Gold-naped Finches and many, many other utterly stunning birds. Bhutan fires the imagination like nowhere else and it truly is one of those rare places in which it is a privilege and an honour to visit. Not only is the birding unbeatable but it also offers an unrivalled cultural experience as we visit some spectacularly located dzongs (or monastery-forts) as well. Undoubtedly this is one of the most exciting bird tours you can get, so why not travel with ZOOTHERA for the holiday of a lifetime!
Targets:
Satyr Tragopan

Blood Pheasant

Himalayan Monal

Chestnut-breasted Partridge

White-bellied Heron

Black-tailed Crake

Wood Snipe

Ibisbill

Rufous-necked Hornbill

Ward's Trogon

Snow Pigeon

Wallcreeper

Beautiful Nuthatch

Rufous-breasted Bush-Robin

Yellow-rumped Honeyguide

Fire-tailed Myzornis

Himalayan Cutia

Bhutan Laughingthrush

Black-headed Shrike-Babbler

Spotted Elachura

Bar-winged Wren-Babbler

Long-billed Wren-babbler

Sikkim Wedge-billed Wren-Babbler

Golden-breasted Fulvetta

White-naped Yuhina

Slender-billed Scimitar-Babbler

Coral-billed Scimitar-Babbler

Great Parrotbill

Fulvous Parrotbill

Crimson-browed Finch
Days 1 - 2
UK/Europe/USA - Delhi
- 26th to 27th March
We take a direct overnight flight from London to Delhi, arriving the following day and then transfer to a nearby hotel for the night. If travelling from outside Europe, please make 27
th
March your arrival day in Delhi. Night in Delhi.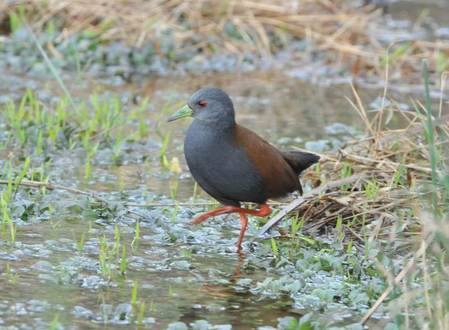 Day 3

Delhi - Paro - Thimphu
The morning flight from Delhi to Paro is truly spectacular and gives us our first glimpse of the might snow-capped Himalayas, including a peek at Mount Everest if the
weather is clear. Upon arrival we will drive east through the first of many stunningly beautiful valleys and begin our birding in search of our first target birds along a tumbling mountain river for Black-tailed Crake, Ibisbill, Brown Dipper and Wallcreeper. We can also notch up numerous commoner Himalayan species such as River Lapwing, Oriental Turtle Dove, Plumbeous and White-capped Water-Redstarts, Hodgson's Redstart, Grey Bushchat, Blue Whistling Thrush, Himalayan Black Bulbul, Grey-backed Shrike, Black-throated Thrush, Red-billed Chough, Large-billed Crow, Green-backed Tit, Rosy Pipit, Rufous-breasted Accentor and Russet Sparrow. In the afternoon we will continue to Thimphu (2240m), the capital of Bhutan for an overnight stay.
Days 4 - 5

Thimphu - Dochu La - Mo Chu River - Shatem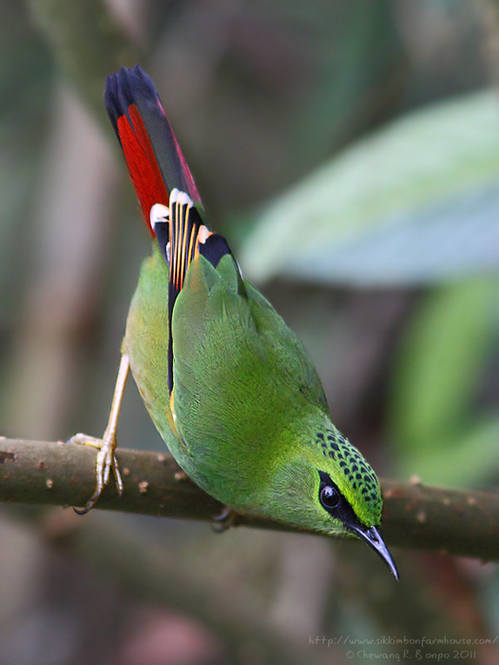 We will drive east along the central highway to Dochu La (3150m) and begin birding on the east side of the pass, the first of a series of high altitude road passes that we'll explore on this tour. Entering the pristine mixed forests of fir, hemlock, rhododendron and evergreen oak will give us an insight into the ornithological treasures that reside in Bhutan and we should see a wealth of birds along the road including some very exciting feeding flocks that can comprise of numerous different species. Possibilities here are many and include Hill Partridge, our first chance at the stunning Satyr Tragopan, Snow Pigeon, Darjeeling and Rufous-bellied Woodpeckers, the incomparable Fire-tailed Myzornis, Golden Bush-Robin, Himalayan Cutia, Chestnut-bellied Rock-Thrush, Lesser Shortwing, White-collared and Grey-winged Blackbirds, Whistler's Warbler, White-throated and Black-faced Laughingthrushes, Pygmy Wren-Babbler, Whiskered and Stripe-throated Yuhinas, Rufous-winged Fulvetta, Chestnut-tailed Minla, Rufous-fronted and Yellow-browed Tits, Spotted Nutcracker, Green-tailed Sunbird, Brown Parrotbill, Rufous Sibia, Plain Mountain-Finch, Dark-breasted Rosefinch and Red-headed Bullfinch.
From our perfectly located campsite at Shatem (1670m) near Jigme Dorji National Park we can explore the sub-tropical forests bordering the Mo Chu River where an impressive array of species reside such as Kalij Pheasant, the rare White-bellied Heron, Pallas's Fish-Eagle, Mountain Hawk-Eagle, Ibisbill, River Lapwing, Himalayan Cuckoo, Wedge-tailed Green-Pigeon, Asian Emerald, Himalayan and Large Hawk Cuckoos, Bay Woodpecker, Greater and Lesser Yellownapes, Great and Golden-throated Barbets, Crested Kingfisher, Red-headed Trogon, Chestnut-bellied Nuthatch, Himalayan Swiftlet, Small Niltava, Ultramarine, Verditer and White-gorgeted Flycatchers, Slaty-backed Forktail, Black-winged Cuckooshrike, Maroon and Slender-billed Orioles, Slaty-bellied Tesia, Blyth's Leaf, Whistler's, Grey-hooded, Yellow-vented, Lemon-rumped and Ashy-throated Warblers, Blue-winged and Red-tailed Minlas, Hoary-throated Barwing, Spotted Elachura, Whiskered and Stripe-throated Yuhinas, Nepal Fulvetta, Rufous-capped Babbler, Rufous-chinned, Chestnut-crowned and Striated Laughingthrushes, Black-throated Sunbird, Black-throated and Fire-capped Tits, and Grey Treepie. During our stay in this area we can visit the fabulous monastery-fortress of Punakha Dzong. Nights under canvas.
Day 6
Gangtey La - Phobjika Valley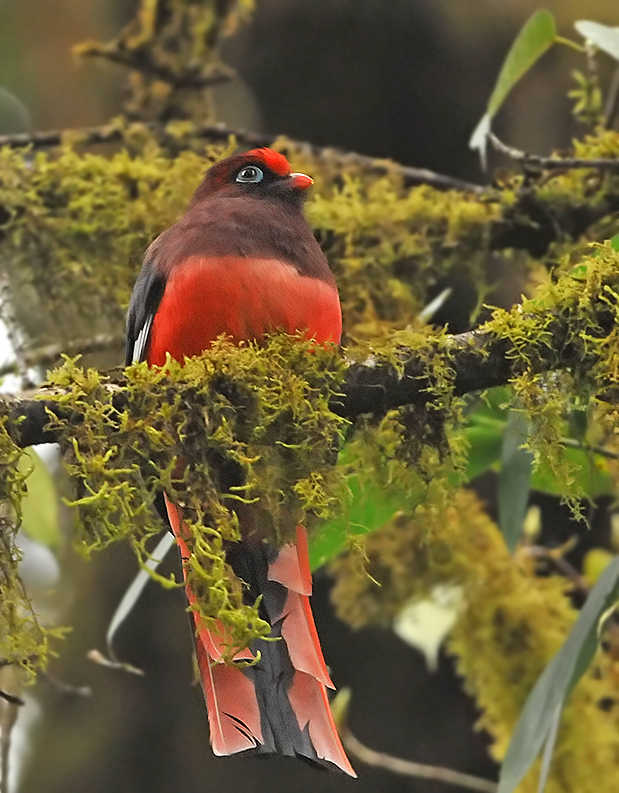 Early this morning we will leave the central highway and turn south to Gangtey La pass (3358m) where we plan to begin our birding walk along the road and down though the moss-encrusted forest into the Phobjika Valley. This is a particularly productive area for Blood Pheasant, Himalayan Monal and Satyr Tragopan so we will spend quite some time scanning the slopes and listening for their distinctive calls and hopefully we can get some great views of these three enigmatic species. The lower slopes also hold the exciting possibility of Ward's Trogon. Along our route today we could come across a number of other great birds such as Himalayan Griffon, Lammergeier, Wedge-tailed Green-Pigeon, Fork-tailed Swift, Indian Blue Robin, White-browed Bush-Robin, Rusty-flanked Treecreeper, the elusive Yellow-rumped Honeyguide, Blue-capped Rock-Thrush, Yellow-bellied Fantail, Grey-sided and Hume's Bush-Warblers, Spotted Laughingthrush, Spotted Elachura, Fire-tailed Sunbird and White-winged Grosbeak. If time permits we can also pay a visit to Gangtey Gompa. We will spend the night in the heart of the Phobjika Valley at Gompa Guest House (2960m).
Day 7

Pele la - Trongsa
Today we will cross over Pele La (3412m) where it is sometimes possible to find Wood Snipe in the early morning, before birding our way along the road down to 3000m. The bamboo zone here is good for specialities such as Golden-breasted Fulvetta, Slender-billed Scimitar-Babbler, Great, Brown and Fulvous Parrotbills, whilst Rhododendron Forest can hold Fire-tailed Myzornis. We can expect more mixed species feeding flocks today, as well as other goodies such as Speckled Woodpigeon, Rufous-bellied Woodpecker, Spotted Forktail, Maroon Oriole, White-browed Bush-Robin, Rufous-vented Yuhina, Rufous-fronted Bushtit, Yellow-billed Magpie, Brown and Red-headed Bullfinches, possibly Crimson-browed Finch, and Alpine Accentor. Tonight we will stay in Trongsa (2290m).
Days 8 - 10

Zhemgang Road
Leaving Trongsa we will head for the wonderful subtropical forest along the Zhemgang Road and explore the various habitats and altitudes in search of the star bird of the area, Beautiful Nuthatch. We will base ourselves at two different campsites, the first of which at Tingtibi is at 900m and is set in the heart of some superb forest that is at one of the lowest altitudes that we visit in Bhutan. Then our next campsite is at around 1800m and gives us access to a different set of birds. Many people claim this area is the best birding site in the country as there are a remarkable number of possibilities and other key birds here are Chestnut-breasted Partridge, Rufous-necked Hornbill and Himalayan Cutia, with an outside chances of Yellow-rumped Honeyguide and Collared Treepie. Other more widespread Himalayan species include Oriental Honey Buzzard, Black Eagle, Violet Cuckoo, Indian Cuckoo, Whistling Hawk-Cuckoo, Pin-tailed Green Pigeon, Emerald Dove, Bar-tailed Cuckoo-Dove, Blue-throated Barbet, White-browed Piculet, Grey-capped, Fulvous-breasted, Pale-headed and Rufous Woodpeckers, Great Hornbill, White-throated Needletail, Long-tailed Broadbill, Scarlet Minivet, Large Woodshrike, Orange-bellied Leafbird, Striated Prinia, Little and Spotted Forktails, Large Niltava, Blue-throated Flycatcher, White-throated and Ashy Bulbuls, Russet Bush-Warbler, Yellow-bellied, Yellow-vented and Rufous-faced Warblers, Rusty-cheeked Scimitar-Babbler, Lesser Necklaced, Blue-winged and sometimes Rufous-necked Laughingthrushes, Crimson-faced Liocichla, Common Green Magpie White-browed Scimitar-Babbler, Grey-throated Babbler, Silver-eared Mesia, Black-chinned and Striated Yuhinas, Long-tailed Sibia, Yellow-cheeked and Sultan Tits, Crimson Sunbird, Streaked Spiderhunter, Common Green Magpie and Crested Bunting. The entire length of this spectacularly forested valley is also a good area for the endangered Golden Langur. Nights under canvas.
Day 11
Zhemgang Road - Trongsa
We will continue birding in the stunning landscape of the Zhemgang Road this morning before returning to Trongsa for an overnight stay.
Day 12

Yutong La - Jakar
Heading east from Trongsa we will ascend Yutang La (3275m) and check out various areas from the summit downwards. The scenery changes from swathes of bamboo just below the sumit to broad grassy valleys and rolling hillsides covered in spruce and fir and the avifauna changes equally abruptly. Target birds today include Darjeeling Woodpecker, Slaty-backed Forktail, Slender-billed Scimitar-Babbler, Fulvous, Brown and Great Parrotbills, Spotted Nutcracker, Golden, White-browed and Rufous-breasted Bush Robins, White-browed Shortwing, Spotted Laughingthrush, and Dark-rumped Rosefinch. If time permits we can visit a hand-made textile centre in the Chumi Valley. Night in Jakar (2490m) Bumthang.

Day 13
Shertang La - Ura Valley - Thrumsing La - Sengor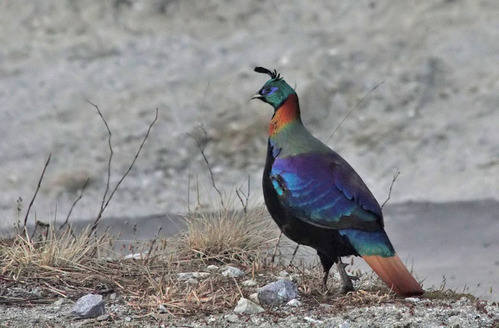 This morning we will cross Shertang La (3418m) and head up over Thrumsing La (3757m), Bhutan's second highest pass of our journey and bird our way down through alpine scrub and into Rhododendron forest and stands of Hemlock. Again there are good chances of pheasants, which could include Monal, Satyr Tragopan and Blood Pheasant. Amidst this fine selection of habitats we could see Snow Pigeon, Spotted Laughingthrush, Goldcrest, Himalaya Bluetail, Golden Bush-Robin, White-collared Blackbird, Hume's Bush-Warbler, Buff-barred, Ashy-throated and Large-billed Leaf-Warblers, Red-tailed Minla, Rufous-winged Fulvetta, Yellow-browed Tit, Rufous-vented Bushtit, Yellow-bellied Flowerpecker, Himalayan Beautiful Rosefinch, Collared Grosbeak and possibly Crimson-browed Finch amongst others. The road then drops down into the lush semi-tropical forest of the fabled Lingmethang Road, perhaps Asia's premier birding road. As the only option is to camp in this area we will spend our first night at Sengor campsite (3000m) in modern, walk-in, spacious tents and sleeping on comfortable camp beds all erected for us by our Bhutanese crew.
Days 14 - 16
Lingmethang Road
Birding along the famed Lingmethang Road covering a vast altitudinal range from 3000m down to 875m in just 79 kilometres. This has been dubbed the Shangri La of Himalayan birding as many of Bhutan's most sought-after birds can be found here and characteristic birds of the Eastern Himalayas with star birds including Chestnut-breasted and Rufous-throated Partridge, Satyr Tragopan, the montane dwelling Ward's Trogon that is restricted to the Eastern Himalayas, the awesome Rufous-necked Hornbill, Himalayan Cutia, the shy Blue-fronted Robin, Black-headed Shrike-Babbler, Slender-billed Scimitar-Babbler, Sikkim Wedge-billed, Long-billed and Bar-winged Wren-Babblers.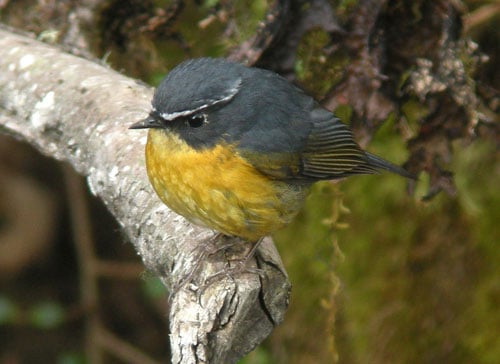 During the course of our exploration of this remote area that still very few birdwatchers have had the privilege to visit we will see a hugely diverse selection of species such that reads like a "Who's Who' of Himalayan birds: Hill Partridge, Mountain Hawk-Eagle, Crested Goshawk, Speckled Woodpigeon, Asian Barred Owlet, Large Hawk-Cuckoo, Asian Emerald, Himalayan and Indian Cuckoos, Drongo Cuckoo, Red-headed Trogon, Blue-bearded Bee-eater, Crimson-breasted and Bay Woodpeckers, Great and Golden-throated Barbets, White-tailed Nuthatch, Brown-throated Treecreeper, Nepal House Martin, Blyth's Swift, Grey-chinned Minivet, Striated Bulbul, Large and Rufous-bellied Niltavas, Grey-chinned and Short-billed Minivets, Yellow-bellied Fantail, White-gorgeted, Sapphire, Dark-sided, Little Pied, Blue-throated, Pygmy Blue and Pale Blue Flycatchers, Grey-winged Blackbird, Ashy and Mountain Bulbuls, White-tailed Robin, Black-eared Shrike-Babbler, Greater Rufous-headed and Black-throated Parrotbills, Chestnut-headed and Grey-bellied Tesias, Brownish-flanked Bush-Warbler, Hill Prinia, Mountain Tailorbird, Large-billed Leaf-Warbler, Grey-cheeked, Broad-billed, Chestnut-crowned and Black-faced Warblers, White-browed and Lesser Shortwings, Red-billed Leiothrix, Golden Babbler, Bar-throated Minla, Golden-breasted and Yellow-throated Fulvettas, Black-chinned and White-naped Yuhinas, Bhutan, Rufous-chinned, White-crested, Grey-sided, Blue-winged and Scaly Laughingthrushes, Coral-billed, Streak-breasted and Rusty-cheeked Scimitar Babblers, Rufous-throated, Scaly-breasted and Pygmy Wren-Babblers, Black-throated Parrotbill, Rusty-fronted Barwing, Yellow-cheeked Tit, Lesser Racket-tailed Drongo, Yellow-breasted (Himalayan) Greenfinch and Scarlet, Gold-naped and Crimson-browed Finches. Nights under canvas at a couple of well located campsites.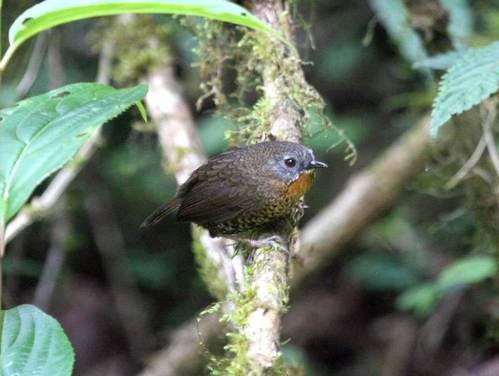 Day 17 Lingmethang Road - Thrumsing La - Jakar
Following a final birding session in this amazing setting, looking for any species still missing from our list We will drive up the Lingmethang Road for lunch at Sengor camp, before continuing through the Ura Valley. Night in Jakar.
Day 18
Jakar - Paro
This will be a long travelling day as we drive all the way back to Paro, with just a few stops for some roadside birds. Night in Paro.
Day 19
Chele La
We will spend the day birding at the fabulous Chele La (3988m), which is a spectacular setting to end our birding in this remarkable country. It also provides further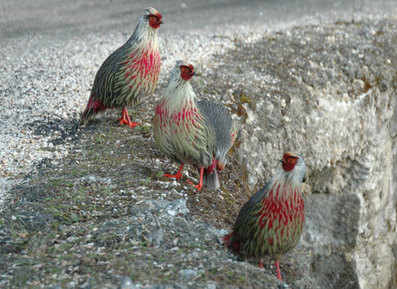 opportunities for many high-altitude specialities and a last chance to catch up with any species we may still need. Amongst a fine cast of star birds residing here there are Himalayan Monal, Blood Pheasant, Kalij Pheasant, Snow Pigeon, Long-tailed Minivet, Rufous-gorgeted Flycatcher, Himalayan Bluetail, Blue-fronted Redstart, White-browed Bush-Robin, White-collared Blackbird, Long-tailed Thrush, Himalayan Treecreeper, Green-backed, Grey-crested and Rufous-fronted Tits, Black-faced and Chestnut-crowned Laughingthrushes, Laughingthrush, Rufous-vented Yuhina, White-browed Fulvetta, Green-tailed and Mrs Gould's Sunbirds, Yellow-billed Blue Magpie, Plain Mountain-Finch, White-winged and Collared Grosbeaks, and both Himalayan White-browed and Dark-rumped Rosefinches. In the late afternoon we can visit Paro Dzong. Night in Paro.
Day 20
Paro - Delhi
Morning flight back to Delhi and transfer to a nearby hotel. Night in Delhi.

Day 21 End of Tour - 15th April
Return flights to the UK/Europe/USA and end of the tour - please make this your departure day.

Leaders: Nick Bray and Peter Lobo.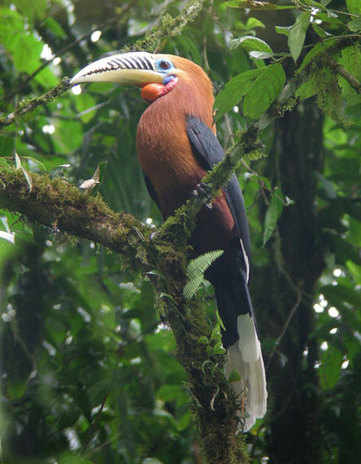 Ground Price:

£4450.00
- Delhi/Delhi
Single supplement:
£550.00
Group size: Minimum for tour to go ahead 4 and maximum 8 with 2 leaders.
Included in cost: Domestic flights (Delhi – Paro return), accommodation in twin rooms/tents en-suite, all meals including picnic lunches where necessary, transport throughout, and services of leaders.
Not included: International airfare, insurance, Indian & Bhutanese visa fee, drinks, tips, and items of a personal nature.
Accommodation: Is of a reasonably good standard at the best available hotels in Bhutan, closest to the birding sites. But please remember that Bhutan is a third-world country and standards are below that of what we are used to in the west. We will also utilize a number of camping sites, partly because more regular accommodation is not available close enough to the birding sites, but also that we will be in very remote areas and this is the only option. The tents are spacious, walk-in style affairs with proper camp beds and bedding provided. We will have a professional local camping crew to set the tents up and prepare the campsite, as well as providing delicious hot food.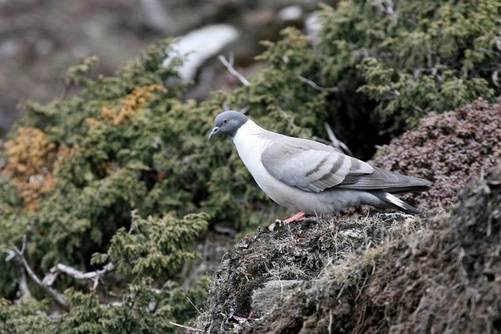 Tour Code: This is a relatively adventurous tour where many early starts can be expected, as well as some long drives. It is not particularly physically strenuous, as we will be birding mainly from the road. However, it is a long tour, we will be camping for several nights, and be birding at a high altitude (ranging from 4000m down to 750m) for most of our time in Bhutan. We will be visiting a country that restricts the number of tourists, has a fascinating cultural aspect and offers an amazing, and potentially, overwhelming birding experience – so any potential discomfort is totally worthwhile. Bhutan is awesome!

Receive our e-newsletter:
Join the Zoothera e-mailing list for up-to-date news on new tours, tour reports and special offers.
e-mail [email protected] to sign up.