Central Thailand 2016 - The Classic Asian Birding Tour
Tuesday 1st March - Friday 11th March 2016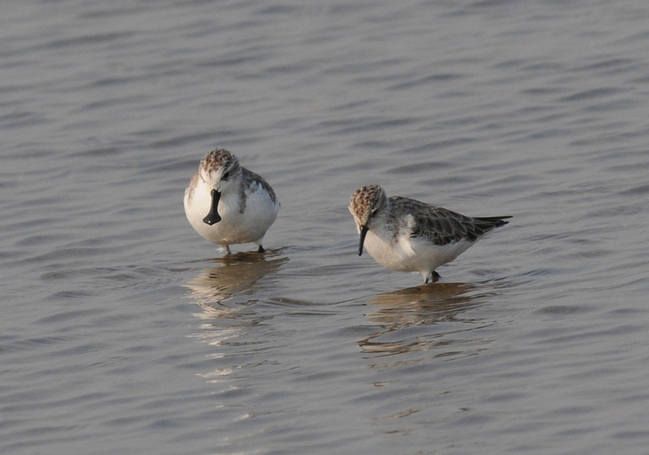 From a birder's point of view Thailand is a perfect destination to visit during the winter months, with an extremely rich and varied resident population augmented by an influx of migrants from the Himalayas and northern Asia. It is home to an exceptionally diverse range of habitats from coastal marshes and mudflats teeming with shorebirds to vast lowland rainforest and montane evergreen forest with their attendant mixed feeding flocks and seemingly endless possibilities! This tour will begin by visiting Khao Yai National Park for such enigmatic species as Silver Pheasant, Siamese Fireback, Blue Pitta, Coral-billed Ground Cuckoo, Black-throated Laughingthrush and many other great birds before heading to the wader mecca of Pak Thale. This is THE place to see Spoon-billed Sandpiper

at its most famous wintering grounds, and to date we have never missed this most wanted bird. There are thousands of other birds to see here, such as Nordmann's Greenshank, Great Knot, Long-toed Stint, Far Eastern Curlew and if we are lucky, Asiatic Dowitcher - amongst thousands of other waders present. A short boat ride takes us out to Laem Pak Bia sandspit in search of White-faced Plover, Malaysian Plover, Chinese Egret and a decent assortment of gulls and terns as well. After this bird-rich bonanza we will spend the next few days in the wonderful forest of Kaeng Krachen looking for Black-and-yellow, Black-and-red, Dusky and Banded Broadbills, Tickell's Brown Hornbill, Ratchet-tailed Treepie, as well as a whole range of other mouth-watering Asian specialities. The benefit of being in a small group is that we can spend an afternoon at a photo blind watching numerous shy, skulking forest species visiting a drinking pool. With such crackers as Scaly-breasted and Bar-backed Partridges, Large Scimitar-Babbler, Brown-cheeked Fulvetta, Blue-throated and Chinese Blue Flycatchers, and Abbott's Babbler feeding and drinking just a few metres away this is usually one of the major highlights of the entire tour.
This tour is only available for a select group of 6 birders, which is so essential for tropical forest birding, ensuring an extremely personalised and quality tour.
Targets:
Great Eared Nightjar

Coral-billed Ground Cuckoo

Great Slaty Woodpecker

Black-headed Woodpecker

Banded Kingfisher

Long-tailed Broadbill

Black-and-yellow Broadbill

Black-and-red Broadbill

Blue Pitta

Tickell's Brown Hornbill

Great Hornbill

Wreathed Hornbill

Hainan Blue Flycatcher

Orange-headed Thrush

Siberian Blue Robin

Sultan Tit

Black-throated Laughingthrush

Collared Babbler

Asian Golden Weaver

Ratchet-tailed Treepie

White-shouldered Starling
Days 1 - 2
UK - Bangkok
- 1st to 2nd March
Overnight flight from UK to Bangkok and upon arrival meet up with our expert local guide, Nick Upton, and transfer to a nearby hotel for an overnight stay.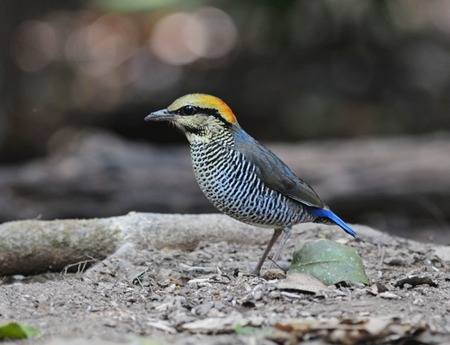 An early start will see us heading to Khao Yai for a 2 night stay, stopping en-route at a very special site for the localised Limestone Wren-babbler. This is an intriguing species as it is only found at one or two key localities in this corner of Thailand and we shall make a special effort to find it. We are not too far from Khao Yai and will take some time to enjoy the Lineated Barbets, Black-naped Orioles and a few other species here before heading to the National Park. The 542,000 acres of hills and mountains of khao Yai are covered by dry deciduous forest at lower elevations and tropical moist evergreen forest higher up, interspersed with productive areas of grassland. This site represents some of the best remaining tracts of lowland forest in the country and is a haven for all forms of wildlife. A single road ascends to the highest point at 1,300m and from here a network of trails will give us access to the forest where we will search for a good selection of the numerous species to have been recorded here. By quietly walking the trails we have a chance of finding some of the shyer denizens of the understory such as Silver Pheasant, Siamese Fireback, Red Junglefowl, Blue Pitta, Forest Wagtail or Scaly Thrush, whilst we can always hope for a sighting of the much-wanted Coral-billed Ground Cuckoo. One of the features of our birding will be the sudden appearance of a mixed species flock within which numerous birds occur and just as quickly as they arrived, the flock moves off deep within the forest leaving silence where mere minutes before the trees reverberated to strange calls and the noise of wings. These bird waves usually contain species such as Red-headed Trogon, Verditer Flycatcher, Striped Tit-babbler, White-bellied Erpornis, Spangled Drongo and Claudia's Leaf-warbler, whilst we need to thoroughly search each flock for new species such as Long-tailed Broadbill, Green-billed Malkoha, Little Spiderhunter or Common Green Magpie amongst many other possibilities. Other birds here include Collared Owlet, Great-eared Nightjar, Great Pied and Wreathed Hornbills, Mountain Imperial-pigeon, Blue-bearded and Chestnut-headed Bee-eaters, Banded Kingfisher, Brown-backed Needletail, Blue-eared, Moustached and Green-eared Barbets, Dusky Broadbill, Asian Fairy Bluebird, White-rumped Shama, Indian Roller, Rosy and Swinhoe's Minivets, Siberian Blue Robin, Siberian Rubythroat, Puff-throated and Grey-eyed Bulbuls, Hainan Blue Flycatcher, White-crowned Forktail, Orange-headed Thrush, Olive-backed Pipit, Dark-necked Tailorbird, Yellow-vented and Fire-breasted Flowerpeckers, Pale-legged, Thick-billed, Two-barred, Yellow-browed and Radde's Warblers, Black-throated, Van Hasselt's and Crimson Sunbirds, Black-throated, White-crested and Lesser-necklaced Laughingthrushes, Large and White-browed Scimitar-babblers, Abbott's Babbler and many others. Other animals present here include Asian Elephant, Pig-tailed Macaque, White-handed Gibbons, Sambar, Muntjac, East Asian Porcupine and a whole range of amphibians and small reptiles to keep the all-round wildlife enthusiast happy. 2 nights at Khao Yai.
Days 5 - 6
Khao Yai - Petchaburi
- Pak Thale - Laem Pak Bia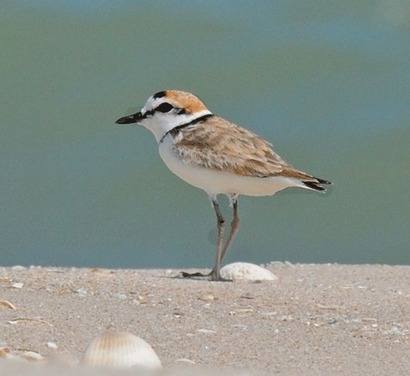 After a final morning at Khao Yai in search of any species we still need to see we will head out on the drive to the famous wader hotspots in the Petchaburi area. This is a huge area of salt workings where the sheer numbers of waders is a very impressive sight indeed. In recent years this has been a regular wintering site for a small number of wintering Spoon-billed Sandpipers and we have a very good chance of observing this very rare species. We will also concentrate our efforts on the sought-after Nordmann's Greenshank and Asiatic Dowitcher as well. For the wader enthusiast this is heaven as amongst the more familiar species we can find Pacific Golden and Kentish Plovers, Broad-billed and Marsh Sandpipers, large flocks of Great Knots, Greater and Lesser Sandplovers, Terek Sandpiper, Temminck's, Red-necked and Long-toed Stints, Far Eastern Curlew and Red-necked Phalarope amongst an impressive total of around 40+ wader species possible here! In the late afternoon we will take a short boat ride through the mangroves to a nearby sandspit at Laem Phak Bia where it is usually possible to see White-faced Plover, along with the increasingly rare Malaysian Plover. Other possibilities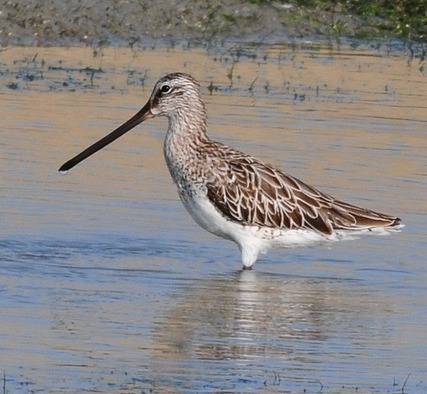 include Chinese Egret, Pacific Reef Egret, Great Black-headed and Heuglin's Gulls, Great and Lesser Crested Terns and a few commoner species.
This is a fantastic area and by exploring the nearby rice paddies, marshes and lagoons we have chances of seeing many south-east Asian species such as Little Green Heron, Javan and Chinese Pond-herons, Purple Heron, Yellow Bittern, Asian Openbill, Painted Stork, Cotton Pygmy-Goose, Black-eared and Brahminy Kites, Grey-headed Lapwing, Bronze-winged and Pheasant-tailed Jacanas, Purple Swamphen, Gull-billed Tern, Zebra Dove, Pink-necked Green-Pigeon, Germain's Swiftlet, Stork-billed, Black-capped and Collared Kingfishers, Little Green Bee-eater, Pied Fantail, Brown Shrike, Yellow-vented and Streak-eared Bulbuls, Yellow-bellied Prinia, Pallas's Grasshopper Warbler, Dusky Warbler, both Oriental Reed and Black-browed Reed Warblers, Racket-tailed Treepie, Plain-backed Sparrow, White-shouldered Starling, and a fine trio of Baya, Streaked and the much-wanted Asiatic Golden Weaver. We will spend an early evening at a special site where we should see White-winged Terns hawking over the pools, along with chances of Ruddy-breasted Crake, Slaty-breasted Rail and Pintail Snipe, whilst as dusk settles Indian Nightjars and 1000's of Lyle's Flying Foxes appear. 2 nights at Petchaburi.
Days 7 - 9 Petchaburi – Kaeng Krachen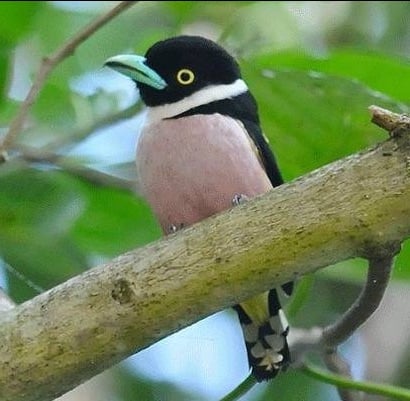 Leaving here, we will drive to Kaeng Krachan, calling in to a nice patch of dry dipterocarp forest where we can look for the spectacular Black-headed Woodpecker, along with Rufous Woodpecker, Spotted and Asian Barred Owlets, Red-breasted Parakeet, Purple Sunbird, Forest Wagtail, Rufous Treepie and other species. We should have finished here by mid-morning and then will drive the short distance into the national park and spend the rest of the day birding in this amazing forest. We will then have a further two full days to explore the hill and lowland evergreen forest of the largest national park in Thailand, which protects 3,000 square kilometres of pristine habitat and the richest avifauna in the whole country. It is located on the eastern flank of the remote Tenasserim mountain range that borders Myanmar. Our visit here gives us the possibility of seeing many lower elevation species as the park only rises to 1513m on Panern Thung, the highest point of the mountain. Birding is done mainly from the 36 kilometre long entrance road and a series of trails and amongst many fantastic possibilities here we can find Grey Peacock-pheasant, Kalij Pheasant, Chinese Sparrowhawk, Black Baza, Grey-faced Buzzard, Black-thighed Falconet, Thick-billed Green Pigeon, Collared Scops-owl, Tickell's Brown, Great and Wreathed Hornbills, White-browed Piculet, Common and Greater Flamebacks, Greater Yellownape, Great Slaty and Grey-and-Buff Woodpeckers, Green-billed Malkoha, Great, Moustached, Green-eared and Blue-eared Barbets, Large-tailed Nightjar, Heart-spotted Woodpecker, Vernal Hanging-parrot, Violet, Asian Emerald, Indian and Banded Bay Cuckoos, Black-naped Oriole, Banded Kingfisher, Red-bearded Bee-eater, Red-headed and Orange-breasted Trogons, Blue Pitta, Asian Fairy Bluebird, Himalayan Swiftlet, Brown-backed Needletail, Long-tailed, Silver-breasted, Black-and-yellow, Black-and-red, Banded and Dusky Broadbills, Great Iora, Large Woodshrike, Sultan Tit, Rosy, Grey-chinned and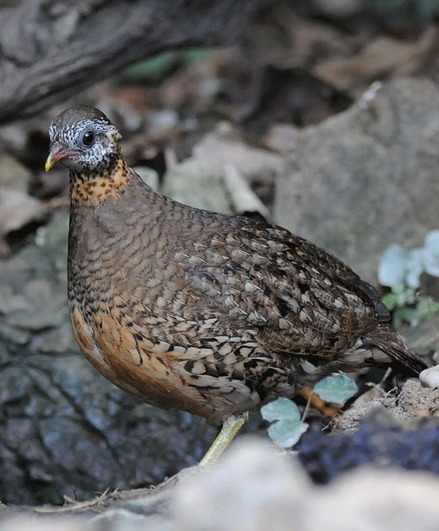 Swinhoe's Minivets, Flavescent and Ochraceous Bulbuls, Dark-necked Tailorbird, Yellow-bellied and Sulphur-breasted Warblers, Hill Blue, Taiga, Dark-sided, Rufous-browed and Asian Brown Flycatchers, Blyth's Shrike-babbler, Large and White-browed Scimitar-babblers, Spot-necked, Collared and Golden Babblers, Black-throated Laughingthrush, Crested Jay and the extremely localised Ratchet-tailed Treepie. Over the many tours we have done here, there have been some excellent rare birds seen and other species you would expect to find much further south such as Naumann's Thrush, Red-throated Barbet, Lesser Cuckooshrike, Maroon-breasted Philentoma and Crested Jay. This really is a magical place!
One afternoon we will visit a special site where there is a bird hide and can observe some of the forests' shyer species coming to drink and bathe. This can be a very good place with usually hard-to-see birds such as Bar-backed and Scaly-breasted Partridges, sometimes even a shy Slaty-legged Crake or Large Scimitar-babbler and usually Abbott's Babbler all giving point-blank views. More regular birds include Red Junglefowl, Greater and Lesser Necklaced Laughingthrushes, Brown-cheeked Fulvetta, White-bellied Erpornis, Black-crested and Stripe-throated Bulbuls, Tickell's Blue, Chinese Blue and Blue-throated Flycatchers, Black-naped Monarch, Pale-legged Leaf-warbler, Puff-throated Babbler, and there is always the chance of a surprise! This is definitely a site you won't visit with other tour companies with their bigger group sizes! 3 nights at Kaeng Krachen.
Day 10 Kaeng Krachen – Petchaburi - Bangkok
Depending on what species we still need we may well spend most of the day in this wonderful forest or visit the open habitat around Petchaburi, which can be very productive for Cinnamon Bittern, Black-crowned Night-heron, Greater Painted Snipe, Watercock, Steppe, Greater Spotted and Eastern Imperial Eagles, Eurasian Wryneck, Plaintive Cuckoo, Mangrove Whistler, Golden-bellied Gerygone, Indochinese Bushlark and Brown-throated Sunbird. Another peek at the vast array of waders is always worthwhile, just in case we can pick out a Far Eastern Curlew or even a Grey-tailed Tattler, or possibly an early returning Oriental Pratincole. By mid-afternoon we will have to head back to our hotel close to the airport in Bangkok for an overnight stay.
Day 11

Arrival in UK and End of Tour
- Friday 11th March
Early afternoon flight back to the UK and conclusion of a wonderful tour.
Ground Price:

£1395.00
-
Bangkok/Bangkok
Airfare:

£650.00 - £750
(Approx)
- UK/UK
Zoothera tour prices explained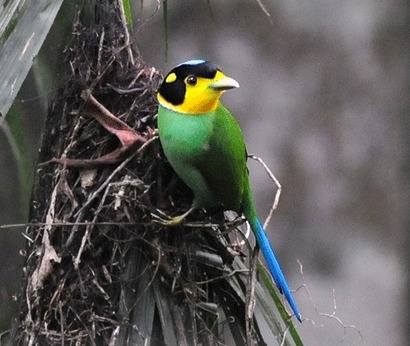 Single supplement:
£150.00
Group size: Minimum for tour to go ahead 3 and maximum of 6.
Included in cost: Accommodation in twin rooms en-suite, all meals (including bottled water) transport in air-conditioned minibus throughout the tour, boat trip, all reserve entrance fees and services of the leader.
Not included: International airfare, insurance, alcoholic beverages, tips, and items of a personal nature.
Accommodation: The lodges and hotels used on this tour are of a reasonable - good standard, all with en-suite facilities. We will stay in the best available lodges/guest houses close to the birding sites.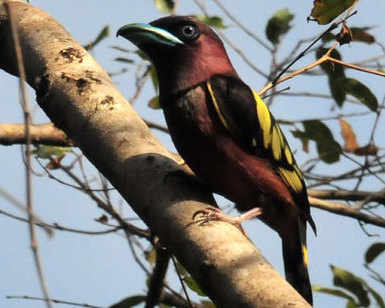 Tour Code: This is a standard tour where early starts and late finishes can be expected. Usually there is some time off during the middle of the day to relax. Most of our birding walks will be of a usual slow pace and relatively easy. Expect a typically tropical climate with most days being hot and humid, and some light showers are possible at Kaeng Krachen.
Receive our e-newsletter:
Join the Zoothera e-mailing list for up-to-date news on new tours, tour reports and special offers.
Click Here to sign up.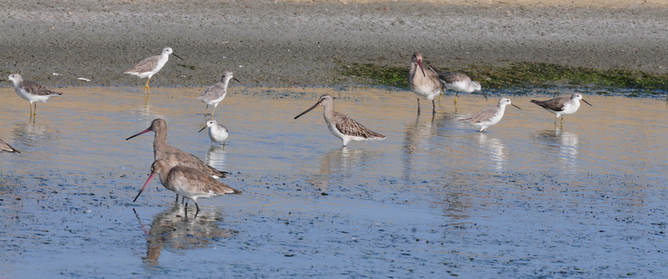 Previous Tour Reports: 2012 Species list January 2012 Tour 1
January 2012 Tour 2 Jan/Feb 2013 January 2014 Tour 1 2015 Tour

2014 Checklist January 2014 Tour 2 Report
Thailand 2014 photo gallery - click here.
Thailand 2015 photo gallery - click here.

Recommended Books, CD's and more from NHBS. Click on - Buy from NHBS - to go straight to website!



The air holidays and flights shown are ATOL protected by the Civil Aviation Authority.
Our ATOL number is 10436. Please see our Terms and Conditions for more information.