South Africa - Western Cape and Kruger National Park
Western Cape - Friday 28th August – Wednesday 9th September
Kruger NP – Wed 9th September – Tues 15th September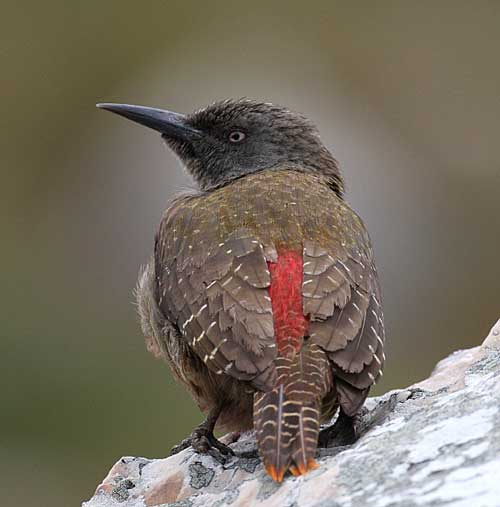 South Africa is a must visit birding destination and our fantastic itinerary has us visit during their springtime which means beautiful weather, stunning scenery with carpets of flowers, one of the World's most exciting pelagic trips and a host of rare and sought after endemics. We begin our tour in Cape Town and from here we embark on a pelagic trip into the South Atlantic, an area famous amongst birders the World over for offering some of the largest concentrations of seabirds anywhere on the planet. We could see up to 7 species of albatross, as well as countless shearwaters, skuas, petrels and prions. Add to this Southern Right Whales and the scene is set. Moving on we go to the West Coast National Park, Paarl, Tanqua Karoo, Swellendam, Grootvadersbosch, Hermanus, Cape of Good Hope, Table Mountain and an assortment of very productive nature reserves. Two areas contain habitats found nowhere else in the World and these are the heathland vegetation of the 'Fynbos' and the semi-desert 'Karoo'. Both these areas host many endemic species of birds and over 6,000 species of endemic plants. It's no wonder they are so special and our days spent here should see us rewarded with many unforgettable moments. As an added bonus for those with more time, we have added a very exciting extension to the Kruger National Park, where amongst the 2 million hectares of grassland, scrub and savanna you can find all the most wanted mammals the continent has to offer. From Aardvark to Zebra, Lions to Leopards, Hunting Dogs to Hippos this park has it all. Needless to say the birds are special too and we will endeavor to find as many endemic and local specialities as possible. Join us for a fantastic South African Adventure!
Southern Carmine Bee-eater

Southern Black Korhaan

Cape Eagle-Owl
Flight to Cape Town
- Thur
27th Aug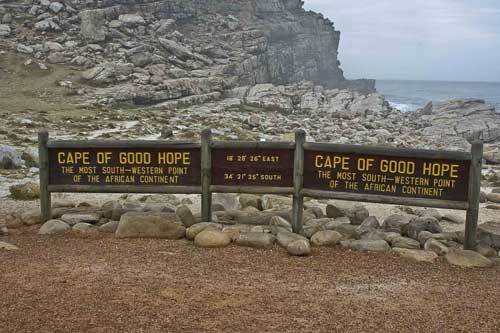 If you prefer to arrive on this day 27th Aug and have a nights rest before the tour starts then please advise and we can book you an additional night (extra cost).
Day 1 Arrive Cape Town - 28th Aug
Plan on a flight to arrive in Cape Town the morning of Friday 28th Aug. After our early morning arrival at Cape Town International Airport we will meet our local guide and set off towards Noordhoek, with some relaxed birding en-route. Our first stop is at Strandfontein sewage works, the best area for waterbirds close to the Cape. Ducks and waders are abundant and amongst the many species we can look for are Great White Pelican, Glossy Ibis, both species of Flamingo, Maccoa Duck, South African Shelduck, Black Crake, Purple Heron, White-winged Tern, Kittlitz's Plover and if lucky, we could come across a vagrant such as the tiny Red-necked Phalarope. After checking for Cape Longclaw we will head for Rondevlei Nature Reserve on the Cape Flats. This area of lagoons and grassy scrub is also very important and near the entrance, in the surrounding bushes, we can look for Cape Robin-Chat, Cape Canary, Karoo Prinia, Burchell's Coucal, Cape Francolin, Cape Sparrow and Cape Bulbul to name a few. Once inside the reserve we can visit several bird-hides. Our time spent here should produce a wealth of species such as African Black, Little, Alpine and White-rumped Swifts, Purple Swamphen, Water Thick-knee, Cape Shoveler, Southern Pochard, African Marsh Harrier, Caspian Tern, Darter, Malachite Kingfisher, White-breasted Cormorant, with luck the massive Goliath Heron, Little Bittern, Black-crowned Night-Herons and amongst the swampy areas, scrub and trees Cape White-Eye, Lesser Swamp Warbler, Little Rush Warbler, Karoo Prinia, and Levaillant's Cisticola.
Night Afton Grove or De Noordhoek Hotel.
Day 2 Cape Town Pelagic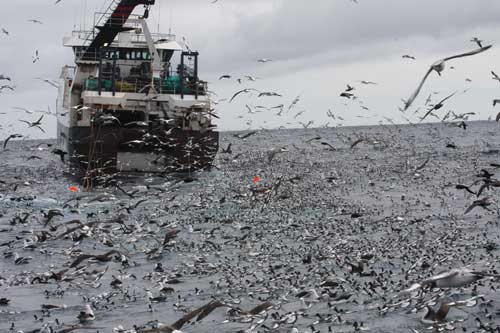 This morning we will board a chartered boat, weather permitting, at Simonstown Harbour for what may arguably be the most exciting birding of the entire holiday - our search for pelagic birds. The south-western offshore waters of South Africa provide one of the best and most exciting seabird-watching opportunities in the world. Due to the nutrient rich cold Benguela current's upwelling along the continental shelf, some 40 nautical miles offshore, seabirds are abundant. Once and if we find a deep-sea trawler then we shall be privileged to literally masses of seabirds viewable at very close range. There are chances of spotting up to 7 species of albatrosses, including firstly Black-browed, Shy, Indian and Atlantic Yellow-nosed Albatross, followed by the less common and huge Wandering Albatross that might appear from nowhere together with Wilson's and Black-bellied Storm Petrel. Other pelagic birds, to name a few, which might be encountered, include Great Shearwater, Pomarine Jaeger, Long-tailed Jaeger, Sub-antartic Skua, Northern Giant Petrel, Sooty Shearwater, Cory's and Manx Shearwater, Pintado Petrel, Broad-billed Prion, White-chinned Petrel, Cape Gannet and even Great-winged Petrel. On our return from this awesome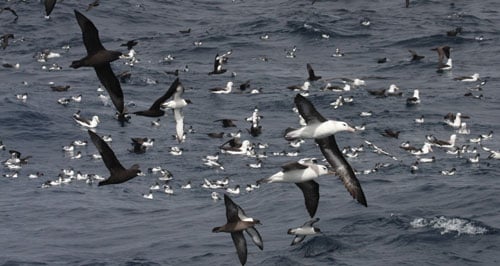 pelagic, we can keep an eye out for Southern Right Whales or even Bryde's Whale and along the rocky coast we may find Hartlaub's or Cape Gull plus the chance of White-breasted, Cape, Bank or Crowned Cormorants. We will then drive back to Afton Grove to freshen up, before heading up the mountain towards Jonkersdam for an afternoon with the wildlife of the Fynbos! Such birds as Cape Rock Thrush, Cape Siskin, Cape Sugarbird, Southern Double-collard and Orange-breasted Sunbirds, Cape Grassbird and Cape Bunting are all good possibilities. Should the weather not permit us to do our Pelagic boat trip, we will follow the program as scheduled for Day 12. Please also note that if you do not wish to go on this pelagic trip we will need to know in advance. Night Afton Grove or De Noordhoek Hotel..
Day 3 Cape - West Coast

After breakfast we depart for the West Coast and its beautiful scenery! Our first stop en route is at the Constantia greenbelt to try and locate the shy but vocal Knysna Warbler. From Constantia Greenbelt we travel further north-west and stop at Rietvlei giving us a chance for White-backed Duck and African Snipe. Our lunch stop here has been productive over the last couple of years with the likes of Yellow Bishop, Cape Weaver, and Red Bishop. From here we are entering the well-described Strandveld vegetation, which, in its own way, is very unique in birdlife. Now we are in "Black Harrier Country" Other birds that are possible include Blue Crane, African Hoopoe, Bokmakierie, Jackal Buzzard, Pied Starling, African Rail, Northern Black Korhaan, Giant Kingfisher, Half-collared Kingfisher, Spike-heeled Lark, Banded Martin, Southern Ant-eating Chat, Dark-capped Yellow Warbler, Desert Cisticola, Wing-snapping Cisticola, Cloud Cisticola, Plain-backed Pipit, Cape Longclaw, Long-tailed Widowbird, and Orange-breasted Waxbill. We could also connect with a good selection of mammals. We arrive late afternoon at our overnight accommodation. Night Friday Island.
Day 4 West Coast National Park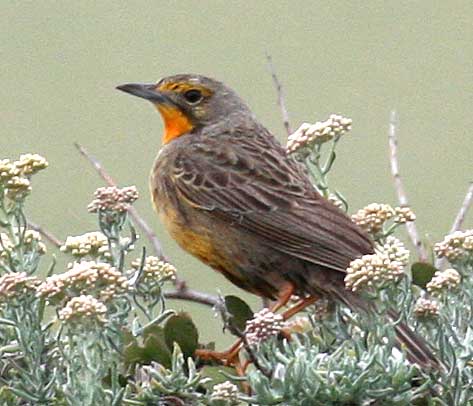 This morning we head off early and travel to the West Coast National Park. Covering some 27 000ha (67 000 acres) in size it has become a legendary birding spot. Ostrich is a good possibility and larks including Red-capped, Large-billed, Cape and Karoo Long-billed. We should get our first look at Karoo Scrub-robin, Cape Robin-chat, Capped Wheatear and Southern Grey Tit, while other birds around this beautiful park include Long-billed Crombec, Cape Bunting, Tit-babbler, Grey-backed Cisticola, Bar-throated Apalis, Malachite Sunbird, Yellow Canary and Southern Black Korhaan. Cape Francolin is common but the shy Grey-winged Francolin much scarcer. African Marsh Harrier is resident in the Park and good views of Black-shouldered Kite, Steppe Buzzard, and Black Harrier are all possible. At midday we leave the park for Velddrif and Laaiplek. Where we can see birds such as White Pelican, Reed Cormorant, Purple Heron, Little Egret, Sacred Ibis, Greater and Lesser Flamingo, African Spoonbill, Cape Shoveler, Purple Gallinule, Kittlitz's, Ringed, White-fronted and Chestnut-banded Plover, Sanderling and Whimbrel. Away from the water and marshy areas we look in and around the strandveld patches and lowland bushes for White-backed, Speckled and Red-faced Mousebirds, Black, Little and Alpine Swift, African Hoopoe, Pied Barbet, Grey-backed Finchlark, African Stonechat, Cape Longclaw, Pin-tailed Whydah and White-throated Canary. Night Friday Island.
Day 5 Paarl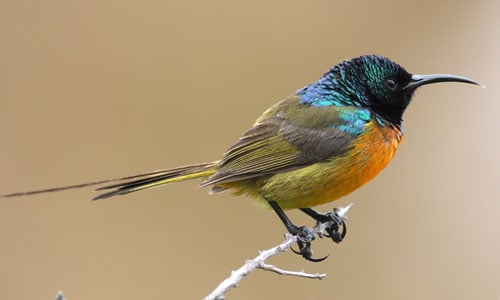 After breakfast we leave for Paarl and stop en route to try and locate Grey-backed and Cloud Cisticola as well as Cape Long-billed Lark. Arriving Paarl midday, we stop at Paarl Mountain Nature Reserve situated on the plateau on top of Paarl Mountain. This massif offers good fynbos birding and is a well-known site for the inconspicuous and elusive Protea Seed-eater which we will try and see. Granite outcrops, stands of evergreen trees and exotic flora occur and amongst the wildflower garden we can see more common birds like Cape Sugarbird, Fiscal Flycatcher, Cape Bulbul, Lesser Honeyguide, Cardinal Woodpecker, Lesser Double-collared, Orange-breasted and Malachite Sunbirds. This is also a very good area to find Black Eagle, Jackal Buzzard and African Goshawk as well as a good variety of swifts, swallows and martins. Eventually we will leave this high lying reserve for Paarl Bird Sanctuary ssewage works where many waterbirds and waders abound. We spend the rest of the afternoon in and around this bird paradise! and as the sun sets in the west, we check in at our accommodation. Night Uitvlugt Guest House.
Day 6 Tanqua Karoo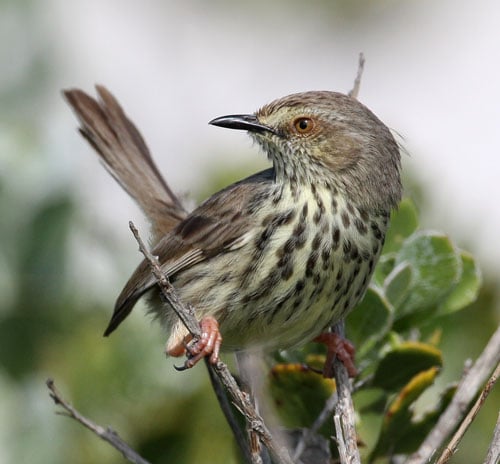 Today we take a packed lunch and head out into the extensive open and arid plains of the Karoo and Tanqua Karoo. The plains and hillsides back-dropped with spectacular mountain scenery offer superb birding and it is an extremely important area for Namib-Karoo endemics as well as other sought after specialities. Amongst the many interesting bird species that we might encounter today are Grey-wing Francolin, Namaqua Sandgrouse, Ludwig's Bustard, Karoo Korhaan, Red-winged and Pale-winged Starlings, Short-toed Rock-Thrush, Titbabbler, Fairy Flycatcher, Cinnamon-breasted Warbler, White-backed Mousebird, Namaqua Warbler, Rufous-eared Warbler, Karoo and Karoo Long-billed Lark, Tractrac and Karoo Chats, Grey-backed Finchlark, Sickle-winged Chat, Lark-like Bunting, Karoo Eremomela, Grey-backed Cisticola, Black-headed Canary, White-throated Canary, Sclater's, Red-capped and Spike-heeled Lark, Cape Penduline Tit, Pririt Batis, Acacia Pied Barbet, Karoo Prinia, White-necked Raven, Olive Woodpecker, Ground Woodpecker, Dusky Sunbird and Cape Eagle Owl. Night Uitvlugt Guest House.
Day 7 Swellendam
Our pre-breakfast bird-outing is to the Karoo Desert Botanical Gardens in Worcester, where Bokmakierie, Fairy Flycatcher, Karoo Prinia, Booted Eagle, Acacia Pied Barbet and many more Karoo Birds can entertain us in this beautiful and scenic garden. We then return for breakfast, where afterwards we spend the day driving towards Swellendam. Time permitting, we may visit one of the literally hundreds of wine cellars of the region to "up" our birding skills! We should arrive in Swellendam mid-afternoon and check in at our overnight accommodation.
Night Skeiding Guest Farm.
Day 8 Swellendam
This morning we leave very early with a packed breakfast, for the Grootvadersbosch Nature Reserve, a small pocket of indigenous forest, surprisingly rich in bird life. We have approximately two hours at hand to explore the well-marked paths in the forest on foot. Birds likely to be encountered in the within the forest include Knysna Warbler, Olive Bush-shrike, Narina Trogon, Grey Cuckoo-shrike, Yellow-throated Woodland Warbler, Blue-mantled Crested Flycatcher, Knysna Woodpecker and Terrestrial Brownbul. At around mid-day, we leave this special forest and make our way towards the gravel roads south of Swellendam. This area is teeming with birds and one of our target birds here is the elegant Blue Crane. Black Harrier is also a good possibility and we have chances to find Agulhas Long-billed Lark, Stanley's Bustard, Karoo Korhaan, Agulhas Clapper Lark, Pearl-breasted Swallow, Swee Waxbill, Grey-wing Francolin and many more! Night Skeiding Guest Farm.
Day 9 Hermanus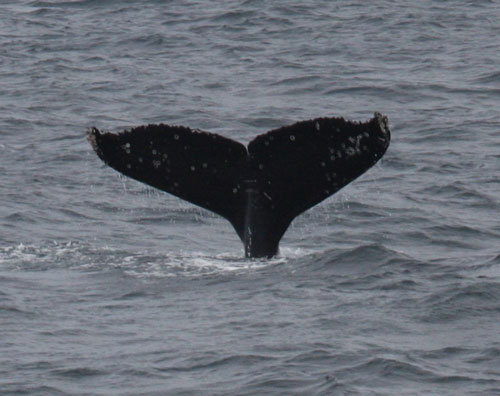 From Swellendam it is a scenic drive to arrive to the most southern tip of Africa just before mid-day. Here, from Cape Agulhas, it is another three hours to Hermanus, the land-based whale watching capital of the world. Southern Right Whales which can be seen very close to shore arrive in the waters off South Africa at the beginning of August every year to calve and mate and by the end of November these gentle giants, with their new-born, have already departed for the south-pole, thousands of miles from South Africa. The rest of the afternoon is spent with these magnificent creatures, first-hand! Late afternoon we check in at our overnight accommodation. Night On the Cliff Guesthouse.
Day 10 Cape Town
Our pre-breakfast birding-walk will take us into the Fernkloof Nature Reserve after which we will return to our guesthouse for breakfast. After yet another sumptuous breakfast we load our vehicle and drive towards Rooi Els for the prize bird of the day – Cape Rockjumper! This often tricky species can keep us busy for several hours, as we search the rocks strewn hills and boulders for this fantastic bird. There will be plenty of other species to keep us busy such as Cape Sugarbird, Orange-breasted Sunbird, Verreaux's Eagle, Cape and Sentinel Rock-thrush, Ground Woodpecker and many more. Mid-afternoon, we visit the Helderberg Nature Reserve where African Black Duck, Rufous-chested and Black Sparrowhawk, Booted Eagle and several other birds that await us. We return to Noordhoek.
Night Afton Grove or De Noordhoek Hotel.
Day 11 Cape Town
After an early breakfast we board our vehicle and drive towards The Cape of Good Hope Nature Reserve, which forms part of the Table Mountain National Park. En-route we stop at Kommetjie to get acquainted with the differences of the four Cormorant species occurring on the Cape coastline namely White-breasted, Cape, Bank and Crowned. The Cape of Good Hope Nature Reserve was established to protect the fragile and beautiful "Fynbos" flora and amongst the many birds that may be encountered here are Plain-backed Pipit, Malachite Sunbird, Ground Woodpecker, Sentinel Rock Thrush, Rock Pigeon, Speckled Mousebird, White-necked Raven, Cape Bulbul, Neddicky, Karoo Prinia, Southern Boubou, Red-winged Starling, Cape Sparrow,

Day 12 Cape Town - 09th SeptCommon Waxbill and Cape Bunting. A few raptors do occur and we can probably have good views of Black-shouldered Kite, Steppe Buzzard and Red-breasted Sparrowhawk. Other wildlife that can be found within the boundaries of the reserve includes Bontebok, Cape Mountain Zebra and Chacma Baboon. We will visit the picturesque Cape Point at lunchtime, and from here we go and check out the colony of African Penguins before returning to our accommodation in Noordhoek. Please note that if our pelagic boat trip was cancelled on day 3 then the days would have been swapped around giving us a second opportunity for a spectacular day at sea. Night Afton Grove or De Noordhoek Hotel.
Depending on flight times we may visit Kirstenbosch Botanical Gardens, en route to Cape Town International Airport. Founded in 1913 and lying on the eastern slopes of Table Mountain, Kirstenbosch covers an area of 828ha, of which 60ha is cultivated with indigenous flora with the remainder uncultivated areas protected as a natural floral reserve. Kirstenbosch is a living display featuring almost 5000 of the 20, 000 indigenous plant species found in South African. Birds in this well manicured botanical garden, should include Brimstone Canary, Southern Boubou, Cape White-eye, Speckled Mousebird, Cape Bulbul, Southern Double-collared Sunbird, Sombre Greenbul and Cape Canary. In the skies above we can keep a look out for Black Saw-wing, Rock Kestrel, Steppe Buzzard, Honey Buzzard and the rare Forest Buzzard. If this is the end of your tour you will be dropped off at the international airport in time for your departing flight. For those that are continuing on our extension to the fabulous Kruger National Park, we will take the short flight to Johannesburg.

Kruger National Park extension:

Day 1 Cape Town - Johannesburg -09th Sept
After our arrival at Johannesburg airport, we will drive to our overnight accommodation and check in. Time permitting, we may visit a lake close to our accommodation for waterbirds such as White-breasted Cormorant, Cape Shoveler, Maccoa Duck, Purple Swamphen, African Sacred Ibis, White-wing Tern, plus Southern Red and Yellow-crowned Bishop. As the sun sets, we return to The Safari Club and prepare for dinner.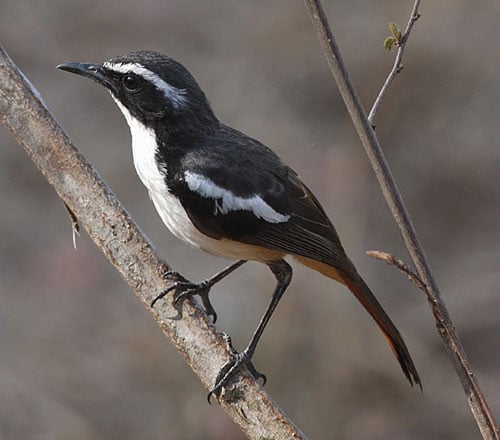 Night Safari Club.
Day 2 Kruger National Park
After breakfast, we pack our bags and drive east, towards the famous Kruger National Park. En-route we have several short stops so as to appreciate the birding splendour of the Highveld. Here we can find many species including Denham's Bustard, Buff-streaked Chat, Long-crested Eagle, Banded Martin, Long-tailed, White-winged and Fan-tailed Widowbirds, and Cape Longclaw amongst others! Time permitting, we can also visit the Nelspruit Botanical Gardens in search of birds such as African Green Pigeon, Mountain Wagtail, Red-capped, White-browed and White-throated Robin-chat, Grey-headed and Orange-breasted Bush-shrikes, Yellow-fronted Tinkerbird, Red-collard Widowbird and the fabulous Gorgeous Bush-shrike, all birds that will see a great start to our Kruger adventure. Later in the afternoon we will arrive Malelane Gate, the southern entrance to Kruger National Park, and from here we proceed to Berg-en-Dal Restcamp searching for wildlife along the way. Night Berg-en-Dal Bungalows.
Day 3 Kruger National Park
Today we set off along the main road north towards Skukuza passing a variety of habitats with several stops at different water holes. These water holes not only attract mammals but also a good selection of birds. Amongst the mammals we can see African Elephant, Lion, Southern Giraffe, White Rhino, Hippopotamus, Nile Crocodile, African Waterbuck, Greater Kudu, Spotted Hyena and the occasional Leopard. Cheetahs are present but can be hard to find while this area is one of the best to try and see the highly prized and nomadic Wild Dog, although an encounter with the later would be a real bonus. Countless bird species could include such delights as African Crowned Eagle, Martial Eagle, Lappet-faced Vulture, Saddle-billed Stork, Kori Bustard, Southern Ground Hornbill, Mocking Cliff-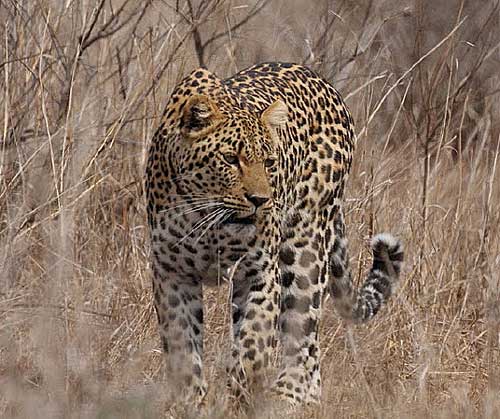 chat, Trumpeter Hornbill and Purple-crested Turaco. We arrive Skukuza around mid-day and check in. Late afternoon, we do another bird/game/bird drive and return to camp, in time for dinner. Night Skukuza Bungalows.
Day 4 Kruger National Park
An early morning walk in the wonderful "bird productive environment" of the camp might produce White-browed Robin-chat and Bearded Scrub-robin, Terrestrial Brownbul, Green-backed Cameroptera, Grey Tit- flycatcher and Burnt-necked Eremomela. From Skukuza,we head further north towards Satara Camp, passing through Acacia scrub, we stop at a picnic spot where Greater Blue-eared Starlings inhabiting this excellent food-source! Other birds likely to be encountered this morning include Collared Sunbird, African Pygmy Kingfisher, Dusky Indigobird, Southern Carmine Bee-eater, Grey-headed Sparrow, Mosque Swallow, White-crested Helmet-shrike and Shikra. The afternoon we visit several waterholes where the ever-present Nile Crocodiles and Hippo's will entertain us. African Pygmy Goose, Water Thick-knee, White-backed Duck, Red-billed Teal, Woolly-necked Stork, African Openbill and with luck African Finfoot are all birds that are associated with water and are good possibilities. As an optional activity, you can go on a night game drive in search of nocturnal birds and mammals with opportunities to see some elusive wildlife such as Bronze-winged Courser, Freckled, Fiery-necked and Square-tailed Nightjars, Spotted Eagle-owl, African Porcupine, Large and Small Spotted Genets, and any of the large predators which become more active after dark. Cost of this night drive is around 150 Rand (£12.00) per person and booked locally.
Accommodation: Satara Bungalows.
Day 5 Kruger National Park - Dullstroom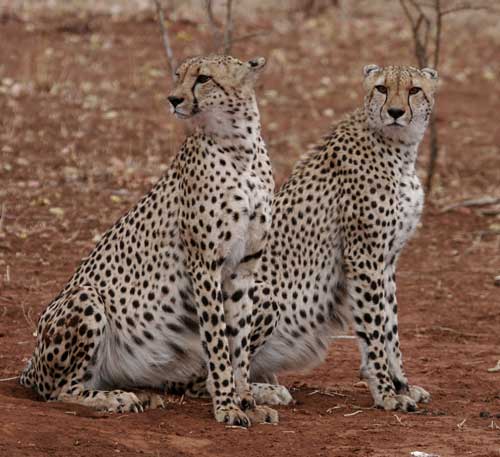 Early morning we board the vehicles for our last bird/game drive in Kruger National Park. Birds that might be encountered this morning include Double-banded Sandgrouse, Bronze-winged Courser, Spotted Thick-knee, Verraux's Eagle-owl, Emerald-spotted Wood-dove, Mosque Swallow, White-backed Vulture, Bearded Woodpecker, Olive-tree Warbler and Great Spotted Cuckoo. We return to the camp, in time for a late breakfast. From Satara, we exit the Park via the Orpen Gate and start our long travelling day towards Dullstroom. En-route, we stop for several birds, and our aim is to arrive Dullstroom, mid-afternoon. Dulstroom is described as a small town, well known for its trout fishing, but it also has excellent Highveld birding, especially grassland endemics. Amongst the many species we can see today are Stanley's Bustard, Secretarybird, Black-winged Plover, Red-winged Francolin, Yellow-breasted Pipit, Gurney's Sugarbird, Ground Woodpecker, Southern Bald Ibis, Pale-crowned Cisticola and many more! Accommodation: Dullstroom Inn.
Day 6 Dullstroom - Johannesburg - End of Tour - Monday 14th Sept
A pre-breakfast birding excursion could produce all three crane species; Blue, Wattled and Grey Crowned Crane. Other birds of name that can be seen include Gurney's Sugarbird, Yellow Bishop, Ground Woodpecker, Eastern Long-billed lark, Yellow-breasted Pipit, Long-billed Pipit, Buff-streaked Chat, Bald Ibis, Wing-snapping, Ayre's, Wailing and Pale-crowned Cisticolas, Sentinel Rock Thrush, Cape Grassbird, and Mountain Wheatear. We return to our hotel for breakfast after which we depart for Johannesburg, in time for our international departing flight. If travelling back to the UK you should arrive back on Tue 15th Sept.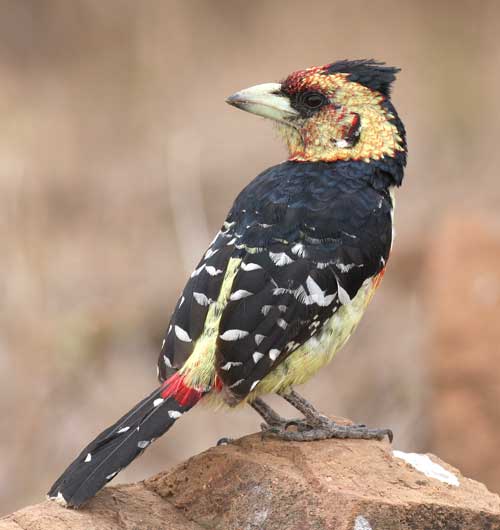 Leader: Johan Van Tonder

Ground Price:
Main Tour - £2550.00
Kruger NP - £1295.00

Airfare: £850.00 (Approx) - UK/UK

Zoothera tour prices explained
Single supplement

:
Main Tour £170.00
Kruger NP £195.00
Deposit

:
Main Tour £500.00
Kruger NP £150.00
Group size

:
Main Tour – max 8
Kruger NP – max 8
Included in cost

:
Accommodation on based on twin rooms, en-suite, all meals from lunch on 28th Aug to breakfast on the 9th Sept (main tour) or breakfast on the 14th Sept (Kruger), ground transport throughout, and all transfers, pelagic boat trip, entrance fees to parks and reserves, 1 litre of bottled water per day, services of all leaders and local guides.
Not included

:
International / Domestic flight, (approx £850) insurance, drinks, tips, and items of a personal nature.
Accommodation

:
We stay in standard hotels and lodges which vary in quality from excellent to medium, but all are within easy reach of the areas we wish to bird.
Tour Code

:
This is a standard birding tour with all day birding. No particular strenuous walks are planned and generally the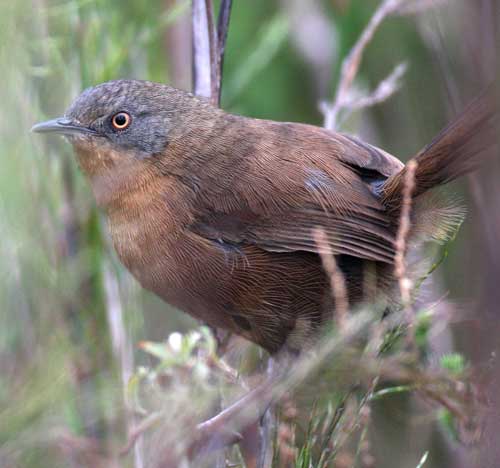 walking effort is easy to moderate. To see a good amount of endemics and specialities you need to be prepared for fairly long days, and we have several long driving days which we will try and break up with en-route stops. All in all this works very well and maximises our birding at the right times of day, giving us good chances of seeing many endemics and specialities. Climate is rather variable with lower altitudes mostly being hot, dry and sunny, but occasionally overcast and rainy. At higher altitudes the weather is similar but temperatures are cool to warm. Opportunities for photographing both birds and mammals are very good.
Receive our e-newsletter:
Join the Zoothera e-mailing list for up-to-date news on new tours, tour reports and special offers.
e-mail [email protected] to sign up.
Many of the photos on this page were taken by Steve Hinton, please visit his web-site www.stevehintonwildlifephotography.com/
Recommended Books, CD's and more from NHBS. Click on - Buy from NHBS - to go straight to website!



The air holidays and flights shown are ATOL protected by the Civil Aviation Authority.
Our ATOL number is 10436. Pleasr see our Terms and Conditions for more information.