Ghana - Picathartes and Gold Coast specialties
Saturday 12th January – Thursday 24th January 2013
This tour starts in the south of the country and heads west along the coast to Ankasa Forest an area as yet visited by very few bird companies. Here we could have a few surprises, as well as a chance of very difficult species such as Dwarf Bittern, Olive Ibis, Hartlaub's Duck, Shelley's Eagle-owl, Brown Nightjar and Nkulengu Rail. Before too long we will find ourselves within easy striking distance of the famous Kakum Forest. We spend four nights here and without doubt one of the tour highlights will be a visit to the canopy walkway suspended some 30 metres above the forest floor allowing eye-level views of some tricky canopy birds. Having exclusive early access to the walkway allows us time to find many excellent sought-after species such as the gentle giants of the forest the Yellow-casqued and Black-casqued Hornbills, and maybe the Upper Guinea Forest Endemic (UGFE) Brown-cheeked Hornbill. The distinctive song of the Sharpe's Apalis should lead us to this UGFE and maybe the stunning Fire-bellied Woodpecker too. Other key species that we shall search for in the area include Kemp's Longbill, Forest Robin and the stunning Rosy Bee-Eater to name but a few! We then move on to find the highly sought-after Yellow-headed Picathartes where we expect to enjoy close views of these strange, yet magical forest birds returning to roost. More excellent forest birding awaits us at Atewa where Chocolate-backed Kingfisher, White-tailed Alethe and numerous greenbuls should keep us busy. We will then search the Shai Hills before heading to the coast where we search for waders, herons and egrets. Using the best local guides you will not find a better value tour to this hotspot of African birding!

Targets:
Yellow-headed Picathartes

Red-billed Dwarf Hornbill

Chocolate-backed Kingfisher
Day 1 UK - Accra - 12th January
After an international flight from the UK we will arrive at Accra in the evening, and transfer to a nearby hotel for the night. Overnight in Accra.
Days 2 - 4 Accra - Ankasa National Park
After a good night's sleep, we shall be raring to go and what a start as we head toward Ankasa National Park, a rarely visited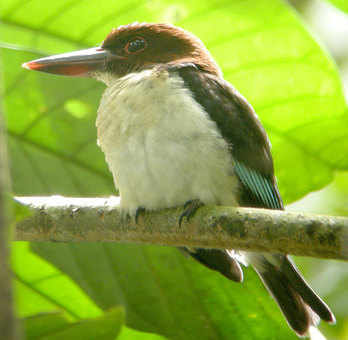 pristine area of wet-evergreen upper-Guinea rainforest, which protects an assortment of highly prized species. We have the better part of two full days to explore this beautiful forest park situated in western Ghana and close to the Ivory Coast. With very few birders having visited this superb area we could be in for a surprise or two. Amongst the many special birds we could find here are Hartlaub's Duck, Olive Ibis, Dwarf Bittern, the rare White-breasted Guineafowl, African Finfoot, African Crowned-Eagle, Brown Nightjar, Rufous-winged Illadopsis, Red and Green-tailed Bristlebills, Yellow-bearded Greenbul, Purple-throated and Blue Cuckoo-shrikes, Red-billed Helmetshrike, White-tailed Ant-thrush, Red-fronted Antpecker, Great Blue and Yellow-billed Turacos, Yellow-casqued, Black-casqued, Red-billed Dwarf and Black Dwarf Hornbills, Chocolate-backed, White-bellied and Shinning Kingfishers, White-spotted Flufftail, Dusky Long-tailed Cuckoo, and Chestnut-breasted Negrofinch. As dusk falls we will hope to hear Nkulengu Rail, and a few of the forest primates such as Potto, Geoffroy's and Olive Colobus Monkeys, and if our luck is in we may hear or see the very rare Akun Eagle-owl, although either Shelley's Eagle-owl or African Wood Owl would still be nice. On our final day we will continue our search for any of the species we may feel are still missing before visiting an area for Pruess' Cliff-Swallow. We will then drive back towards Kakum where we should arrive in the evening. Nights at Ankasa.
Days 5 - 7 Ankasa - Kakum National Park
Our very nice hotel is not only ideally located for visiting the wonderful Kakum National Park, it also has its own lake where we are sure to be continually distracted as we become accustomed to the locally common species. We will spend the next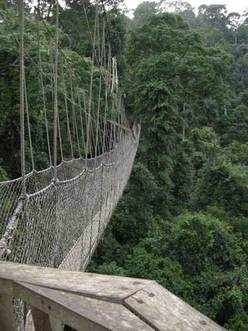 three days exploring Kakum National Park and the surrounding area. The Park was first established in 1990 and it conserves extremely important primary and secondary Upper Guinea forest. The park is probably most famous for its unique canopy walkway giving incredible eye-level views of some amazingly colourful forest species. Around the hotel the trees are full of busy Village, Viellot's Black and Orange Weavers as well as Long-tailed Cormorants, Cattle Egrets and Black-crowned Night-herons, while Pied Kingfishers hover over the ponds. The farms surrounding the hotel are home to commoner birds like African Pied Hornbill, Blue-spotted Wood-dove, Red-eyed Dove, Western Grey Plantain-eater, Lesser Striped Swallow, Bar-breasted Firefinch and Orange-cheeked Waxbill. Nearby we shall visit the palm nut plantations and forests of nearby Antwikwa where the star bird is without doubt the beautiful Black Bee-eater. Many other species can be found along the forest edge here and include Palm-nut Vulture, Ayre's Hawk-eagle, Klaas's Cuckoo, Cassin's and Sabine's Spinetails, Rosy and White-throated Bee-eaters, Blue-throated Roller, Piping Hornbill, Bristle-nosed Barbet, Red-rumped and Yellow-throated Tinkerbirds, Fraser's Forest Flycatcher and numerous Greenbuls including Yellow-whiskered, Little, Honeyguide, Simple and Swamp Palm. We will make several visits to the canopy walkway which is a hotspot for bird activity during early mornings and late afternoons. There are many awesome birds to be found here and we shall search for species that may include Brown-necked, Grey and Red-fronted Parrots, Olive Long-tailed Cuckoo, White-headed Wood-hoopoe, and the huge Great Blue Turaco. Hornbills are another highlight of the walkway often giving fantastic views with Black-casqued, Yellow-casqued, Black-and-White-casqued, White-crested and Brown-cheeked Hornbills all possible! Other gems include Yellow-billed Barbet, Yellow-billed Turaco, and the strange Preuss's Weaver that creeps along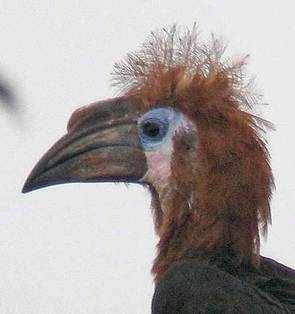 branches in a nuthatch-like fashion, Little Green Woodpecker, Chestnut-bellied Helmet-shrike, Blue Cuckoo-shrike, Kemp's Longbill, and Western Bluebill. Mammals are also a key feature of Kakum and it is not unusual to enjoy good views of Lesser Spot-nosed Monkey and Ursine Colobus from the canopy walkway. Then there are the raptors! Tree platforms provide a fabulous vista over the forest, ideal for raptor watching: Cassin's and Ayres's Hawk-eagles, Congo Serpent-eagle, Black and Red-chested Goshawks and Red-thighed Sparrowhawk are all possible. We shall also visit the many trails on the ground where we hope to find real prizes like Rufous-sided Broadbill, Forest Robin, Fire-crested Alethe and the beautiful Blue-billed Malimbe. Among the more common forest birds are African Green Pigeon, Tambourine Dove, Levaillant's and African Emerald Cuckoo, Yellowbill, Naked-faced and Hairy-breasted Barbets, Speckled Tinkerbird, Buff-spotted and Fire-bellied Woodpeckers, Slender-billed Greenbuls, Grey-headed Bristlebill, Western Nicator, Sharpe's Apalis, Yellow-browed Camaroptera, Rufous-crowned Eremomela, Green Hylia, Chestnut-capped Flycatcher, Chestnut Wattle-eye, Sabine's Puffback, Velvet-mantled Drongo, Chestnut-winged Starling, Fraser's, Buff-throated and Western Olive Sunbirds, Grey Longbill, Maxwell's Black and Yellow-mantled Weavers, Crested and Red-headed Malimbes, Chestnut-breasted and White-breasted Negrofinches.
A visit to the nearby coastal grasslands and woodlands along the Brenu Beach Road should give us a great spectacle of hundreds of Preuss's Cliff Swallows flying to their roost site. Here we shall also look for Grey Kestrel, Mottled Spinetail, Vieillot's and Double-toothed Barbets, Ethiopian and Rufous-chested Swallows, Common Gonolek, Common Fiscal, Singing, Red-faced and Croaking Cisticolas, Marsh and Brown-crowned Tchagras, Slender-billed Weaver and others. Finally we shall explore the Cape Coast Lagoon for another chance to see water birds. Nights at Kakum.
Day 8 Kakum Assin Fosu - Yellow-headed Picathartes Site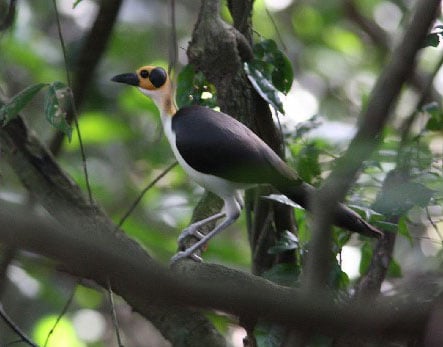 After our final morning birding in the Kakum NP area, focussing on any key species that we are missing, we shall drive to Assin Fosu. We will stop at a river en-route to search for some quality targets: Rock Pratincole, White-throated Blue Swallow, White-crowned Lapwing and maybe African Finfoot. We shall then continue to what will surely be one of the highlights of the trip as we head to the site of the enigmatic Yellow-headed Picathartes. We shall arrive in the afternoon and take a walk into the hilly rainforest and shall wait quietly taking in the sights and sounds of the jungle around us. These unique cave nesting birds return to their nests to roost before dark and it is here that we shall be on high alert, searching the vines and forest floor for these truly awesome birds to return. Night at Assin Fosu.
Day 9 Aboabo section of Kakum, Bobiri Forest - Kumasi
In the morning we shall visit the Aboabo, an open forest with some remnant large trees. The forest road is a superb birding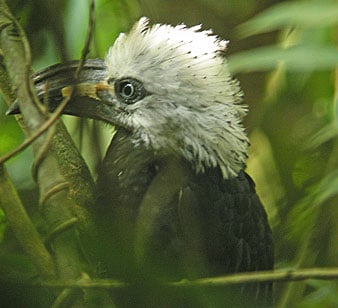 area due to the more open areas and easier viewing. It is a good place to see the unmistakeable Long-tailed Hawk with its outrageously long tail and stunning chestnut chest. Other key species in the area are Blue-headed Wood-dove, prehistoric looking Black and Red-billed Dwarf Hornbills and Tit-Hylia, one of Africa's smallest birds! Other species include Levaillant's, Klaas's and African Emerald Cuckoo, Yellowbill, Yellow-spotted, Naked-faced and Hairy-breasted Barbets, Speckled Tinkerbird, Buff-spotted Woodpecker, Red-tailed and Icterine Greenbuls, Grey-headed Bristlebill, Western Nicator, Finsch's Flycatcher-thrush, Rufous-crowned Eremomela, Green Hylia, African Shrike-flycatcher, Fraser's Forest-flycatcher, Dusky-blue, Little Grey, Velvet-mantled Drongo, Copper-tailed Glossy-Starling, Green, Buff-throated, Olive-bellied, Blue-throated, Brown and Little Green Sunbirds, Maxwell's Black and Yellow-mantled Weavers, Crested, Red-vented and Red-headed Malimbes and Grey-headed Negrofinch. In the afternoon we visit the Bobiri Forest Reserve famous for its abundance of butterflies and birds. Here we can stay until dusk birding along the forest paths looking for specialities including Red-thighed Sparrowhawk, Red-chested Goshawk, Narina Trogon, Blue-headed Wood-dove, Red-billed Dwarf-Hornbill and the Shining Drongo.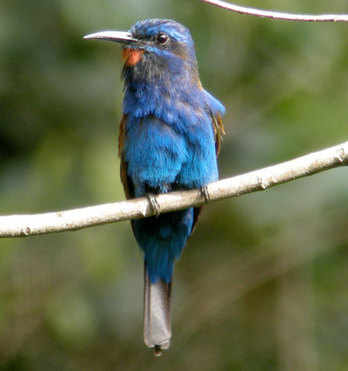 The list of birds that occur here is similar to that of Kakum, but surprises are always possible! Night at Kumasi.
Days 10 - 11 Bobiri - Atewa Mountain Range
Early this morning we will visit the Atewa mountain range, which is the only place in Ghana to find the fantastic Blue-headed Bee-eater. We have one afternoon and the next full day to explore this wonderful area. Atewa holds a similar range of forest birds to that of Kakum but some species are easier to encounter here. The first evening will be spent exploring the farm bush lowlands where we hope to find Black-and-White Mannakin, Whistling Cisticola, Heuglin's Masked Weaver, Compact Weaver, Simple Leaflove and Grosbeak Weaver. On one day we can take our 4X4 to the top of the ridge and spend the day birding the forest. We hope to find species such as Olive-green Camaroptera, Kemp's Longbill, White-tailed Alethe, Western Bronze-naped Pigeon, Olive Long-tailed Cuckoo, the unique Chocolate-backed Kingfisher, Black-capped Apalis, Crowned Eagle and maybe even the rare Nimba Flycatcher or Yellow-footed Honeyguide. Nights in Tafo.
Day 12 Atewa - Shai Hills - Sakumono Lagoon - Accra
We make a half day trip to the dry open savannah of the Shai Hills Reserve. We should find Rufous-crowned and Blue-bellied Roller, Senegal Parrot, Swallow-tailed Bee-eater, Vieillot's and Double-toothed Barbet, Red-shouldered Cuckooshrike, Rock Martin, Piapiac and with luck, the very shy White-crowned Cliff-chat and Snowy-crowned Robin-chat. In the afternoon we explore Sakumono Lagoon for a nice array of water birds such as Black Heron, African Spoonbill, Marsh Sandpiper and various other waders, always keeping an eye out for American vagrants as we have recorded Pectoral Sandpiper during the last two years, and American Golden Plover in 2010. Terns fly in to roost in large flocks containing Royal and Roseate Terns, whilst Yellow-throated Longclaws can be found in the accompanying grasslands. We then drive back to Accra where we have day rooms to clean up in time for dinner and prepare for an evening flight departure.

Day 13 End of Tour - 24th January
Morning arrival in London and the end of the tour.
Leaders: Chris Townend and Robert Oteng-Appau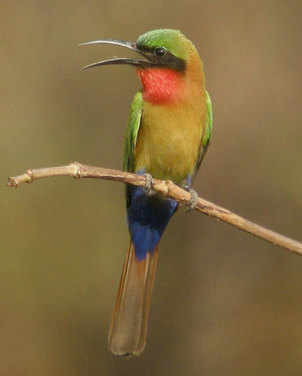 Ground Price: £1995.00 - Accra/Accra

Airfare: £630.00 (Approx) - UK/UK

Zoothera tour prices explained
Single supplement: £245
Deposit: £350.00
Group size: Minimum for tour to go ahead 6 and maximum 11 with 2 leaders.
Included in cost: Accommodation in twin rooms en-suite, all meals, water, all entrance fees, ground transport throughout in a/c coach and 4x4 (at Atewa), and services of leaders.
Not included: International airfare, insurance, drinks, tips, visa fee, optional night visit to Kakum Canopy Walkway, and items of a personal nature.
Accommodation: Our accommodations range from good to basic and all in close proximity of birding areas to be visited. Note the single night at Assin Fosu is not the best, but is the closest to the Picathartes site. All room are en-suite and generally 2 twin beds with air conditioning.
Tour Code: This is a standard birding tour with early mornings and evening birding essential to make the best of our birding opportunities. This does make for long days in the field and if the weather is hot we will try to rest during the middle of the day. The weather can be unsettled at this time of year, so be prepared for the occasional shower.
Receive our e-newsletter:
Join the Zoothera e-mailing list for up-to-date news on new tours, tour reports and special offers.
e-mail [email protected] to sign up.
Previous Tour Report: 2009 2012


Recommended Books, CD's and more from NHBS. Click on - Buy from NHBS - to go straight to website!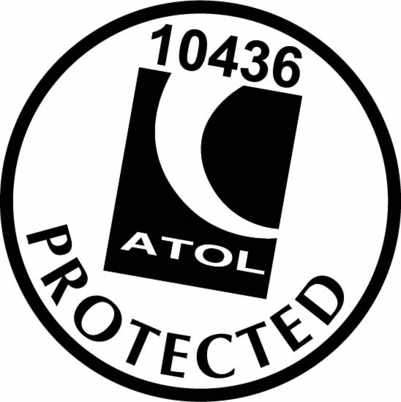 The air holidays and flights shown are ATOL protected by the Civil Aviation Authority. Our ATOL number is 10436. Please see our Terms and Conditions for more information.