Ecuador 1 North - Hummingbirds, Tanagers, Oilbirds and Antpittas
Saturday 2nd April - Monday 11th April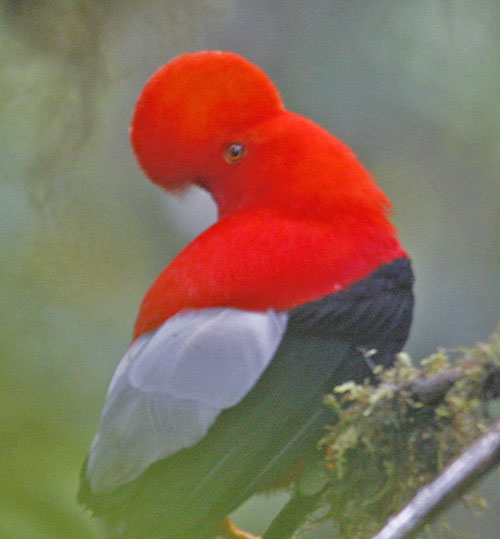 The bird rich country of Ecuador has always had a lot to offer with its countless hummingbirds and tanagers, together with much sought after species such as Andean Cock-of-the-Rock, Sword-billed Hummingbird, Oilbird and the magnificent Andean Condor. Our 10 day tour takes in many well known sites plus several new areas that have yet to be visited by many birders yet offer a fantastic array of rare and seldom seen species. We will have chances to see several different Antpittas up close, and many hummingbird feeders will allow incredible views of these avian gems. If you've ever thought of visiting Ecuador our bargain tours offer the very best of birding with the opportunity to join 2 different tours together to make a very comprehensive longer trip. From snow-capped mountains to moss laden rainforest the scenery is as spectacular as the birdlife.


Plate-billed Mountain-Toucan

Long-wattled Umbrellabird

Orange-breasted Fruiteater

Day 1
Arrive Quito, Ecuador
- Sat 2nd April

Today is the arrival day in Quito where you will be met and transferred to our comfortable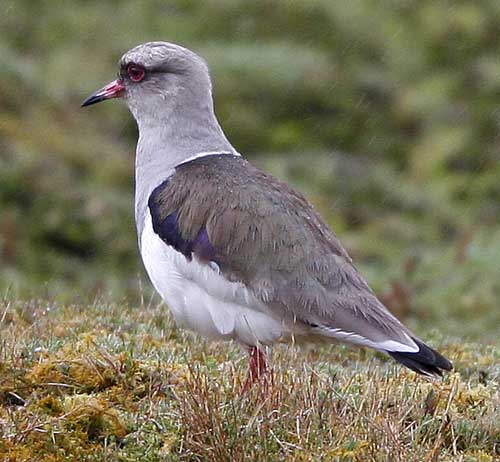 accommodation.
Day 2 Antisana

An early morning start will see us wind our way up to the high altitude reserve of Antisana. This area gives us our best chance of the magnificent Andean Condor a bird that is not always easy to find despite its 10ft wingspan! Several stops along the road will have us check scrub and low bushes for species such as Giant Hummingbird, Ecuadorian Hillstar, Black-tailed Trainbearer and Shining Sunbeam as well as Black-billed Shrike-Tyrant. Great Thrushes will be plentiful and the sound of Tawny Antpittas may betray the presence of this unusually showy member of its family. As we climb into the Paramo, an area of stunted growth, very few bushes and mostly grasslands we should start seeing raptors that may include Black-chested Buzzard-Eagle, Variable Hawk, Aplomado Falcon, Cinereous Harrier and Carrunculated Caracara. On these open plains and low hills we will search for Andean Lapwing, Andean Gull, Black-winged Ground-Dove, Stout-billed and Bar-winged Cinclodes, Paramo Pipit, Grass Wren, Plumbeous and Ash-breasted Sierra-Finch, Paramo Ground-Tyrant, Brown-backed Chat-Tyrant and beside a large lake we could find Silvery Grebe, Andean Teal, Andean Duck, Andean Coot, Yellow-billed Pintail, Greater Yellowlegs, and Spotted Sandpiper. Our accommodation is positioned perfectly with good opportunities to see the magnificent Andean Condor flying overhead!
Night at Guaytara Lodge.
Day 3
Yanacocha – Bellavista Cloud Forest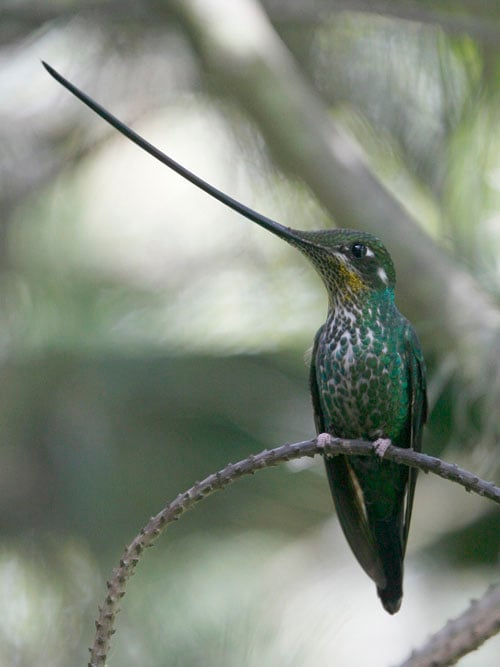 This morning we will drive to the luxuriant undisturbed forests of Yanacocha Reserve situated on the slopes of Pichincha Volcano just outside of Quito. Our search here for some of Ecuador's spectacular and diverse avifauna will see us target such species as Rufous Antpitta, Barred Fruiteater, Crowned Chat-Tyrant, Superciliaried Hemispingus, White-browed Spinetail, Blue-backed Conebill, Rufous-naped Brush-Finch, Spectacled Whitestart, White-banded Tyrannulet, Rufous Wren, Red-crested Cotinga and a host of gorgeous hummingbirds and stunning tanagers. The outrageous Sword-billed Hummingbird can usually be seen coming to feeders placed strategically within the forest edges and should be accompanied by Great Sapphirewing, Sapphire-vented and possibly Golden-breasted Puffleg, Buff-winged Starfrontlet, Tyrian Metaltail, and tanagers such as Scarlet-bellied Mountain Tanager and with luck Black-chested or Hooded Mountain-Tanager, Grass-green Tanager, plus Black-crested Warbler, Masked and Glossy Flowerpiercers. After our picnic lunch we will head up the Tandayapa valley to the wonderful Bellavista Cloud Forest Reserve. Intermittent stops could produce birds such as Slaty-backed Chat-Tyrant, Masked Trogon, White-capped Dipper and hopefully Sickle-winged Guan, Crimson-rumped Toucanet, Golden-headed Quetzal and the stunning Andean Cock-of-the-Rock. Continuing on to the cool misty mountains where we will stay at this rustic and charismatic lodge set on the top of a mountain rainforest, we should have a little time to acquaint ourselves with the many hummingbirds coming into the feeders as we make our way to our rooms. In the evening we may get the chance for an optional evening excursion which could produce the impressively huge Rufous-bellied Nighthawk and with luck a Swallow-tailed or Lyre-tailed Nightjar! While Common Potoo can often be seen on its night time perch within the lodge grounds.
Night Bellavista Lodge.
Day 4
Bellavista – Mindo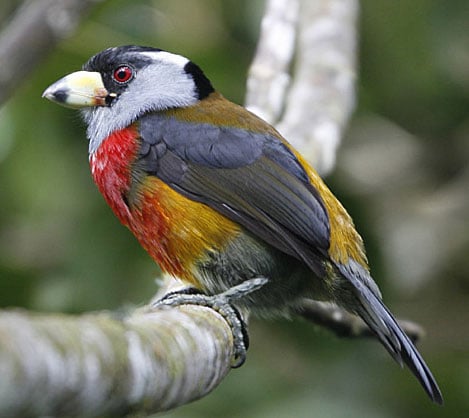 Early morning on the trails around our lodge can be excellent for 3 Choco endemics namely Toucan Barbet, Plate-billed Mountain Toucan, and the elusive Tanager Finch. Others species in the area should include Beautiful Jay, Masked Trogon, Ocellated Tapaculo, and a multitude of dazzling hummingbirds with names like Gorgeted Sunangel, Purple-bibbed Whitetip, Empress Brilliant, and Long-tailed Sylph. Our first feeding flocks of tanagers should include Blue-winged Mountain Tanager, Golden-naped, Fawn-breasted, Metallic Green, Flame-faced, Silver-throated, Orange-eared, Blue-capped and the wonderful Grass Green, whilst a supporting cast should find us Barred Hawk, both Powerful and Crimson-mantled Woodpeckers, Golden-headed Quetzal, Azara's and Red-faced Spinetails, Uniform Treehunter, Spillman's and Narino Tapaculos, Green-and-black Fruiteater, Tri-coloured Brush-Finch, Golden-bellied Grosbeak, Turquoise Jay, Masked and White-sided Flowerpiercers, Andean Solitaire, Black-crested and Three-striped Warblers, Long-tailed Antbird, White-tailed and Rufous-winged Tyrannulets, Olivaceous Piha and Plushcap. Returning for lunch-time we have great opportunities to study or photograph up close many of the areas fabulous hummingbirds. The tiny Racket-tailed Puffleg (formerly called Booted Racket-Tail) is always a favourite while others include Collared Inca, Buff-tailed Coronet, Green and Sparkling Violetear, the tiny Purple-throated Woodstar, Violet-tailed Sylph, Fawn-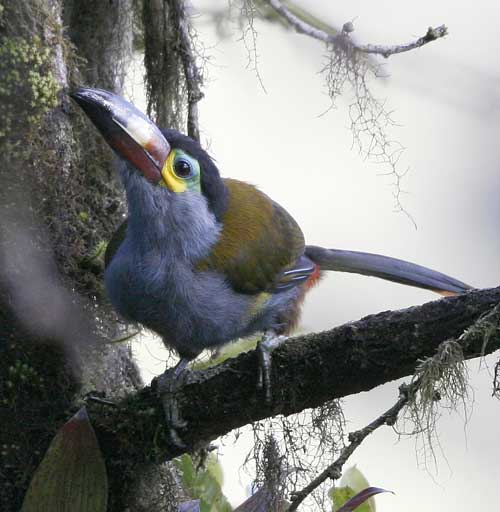 breasted Brilliant and Speckled Hummingbird. Several other species that are within easy reach of the lodge may include White-tailed Hillstar, Brown Inca, White-bellied Woodstar, Green-fronted Lancebill, Western and Andean Emeralds, Tawny-bellied Hermit, Green-tailed Trainbearer and Wedge-billed Hummingbird. Hopefully the resident Chestnut-crowned Antpitta will make its presence known by walking up the path towards us. After lunch we bid farewell to this haven for birds and make our way towards Mindo where we overnight at the wonderful Septimo Paraiso. Night Septimo.
Day 5
Mindo
From our base we can visit a range of habitats and sites that will provide more birds than you dreamed possible. Areas we will be visiting include the Mindo Valley and its lush cloud forests where there are lots of exciting birds to look for including Crimson-rumped Toucanet, Scaled Fruiteater, Club-winged Manakin, Wattled Guan and Red-billed Parrot. Down beside the fast running rivers White-capped Dipper and Black Phoebe will be sought, while new hummingbirds will include species such as Velvet Purple Coronet, Violet-tailed Sylph, White-whiskered Hermit, Green and Sparkling Violetear, Stripe-throated Hermit, Green Thorntail and Blue-chested Hummingbird. Amongst the hoards of colourful tanagers we can see are Glistening Green, Rufous-throated, Golden, Beryl-spangled, Grey-and-gold, Scarlet-browed and Black-capped, while amongst the bromeliads and moss encrusted branches we may find other species such as Streaked Tuftedcheek, Pearled Treerunner and Montane Woodcreeper. Our local guide knows where to find the specialities and a whole host of other sought after species including Choco and Chestnut-mandibled Toucans, Pale-mandibled Aracari, Guayaquil Woodpecker, Pacific Hornero, Yellow-collared Chlorophonia and Choco Trogon. Taking in several other habitats we can add to our tanager list with Flame-rumped, White-capped, Tawny-crested, Scarlet-browed, White-shouldered and Swallow Tanagers, as well as Slate-coloured Grosbeak, Red-headed Barbet, Ornate and Rusty-margined Flycatchers, Streak-headed Woodcreeper, Pacific Antwren, Cinnamon and One-coloured Becards and a host of other goodies.
Night Septimo

.
Day 6
Silanchi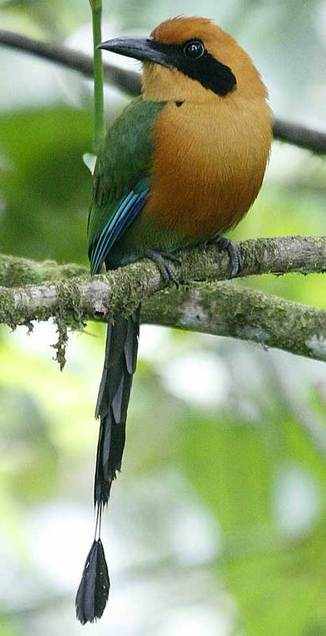 The second of Mindo Cloud-forest Foundation's two reserves, Rio Silanche Bird Sanctuary consists of 80 hectare (200 acre) of mixed primary and regenerating forest. At an altitude range of 300-350m, the reserve is firmly located in the western Choco lowlands. The birding is, of course, amazing, and the bird list is varied and extensive enough to keep birders up at night in anticipation. The main feature at Silanche is the incredible birding: mixed flocks that can bombard the visitor all day long. With forest trails and a tree top tower we will search for many of the Choco and Tumbesian endemics that inhabit this area, although some of these maybe be present they are seldom seen. Maroon-tailed Parakeet, Bronze-winged Parrots and Pacific Parrotlet are fairly common while Rose-faced Parrot, and Chestnut-fronted Macaw occasionally turn up. Birds that are seen regularly include Rufous Motmot, Western White-tailed Trogon, Lemon-rumped, Ochre-breasted and Scarlet-browed Tanagers, Western Woodhaunter, Streaked Xenops, Black-striped Woodcreeper, Wedge-billed Woodcreeper, Spotted Woodcreeper, White-flanked Antwren, Dot-winged Antwren, Chestnut-backed Antbird, Spot-crowned Antvireo, Orange-fronted Barbet, Pale-mandibled Aracari, Lineated Woodpecker, Guayaquil Woodpecker, Masked Tityra, White-bearded Manakin, Band-backed Wren, Grey-and-gold Tanager, Tawny-crested Tanager, Green Honeycreeper and Blue Dacnis. These exciting mixed flocks could hold some of the many important Chocó endemics you won't otherwise find without arranging a trip to Esmeraldas or Colombia: Amongst these are Purple-chested Hummingbird, Chocó Trogon, Double-banded Greytail, Griscom's Antwren, Stub-tailed Antbird, Black-tipped Cotinga, Slate-throated Gnatcatcher, and Scarlet-breasted Dacnis. Add to these Barred and White-whiskered Puffbird, Pallid Dove, Scarlet-and-white Tanager, Blue-whiskered Tanager, Guira Tanager, Rufous-winged Tanager, Purple Honeycreeper, Elegant Crescentchest, Sooty-headed Tyrannulet, Grey Elaenia, Slaty Becard, Slaty-capped Shrike-Vireo, Stripe-throated Wren, Black-winged Salktator and Slate-coloured Grosbeak and you can soon see why this area is so special.
Night Septimo.
Day 7
Angel Paz Reserve and Oilbirds – Mashpi
An early start will be required for us to witness the spectacular Andean Cock-of-the-Rock, which performs its lekking display first thing in the morning. The males of this species are an incredible bright scarlet-red and to see a group of these birds displaying in front of us must rank as one of the worlds greatest avian sights! Even more popular now than the Cock-of-the-Rocks is the spectacle of seeing several species of Antpitta being fed worms by a local farmer. By putting out worms he has attracted several seldom seen forest dwellers, namely Giant, Yellow-breasted, Moustached and rarely Ochre-breasted Antpittas as well as Dark-backed Wood-Quail. Few people have ever seen such difficult birds up close and just a few feet away! Bring your camera! There should be plenty of other species to keep us busy and in particular we will look for Orange-breasted Fruiteater and Olivaceous Piha. In 2007 we were the first foreign visitors to witness a newly discovered Oilbird colony set in a small gorge in the middle of open farmland. Since then yet another site has been found allowing unprecedented views of these strange eyrie birds in daylight and without a torch. We will make a visit to this new site to witness these incredible birds. We then move on to a new site and a relatively new lodge as yet visited by very birders.
Night near Mashpi
Day 8
Mashpi
This area has been scouted by our guides many times and is now set to be one of the top new birding hot spots in Ecuador. Mashpi is private reserve of 3000 hectares and ha an elevation which starts at 1250 metres and goes down to 500 metres which is why it supports a fantastic variety of sought after birds. Here we can find several species that are very difficult to see elsewhere such as Moss-backed Tanager, Orange-breasted Fruiteater, Bronze-olive Pygmy-Tyrant and others specialities like Long-wattled Umbrellabird, Cloud-forest Pygmy Owl, Blue-fronted Parrotlet, Pacific Tuftedcheek, Strong-billed Woodcreeper, Uniform Treehunter, Rufous-brown Solitaire, Black Solitaire, Indigo Flowerpiercer, Choco Warbler, Esmeraldas Antbird, Olive Finch and recently Choco Vireo a species only previously known from one remote area in the Esmeraldas. These much sought after species make the area very special and a great attraction to our birding itinerary. Of course there will plenty of other species to keep us busy including Smoky-brown and Golden-olive Woodpeckers, Tawny-breasted Flycatcher, Glistening-green Tanager, Swallow Tanager and Yellow-throated Bush-Tanager to name a few. Night near Mashpi
Day 9
Mashpi – Quito
After our final morning birding around Mashpi we will have lunch then depart towards Quito stopping along the way to search scrubby dry areas for White-tailed Shrike-Tyrant, plus Black-tailed Trainbearer and a few other species. Night Quito.
Day 10
Depart tour 1 or arrive for tour 2 - End of Tour
- Mon 11th April
This Morning for those that are leaving you will transfer to Quito airport in time for your departure and the conclusion of this tour. for those continuing on to tour 2, you will have the day to relax and unwind or take a half day tour. For those starting tour 2 you will arrive today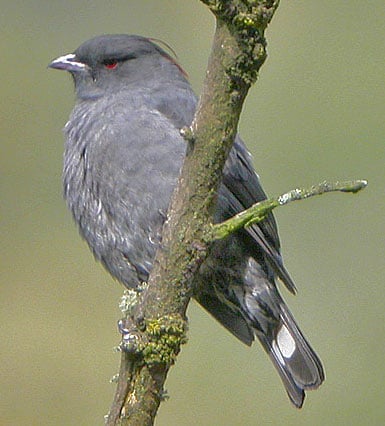 Leader: Alejandro Solano
Ground Price:
£1655.00
- Quito/Quito
Single supplement

:
£195.00
Group size: Minimum for tour to go ahead 5 and maximum 12.
Included in cost: Accommodation in twin rooms, mostly en-suite, some with shared facilities, all meals, ground transport throughout, entrance fees, water and snacks and services of leaders.

Not included: International flight, insurance, drinks, tips, and items of a personal nature.
Accommodation: Our hotels and lodges vary in quality from excellent to rather basic, but all are within easy reach of the areas we wish to bird, eliminating long travelling days.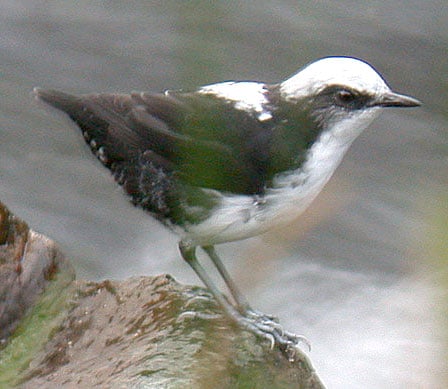 Tour Code: This is a standard birding tour with all day birding. We will generally take picnic lunches unless close to our lodge where we will take a restaurant lunch The weather can be unsettled at this time of year, so expect some cooler weather with the chances of an odd shower, which is far better than sunshine for birding!
Note: Please note that that you can continue on from this tour on to our Ecuador 2 tour. For those able to do this a huge saving can be made as no other tour on the market can come close to these prices and quality.
Receive our e-newsletter:
Join the Zoothera e-mailing list for up-to-date news on new tours, tour reports and special offers.
e-mail [email protected] to sign up
Recommended Books, CD's and more from NHBS. Click on link - to go straight to NHBS website!

The air holidays and flights shown are ATOL protected by the Civil Aviation Authority.
Our ATOL number is 10436. Please see our Terms and Conditions for more information.