India - Gujarat
Sunday 24th November - Wednesday 11th December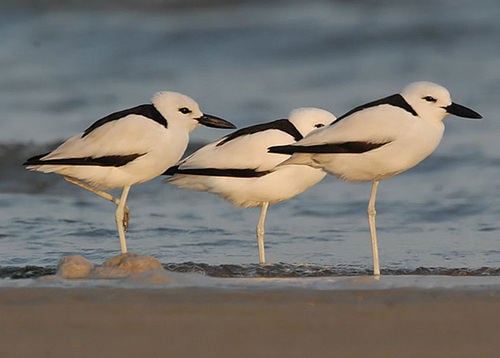 India has an amazing avifauna and most of us naturally think of the mighty Himalayas or the Tiger reserves, and of course the famous Bharatpur. It is a fascinating place for birdwatchers and in our search for something new, we have designed this second desert tour to seek out even more very special birds. This is India as you have never seen it before with some of the finest birding and speciality birds imaginable. From Mount Abu with its Green Avadavat, we travel across the Little Rann of Kutch searching for a huge list of desert specialities including McQueen's Bustard. From here we visit the world's largest harrier roost at Velavadar where 1000's of birds arrive every evening and follow this up with a series of jeep safaris at Gir National Park in search of Asiatic Lion. The highlight of our desert birding will probably be the surroundings of Bhuj where Grey Hypocolius is present , along with Great Indian Bustard, Sykes's Nightjar and White-naped Tit, whilst wonderful Crab Plover occurs in flocks along the coast. Turning inland we will make the pilgrimage to Melghat and the recently rediscovered Forest Owlet for a grand finale.
Targets:
Day 1
UK - Delhi
- Sunday 24th November

Overnight flight from UK to Delhi.

Day 2

Delhi
Upon arrival in Delhi there will be a short transfer to our hotel. The afternoon can be spent at leisure or alternatively we can visit Okhla Bird Sanctuary. This is a remarkable place where birds are numerous and easy to see and in particular we will search for White-tailed Stonechat. However, most of our attention will be drawn to the open water where huge flocks of familiar wildfowl also host the slightly more exotic Indian Spot-billed Duck and possibly Comb Duck. A flock of Greater Flamingo's are usually present here, along with Garganey, Bar-headed and Greylag Geese, whilst flocks of Brown-headed Gulls and smaller numbers of Steppe Gulls are very conspicuous. Along the water's edge and in the marshes we can find Purple Heron, Glossy and Black-headed Ibis, Indian Peafowl, White-tailed Lapwing, Striated Grassbird, Common Babbler, Pied Bushchat Yellow-bellied and Graceful Prinias, Red Avadavat and Indian Silverbill. Sometimes in the drier areas there is Red-naped (Indian Black) Ibis, as well as Grey Francolin, Spotted Owlet, Yellow-footed Green-pigeon, Red Collared-dove, Purple Sunbird, Hume's Warbler and Siberian Chiffchaff, whilst overhead there will be numerous Black and Black-eared Kites. This is a perfect introduction to India's vast birdlife and we would hope to see around 80 species quite easily in just a couple of hours birding.
Night Delhi.

Day 3

Sultanpur – overnight sleeper train to Mount Abu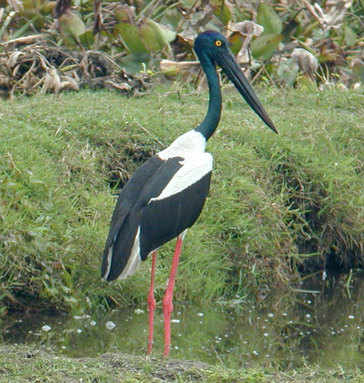 An early start will see us head to Sultanpur, a superb birding site about 50kms from Delhi in Haryana state. The lake here is usually full of birds, with huge numbers of all the regular wildfowl including Indian Spot-billed Duck, Garganey, Comb Duck and Bar-headed, Greylag and Greater White-fronted Geese. Also prominent are Greater Flamingo, Black-headed Ibis, Painted Stork, sometimes Black-necked Stork, Purple Swamphen, and a good selection of waders including the stately White-tailed Lapwing. In the immediate vicinity we can find Grey Francolin, White-throated Kingfisher, Eurasian Wryneck, Indian Grey Hornbill, Coppersmith and Brown-headed Barbets, Indian Robin, Citrine Wagtail, Long-tailed Shrike, Grey-breasted Prinia, Lesser Whitethroat, Siberian Chiffchaff, Hume's Leaf-warbler and Red Avadavat. In particular we will search the stands of Acacia's here as this is a reliable site for Brook's Leaf-warblers and around the edges of the lake there are usually a few Sind Sparrows present. In the afternoon we will head to the train station and catch the overnight sleeper train to Mount Abu in western Rajasthan.
Day 4

Mount Abu



Upon arrival we will set out on the short drive to Mount Abu, a seldom visited site by western birders but which is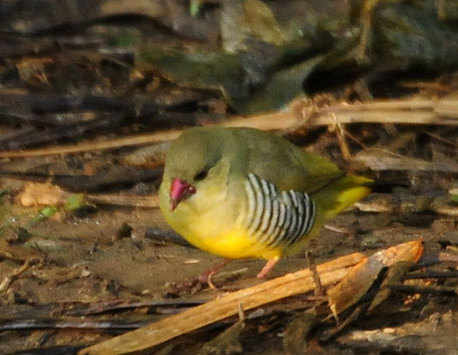 home to a remarkable variety of sought-after birds. Most highly prized of these is the rare and enigmatic Green Avadavat and this is one of very few places in all India where it has been seen at all! We have a very good chance of finding this highly desirable species plus an interesting mixture of other key species. In particular we will look for 3 Indian endemics, Red Spurfowl, Grey Junglefowl and Indian Scimitar-babbler which inhabit this hill station set below a peak of 1720m in the Aravalli Hills. Commoner birds present include Alexandrine and Plum-headed Parakeets, Black-rumped Flameback, Tickell's Blue, Red-breasted and Verditer Flycatchers, Sulphur-bellied Warbler, Tawny-bellied and Yellow-eyed Babblers, White-bellied and Ashy Drongos, Common Rosefinch, and both Crested and White-capped Buntings.
Night at Mount Abu.
Days 5 - 6

Little Rann of Kutch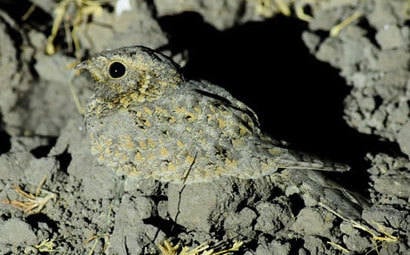 This morning we will drive to the Little Rann of Kutch, which at first glance is an amazingly stark and barren landscape but is home to an amazing variety of birds. it is a huge area of 4950 sq. kms and has an extremely diverse range of habitats and not just the saline desert plains one imagines. At the edge of this unique habitat are areas of coarse grass, rocky and thorn scrub, bushes and some cultivated areas where we will look for McQueen's Bustard, Eastern Imperial Eagle, Montagu's and Pallid Harriers, Cream-coloured and Indian Coursers, Yellow-wattled and in some years Sociable Lapwing, Short eared Owl, Chestnut-bellied Sandgrouse, Red-tailed Wheatear, Rufous-tailed, Crested and Hoopoe Lark and Asian Desert Warbler. There are some fine wetlands and lakes here that are usually teeming with birds and we are likely to encounter Common and sometimes Sarus Crane, Greater and Lesser Flamingos, Great White and Dalmatian Pelicans, Western Reef-egret, many ibis, storks, ducks, a good selection of common waders including Small Pratincole, and Slender-billed Gull. We also have a chance of finding Striated Scops-owl which is a regular winter visitor in this vast area. At night we will drive slowly along the dirt tracks in search of the scarce Sykes's Nightjar, still a bird that very few western birders have ever seen. This is also the last remaining stronghold of Asiatic Wild Ass and we should get some very good views of this rather attractive animal.
Nights at Rann Riders, a comfortable lodge located very close to all the birding sites.
Day 7

Velavadar Blackbuck Sanctuary



After some final birding in the Little Rann of Kutch we will drive to the Velavadar Blackbuck Sanctuary, a beautiful reserve dominated by savannah grassland. It holds a plentiful population of Blackbuck, one of the most attractive antelopes in the world. This is also one of the best places in India to observe Striped Hyena and Indian Wolf, although a great deal of luck is needed to see either species. However, this site holds the world's largest harrier roost with an estimated 3000 birds being present, made up mainly of Montagu's, but with impressive numbers of Western Marsh and Pallid Harriers as well. There are many other birds present such as Rufous-tailed and Bimaculated Larks, Ashy-crowned Sparrow-lark, Isabelline Shrike, Paddyfield and Sykes's Warblers, and sometimes Lesser Florican.
Night at a very friendly small hotel at Bhavnagar.
Days 8 - 9

Gir National Park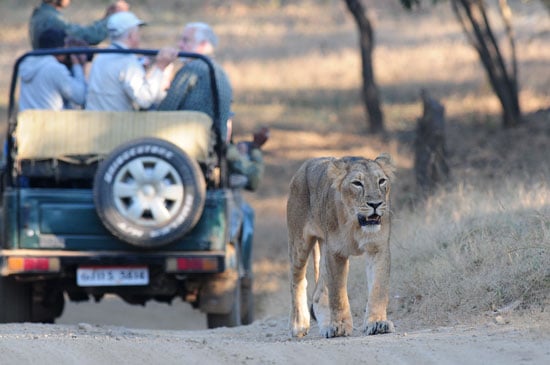 After a final game drive this morning we will head to the famous Gir National Park whose 1400kms of unspoilt rugged hill country, dry deciduous forests, acacia scrub and grassland, fed by rivers and reservoirs supports the last remaining Asiatic Lions in the world. With 4 jeep safaris here we have a very good chance of seeing these top predators. Other mammals here include Nilgai, Sambar and Spotted Deer, and there is also the largest population of Leopard present in any park in India - but they are still difficult to find. As we explore the park from our jeeps we should see an interesting selection of birds such as Rock Bush-quail, Painted Sandgrouse, Short-toed Eagle, Crested Hawk-eagle, Mottled Wood-owl, White-bellied Minivet, Marshall's Iora and both Rufous-fronted and Jungle Prinias amongst others.
Nights at Gir Birding Lodge situated right at the entrance to Gir Wildlife Sanctuary.
Days 10 - 13

Gir NP – Bhuj



After our final jeep safari into the National Park we will drive to Bhuj, which is home to a fantastic selection of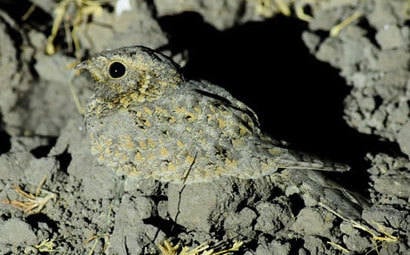 much-wanted species. Here, we will search for the very attractive Grey Hypocolius which winters here in small numbers and we'll visit a roosting site where they are relatively easy to see. Other special target species include Great Indian Bustard, White-bellied Minivet, White-naped Tit, Indian Eagle-owl, and there's also another chance of Sykes's Nightjar as well. Some wetlands hold good numbers of Great White and Dalmatian Pelicans, along with Lesser Flamingo and other waterbirds. Whilst a day along the coast should result in impressive numbers of the much-wanted Crab Plover, along with a fine selection of waders including Greater and Lesser Sandplovers, Broad-billed and Terek Sandpipers, Great Knot, and Red-necked Phalarope all possible amongst good numbers of commoner waders. As well as Greater and Lesser Crested Terns, Heuglin's and Great Black-headed Gulls we're sure of an exciting time here.
Nights at Bhuj.
Days 14 - 16

Bhuj – Nagpur – Melghat Tiger Reserve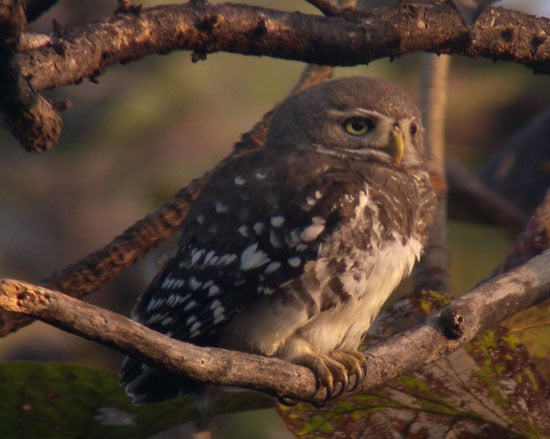 We have the morning to catch up with any species we need before flying to Nagpur in the central Indian state of Maharashtra where we will stay overnight before continuing to Melghat Tiger Reserve. Originally set up to protect a dwindling Tiger population, Melghat is now home to the largest known population of the recently re-discovered Forest Owlet – a bird that went 'missing' for around a 100 years! Very few western birders have made the pilgrimage to see this very rare species but we have a very realistic chance of finding one amidst the dry Teak and Sal forests of the Satpura Hills it inhabits. This is also one of the best places to find Mottled Wood-owl and if we haven't seen it by now we'll make a special effort to find one. Other birds present in the area include Jungle Bush-quail, White-eyed Buzzard, Indian Black Eagle, Common Hawk-cuckoo, Sirkeer Malkoha, Spotted Owlet, Oriental Turtle-dove, Indian Pygmy Woodpecker, Indian Grey Hornbill, Tawny-bellied and Large Grey Babblers, Velvet-fronted Nuthatch, Blyth's Reed, Hume's, Greenish, Tickell's and Sulphur-bellied Warblers, Tickell's Blue and Ultramarine Flycatchers, Brown-cheeked Fulvetta, Indian Yellow Tit, Pale-billed Flowerpecker, Greater Racket-tailed Drongo, and Indian Golden Oriole amongst others.
We will spend 2 nights at a Forest Rest House at Melghat.
Day 17

Nagpur – Delhi
This morning we must return to Nagpur and take the short internal flight to Delhi, where we will transfer to a hotel in readiness for return international flights.
Day 18

Delhi – UK and End of Tour
- Wednesday 11th December
This morning we will transfer to the airport for our flight back to the UK and a conclusion of the tour.

Leaders:

Zoothera leader and local guides



Ground Price:

£2295.00

- Delhi/Delhi



Airfare:

£590.00

(Approx)

- UK/UK



Zoothera tour prices explained



Single supplement:

£480.00

Deposit

:

£400.00
Group size

:
Minimum for tour to go ahead 4 and maximum 10 with 2 leaders.
Included in cost

:
Accommodation in twin en-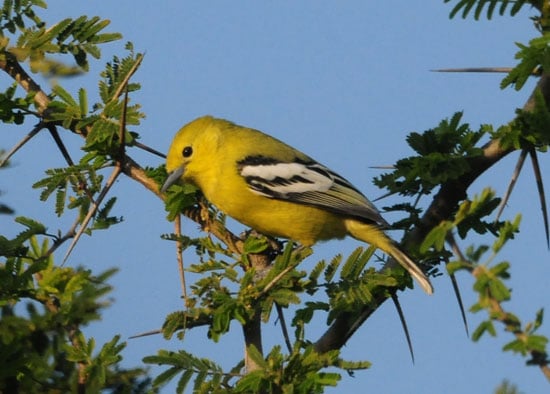 suite rooms, all meals except dinners in Delhi, bottled water, all ground transport including train journey and domestic flights, jeep safaris, all park entrance fees, and services of leaders.
Not included

:
International flights, dinners in Delhi, insurance, drinks, tips, and items of a personal nature.
Accommodation:
Hotels/lodges are mainly of a good standard with en-suite facilities. At Melghat accommodation is limited and we will stay at a basic Forest Rest House. We endeavour to stay in the very best accommodation available closest to the birding sites.
Tour Code

:
This is a standard birding tour with regular birding walks along roads and well marked trails. Some long drives are necessary between birding sites but we have comfortable vehicles to relax in. The weather is generally warm to hot at this time of year, although dawn/dusk and overnight it does get much cooler. Rain is not expected at this time of year.
Receive our e-newsletter:
Join the Zoothera e-mailing list for up-to-date news on new tours, tour reports and special offers.
e-mail [email protected] to sign up.
Recommended Books, CD's and more from NHBS. Click on - Buy from NHBS - to go straight to website!



The air holidays and flights shown are ATOL protected by the Civil Aviation Authority.
Our ATOL number is 10436. Please see our Terms and Conditions for more information.