China - Sichuan and the Tibetan Plateau 2013
Thursday 23rd May - Saturday 8th June 2013 (plus extension to 11th June)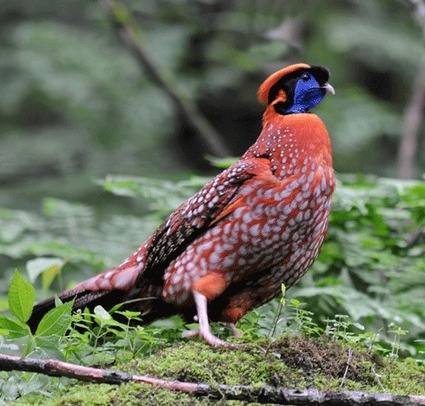 Sichuan lies in the very heart of China and is situated on the eastern edge of the vast Tibetan Plateau. It is a huge province, the size of France and hosts the richest concentration of Chinese specialities and endemics in this vast country. There is a remarkable wealth of birdlife waiting in its rich evergreen and temperate forests, alpine meadows, mighty snow-capped mountains and grasslands of the Tibetan Plateau which form some of the most spectacular scenery of any bird tour! China is a vast country and it is impossible to do justice to the amazing diversity of superb birds in one trip, so this tour concentrates on the mountainous province of Sichuan. Our unique and special 2 week tour takes in the well-known sites of Labahe, Balang Shan, Mengbi Shan and finishes with a spectacular visit to the Tibetan Plateau. This unique ZOOTHERA tour provides the opportunity to see a wide selection of endemic and sough-after specialities amidst some of the most exciting scenery imaginable.
| | |
| --- | --- |
| | |
Day 1

UK - Chengdu
- 23rd May
Overnight flight from London to Chengdu.
Day 2

Chengdu – Baihua Tan Park
Following an afternoon arrival in Chengdu we can check out a nearby park in search of a few species we may not see elsewhere on the tour. In particular we shall look for the endemic Chinese Bulbul and Chinese Blackbird, as well as Rufous-faced Warbler, Ashy-throated and Vinous-throated Parrotbills, White-browed Laughingthrush, Oriental Greenfinch, Crested Myna, Yellow-billed Grosbeak, and both Red-billed and White-cheeked Starlings. Night in Chengdu.
Days 3 – 6 Labahe Nature Reserve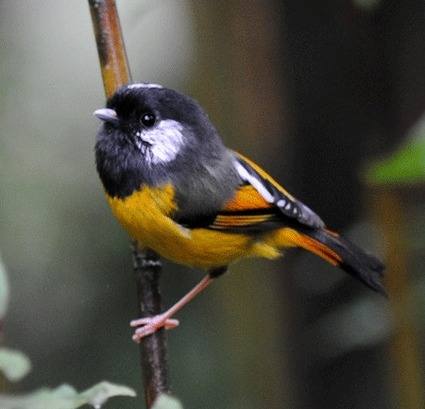 Early this morning we will drive across the flat, cultivated Red Basin and aim to arrive at the new 'hotspot' of Labahe in time for some afternoon birding. Along the way we will make a few stops to look for Forest Wagtail, Tiger Shrike and Swinhoe's Minivet which we probably won't see elsewhere. As Wawu Shan is now closed for redevelopment, it is impossible to visit there so all the tour companies are now coming to Labahe which is home to nearly everything you could see at Wawu Shan, plus a few other endemics as well. We will have 3 full days to explore this 3000m mountain by means of a private track that takes you to a scenic boardwalk through moss-encrusted forest and a huge stand of bamboo. Our visit here gives us an outstanding chance of seeing the stunningly beautiful Temminck's Tragopan, as well as Lady Amherst's Pheasant. The mere fact that there isn't a public road to the top makes
searching for the specialities a far more pleasant experience requiring a lot less effort! The terrain here consists of jagged mountain peaks, mixed coniferous-rhododendron forest, bamboo and evergreen broadleaf woodland and provides a spectacular setting for our search of the extremely localised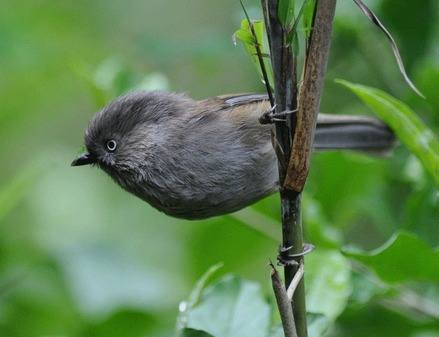 and endemic Emei Shan Liocichla, Golden-fronted Fulvetta and Rufous-tailed Babbler. Other target species here include Great, Brown, Three-toed, Ashy-throated, Fulvous, Golden and Grey-headed Parrotbills, Rusty and Barred Laughingthrushes, Claudia's, Emei, Kloss's and Sichuan Leaf-warblers, as well as Buff-throated among 17 other phylloscopus warbler to be recorded here, 7 species of bush-warbler, Alstrom's,
Bianchi's and Marten's Warblers, Grey-hooded Fulvetta and the near endemic Yellow-bellied Tit. Other special birds here are Chinese Blue Flycatcher, Chinese Song Thrush, Black-streaked Scimitar-babbler, Elliott's and Red-winged Laughingthrushes, Brown-capped Fulvetta, White-collared Yuhina and Slaty Bunting. There are also a huge selection of other species, many of which range further west across the Himalayas including Crimson-breasted and White-backed Woodpeckers, Large and Whistling Hawk-cuckoos, Oriental and Lesser Cuckoos, Collared Owlet, Rufous-breasted Accentor, White-tailed Robin, White-browed Shortwing, White-bellied Redstart, Fujian and Vivid Niltavas, Scaly-breasted and Pygmy Wren-babblers, Blyth's Shrike-babbler, Golden-breasted Fulvetta, Black-chinned Yuhina, Spotted Laughingthrush, Rufous-vented Tit, Gould's Sunbird, Japanese White-eye, both Dark-breasted and Dark-rumped Rosefinches and Grey-headed Bullfinch. Nights at Labahe Nature Reserve.
Days 7 – 9
Labahe - Wolong – Balang Sh
an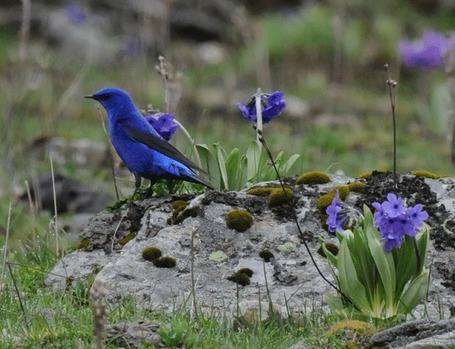 We'll have an early morning excursion for any species still needed before our route takes us up through the bird-rich Balang Shan mountain range where the road reaches its highest point at the 4500m pass and is the right habitat zone for Tibetan Snowcock, Snow Partridge, Chinese Monal, Snow Pigeon, Grandala, Alpine and Red-billed Choughs, Alpine Accentor, Red-breasted Rosefinch and Brandt's Mountain-finch. We will spend 2 full days around the fabulous Balang Shan beginning at daybreak as the rare Wood Snipe displays over the hillsides covered in azalea-scrub. The endemic White Eared-Pheasant forages unobtrusively, Firethroats reside in the Bamboo thickets, Koklass and Golden Pheasants hide in the undergrowth. Other species here include Lammergeier, Himalayan Griffon Vulture, White-throated Needletail, Crimson-breasted woodpecker,
Olive-backed Pipit, White-tailed Rubythroat, Indian Blue Robin, Whit
e-browed Bush-robin, White-browed Tit-warbler, Daurian Redstart, Kessler's and Chestnut Thrushes, Spotted Bush-warbler, Chinese Leaf-warbler, S
pectacled Parrotbill, Barred Laughingthrush, White-browed Fulvetta, White-collared Yuhina, Fire-capped Tit, Chestnut-flanked White-eye, Spotted Nutcracker, Slaty Bunting and both Chinese Beautiful and Streaked Rosefinches. Nights at Wolong.
Days 10 – 12 Balang Shan – Mengbi Shan
If we still need any species there's a final opportunity to return to Balang Shan before leaving the wetter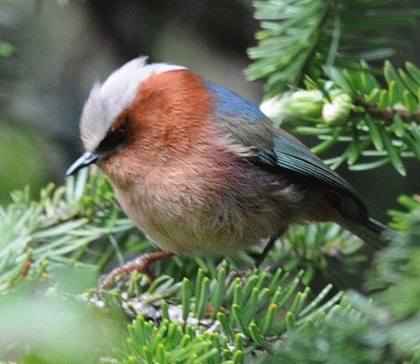 alpine zone and heading into dry valleys cloaked in spruce and pine forest and up to our first taste of the Tibetan avifauna. En-route we will check out some areas for White-tailed Rubythroat, Hill Pigeon and Wallcreeper in a scenic valley. Then we drive along a little used mountain track higher into the marvellous coniferous forests of Mengbi Shan where Verreaux's Monal-Partridge, Firethroat, Sichuan Jay, Giant Laughingthrush, Przewalski's Nuthatch, Chinese Fulvetta, Three-banded, Chinese White-browed and Chinese Beautiful Rosefinches reside, while there are further chances of White Eared and Koklass Pheasants, the spectacular Crested Tit-warbler, Long-tailed Thrush, Chinese Babax and Three-banded Rosefinch. Other more widespread species include Black and Three-toed Woodpeckers, Himalayan Red-flanked Bluetail, White-throated Redstart, Hume's and Yellow-streaked Warblers, Bar-tailed Treecreeper, Kessler's and Chestnut Thrushes, Grey-crested Tit, Maroon-backed Accentor, Pink-rumped Rosefinches, and both White-winged and Collared Grosbeaks. Nights at Maerkang.
Days 13 – 15

Tibetan Plateau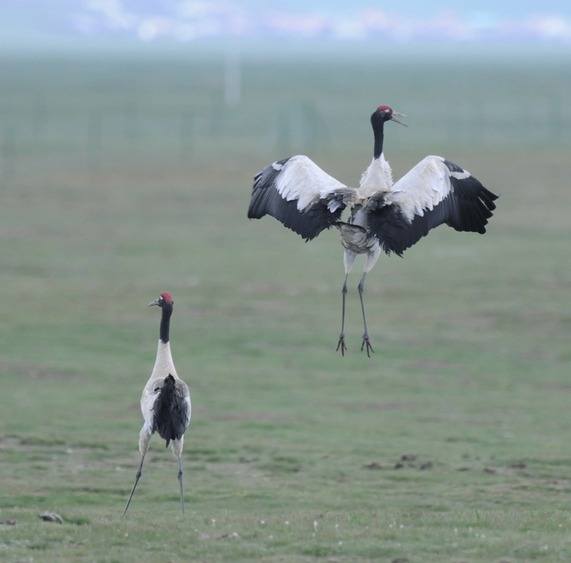 An early start will see us driving along the eastern edge of the Tibetan Plateau where we can explore the wide open grasslands and forest. Here we will look for Black-necked Crane, Amur Falcon, Saker, Upland Buzzard, Pale Martin, Tibetan Lark, Oriental Skylark, Blyth's Pipit, Chinese Grey Shrike, Hume's Groundpecker, Chinese Grey Shrike, Pere David's Laughingthrush, Godlewski's Bunting, Rufous-necked, Black-winged and White-rumped Snowfinches, the latter usually nest amongst the colonies of Marmots and Pika! The scenery here is unimaginably beautiful and provides a complete contrast to the coniferous forests we have become used to. Flower Lake is a vast area of wetlands where numerous wildfowl reside and usually turns up the odd surprise such as White-tailed Eagle
or Cinereous Vulture, but more likely are some familiar waders to add to our list. Secret valleys bathed in high altitude scrub hold the endemic White-browed Tit, whilst some nearby forests hold the shy Severtsov's Grouse, Blue Eared Pheasant, Blood Pheasant, Black Woodpecker, Slaty-backed and Slaty-blue Flycatchers, Chinese Fulvetta, Sukatchev's Laughingthrush, Gansu Leaf-warbler, Sichuan Willow and Japanese Tits, Tibetan Siskin, both Three-banded and Pink-rumped Rosefinches and there are further chances of Crested Tit-warbler. Nights at Roergai.
Day 16

Tibetan Plateau - Chengdu
After some final birding here this morning we will leave the forests that border the Tibetan Plateau and drop down into the typical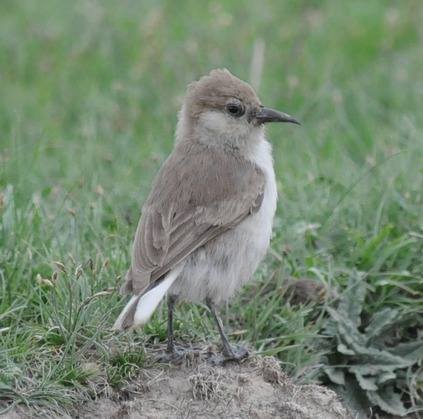 mountainous terrain of northern Sichuan, checking a few special sites along the way for Blue Eared-Pheasant, Severtzov's Tit-warbler, Long-tailed Thrush, or Verreaux's Monal-partridge if we still need them. But most of the day will be spent on the return journey to Chengdu, passing through more spectacular scenery and a final chance to catch up with any other species still missing from our lists. Night at Chengdu.
Day 17
Chengdu – End of Tour
- 8th June
Transfer to the airport and return flights to the UK, where we should arrive in the late afternoon and the end of the tour.

Or continue for our Jiuzhaigou National Park extension 7th - 11th June. We will be searching for several species that cannot be found elsewhere, most importantly the stunning Rufous-headed Robin. Other possibilities include Sooty and Pere David's Tit, Three-banded Rosefinch, Sichuan Treecreeper, Chinese Nuthatch, Sukatschev's Laughingthrush, Indian Blue Robin, Spectacled Fulvetta and Spectacled Parrotbill. And our birding will be completed within a backdrop of stunning, tall peaks which is probably the most beautiful scenery of the whole tour.
Leaders:

Nick Bray and local guides.
Ground Price (main tour) :
£2495.00
- Chengdu/Chengdu
Ground Price (extension):
£350.00
Single supplement (extension):
£75.00
Group size: Minimum for tour to go ahead 5 and maximum 10 with 2 leaders.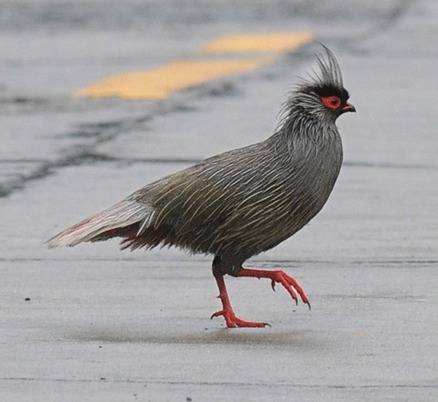 Included in cost: Accommodation in twin rooms en-suite, all meals including picnic lunches where necessary, bottled water, snacks, all entrance fees, transport throughout, and services of local guides and leaders.
Not included: International airfare, insurance, visa fee, departure tax, drinks, tips, and items of a personal nature.

Accommodation: The hotels used during this tour range from good to standard, all with en-suite facilities. We will stay in the best available lodges/guest houses as close to the birding sites as possible.
Tour Code: This is a relatively adventurous tour as we will spend a lot of the tour birding between 2,700m -4,200m although this is mainly from roads. Any climbing will be done very slowly. Some long drives are necessary but the roads are mainly paved now and our land cruisers/bus are both comfortable and well maintained. The weather is variable at this time of year, but expect it to be quite warm around Chengdu, ranging to cold with possible snow showers in higher areas. Rain is possible in the mountains.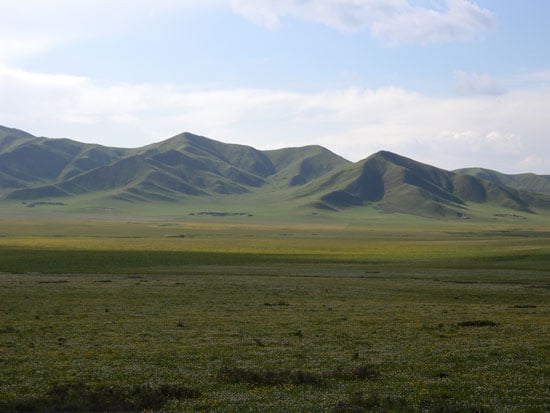 The Tibetan Plateau
Receive our e-newsletter:
Join the Zoothera e-mailing list for up-to-date news on new tours, tour reports and special offers.
Click Here to sign up.
Recommended Books, CD's and more from NHBS. Click on - Buy from NHBS - to go straight to website!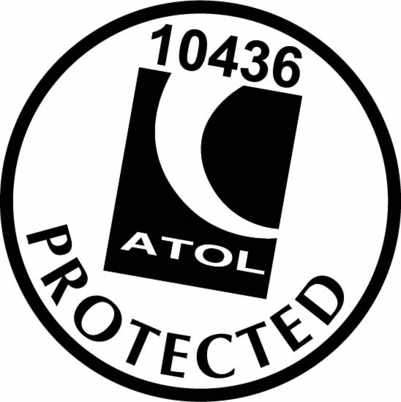 The air holidays and flights shown are ATOL protected by the Civil Aviation Authority. Our ATOL number is 10436. Please see our Terms and Conditions for more information.