North Thailand 2013-

Spectacular Birding in the Northern Mountains
Saturday 26th January – Monday 4th February 2013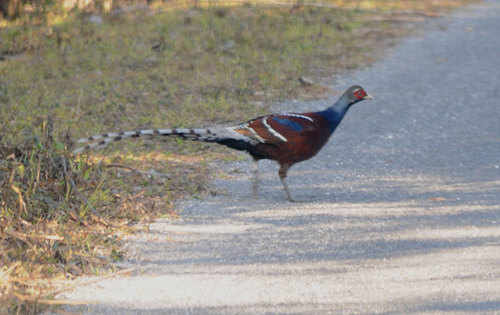 The second part of our Thailand coverage visits the forest-cloaked mountains and secluded valleys of northern Thailand where a wealth of montane specialities reside. There is a totally different avifauna to the rest of this wonderful country and we will visit the three best mountain sites of Doi Ang Khang, Doi Lang and Doi Inthanon which will provide us with some very exciting birding opportunities. As usual with a Zoothera tour we try and add something a little different and by birding the seldom visited Doi Lang we will do just that! Amongst the many montane specialities that can be found here we will search for the rare Hume's Pheasant, Green Peafowl, White-headed Bulbul, Stripe-breasted Woodpecker, White-browed and Silver-eared Laughingthrushes, Himalayan Cutia, Chestnut-fronted Shrike-babbler, Dark-backed Sibia and Giant Nuthatch. There are usually some exciting Palearctic visitors around as well, maybe flocks of Eye-browed or a more skulking Grey-sided Thrush to add a little spice to proceedings.
This tour can be taken separately or joined to our Central Thailand tour to create a classic bird-filled tour full of Asia's best birds.
Silver-breasted Broadbill

White-necked Laughingthrush

Rufous-throated Hill-partridge
Day 1 UK - Bangkok

- Saturday 26th January
Overnight flight from UK to Bangkok.
Days 2 - 3

Bangkok – Chiang Mai - Doi Inthanon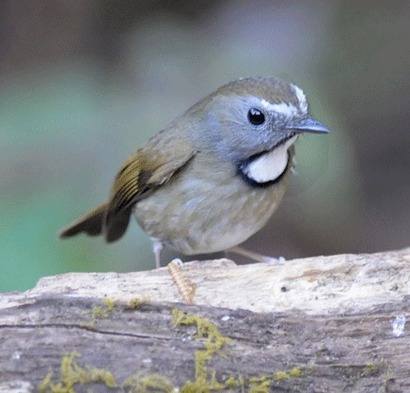 After a morning flight from Bangkok to the northern city of Chiang Mai we will drive straight to a wonderful resort close to Doi Inthanon for a two-night stay. This is the highest mountain in Thailand at over 2,500m and we shall have ample time to explore the dipterocarp forest of the lower slope and evergreen forest near the summit, where we shall concentrate our search for certain species. This is one of the classic birding sites in all Asia and at the summit a sphagnum bog surrounded by rhododendron trees draped in hanging moss and epiphytes is home to some special birds. At the edges of this bog Himalayan Bluetail, Dark-sided Thrush, Pygmy Wren-babbler and White-browed Shortwing can be found skulking in the shadows, whilst Chestnut-tailed Minla, Grey-sided Thrush, Rufous-winged Fulvetta, Chestnut-crowned and Ashy-throated Warblers, Silver-eared (split from Chestnut-crowned) Laughingthrush, Snowy-browed Flycatcher, Yellow-bellied Fantail, Green-tailed and Gould's Sunbirds, Yellow-browed Tit, and occasionally Rufous-throated Partridge, Ashy Woodpigeon, Yellow-bellied Flowerpecker and Yellow-browed Tit can sometimes be found. We will encounter large mixed feeding flocks as we walk quietly along the trails and each one will hold new species for us and these sudden bursts of activity is what makes a visit here so exciting. Imagine hearing a cacophony of noise making its way up a densely wooded slope towards our position until there are birds all around and we find Blyth's Leaf-warbler, Chestnut-fronted Shrike-babbler, Black-headed Sibia, Yellow-cheeked Tit, Grey-throated Babbler, Pied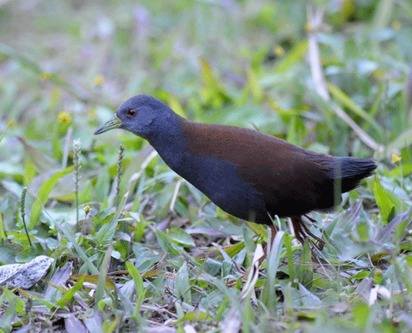 Flycatcher-shrike and White-bellied Erpornis. Meanwhile, some movement amongst the leaf litter leads us to catch a glimpse of a cryptically camouflaged Scaly Thrush. Moving down the mountain we can find Black-tailed Crake, Dark-backed and Rufous-backed Sibia, White-necked Laughingthrush, Chestnut-flanked White-eye, flocks of wintering Eye-browed Thrushes, the skulking Slaty-bellied Tesia, Black-throated Parrotbill, White-gorgeted Flycatcher, Rufous-bellied and Large Niltavas, Lesser Shortwing and Brown-throated Treecreeper. Fruiting trees are always productive and the prize of Green or Purple Cochoa awaits us, along with Speckled or Wedge-tailed Green-pigeon. The more open grass and scrub areas lower down can also be productive and this is where we could find the rare and localised White-headed Bulbul, and continuing down to the dry deciduous woodland at the base of the mountain we should pick up Black-backed Forktail and both Plumbeous and White-capped Water-redstarts at some beautiful waterfalls. A whole new selection of birds awaits us at the bottom of the mountain where we can see Chinese Francolin, Collared Falconet, the stunning Black Baza, Lineated Barbet, Black-headed Woodpecker, Golden-fronted Leafbird, Common Woodshrike, Indochinese Bushlark and Chestnut-bellied Nuthatch amongst others.
Days 4 - 5

Huai Hong Krai – Doi Ang Khang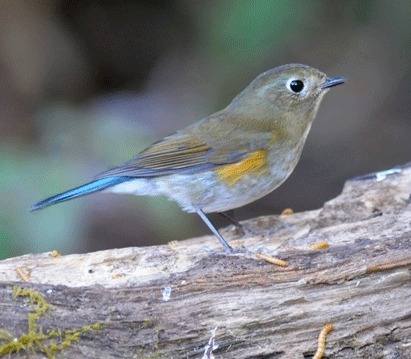 An early start will see us heading towards Huai Hong Krai, where a healthy population of Green Peafowl has been discovered and we shall arrive at dawn in order to hear the males uttering their loud cries from the treetops. The forests around the lake edges here are also home to Rufous-winged Buzzard, Black Baza and a selection of commoner species. We shall then proceed towards the rugged frontier range of Doi Ang Khan. These northern mountains have a different avifauna from the rest of the country as many Himalayan species are close to the southern limit of distribution in this region. This particular mountain is the prime site for two of Thailand's rarest birds, Giant Nuthatch and Hume's Pheasant. The former species is as big as a medium-sized woodpecker and is found high in the canopy of the tallest trees, whilst the latter inhabits the higher slopes whi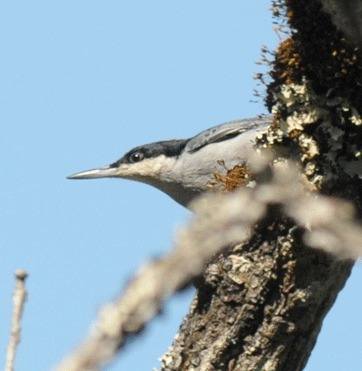 ch are dotted with trees. We will be looking for some restricted range species such as Mountain Bamboo-partridge, Crested Finchbill, Brown-breasted Bulbul, White-browed Laughingthrush, Scarlet-faced Liocichla, Spot-breasted Parrotbill, Spectacled Barwing and Buff-throated Warbler. But there are many more new species here and during our stay we also have a chance of seeing Mountain Hawk-eagle, Pacific Swift, Striated Swallow, Speckled and White-browed Piculets, Bay Woodpecker, Chestnut-vented Nuthatch, White-headed and Striated Bulbuls, Daurian Redstart, Hill Prinia, White-tailed Robin, Mountain Tailorbird, Slaty-bellied Tesia, Russet Bush-warbler, Bianchi's Warbler, Black-breasted Thrush, Spot-throated Babbler, Rusty-cheeked Scimitar-babbler, White-browed Laughingthrush, Silver-eared Mesia, Grey-cheeked Fulvetta, Grey-headed Parrotbill, Dark-backed Sibia and Chestnut Bunting. We will spend 2 nights at a superbly situated mountain resort.
Days 6 - 8 Doi Ang Khang - Tha Ton - Doi Lang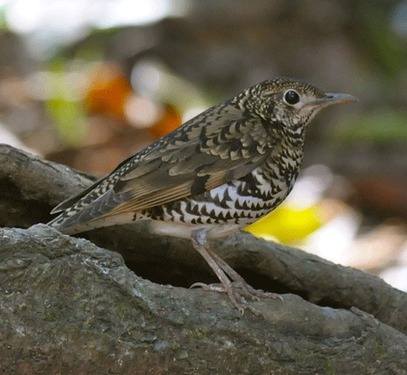 After some final birding trying to catch up with any species still missing from our lists we will begin our journey to the lesser known but incredibly bird-rich mountain of Doi Lang. Our route will take us across some fields and marshes where we can look for Blue-breasted Quail, Yellow-legged Buttonquail, Eastern Marsh-harrier, Pied Harrier, Grey-headed Lapwing, Greater Painted-snipe, possibly Jerdon's Bushchat, Citrine Wagtail, Rosy Pipit, Bluethroat, Baikal Bush-warbler, Blunt-winged Warbler, Yellow-eyed Babbler, Baya Weaver and Chestnut-eared, Yellow-breasted and Crested Buntings amongst others. Other areas en-route hold Rufescent Prinia, Siberian Rubythroat, Rufous-fronted Babbler, Plain-tailed Warbler, and sometimes the scarce Grey-headed Parakeet.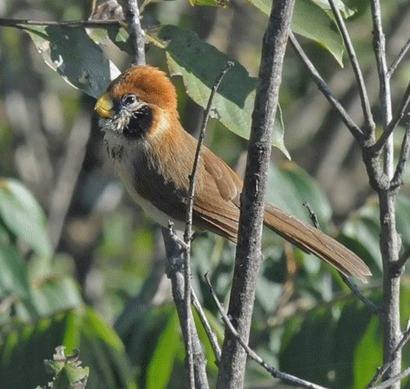 Birding the amazing montane forest of Doi Lang will give us the opportunity to see several species not likely elsewhere on the tour and is a site seldom visited by other birders - and there is often a rarity or two two get us really buzzing! We will search for Whiskered Yuhina, Black-throated Tit, Spotted Wren-babbler, Scarlet-faced Liocichla, White-gorgeted and Rufous-gorgeted Flycatchers, Fire-tailed Sunbird, Buff-throated Warbler, Crested Finchbill, Coral-billed Scimitar-babbler, Spot-winged Grosbeak and Himalayan Cutia.
Other species present here include Large Hawk-cuckoo, Fork-tailed (Pacific) Swift, White-browed Piculet, Grey-capped and Stripe-breasted Woodpeckers, Hooded and Rusty-naped Pittas, Asian House Martin, Long-tailed Minivet, Sooty-headed and Mountain Bulbuls, Grey Bushchat, Olive-backed Pipit, Sooty-headed Bulbul, Slaty-backed, Slaty-blue, Sapphire, Little Pied and Pale Blue Flycatchers, Chestnut-bellied Rock-thrush, Silver-breasted Broadbill, Great Iora, Slaty-bellied Tesia, Rufescent Prinia, Aberrant Bush-warbler, White-tailed and Hume's Leaf-warblers, Rufous-fronted Babbler, Blue-winged Minla, Chestnut-fronted Shrike-babbler, Brown-cheeked Fulvetta, Striated Yuhina, Burmese Shrike, Lesser Racket-tailed Drongo, Maroon Oriole, Chestnut-vented Nuthatch, Streaked Spiderhunter, Chestnut Bunting and Common Rosefinch. If time permits we can check out a lowland area for Long-billed Plover, Small Pratincole, River Lapwing and other waterbirds. 3 nights Doi Lang.
Day 9
Doi Lang - Chiang Mai - Bangkok
After a final mornings birding on Doi Lang trying to catch up with any species we may still need, we will make our way to the airport for an afternoon flight back to Bangkok in time to connect with our international flight to the UK.
If continuing with the Central Thailand tour we will stay overnight in Bangkok 22nd January.
Day 10
Arrival in UK and End of Tour
- Monday 4th February
Arrival in UK and end of the tour.
Leaders: Nick Bray & local guides.
Ground Price

:
£1375.00 -

Bangkok/Bangkok
Airfare: £650.00
(Approx)
-
UK/UK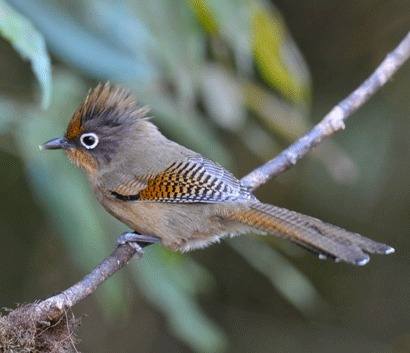 Zoothera tour prices explained
Group size: Minimum for tour to go ahead 4 and maximum of 6 with 2 leaders.
Included in cost: Accommodation in twin rooms en-suite, all meals, domestic flights, all entrance fees, transport throughout, and services of local guides and leaders.
Not included: International airfare, insurance, departure tax, drinks, tips, and items of a personal nature.
Accommodation: Ranges from good to very good, all with en-suite facilities. We will stay in the best available lodges/guest houses close to the birding sites.
Tour Code: This is a standard birding tour where early starts and long days in the field are normal. Usually there is some time off during the middle of the day to relax. Most of our birding walks will be of a usual slow pace and along roads and well worn trails and despite birding mountainous regions we will endeavour to walk downhill most of the time! Expect a typically tropical climate with the lowlands being quite warm, and the montane areas being much cooler.
Receive our e-newsletter:
Join the Zoothera e-mailing list for up-to-date news on new tours, tour reports and special offers.
e-mail [email protected] to sign up.

Previous Tour reports: January 2009 January 2012

Recommended Books, CD's and more from NHBS. Click on - Buy from NHBS - to go straight to website!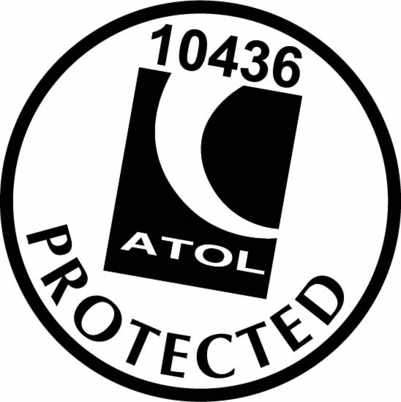 The air holidays and flights shown are ATOL protected by the Civil Aviation Authority. Our ATOL number is 10436. Please see our Terms and Conditions for more information.