Brazil - Atlantic Rainforest & more!
Friday 23rd November – Wednesday 5th December 2012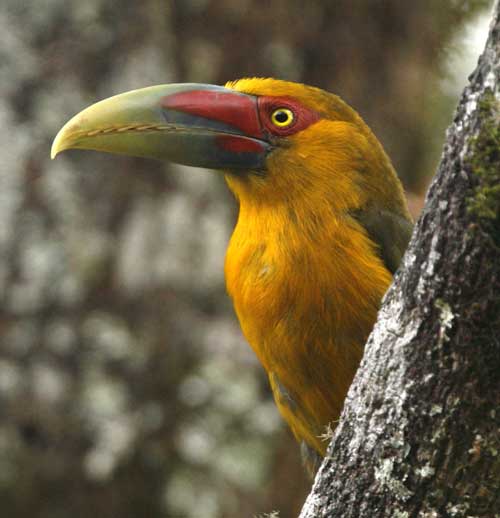 The bird rich Brazilian Atlantic Rainforest has become well known in recent years due to several well placed lodges that offer the chance to see a good selection of birds within a short stay of 7 or 8 days. Now with our new itinerary you can see all these birds plus another 100 species as we visit the coastal area of Ubatuba, followed by the fabulous Itaciaia National Park and then on to the Atlantic Rainforests lodges of Guapi Assu (Regua) and Serra dos Tucanos. This area of Brazil is well-known for its beautiful scenery where well-preserved Atlantic Forest covers the mountains and comes right down almost to the beaches of the Atlantic Ocean. Many sought after and restricted range species will be sought in this exceptional itinerary, where you get a chance to bird a variety of habitats from mist shrouded cloud forests, wet tropical rainforest, lakes and marshland, open farmland, tumbling streams and dry coastal scrub. If you want a tour that will look for many Brazilian Atlantic Rainforest endemics staying at a selection of fantastic lodges many with feeders that attract hummingbirds, tanagers and toucans then this is it!
| | |
| --- | --- |
| Sharp-tailed Streamcreeper | Speckle-breasted Antpitta |
Day
1
Depart UK or other destinations
-

Friday
23rd Nov
If you are departing from the UK or other country then you need to arrive in Sao Paulo, on the 23rd Nov. Overnight can be arranged in the Comfort Inn ready for our start after breakfast the following morning - Sat 24th Nov


Days 2 - 4
Arrive Sau Paulo – Ubatuba
- 24th - 26th
After breakfast this morning we will make our way towards Ubatuba.
Known as the Costa Verde (Green Coast) this region is the home to around 46 Brazilian endemic species. In contrast with Itatiaia and areas such as Serra dos Órgãos National Parks, many of the birds that live in this region are closely associated with coastal forests at lower altitude and with very different flora. Once there we will make a stop at a restaurant with superb bird feeders where we can expect Red-necked Tanager, Green-headed Tanager, Brazilian Tanager, Golden-chevroned Tanager, Blue Dacnis, Chestnut-bellied Euphonia, Saw-billed Hermit, Violet-capped Woodnymph, and Sombre Hummingbird. Later on we will check in to our coastal hotel, after which we can take a short walk to look for shorebirds, terns, Brown Booby, Kelp Gull and Snowy Egret. After an early breakfast we will leave for a whole days birding in this paradise! Following a short drive to a private park we have very good chances to see some very special birds such as Buff-throated Purpletuft, Chestnut-crowned Becard, the stunning Festive Coquette and White-chinned Sapphire. We can also expect Scaled Antbird, Brazilian Tanager, Ruby-crowned Tanager, Streaked and Fork-tailed Flycatcher, Sick's Swift, Yellow-headed Caracara, Social Flycatcher and Slaty-breasted Wood-Rail. We will then return to town for lunch after which we will take another short drive for afternoon birding at an Eco-resort where we will look for excellent species such as Riverbank Warbler, Brown-backed Parrotlet, Spot-breasted Antvireo, Rufous-winged Antwren, Ferruginous Antbird, Black-cheeked Gnateater, Chestnut-vented Conebill, Creamy-bellied and Yellow-legged Thrush, Red-rumped Cacique, Blond-crested Woodpecker, Olive-green, Black-backed and Brassy-breasted Tanagers and possibly Crane Hawk, Least Grebe, Channel-billed Toucan and Cocoi Heron. With one more entire day at this amazing birding area, we will leave early and drive to a private property where we can see feeders alive with hundreds of hummingbirds and tanagers. We could see 11 or more species of hummingbird including the delightful Festive Coquette, Black-throated Mango, Saw-billed Hermit, Versicolored Emerald, Amethyst Woodstar, Sombre Hummingbird and Black Jacobin. A parade of other species could include Chestnut-bellied Euphonia, Palm Tanager, Violaceous Euphonia, and Green Honeycreeper. Just around the house there is an awesome trail giving chances for Green-backed Becard, Buff-bellied Puffbird, Slaty Bristlefront, Red-crowned Ant-Tanager, White-eyed Foliage-gleaner, Blue Manakin, Olivaceous Woodcreeper, White-barred Piculet and Barred Forest-Falcon. Going back to town for lunch we will then leave and drive the short distance to a farm to look for White-bearded Manakin, Rufous-capped Antthrush, Swallow-tailed Cotinga, Long-billed Wren, Flame-crested Tanager, Green-barred Woodpecker, White-tailed Hawk, Black-tailed Tityra, Yellow-bellied Elaenia and Pale-breasted Thrush. 3 nights at Ubatuba

Days 5 - 7
Ubatuba - Itatiaia
- 27th - 29th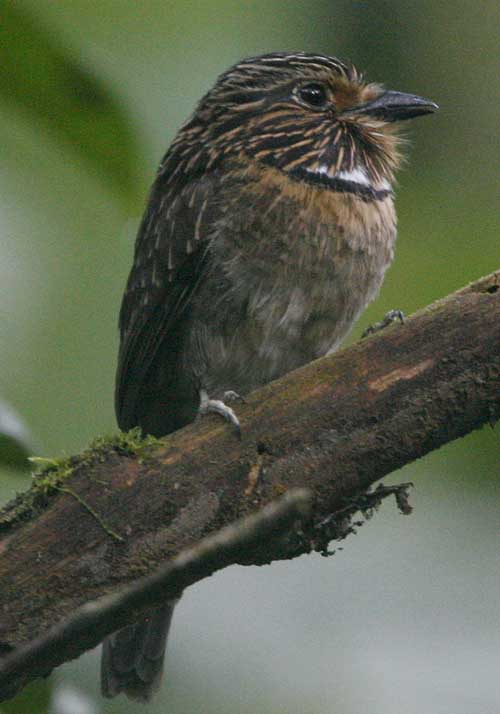 After our breakfast a short ride will take us to another farm where we will spend our last morning in Ubatuba. Here we have chances for Solitary Tinamou, Scaled Woodcreeper, Fork-tailed Tody-Tyrant, Red-eyed Thornbird, Scaly-headed Parrot, Saffron Finch, Gray-hooded Attila, Star-throated Antwren, Pin-tailed Manakin, Mouse-colored Tapaculo, Short-tailed Antthrush, Squamate Antbird, Gray-headed Flycatcher, Variable Antshrike, Short-tailed Hawk, White-spotted Woodpecker and White-tailed Trogon. After lunch we will check out and depart to Itatiaia, about a 2 and a half hours drive. Once there we will make a stop at a marsh to look for Blackish Rail, Wing-banded Hornero, Chestnut-capped Blackbird, Blue-winged Parrotlet, Masked Water-Tyrant, Masked Yellowthroat, Cinnamon Tanager, Streamer-tailed Tyrant, Lesser Yellowlegs, and Rufous-capped Spinetail. We'll stay three nights in a lovely hotel with feeders that attract some of the most colourful birds on the planet, including Green-headed Tanager, Blue-naped Chlorophonia, Yellow-fronted Woodpecker, and Saffron Toucanet. We will take early breakfasts at 5:30 before checking the many trails and their splendid array of species. There are good chances for: Black-billed Scythebill, Saffron Toucanet, Yellow-fronted Woodpecker, Blue-naped Chlorophonia, Frilled Coquette, Brazilian Ruby, Olive-green Tanager, White-bearded Antshrike, Rufous-tailed Antbird, Greenish Schiffornis, Lineated Woodpecker, Dusky-legged Guan, White-throated Tapaculo, Scale-throated Hermit, Tropical Pewee, Sepia-capped Flycatcher, Glittering-bellied Emerald, Rufous-capped Motmot, Crested Becard, Red-capped Parrot, Tropical Parula, Velvety Black-Tyrant, Long-tailed Tyrant, Tropical-Screech Owl, Yellow-legged Thrush, and Black Hawk-Eagle. We'll have a full day to explore the beautiful, epiphyte-laden forest of Itaciaia National Park birding the trails that will give us a chance of some shy species like Such's and Rufous-tailed Antthrushes, Rufous Gnateater, and more of the Atlantic Forest's unbeatable antbirds like Bertoni's and White-bibbed Antbirds. This is also one of the best spots for the very local Robust Woodpecker. The highest peaks in southern Brazil are easily accessed by a dirt road on the other side of the park, and species like Itatiaia Thistletail, Black-capped Piprites, and Thick-billed Saltator are more easily seen here than anywhere else. Targeting the cute Speckle-breasted Antpitta usually involves a bit of hard work, but our guide has had great success with it over the last few years. After an early breakfast on our last full day here we will explore agulhas negras trail. This awesome trail offers chances of Ochre-faced Tody-Flycatcher, Pallid Spinetail, Red-rumped Warbling-Finch, Black-and-gold Cotinga, Rufous-tailed Antthrush, Yellow-olive Flycatcher, Buff-fronted Foliage-gleaner, Yellow-lored Tody-Flycatcher, Spot-winged Woodquail, Plumbeous Kite, Black-capped Piprites, Araucaria Tit-Spinetail, Burnished-buff Tanager, Double-collared Seedeater, Thick-billed Saltator, Surucua Trogon, Maroon-bellied Parakeets, Plumbeous Pigeon, Itatiaia Spinetail, Bertoni's Antbird, Rufous-winged Antwren, White-rimmed Warbler, Sharpbill, Tawny-headed Swallow, Rufous-crowned Greenlet, Fawn-breasted Tanager, and Great Pampa-Finch. 3 nights at Hotel do Ype.


Days 8 - 10
Itatiaia - Guapi Assu Bird Lodge (Regua)
- 30th Nov
- 2nd Dec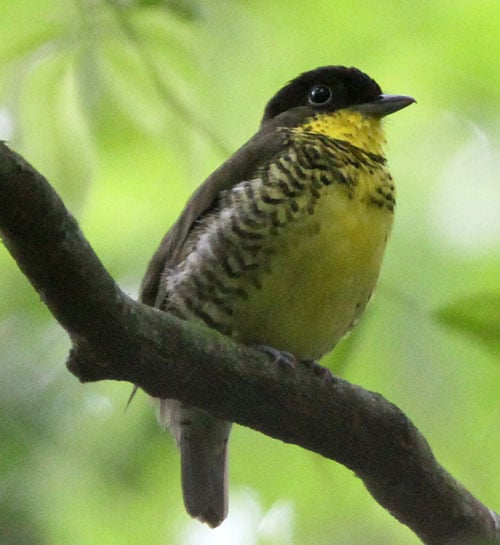 Leaving Itaciaia we will drive to Guapi Assu Bird Lodge (Regua) for a three-night stay. Early morning starts are required to search for specialities such as Tawny-browed Owl and the much sought after Giant Snipe. So far 63 Brazilian endemics and 111 Atlantic Forest endemics have been recorded here. The Lodge is beautifully situated on a small hill at the edge of restored wetlands, and overlooks the forested Serra dos Órgãos mountains where we have access to low and high altitude forests and the reserve wetlands. REGUA alone is home to twelve species classified as Threatened by BirdLife International - the endangered Crowned Eagle and Brown-backed Parrotlet, and the vulnerable White-necked Hawk, Golden-tailed Parrotlet, White-bearded Antshrike, Salvadori's Antwren, Russet-winged Spadebill, Bare-throated Bellbird, Black-backed and Black-goggled Tanager, Black-legged Dacnis, Buffy-fronted and Temminck's Seedeaters. A further 26 species on the reserve list are classified as near-threatened. Often the forest is so full of birds that it can take hours just to walk a few hundred yards. Stunning areas such as the waterfall trail can produce Rufous-capped Antthrush, Southern Antpipit, Eye-ringed Tody-Tyrant, White-bearded Manakin and Black-cheeked Gnateater, while hummingbirds and other species fight for attention in and around the lodge gardens. A host of excellent species will be sought including Crescent.-chested Puffbird, Spot-billed Toucanet, Eastern Striped Manakin, Spotted Bamboowren, Sooretama Slaty Antshrike and the mythical Shrike-like Cotinga. Further exploration could turn up Black-and-white Hawk-Eagle, Reddish Hermit, Striped Cuckoo, Moustached Wren, Yellow-backed Tanager, Rufous-tailed Jacamar, Sooty Tyrannulet, Blond-crested Woodpecker, Buff-throated Saltator, White-headed Marsh-Tyrant, Lemon-chested Greenlet, White-flanked Antwren, Orange-winged Parrot, Scissor-tailed Nightjar, Rufous-sided Crake, Chestnut-backed Antshrike, Aplomado Falcon, Striped Owl, Bran-coloured Flycatcher, Masked Duck and Rufescent Tiger-Heron. If your interested in dragonflies then the wetlands around our lodge play host to countless species and we can check for Black-capped Donacobius, Yellow-chinned Spinetail, Brazilian Teal, White-faced Whistling-Duck, Striated Heron, Greater Ani and if we are lucky maybe a Capybara or A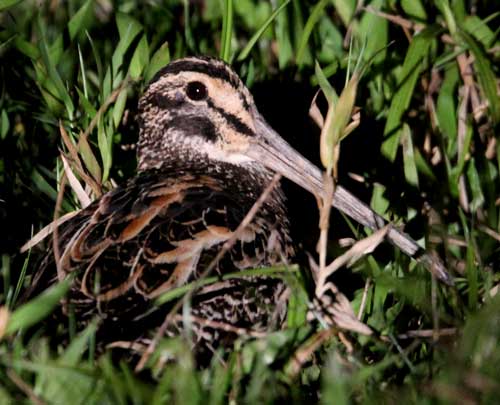 Blackish Rail. By visiting several nearby forests and trails we can add many new and exciting species such as Bare-throated Bellbird, White-eared Puffbird, Yellow-fronted and Yellow-eared Woodpecker, Chestnut-crowned, Crested, White-winged and Green-backed Becard, Rufous-capped Motmot, Hooded Berrypecker, Blue-billed Black-Tyrant, Euler's Flycatcher, Brown Tanager, Sharpbill and possibly Rufous-thighed Kite. We could also have both Tropical Screech-owl and Common Potoo on day roosts! On our last day we will take a 3 hour drive to visit to Cabo Frio (coastal restinga) where we will spend most of the day. The reward for this is the rare Restinga Antwren, plus a host of coastal species such as Little Blue Heron, Collared Plover, Tropical Mockingbird, Least Sandpiper, Greater and Lesser Yellowlegs, Sandwich and Cayenne Terns, Magnificent Frigatebird, Hangnest Tody-Tyrant, Tawny-crowned Pygmy-Tyrant, White-browed Blackbird, Plain-breasted Ground-Dove, Sooretama Slaty Antshrike, White-cheeked Pintail, Hudsonian Godwit, Roseate Spoonbill, Semipalmated Plover, Sanderling, Ruddy Turnstone and Brown Booby. If we were very lucky we might also find a Magellanic Penguin loafing around in the surf. We will later make our way back to the Atlantic rainforest and our last night at this fabulous lodge. 3 nights at Guapi Assu Bird Lodge.

Days 11 - 12

Guapi Assu - Serra dos Tucanos
- 3rd - 4th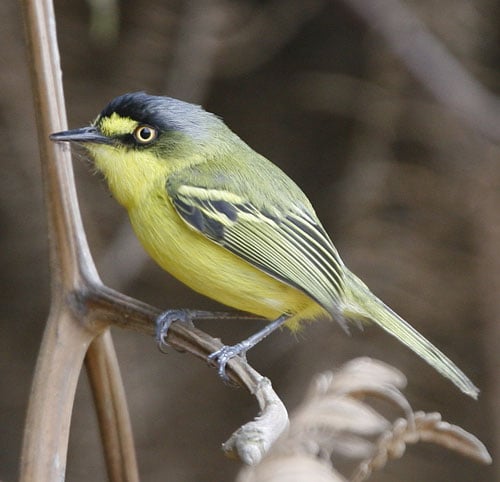 After breakfast we will make our way toward Serra dos Tucanos bird lodge where we have the day to head up the mountains in order to search for the very rare Gray-winged Cotinga, a ghostly bird that haunts the highest reaches of the forest. This spot will also give us our first shot at some really nice high-mountain species, including Plovercrest, Rufous-tailed Antbird, and Serra do Mar Tyrannulet. Other excellent species in this area include Black-and-gold Cotinga, Swallow-tailed Cotinga, White-rimmed Warbler, Drab-breasted Bamboo-Tyrant, Azure-shouldered and Diademed Tanagers, Giant Antshrike,and possibly in grasslands nearby we could find Red-legged Seriema. Other superb birds in the area include Hooded Berryeater, and a wealth of stunning species that will be new to our trip. With hummingbird feeders and a table full of fruit, it's a true delight to gaze at the myriad of dazzling colours. Swallow-tailed Hummingbird, Sombre Hummingbird, Saw-billed Hermit, Black Jacobin, and Versicolored Emerald flit around the gardens, while we keep a look out for Blond-crested Woodpecker, Spot-billed Toucanet, Ruby-crowned Tanager, Pin-tailed and Blue Manakin and beside the nearby stream we can hope to get Sharp-tailed Streamcreeper. There is plenty more birding in the area and our efforts will concentrate on species we may have missed or have yet to see. The Three-toed Jacamar will certainly be one of these and depending where we go we could also add Brown Tinamou, Mantled Hawk, Golden-tailed Parrolet, Least Pygmy-Owl, Black-throated Trogon, Spotted Bamboowren, Green-winged Saltator, Russet-winged Spadebill, Planalto Tyrannulet, Variegated Antpitta, Lesser Woodcreeper, Rufous Gnateater, Blue-billed Black-Tyrant, Shear-tailed Gray-Tyrant, Green-chinned Euphonia, Blue-bellied Parrot, Salvadori's Antwren, White-browed Foliage-gleaner, Half-collared Sparrow, Plain Antvireo, Tufted Antshrike. Southern Antpipit, Black-capped Foliage-gleaner, Rufous-breasted Leaftosser, Ochre-bellied Flycatcher, Spot-backed Antshrike, White-shouldered Fire-eye, Yellow-green Grosbeak, Pileated Finch, Ash-throated Crake, Capped and Whistling Herons. 2 nights at Serra dos Tucanos.
Day 13 Serra dos Tucanos – End of Tour - Wed 5th Dec
Depending on flight times we may have time for further exploration of the lodge grounds before heading to Rio de Janeiro in time for our international departures. If returning to UK you will get back on - Thur 6th Dec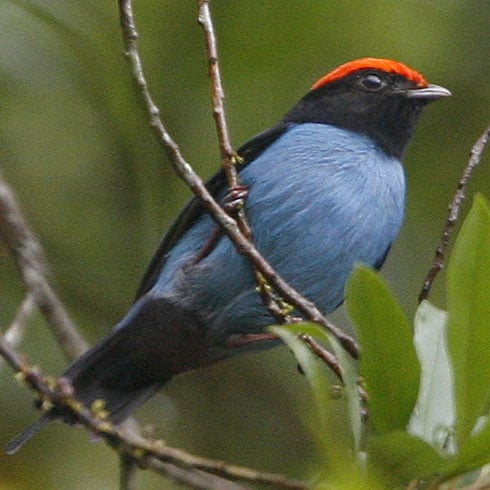 Leader: Chris Townend and Paulo Boute

Ground Price: £2495.00 - Sao Paulo/Rio de Janeiro

Airfare: £700.00 (Approx) UK/UK

Single supplement: £395.00

Deposit: £400.00
Group size: Minimum for tour to go ahead 6, max 12
Included in cost: Accommodation in twin rooms, all meals from Breakfast on 24th Nov to lunch on 5th Dec, ground transport throughout, 4x4 on 2 days, park entrance fees, daily bottle of water and snacks and services of leaders.

Not included: International flights, insurance, drinks, tips, and items of a personal nature. Airport meals outside of our above inclusion

Accommodation: Our hotels and lodges are all of a high standard and all are within easy reach of the areas we wish to bird.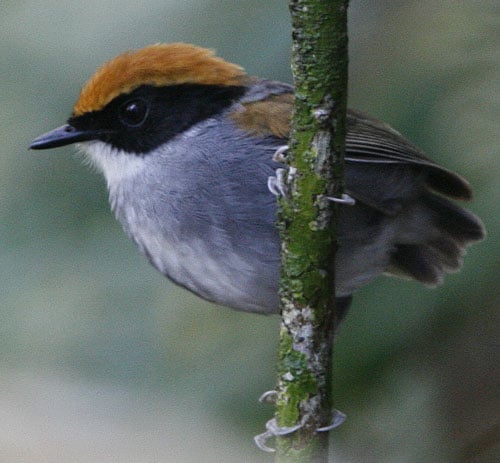 Tour Code: This is a standard birding tour with all day birding. We will generally take picnic lunches unless close to our lodge where we will take a restaurant lunch The weather can be unsettled at this time of year, so expect some cooler weather with the chances of an odd shower, which is far better than sunshine for birding!

Note: We will be using expert local guides throughout this tour plus Zoothera guide. At Ubatuba and Itatiaia our expert guide will be Paulo Boute and at Regua we have Leonardo, while Serra dos Tucanos we have Cirilo. All these guides are the best in each area and will see the tour achieve excellent results compared to other trips to the Atlantic Rainforest!


Receive our e-newsletter:
Join the Zoothera e-mailing list for up-to-date news on new tours, tour reports and special offers.
e-mail [email protected] to sign up.
2011 Trip Report Brazil Atlantic Rainforest Photo Gallery
Recommended Books, CD's and more from NHBS. Click on - Buy from NHBS - to go straight to website!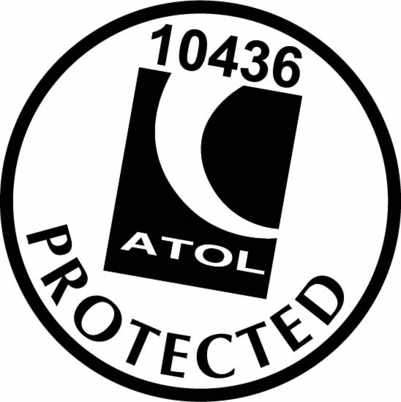 The air holidays and flights shown are ATOL protected by the Civil Aviation Authority. Our ATOL number is 10436. Please see our Terms and Conditions for more information.