Kenya - The Classic African Adventure
Friday 4th November – Saturday 19th November 2011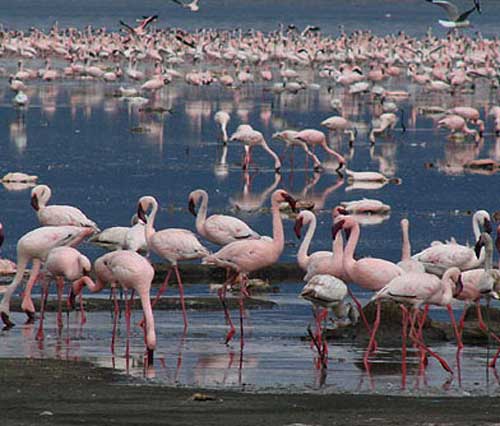 The epitome of African wildlife watching, Kenya is well known as a paradise for birders and wildlife enthusiasts. This tour takes us to the famous big game parks of Nairobi, Samburu and the famous Masai Mara to the lush rainforests of Kakamega, and the bird-rich Rift Valley lakes of Baringo, Nakuru, and Naivasha, as well as the forested slopes of the snow-capped Mt. Kenya. On this safari we can expect to see an awful lot of birds as well as many spectacular mammals unique to the African savannah. There will be no roughing it on our tour, as we will be staying in comfortable scenic lodges that provide fine dining, and all in the heart of the African wilderness. By visiting so many varied and exciting habitats we are sure to see more than the average tour to this wonderful destination. If you've ever wanted to visit Kenya and enjoy its birdlife and mammals then this is a once in a lifetime trip that should not be missed!
Yellow-bellied Wattle-eye

Lion, Leopard, Rhino, Giraffe

Elephant, Cheetah, Hippo, Gnu
Day 1 Arrive Nairobi - Mount Kenya - 4th Nov
After our morning arrival in Nairobi we will transfer to Mt Lodge, getting to grips with our first exciting wildlife en-route. A few of the bird species that could set this tour rolling may include Hadada Ibis, African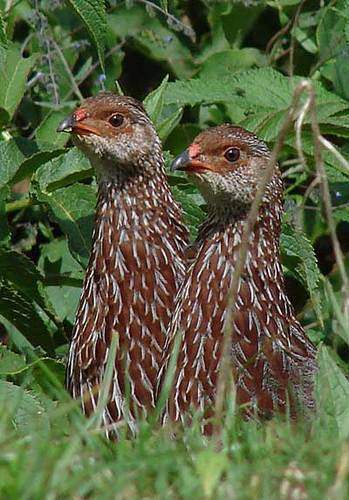 Green-pigeon, Speckled Mousebird, Cinnamon-chested Bee-eater, Holub's Golden-weaver, Baglafecht Weaver, Variable, Collared and Scarlet-chested Sunbirds. A stop along the Tana River, should find Moustached Grass-warbler, African Golden-weaver, Yellow Bishop and Brown-backed Mannikins, while another stop will be specifically for the endemic Hinde's Pied-babbler. As we approach our unique Mountain Lodge set at an elevation of 7,200 ft, we will pass through areas of excellent woodland where we may encounter Spot-flanked and White-headed Barbets, Yellow-rumped Tinkerbird, Mountain Wagtail, Black-throated Wattle-eye and Grey-capped Warbler. With other possibilities such as Ayres's Hawk-eagle, African Wood-owl, Brown-hooded Kingfisher, Grey-olive Greenbul and Green-headed Sunbird during the day we will be off to a good start. This lodge is located beside a well known natural mineral lick where Elephant, Cape Buffalo, Black Rhino, Waterbuck, and others come to satisfy their salt cravings. Birds are also attracted to this area and from the veranda you can see the spectacular Silvery-cheeked Hornbill, Red-fronted Parrot, Olive and Eastern Bronze-naped Pigeons, Hartlaub's Turaco, Moustached Tinkerbird, Mosque Swallow, Black Sawwing, Cape Wagtail, both Waller's and Sharpe's Starlings, Purple-throated Cuckoo-shrike, African Paradise-flycatcher, Cape Robin-chat and Eastern Double-collared Sunbird. In the evening Verreaux's Eagle-Owls often perch nearby, while floodlights are kept on during the night for game viewing, giving a mystical effect. If you choose, staff will ring your room during the night if shyer forest species such as Leopard, Giant Forest Hog, Bush Pig, Suni, White-tailed and Marsh Mongooses, or Common Genet wander in. Night at Serena Mountain Lodge
Days 2 - 3
Mount Kenya - Samburu Game Reserve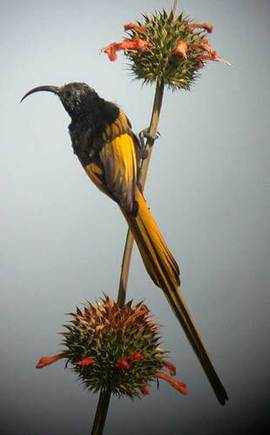 This morning we will begin birding from the balcony and around the Lodge looking for highland specialities like Scaly Francolin, Crowned Hornbill, Black Goshawk, Delegourge's Pigeon, Fine-banded Woodpecker, Grey Cuckoo-Shrike, Golden-rumped Tinkerbird, Slender-billed and Mountain Greenbul, 4 species of apalis, African Hill-Babbler, White-starred Robin, Mountain Yellow-Flycatcher, Montane Oriole, Abbott's and Kenrick's Starlings, Rüppell's Robin-chat, Hunter's Cisticola, Golden-winged Sunbird, Oriole Finch and Yellow-bellied Waxbill. Later on we will depart these cool climes for the more dry, hot country of the Samburu Game Reserve. Our journey will offer wonderful scenery, and amongst the grasslands we will look for Black-shouldered Kite Black-winged Plover, Dusky Turtle-dove, Angola Swallow, Greater Blue-eared Glossy-starling, Cape Rook, Boran Cisticola, Tacazze Sunbird and Speke's Weaver.
Samburu is one of the most exciting reserves in East Africa and our morning and afternoon game drives will be spent looking for such specialities as Palm-nut and Hooded Vultures, Bateleur, Martial Eagle, African Hawk-eagle, Red-necked Falcon, Somali Courser, Crested and Yellow-necked Francolins, Vulturine Guineafowl, Black-faced and Lichtenstein's Sandgrouse, Buff-crested, White-bellied and Kori Bustards, African Scops-owl, Pearl-spotted Owlet, Bearded Woodpecker, Pink-breasted Lark, Somali Bee-eater, Somali Ostrich, Rosy-patched Bush-Shrike, Red-and-yellow Barbet, Somali Long-billed Crombec, Golden Pipit, Donaldson-Smith's Sparrow-weaver, Somali Golden-breasted Bunting, Fisher's and the beautiful Golden-breasted Starling, This park is fantastic for mammals and here you get the feel of real Africa with species such as Lion, Cheetah, Leopard, Spotted Hyena, Silver-backed Jackal, Reticulated Giraffe, Elephant, Grevy's Zebra, Kirk's Dikdik, Gerenuk, Beisa Oryx and Cape Buffalo.
Two nights at the Samburu Serena Lodge

Day 4 Samburu Game Reserve, Buffalo Springs - Naro Moru River Lodge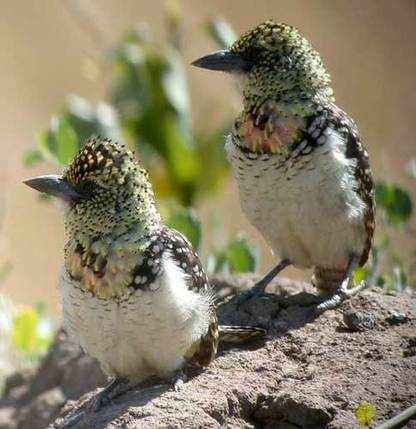 This morning we will visit the nearby Buffalo Springs Game Reserve. This area is home to many specialities including Somali Ostrich, Lappet-faced Vulture, Rüppell's Griffon-vulture, Eastern Chanting-goshawk, Pygmy Falcon, Somali Courser, Chestnut-bellied Sandgrouse, Cardinal and Nubian Woodpeckers, Fischer's and Chestnut-headed Sparrow-larks, Spotted Morning-thrush, Mariqua Sunbird, Taita Fiscal, Black-capped Social Weaver and Golden Palm Weaver. We will then head for the Naro Moro River Lodge located on the northern edge of Mt Kenya. Along the way we will stop at the Meru Forest, where several good species can be found. Here we will look for Black-headed Apalis, White-eared Barbet, Yellow-bellied Greenbul, African Crested-flycatcher and Kenrick's and Black-bellied Glossy-starlings. Our lodge is set in extensive grounds beside a flowing stream where we may African Black Duck, Narina Trogon, Hartlaub's Turaco, Long-crested Eagle, Sulphur-breasted Bush-shrike, Mountain Wagtail, Tropical Boubou and Tacazze Sunbird.
One night at the Naro Moru River Lodge.
Day 5 Mount Kenya - Lake Nakuru
Today we will set off early and drive to Mt Kenya National Park. From the entrance gate we will search for species such as Mountain Yellow Warbler, Hunter's Cisticola, Red-fronted Parrot, Yellow-bellied Waxbill and the impressive Martial and African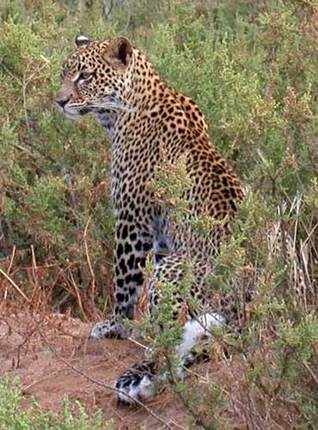 Crowned Eagles. Then winding our way up the road to the Meteorological Station we will keep an eye out for such birds as Mountain Buzzard, Silvery-cheeked Hornbill, Rameron Pigeon, African Emerald Cuckoo, White-headed Woodhoopoe, Grey Cuckoo-shrike, Brown Woodland-warbler, Waller's Starling, Abyssinian Crimson-wing and Black-headed Waxbill. As we reach our highest point there are fewer birds and we concentrate our efforts on finding the beautiful Abyssinian Ground-thrush, Alpine Chat, Olive Thrush, Cinnamon Bracken-warbler and Jackson's Francolin. Heading back down the mountain we will continue on to Lake Nakuru National Park, one of the World's greatest birding spectacles! Along the way we could see Black-bellied or Kori Bustards and at a designated stop, where one of our local contacts awaits us, we will look for the rare Mackinder's Eagle Owl on its daytime roost. Other species we should keep a look out for include Little Rock-thrush, Pale Flycatcher, Red-winged Starling and Purple Grenadier. Arriving in the afternoon we will visit this huge alkaline which appears pink at a distance but closer inspection reveals literally millions of Lesser Flamingos and fewer Greater Flamingos which will vie for countless photographs. Amongst this haze of pink, and groups of White Pelicans we will search for Kittlitz's Plover, dark phase Dimorphic Egret and many migrant shorebirds around the soda encrusted edge of the lake. In the forest along the edge of the lake we will watch for African Harrier-Hawk, African Fish-eagle, Hildebrandt's and Coqui Francolins, Tambourine Dove, Red-throated Wryneck, Striped Kingfisher, Black Cuckoo-shrike, Rufous-crowned and Broad-billed Rollers, Greater Honeyguide, Arrow-marked Babbler, Mocking Cliff-Chat, Northern Anteater Chat, and with luck the local Grey-crested Helmet-Shrike. Mammals often take the spotlight with Lion, the huge and endangered White Rhino, Rothschild's Giraffe, DeFasso Waterbuck and hopefully Leopard, which tend to rest in trees sleeping off their previous night's meal. One night at the Lion Hill Sarova Lodge.
Days 6 - 7 Nakuru - Lake Baringo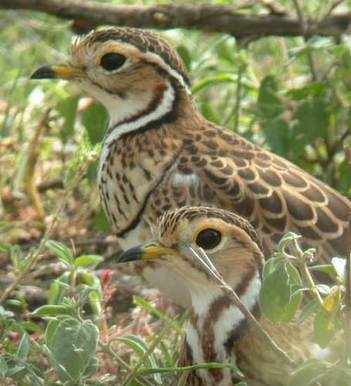 Our last morning at Lake Nakuru will give us many more opportunities to see a wide variety of birds and mammals including such delights as Hamerkop, Cape and Hottentot Teals, Tawny Eagle, Red-chested and Klaas's Cuckoos, Nyanza Swift, White-browed Robin-chat, Greater Honeyguide, Rüppell's Glossy-starling and Golden-breasted Bunting. Moving on we head toward Lake Baringo a fresh water lake that holds a profusion of species. Once at our lodge we should have enough time to familiarise ourselves with some of the garden birds which include the huge Verreaux's Eagle-Owl, Woodland Kingfisher, Nubian and Bearded Woodpeckers, Jackson's Golden-backed and Little Weavers, Spotted Morning Thrush and Northern White-crowned Shrike. Some of the specialities around the lake and in the nearby Baringo cliffs include Verreaux's Eagle, Lanner Falcon, Dark Chanting-goshawk, Northern White-faced Owl, Greyish Eagle-owl, Jackson's and Hemprich's Hornbills, African Pygmy Kingfisher, Madagascar Bee-eater, Pygmy Batis, Red-fronted and Black-throated Barbet, Red-fronted Warbler, Brown-tailed Chat, Somali Tit, Beautiful Sunbird, Bristle-crowned Starling, Blue-naped Mousebird, Northern Masked-weaver, Northern Red Bishop and Eastern Paradise-whydah. Nearby, our local contacts should have the stunning Heuglin's Courser and Slender-tailed Nightjar staked-out. Two nights at Lake Baringo Country Club.
Days 8 - 10 Baringo - Kakamega
After some final birding in the Lake Baringo area we will drive to the fabulous Kakamega Rainforest Preserve. As usual along the way we take in several very special areas where we will search for species such as Crowned Hornbill, Boran Cisticola,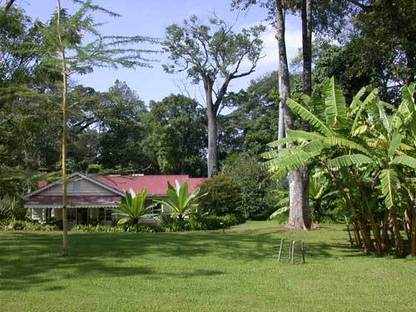 Silverbird, Cinnamon-breasted Bunting, Chestnut-crowned Sparrow-Weaver, and in and around a small forest White-crested Turaco, African Black and Horus Swifts, Double-toothed Barbet, Long-billed Pipit, Reichard's Seedeater, Brown Babbler, White-crested Helmet-shrike and Black-headed Gonolek.
A small pool may find us Grosbeak Weaver, Ross's Turaco, Red-faced Cisticola, Pallid Honeyguide and Purple-throated Cuckoo-Shrike. Arriving late afternoon at the Rondo Retreat Centre in the Kakamega Rainforest Preserve we should have some time to bird the manicured grounds of the lodge, which is a great place to see groups of Black-and-white Casqued Hornbill and the huge Great Blue Turaco. Kakamega is the easternmost extension of the Congo Rainforest and is undeniably the best birding area in the entire country. There are species that are found nowhere else in Kenya and it is these that we will be targeting. The mornings at the Rondo come alive with the dawn chorus of greenbuls and robin-chats. In a nearby ravine we may see White-spotted Flufftail, Banded Prinia, Grey-winged Robin, and several members of the shy illadopsis genus. Most of our time will be spent within the bird rich and diverse Kakamega Rainforest Preserve. This area may prove to be the highlight of our tour, and we will be well looked after by one of the local guides that knows the forest intimately. Spectacular species include Great Blue Turaco, Blue-headed Bee-eater, Golden-crowned and Brown-eared Woodpeckers, Crested Guineafowl, Yellow-billed and Hairy-breasted Barbet, Turner's Eremomela, Bar-tailed Trogon, Petit's Cuckoo-Shrike, Equatorial Akalat, Brown-chested Alethe, African Emerald Cuckoo, African Broadbill, Stuhlmann's Starling, Yellow-bellied, Chestnut, and Jameson's Wattle-eyes, Southern Hyliota, White-tailed Antthrush, Mackinnon's Fiscal, Pink-footed Puffback, Grey-green and Ludher's Bush-shrikes, Red-headed Malimbe and Red-headed Bluebill. There are a few mammals here including the handsome Eastern Black-and-white Colobus Monkey, Gentle Monkey and Red-legged Sun-squirrel. Three nights at Rondo Retreat
Days 11 - 12 Lake Victoria - Masia Mara Game Reserve
An early morning departure will see us head to Kisumu on the northeastern shore of Lake Victoria where we will search for the specialities of the area. At the lakeside we can look for the beautiful Golden-winged Sunbird, Eastern Grey Plaintain-eater,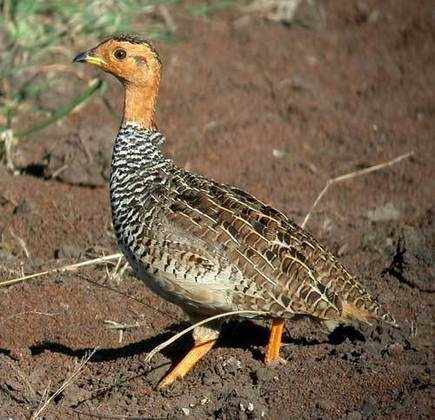 Black-billed Barbet, Swamp Flycatcher, Red-chested and Olive-bellied Sunbirds, and Yellow-backed, Black-headed Gonolek, Slender-billed and Northern Brown-throated Weavers. Also present are Abdim's and Open-billed Stork, Water Thick-knee and Blue-headed Coucal, while amongst the Papyrus we will seek to find, Papyrus Gonolek, Papyrus Canary, Greater and Lesser Swamp Warblers, Red-chested Sunbird and Carruther's Cisticola. We may be lucky to catch sight of an African Hobby dashing past, but we need to be very lucky to find White-winged and Papyrus Yellow Warblers as they are getting increasingly rare due to loss of habitat. From Lake Victoria we will drive to the Masai Mara Game Reserve in south-western Kenya. The 'Mara' as it is usually referred to is the northern extension of the famous Serengeti plains. The Masai Mara, is without doubt Kenya's finest wildlife reserve and offers dramatic scenery comprising of endless tracts of grassland, acacia savannah and thorn-bush broken up by patches of lush riverine woodland. Here we will be surrounded by countless birds and mammals set amongst scenery so typical of all those African wildlife programmes you've watched. Amongst the varied birdlife we hope to see Common Ostrich, Wahlberg's Eagle, Saddle-billed Stork, Rufous-bellied Heron, Red-necked and Coqui Francolins, Grey Crowned-crane, White and Black-bellied Bustards, Temminck's Courser, Black-winged Plover, Wattled Lapwing, Ross's and Schalow's Turacos, Woodland Kingfisher, Yellow-throated Longclaw, Rufous-chested Swallow, White-tailed Lark, Familiar Chat, Red-faced, Trilling and Tabora Cisticolas, Black-crowned Tchagra Green-capped Eremomela, Violet-backed Starlings, Yellow-fronted Canary and Cinnamon-breasted Bunting. We will be visiting the prime spots in the Mara to see big game up close and we hope to connect with species such as Spotted Hyena, Black-backed Jackal, Bat-eared Fox, Banded Mongoose, Serval Cat, African Lion, Leopard, the famous 'Mara' Cheetah's, Bush Hyrax, African Elephant, Common Zebra, Hippo, Common Warthog, Masai Giraffe, African Buffalo, Eland, Steinbuck, Bohor Reedbuck, Thomson's and Grant's Gazelles, Impala, Topi, Coke's Hartebeest and Wildebeest. Make sure your cameras are charged and ready
Two nights at the Mara Serena Lodge.
Day 13 Masia Mara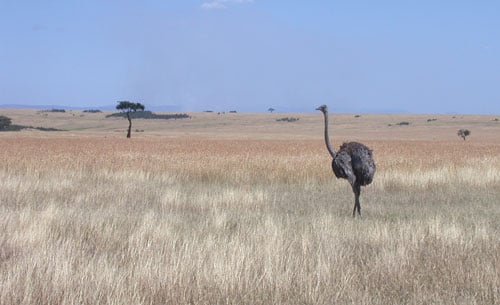 Leaving early we will travel across the vast open grasslands of the 'Mara', and then across the Mara River where we can see wallowing Hippos and huge Crocodiles. We will see many Masai with their cattle herds – an evocative sight that will become an integral part of the scenery. Birding here is delightfully easy, with many open and bird-rich habitats including degraded plains we should keep an eye open for Two-banded and Temminck's Coursers, and Yellow-throated Sandgrouse, plus dry thorn-scrub and acacia covered hills where we should find species such as Secretarybird, White-headed and Lappet-faced Vultures, Black-breasted and Brown Snake-eagles, Grey Kestrel, the superb Southern Ground-hornbill, Little Bee-eater, Rosy-breasted Longclaw, Flappet and Rufous-naped Larks, Sooty Chat, Red-billed and Yellow-billed Oxpeckers, Cardinal Quelea, Yellow-shouldered Widowbird, and African Quail-finch. One night at the Mara Sarova Luxury Tented Camp.
Day 14 Masia Mara - Lake Naivasha
Leaving early we will bird the flat-topped Acacia woodland in the Siana Springs area of the southern Mara.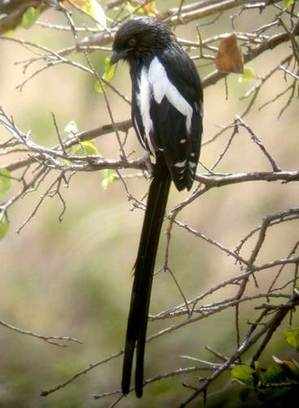 This area holds several species found nowhere else in the country. Some of the specialities and commoner species we will look for include Rueppell's Griffon, Gabar Goshawk, Lanner Falcon, Bare-faced Go-away-bird, Spotted Thick-knee, Magpie Shrike, African Penduline-tit, African Scimitarbill, Croaking Cisticola, Red-throated Tit, Flappet Lark, Red-headed Weaver, Miombo Camaroptera, Green-winged Pytilia, Black-throated Canary and Golden-breasted Bunting. Mid-morning we will depart for Lake Naivasha, travelling through the Great Rift Valley. As we travel through breathtaking scenery we could come across Bateleur, Egyptian Vulture, Greater Kestrel, Kori Bustard, Grey-capped Social Weaver, Southern Grosbeak-Canary, Grey-rumped Swallow, Mottled Swift, Capped and Schalow's Wheatears and Red-billed Quelea. An afternoon arrival will allow us to bird the tall Acacia woodland in the beautiful hotel grounds. Birds to be expected here are Gabar Goshawk, Black and Diederik Cuckoos, Verreaux's Eagle-owl, White-fronted Bee-eater, Lesser and Wahlberg's Honeyguides, Black-lored Babbler, Amethyst Sunbird, Grey-headed Bush-shrike and Spectacled Weaver. In amongst scrubby habitat we have a chance of seeing Grey-crested Helmet-shrike and it is a good place for finding the recently split Buff-bellied Penduline Tit.

One night at Lake Naivasha Country Club.

Day 15 Lake Naivasha - Nairobi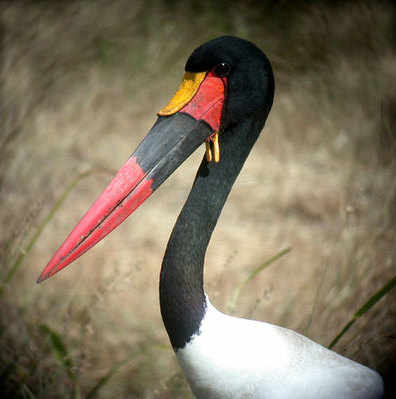 The morning will begin with an exciting boat trip on Lake Naivasha. Special birds we will be looking for while out on the lake include Pink-backed Pelican, Goliath and Purple Herons, Southern Pochard, African Marsh-harrier, Purple Swamphen, Lesser Moorhen, Three-banded Plover and Lesser Swamp-warbler. Mid-morning we will depart for Nairobi, making several birding stops en route. Our first destination will take to an area where we hope to find the endemic Sharpe's Longclaw, a species that is on the decline due to habitat loss. With our local guides up to the minute knowledge and some luck we should be able to locate this very special bird. Also in this habitat we may come across Ayres's Cisticola. Our next stop is a small area of middle-elevation forest on the Kikuyu Escarpment, home to several species new to our tour. The main target birds in this area are Cameroon Scrub-warbler, Abbott's Starling, White-tailed Crested-flycatcher, Snowy-headed Robin-Chat, Black-collared Apalis, Banded Prinia, Placid Greenbul, and the gorgeous Black-fronted Bush-shrike. Our final birding stop is at a roadside pond where we can easily view an array of waterbirds that should include Madagascar Pond-heron, Intermediate Egret, Maccoa and White-backed Ducks, White-faced and Fulvous Whistling-ducks, Black Crake and Whiskered Tern. One night at Nairobi.
Day 16 Nairobi National Park, Depart - 19th Nov
Our last day in Kenya will be spent birding in the famous Nairobi National Park. This extensive tract of savanna and open grassland lies close to the city and has a wealth of wildlife that can be found in many areas where the habitat varies such as forest, Acacia woodland, rocky escarpments, large ponds and small streams. Some of the key species we will search for are Shelley's Francolin, Hartlaub's Bustard, Spotted Thick-knee, Yellow-throated Sandgrouse, Singing and Siffling Cisticola, Banded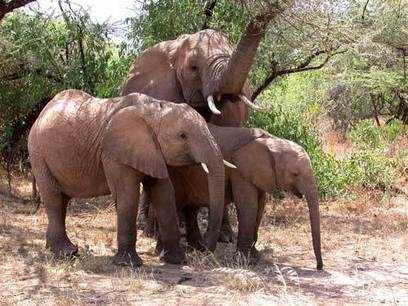 and Brown Parisomas, African Yellow Warbler, Northern Pied Babbler, Holub's Golden Weaver, Long-tailed Fiscal and White-winged Widowbird. We shall also have a chance of finding localized species such as Hartlaub's Bustard and Pangani Longclaw. Nairobi National Park is without a doubt the best place in Kenya to see the endangered Black Rhino and we have a very good chance of locating this impressive species, alongside other large mammals that include Common Zebra, Common Warthog, Masai Giraffe, Grant's Gazelle, Impala, Kongoni and Olive Baboons. Amongst the thick, bushes and dry thorn scrub we will finish off with a huge variety of species such as Speckled Mousebird, Cinnamon-chested Bee-eater, Yellow-rumped Tinkerbird, Dark-capped Bulbul, Cape Robin Chat, White-browed Scrub Robin, Mountain Thrush, White-eyed Slaty Flycatchers, Tawny-flanked Prinia, Grey-backed Camaroptera, Yellow-breasted Apalis, Buff-bellied Warbler, Abyssinian White-eye, White-bellied Tit, African Paradise Flycatcher, Brown-crowned Tchagra, Slate-coloured and Tropical Boubous, Black-backed Puffback, Black Cuckoo-shrike, Variable, Amethyst, Scarlet-chested, and Northern Double-collared Sunbirds, Red-billed and African Firefinches, Red-cheeked Cordon-bleu, Common Waxbill, Pin-tailed Whydah, Streaky and Reichenow's Seedeaters, Brimstone Canary and Cinnamon-breasted and Golden-breasted Buntings. The open grasslands support Common Ostrich, Secretary Bird, Black-shouldered Kite, African White-backed Vulture, Bateleur, African Harrier Hawk, Pallid and Montagu's Harriers, Great Sparrowhawk, Steppe Buzzard, Augur Buzzard, Tawny, Long-crested and Martial Eagles, Lanner Falcon, Yellow-necked Spurfowl, White-bellied Bustard, Grey-crowned Crane, Diederik Cuckoo, White-browed Coucal, African Palm Swift, Mottled and White-rumped Swifts, Striped Kingfisher, Eurasian and Little Bee-eaters, Rufous-naped Lark, Fischer's Sparrow Lark, Yellow-throated and Rosy-breasted Longclaws, Banded, Plain and Rock Martins, Black Saw-wing, African Moustached Warbler, Dark-capped Yellow Warbler, Singing, Rattling, Desert, Winding, Croaking, Stout, and Pectoral-patch Cisticolas, Rufous-tailed Shrikes, Blue-eared and Superb Starlings, Red-billed Oxpecker, Yellow-spotted Petronia, Kenya Rufous Sparrow. Down beside the Athi River it can be very productive for birds such as Spot-flanked and White-headed Barbets, Eastern Honeybird, Lesser Honeyguide, Cardinal and African Grey-headed Woodpeckers, Red-faced Cisticola, and Grey-capped Warbler. Small areas of water scattered around the park may hold Pink-backed Pelican, Long-tailed Cormorant, Squacco, Green-backed, and Black-headed Herons, Saddle-billed, Yellow-billed and huge Marabou Storks, Hadada Ibis, African Spoonbill, White-faced Whistling Duck, Malachite and Pied Kingfishers, Black Crake, Blacksmith, Spur-winged, Crowned, Kittlitz's and Three-banded Plovers, Little Stint, Ruff, Marsh Sandpiper, Common Greenshank, Green, Wood and Common Sandpipers, as well as Lesser Swamp and Little Rush Warblers.

All in all a fitting end to what will undoubtedly be the best value tour to one of Africa's greatest wildlife arenas!
Afternoon departure from Nairobi End of Tour - 19th Nov

Leaders: Steve Bird, Gina Nichol & Local Kenyan Guide.
Ground Price: £2995.00 - Nairobi/Nairobi

~ PLUS ~

Airfare: £570 (Approx) - UK/UK
Zoothera tour prices explained

Single supplement: £455.00 Deposit: £400.00
Group size: Minimum for tour to go ahead 4 and maximum 11 with 2 leaders
Included in cost

:
Accommodation in twin rooms en-suite, all meals from lunch on day 1 to lunch on last day, drinking water from van cool box, transport in exclusive pop-up roof minibuses which accommodate 6 persons each with guaranteed window seats, boat trips in Naivasha and Baringo, all parks, reserve and conservation areas entry fees, and services of all local guides and leaders.
Not included

:
International airfare, insurance, visa fee, departure tax, drinks, tips, and items of a personal nature.
Accommodation: Ranges from very good to good, food is generally of a high standard and mostly buffet
Tour Code: This tour is the classic African safari with the added bonus of hundreds of species of birds. The days can be long as it is important to be out at dawn and again out until dusk, we will endeavour to rest in the middle of the day or travel to our next destination as this is generally the least active time of day. Each vehicle will hold up to 6 passengers and we have pop-up roof to enable easy wildlife viewing. Most of the parks require us to remain within the vehicle, although outside the parks we have many areas that we can explore on foot.
Receive our e-newsletter:
Join the Zoothera e-mailing list for up-to-date news on new tours, tour reports and special offers.
e-mail [email protected] to sign up
View Tour Itinerary as a PDF File
Previous Tour Reports: June 2007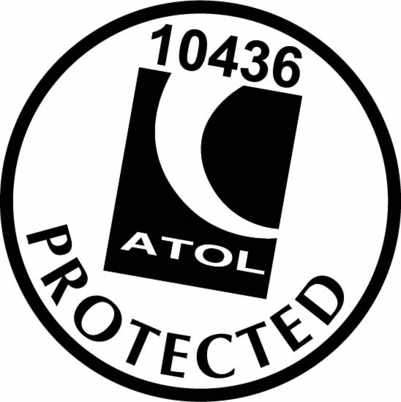 The air holidays and flights shown are ATOL protected by the Civil Aviation Authority. Our ATOL number is 10436. Please see our Terms and Conditions for more information.