Namibia, Botswana and Zambia Tour Report 2015
14th October - 29th october 2015
TOUR HIGHLIGHTS:
Either for rarity value, excellent views or simply a group favourite.
Orange River Francolin
Natal Spurfowl
Slaty Egret
Rufous-bellied Heron
White-backed Night-Heron
Secretarybird
African Goshawk
Red-crested Korhaan
African Rail
African Finfoot
Blue Crane
Wattled Crane
White-crowned Lapwing
Caspian Plover
Lesser Jacana
Burchell's Courser
Double-banded Courser
African Skimmer
Burchell's Sandgrouse
Schalow's Turaco
Coppery-tailed Coucal
Pel's Fishing Owl
African Barred Owlet
Fiery-necked Nightjar
Rufous-cheeked Nightjar

Brown-hooded Kingfisher
Southern Carmine Bee-eater
Racket-tailed Roller
Violet Woodhoopoe
Trumpeter Hornbill
Monteiro's Hornbill
Crested Barbet
Black-collared Barbet
Bennett's Woodpecker
Olive Woodpecker
Meyer's Parrot
Ruppell's Parrot
Swamp Boubou
Magpie Shrike
Eastern Nicator
Cape Penduline-Tit
Rockrunner
Rufous-eared Warbler
Green-capped Eremomela
Collared Palm-Thrush
Kurrichane Thrush
Purple-banded Sunbird
Violet-eared Waxbill
Brown Firefinch
50 species of mammal
SUMMARY: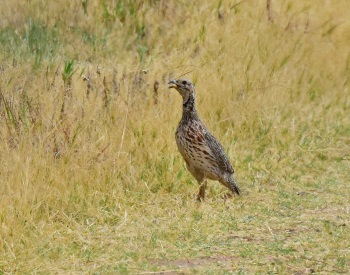 Our Namibia, Botswana & Zambia tour provided a kaleidoscope of wonderful sightings and on reflection this really was the perfect African safari experience. We had come for the birds, of course, but the 50 species of mammal included all of those iconic animals you would expect. But apart from some amazing encounters with Lions, Leopard, Black Rhino, Hippos & Sable, it was the sheer numbers of mammals observed that were quite literally mind-blowing. The moment we drove down to the riverplain at Chobe NP and counted 1000+ African Elephants in front of us was positively spine-tingling. However, no trip to this part of the world would be complete without an encounter with Pel's Fishing Owl and our views of two birds in a large tree were superb. It doesn't get much better than watching a nesting colony of Southern Carmine Bee-eaters just a few metres away from your boat along the Okavango River, a Schalow's Turaco literally glowing in the evening sunlight or a Fiery-necked Nightjar hovering in front of your face. From Etosha, through the Caprivi Strip, Okavango Panhandle and ending up at Victoria Falls this truly was the trip of a lifetime.