Ethiopia Tour Report 2015
18th November - 5th December 2015
TOUR HIGHLIGHTS:
Either for rarity value, excellent views or simply a group favourite.
Moorland Francolin
Harwood's Francolin
African Pygmy Goose
Wattled Ibis
90+ Abdim's Storks
Lammergeier
Martial Eagle
Verreaux's Eagle
Great Sparrowhawk
White-headed Vulture
Rouget's Rail
Arabian Bustard
White-bellied Bustard
Double-banded Courser
Somali Courser
Lichtenstein's Sandgrouse
Lesser Jacana
Spot-breasted Lapwing
African White-winged Dove
Ruspoli's Turaco
Abyssinian Owl
Donaldson-Smith's Nightjar
Plain Nightjar
Banded Barbet
Scaly-throated Honeyguide
Abyssinian Woodpecker
Yellow-fronted Parrot
Yellow-breasted Barbet

Abyssinian Oriole
Stresemann's Bushcrow
Thick-billed Raven
Mouse-coloured Penduline-Tit
Sidamo Lark
Gillett's Lark
White-tailed Swallow
Red-naped Bush-shrike
African Spotted Creeper
Abyssinian Catbird
Sharpe's Starling
Golden-breasted Starling
Abyssinian Ground Thrush
Bare-eyed Thrush
Spotted Palm-Thrush
White-winged Cliff-Chat
Abyssinian Wheatear
White-backed Black Tit
Nile Valley Sunbird
Red-billed Pytilia
Purple Grenadier
Abyssinian Crimsonwing
Abyssinian Longclaw
Salvadori's Seedeater
Hippopotamus
Bat-eared Fox
Serval
Simien Wolf
SUMMARY: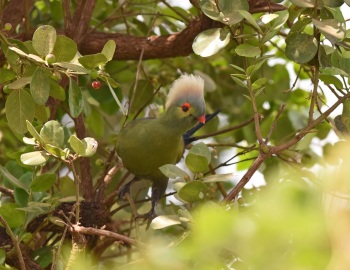 Once again Ethiopia proved to be a superb birding destination and quite literally birds were everywhere! Despite the drought affecting most of the wetlands we recorded more birds than ever before on this tour and we saw 472 species, of which 35 were endemics. The tour began amidst the stunning landscapes of Debre Libanos and the Jemma Valley and produced Harwood's Francolin, Half-collared Kingfisher, Abyssinian Wheatear, Red-billed Pytilia and the first of two sightings of Serval during the tour. Moving south into the African Rift Valley we visited Lake Ziway where you get incredible close encounters with pelicans, storks and ibis. As ever, Spotted Creeper was a star find alongside Lake Hawassa before we headed up into the Bale Mountains and the spectacular scenery of the Sanetti Plateau. Such stars as Abyssinian Owl , Abyssinian Oriole, Abyssinian Catbird, Abyssinian Woodpecker and the ridiculously tame Rouget's Rail showed very well, as did Salvadori's Seedeater at Sof Omar. The journey south was sprinkled with stardust in the shape of Ruspoli's Turaco and Sidamo Lark. And Yabello didn't disappoint with White-tailed Swallow, Stresemann's Bushcrow, Red-naped Bushshrike and a Donaldson-Smith's Nightjar in my spotlight. It's a long trek north to fabulous Bishangari where Yellow-fronted Parrot, Scaly-throated Honeyguide, Lesser Jacana, 3 Hippos and a fantastic shorebird-filled marsh stand out in our memories. We ended up at Awash National Park with Arabian Bustard, Nile Valley Sunbird and a surprise find in Double-banded Courser being the stand-out birds. Our tours to fabulous bird-filled Ethiopia just keep getting better and better!