China in Winter - Crane Spectacular
Thursday 22nd November – Friday 7th December 2018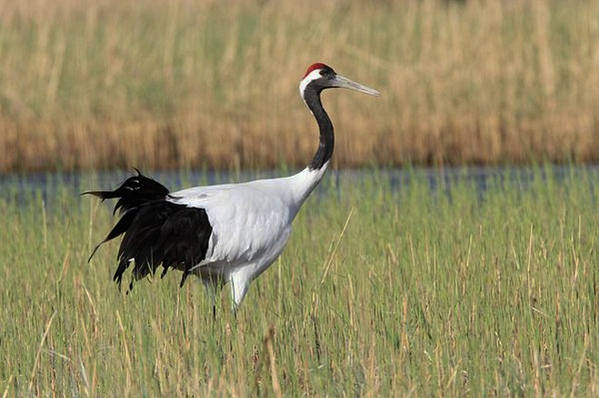 The magnificent wetlands of south-east China are our primary focus as we go in search of some of the world's most endangered waterbirds, as well as visiting other sites for a mouth-watering selection of exciting endemic and localised specialities. We start this exciting tour with an exploration of Yancheng Reserve for the first of a possible 6 species of crane, the stunning Red-crowned Crane. Moving on to Poyang Hu with its wintering population of Siberian and White-naped Cranes, there are usually small numbers of Hooded Cranes here and we'll be on the lookout for the critically endangered Oriental Stork as well. There is also a chance of seeing a few Sandhill Cranes that have migrated the 'wrong way' from their Siberian breeding grounds and there should be flocks of Common Cranes as well. Add to this a good chance of Baer's Pochard, Baikal Teal, Falcated Duck, Swan and Lesser White-fronted Geese, Saunders's Gull and the rare Relict Gull and we are in for a winter birding spectacle! Moving on into rural China the secluded rivers of Jiangxi Province are home to the rare and beautiful Scaly-sided Merganser, a species high on everyone's wish list. The spectacular forested mountain of Emei Feng is home to the spectacular Elliot's Pheasant and stunning Cabot's Tragopan, along with Silver and Koklass Pheasants. There are also a number of very good passerines to search for in the hidden valleys and forests in this region and further along the coast at Fuzhou Forest Park such as the endemic Chinese Bamboo-Partridge, Chinese Grey Shrike, Grey-sided Scimitar-Babbler, Huet's Fulvetta and Indochinese Yuhina amongst others. We should also find the endemic Reed Parrotbill, whilst some key wintering species are particularly attractive to visiting birders such as Northern Red-flanked Bluetail, Dusky, Pale, Grey-backed and Naumann's Thrushes, and Pallas's Reed Bunting. We end the tour at the Minjiang Estuary, which has a reputation for its wintering Spoon-billed Sandpipers, and this great area has Black-faced Spoonbill as well as a good selection of other waders to keep us entertained. Our last tour here found 8 species of thrush and 12 species of bunting, experienced excellent visible migration, enjoyed large flocks of waterfowl, and the cacophony of noise from hundreds of cranes and geese at various sites will live long in the memory. Prepare to be enthralled and surprised by the outstanding birding opportunities of a winter visit to amazing China!
Targets:
Silver Pheasant

White-necklaced Partridge

Elliot's Pheasant

Koklass Pheasant

Cabot's Tragopan

Baer's Pochard

Baikal Teal

Swan Goose

Scaly-sided Merganser

Lesser White-fronted Goose

Black-faced Spoonbill

Oriental Stork

Siberian Crane

White-naped Crane

Hooded Crane

Red-crowned Crane

Swinhoe's Rail

Long-billed Plover

Spoon-billed Sandpiper

Saunders's Gull

Relict Gull

Bay Woodpecker

Reed Parrotbill

Short-tailed Parrotbill

Japanese Swamp Warbler

Grey-sided Scimitar-babbler

Chinese Hwamei

Moustached Laughingthrush

Huet's Fulvetta

Naumann's Thrush

Grey-backed Thrush

White's Thrush

Chestnut Bulbul

Indochinese Yuhina

Buff-bellied Pipit

Yellow-browed Bunting

Japanese Reed Bunting

Pallas's Reed Bunting
Day 1

Arrival in Shanghai - Yancheng

- 22nd November
Following an overnight flight we will arrive in Shanghai (Pudong) during the morning of 22nd November and then drive for 3 - 4 hours to a coastal site that can be very good for the Critically Endangered Spoon-billed Sandpiper. This coastal area of the Yellow Sea is one of the best locations to see this much-wanted bird, along with other great birds such as Black-faced Spoonbill, Chinese Egret and Saunder's Gull. This could be a great start to the tour and amongst other species we could see this afternoon include Dalmatian Pelican, Red-necked Stint, and both Vega and Heuglin's Gulls. A series of lagoons and marshes on the landward side hold flocks of ducks and there are usually plenty of Falcated Ducks here, mingled with large numbers of more familiar waterfowl as well as Eastern Spot-billed Duck and Greater Scaup. Night in Jianggang.

Days 2 - 3

Dongtai -
Y
ancheng Nature Reserve
We can return the short distance to the coast for a futher perusal of the wildfowl and to check if there are any Baikal Teal present. This coastal area around Dongtai is also good for passerines and possibilities include flocks of Chinese Penduline-Tits, Pale and Dusky Thrushes usually give good views and are relatively common, Pallas's Leaf Warblers add a splash of colour, whilst Oriental Skylarks and Bramblings can fly over in quite a spectacle of visible migration. One of the features of winter birding in China is the impressive numbers of buntings and out last tour saw 12 species! In this area we could see Chestnut-eared, Rustic, and both Japanese Reed and Pallas's Reed Buntings.

From Dongtai it is a 2 hour drive to Yancheng Nature Reserve in eastern Jiangsu and is located beside the Yellow Sea. It has a huge mosaic of habitats including saltpans, lagoons, coastal grassland and reed beds and holds one of the largest winter concentrations of waterbirds in Asia. It is famous as the wintering home of half of the world's population of Red-crowned Crane, which only numbers around 2000 individuals and we will spend plenty of time observing these stunning birds. This reserve usually holds a few Hooded Cranes, whilst Common Cranes are also fairly prominent and sometimes even Sandhill Cranes that have migrated the 'wrong way' from their Siberian breeding grounds are present. And what a place this is as amongst an impressive array of other species we hope to see some truly desirable and much-wanted birds including Baikal Teal and Falcated Duck. Amongst a superb selection of Eastern Palearctic gulls residing here, the striking Saunders's Gull should not be too hard to find, and with a little luck the rare Relict Gull is sometimes present. Other highlights from our action-packed couple of days birding here could include the endemic Reed Parrotbill, which is like a monster Bearded Reedling, Vinous-throated Parrotbill, Chinese Penduline-Tit, Chinese Grey Shrike, both Japanese and Pallas's Reed Buntings, and our last tour found Chestnut and Yellow-breasted Buntings here along with huge flocks of Little Buntings.

Our eyes will also be drawn to the huge numbers of wintering wildfowl and there will be large rafts of many familiar and common species, but of more interest are Tundra Bean Goose, Eastern Spot-billed Duck and Smew amongst others. In fact the spectacle of thousands of birds flying over, often at really close quarters, and the cacophony of sound is truly thrilling. Other species of interest usually present include Great Bittern, Eastern Marsh and Hen Harriers, Eastern Buzzard, Mongolian, Heuglin's, Black-tailed, Vega and Kamchatka Gulls, Caspian Tern, Oriental Skylark, Buff-bellied and Water Pipits, Northern Red-flanked Bluetail, Daurian Redstart, Chinese Blackbird, White-cheeked Starling, Azure-winged Magpie, Lapland Longspur and numerous Rustic and Black-faced Buntings. Nights at Yancheng.


Day 4

Yancheng - Shanghai
We can visit a nearby forest park this morning, which can hold some interesting and very desirable wintering species such as Long Eared Owl, Siberian Rubythroat, White's, Naumann's, Dusky and Pale Thrushes, Pallas's Warbler, Mugimaki Flycatcher, Hawfinch, and the stunning Northern Red-flanked Bluetail. Our last tour also found Silver-throated Bushtit and there's always a chance of Japanese Waxwing here as well. Nearby fields can be worth checking for Rustic, Chestnut-eared, Little and Pallas's Reed Buntings if we still need them. Once we are finished here we will return to Shanghai along the modern expressways and a new bridge over the mighty Yangtze River and spend the night in a comfortable hotel near Shanghai.

DAY 5

Shanghai - Nanhui - Nanchang - Poyang Lake


Just 45 minutes away from our hotel is the coastal area of Nanhui, which has a variety of habitats and can hold some good wintering species, as well as having a good track record of some local rarities. Several small areas with trees hold a variety of warblers, thrushes and buntings, whilst along the coast there's always a good variety of wildfowl and a decent chance of seeing Bakal Teal, Tundra Swan and sometimes Swan Goose. The vast, wide-open fields and marshes attract Brown Crake, Brown-cheeked Rail, Oriental Pratincole, Eastern Marsh Harrier, Black-winged Kite, and further chances of Eye-browed Thrush, possibly Grey-backed Thrush and Pallas's Reed Bunting. After a full morning's birding we will drive to Pudong Airport in Shanghai and fly to Nanchang, the capital of Jiangxi province.
Upon arrival we will drive just over an hour to Wucheng, which is our base for the next 3 nights.
Days 6 - 7
Poyang Lake
We have 2 full days to explore the world-renowned Poyang Hu situated to the south of the great Yangtze River. Poyang Hu is the largest freshwater lake in China, covering about 3000 square kilometres and is a mosaic of shallow lakes that prove attractive to literally hundreds of thousands of waterbirds. It is one of the most important wetlands in the world and each winter holds an estimated 1500 - 2000 Siberian Cranes (95% of the world population), as well 2000+ of the equally majestic White-naped Crane, along with smaller numbers of the scarce Hooded Crane as well. The sheer numbers of waterbirds and wildfowl here are unbelievable including estimated wintering populations of 2000+ Tundra Swans, 10,000 Swan Geese, 5000+ Greater White-fronted Geese and smaller numbers of Swan, Greylag, Lesser White-fronted and Taiga Bean Geese. And there is also a healthy population of Oriental Stork here as well. Add to this numerous commoner wildfowl and good chances of the much-wanted Baer's Pochard, Baikal Teal and Falcated Duck, plus large flocks of Pied Avocets and Spotted Redshanks and you can imagine how exciting it will be to go birding here! To get the best out of this area we will explore this huge wetland by boat and this should enable us to get very good views of these superb birds.


Amongst a fine supporting cast we will be on the lookout for Japanese Quail, Eastern Imperial
Eagle, Brown Crake, Pacific Golden Plover, Daurian Redstart, Chinese Blackbird, Chinese Grosbeak, Oriental Skylark, Grey-backed Thrush, Japanese Swamp Warbler, Masked and White-browed Laughingthrushes, Sooty-headed Bulbul, Oriental Greenfinch, Crested Myna, Richard's, Red-throated, Buff-bellied and Water Pipits, White-cheeked, Black-collared and the endemic Red-billed Starling, and both Elegant and Yellow-browed Buntings. We will also make a concerted effort to find the poorly-known Swinhoe's Rail, although we shall need a great deal of luck! We will spend these nights at Wucheng, which is on an island in the middle of the wetlands and for most of the year can only be reached by boat.
Day 8

Poyang Lake - Nanjishan - Wuyuan



We will have a little time to check out some nearby areas, possibly for Swinhoe's Crake at Nanjishan, and we could also find Dusky Warbler or Yellow-throated Bunting here, and have one last look at the cranes. Then we will set off on the long drive to Wuyuan, which will take most of the day along the new highways that have recently been built. We should arrive at the picturesque small town of Wuyuan in the early evening in time for another great meal. Night in Wuyuan.
Days 9 - 10

Wuyuan
We have two full days to explore the secluded rivers, scrub-covered hillsides and hidden valleys for some excellent birds. Pride of place goes to the rare and little-known Scaly-sided Merganser whose global population is estimated by Birdlife International as being between 2400-4000 mature individuals, and winters regularly in small numbers on a couple of rivers near the town. Amongst a great selection of other localised, rare, and endemic species in this area we hope to find Chinese Bamboo-Partridge, Mandarin Duck, Pied Falconet, Long-billed Plover, Collared Finchbill, Chestnut Bulbul, Chinese Hwamei, Short-tailed Parrotbill, Moustached Laughingthrush, Grey-sided Scimitar Babbler, Huet's Fulvetta and Fork-tailed Sunbird. More widespread species include Asian Barred and Collared Owlets, Crested Kingfisher, Grey-headed and Grey-capped Pygmy Woodpeckers, Plumbeous Water Redstart, Grey-chinned Minivet, White-crowned Forktail, Mountain and Black Bulbuls, Dusky and Grey-backed Thrushes, Streak-breasted Scimitar-babbler, Masked and White-browed Laughingthrushes, White-crowned Forktail, Vinous-throated Parrotbill, Brownish-flanked Bush-Warbler, Pallas's Leaf Warbler, Rufous-capped Babbler, Red-billed Leiothrix, Dusky Fulvetta, Black-throated Bushtit, Red-billed Blue Magpie, Russet Sparrow, Red-billed Starling, Japanese White-eye, Grey-capped Greenfinch and Black-faced, Yellow-browed, Tristram's and Meadow Buntings. Nights in Wuyuan.
Day 11

Wuyuan - Emei Feng



We will depart early from Wuyuan and drive to Emei Feng in Fujian Province, arriving in the afternoon and a perfect time to look for the shy Elliott's Pheasant that can sometimes be seen feeding at the edge of small fields and forest clearings. Night at Taining.
Day 12

Emei Feng
An early start will see us slowly driving up into the mountains in search of our main target of Elliot's Pheasant, which are incredibly shy and endemic to south-east China. Although this is currently the best site in the country to find this species, it is still very difficult and moves quietly through the bamboo but emerges onto the tracks to take grit in the early mornings and late evenings. This mountain's other main prize is Cabot's Tragopan, also endemic to SE China, and resides in the moss-encrusted forest at the top of the mountain. It is also a very difficult species to find and we will have to walk and drive along the upper section of road repeatedly to have any chance of seeing one. The
endemic White-necklaced (Rickett's) Partridge is also found here but we have a better chance of finding this species at Fuzhou Forest Park, but there are also good chances of Chinese Bamboo Partridge, Koklass and Silver Pheasants here. Other species present in winter include Collared Owlet, Grey-headed and Bay Woodpeckers, Sultan and Yellow-cheeked Tits, Spotted Forktail, White-bellied Erpornis, Black and Mountain Bulbuls, Japanese White-eye and White's Thrush. Night at Taining.
Day 13
Emei Feng - Fuzhou Forest Park
We have another chance to look for Elliot's Pheasant at Emei Feng this morning before driving to Fuzhou where we stay in a nice hotel in the city. Upon arrival we will spend the afternoon in Fuzhou Forest Park situated right at the edge of the city. An excellent network of trails criss-cross the forested hillsides here and give access to excellent lowland forest that is home to some very special birds including Silver Pheasant, White-necklaced (or Rickett's) Partridge and Spotted Elachura - this latter species has recently been reclassified and now been placed in its own monotypic family. Other species to be found here include Black Eagle, Crested Goshawk, Red-headed Trogon, Great Barbet, Speckled Piculet, Rufous, Pale-headed and Bay Woodpeckers, Slaty-backed Forktail, Chestnut and Mountain Bulbuls, Large Woodshrike, Scarlet Minivet, Asian Stubtail, Grey-headed Parrotbill, Orange-bellied Leafbird, Mugimaki or even a rarer overwintering Blue-and-white Flycatcher, Fork-tailed Sunbird, Slaty-backed Forktail, Grey-sided Scimitar-Babbler, Rufous-capped Babbler, Masked, Lesser Necklaced and Greater-necklaced Laughingthrushes, Chinese Hwamei, Eye-browed, Grey-backed and Siberian Thrushes, Rufous-faced Warbler, Huet's Fulvetta, Indochinese Yuhina, Fire-breasted Flowerpecker, Olive-backed Pipit, Grey Treepie and Tristram's Bunting. Night in Fuzhou.

Day 14

Fuzhou Forest Park -

Minjiang Estuary

We can spend the morning back in Fuzhou Forest Park searching for any species we might still need. The forest here can be very productive in the early morning and as we walk quietly along the trails we will listen for the tell-tale rustling in the leaf litter that could betray the presence of White-necklaced Partridge - the key species here. Once we are finished here we will visit the nearby Minjiang Estuary, which is arguably the most reliable site in the world for Spoon-billed Sandpiper – one of the world's rarest and most enigmatic waders. The extensive areas of inter-tidal mudflats that are exposed at low tide appear to be irresistible to this species and up to ten 'spoonies' have been found here in recent winters. We have timed our visit to coincide with the best tides and may well need to take a small boat out to Shanyutan, a small island in the Minjiang Estuary to get the best views of the them. During our search of this area and other coastal sites we also hope to see the endangered Black-faced Spoonbill, as well as Eastern Spot-billed Duck, Eastern Marsh Harrier, Greater and Mongolian Sandplovers, the taxonomically challenging White-faced Plover, Red-necked Stint, Terek Sandpiper and many other shorebirds, Black-tailed, Vega, Heuglin's, and the endangered Saunders's Gull, Richard's, Red-throated and Water Pipits, Japanese White-eye, Yellow-browed Warbler and Chinese Penduline Tit amongst others.

Day 15 Minjiang Estuary/Fuzhou Forest Park - Shanghai
We have most of the day to revisit the Minjiang Estuary or Fuzhou Forest Park in search of any species we still need, depending on our priorities. So we can either enjoy further views of Spoon-billed Sandpipers or we can hit the trails in Fuzhou Forest Park in search of some of the trickier forest birds as you never know what you will see here, and hopefully our patience will be rewarded with better views of Silver Pheasant or White-necklaced Partridge, or possibly we can find one of the rarer passerines that often overwinter here such as a Japanese Robin! In the late afternoon/evening we will fly to Shanghai and stay overnight at a good airport hotel. Night in Shanghai.

Day 16 Shanghai - UK - End of Tour - 7th December
Return international flights back to the UK/Europe/USA and the conclusion of a wonderful tour.
Leaders: Nick Upton and local guides.

Ground Price:
£3250.00
- Shanghai/Shanghai

Airfare:

£550 - 600.00

(Approx) - UK/UK
Single supplement:
£350.00
Deposit: £500.00
Group size: Minimum for tour to go ahead 5 and maximum 9 with 2 leaders.
Included in cost: Accommodation in twin rooms, all en-suite, all meals, bottled water, all entrance fees, domestic flights, all transport throughout, and services of leader and an English speaking guide.
Not included: International airfare, visa fee, insurance, drinks, tips, and items of a personal nature.
Accommodation: Considering this tour is venturing into the relatively unknown, most of the hotels and lodges used on this tour are of a reasonably good standard. Although please bear in mind we are going to be well off the tourist trail! But we are staying in the best available hotels closest to the birding sites.
Tour Code: This is definitely an exciting tour as we will stray a long way off the tourist circuit into areas hardly visited by any other western birder. Expect good food, decent hotels, some long drives and a mixture of weather from pleasantly mild to very cold. There is also a chance of rain and freezing temperatures so be prepared! Above all, you need to expect the unexpected! This is definitely not a standard tour and we will spend full days in the field, but the days aren't too long (sunrise 6.15am - sunset around 5.15pm) and will need to be especially persistant to find some of the target species.



Receive our e-newsletter:
Join the Zoothera e-mailing list for up-to-date news on new tours, tour reports and special offers.
e-mail [email protected] to sign up.