Cambodia 2020
Friday 6th March – Thursday 19th March 2020
Situated between Thailand and Vietnam, Cambodia was, for a long time, one of Southeast Asia's inaccessible and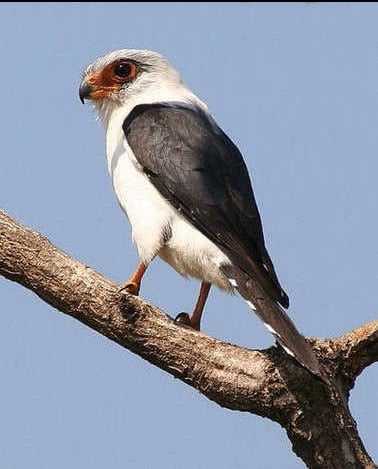 tantalizing birding destinations but with the stabilization of the country it has, quite rightly, become a must-visit country for some of the region's rarest birds. The most highly prized of these are the amazing and near-mythical Giant Ibis and the exceedingly rare White-shouldered Ibis. Both species are classified as critically endangered by Birdlife International with very restricted ranges and exceedingly small breeding populations. Our tour begins around the splendid Angkor Wat Temple which is undoubtedly one of the most awe-inspiring cultural sites in the world, as well as providing a good introduction to the local avifauna. In fact we have four nights at Siem Reap in order to explore two huge, internationally important wetlands and their surrounding grasslands. Firstly we will visit the core reserve of Prek Toal on the Tonle Sap Great Lake and Ang Trapaeng Thmor for the multitude of waterbirds which include the much-wanted Milky Stork and Greater Adjutant. Then we drive to a secluded site in the north of the country at Tmatboey, visiting a very good site for Bengal Florican along the way. From our eco-lodge we'll look for both species of ibis in the dwindling forest pools, along with White-rumped Falcon, Spotted Wood-owl, Black-headed and Great Slaty Woodpeckers and Burmese Shrike amongst others. From here we will move to the exciting "vulture restaurant" before taking a boat ride along the Mekong River to find the regional endemic, Mekong Wagtail as well as Irrawaddy Dolphin. After this we travel to the south-east and the remote mixed evergreen Southern Annamitic Forest at Seima. This is a relatively new eco-tourist project where some nice trails give us the possibility of several species of partridge & woodpecker, whilst numerous fruiting trees attract a wide variety of other birds. Finally we visit the habitat of the endemic Cambodian Tailorbird on the outskirts of Phnom Penh.

The tour is run in collaboration with the Sam Veasna Centre who works closely with the Wildlife Conservation Society and local communities to promote wildlife conservation in Cambodia. Their main objective is to provide an alternative sustainable livelihood from ecotourism for the local communities at the birding sites which have resulted in a stop in hunting and land use, as well as a programme of environmental education at local schools. Part of the proceeds from this tour is donated for conservation projects.
TARGETS:
Giant Ibis

White-shouldered Ibis

Lesser Adjutant

Greater Adjutant

Spot-billed Pelican

Milky Stork

Sarus Crane

Bengal Florican

Grey-headed Fish Eagle

Slender-billed Vulture

Red-headed Vulture

White-backed Vulture

Collared Falconet

White-rumped Falcon

Pied Harrier

Germain's Peacock Pheasant

Green Peafowl

Orange-headed Partridge

Scaly-breasted Partridge

Chinese Francolin

Bar-bellied Pitta

Great Slaty Woodpecker

White-bellied Woodpecker

Black-headed Woodpecker

Rufous-bellied Woodpecker

Pale-headed Woodpecker

Yellow-crowned Woodpecker

Heart-spotted Woodpecker

Black-and-buff Woodpecker

Red-vented Barbet

Oriental Scops Owl

Brown Wood Owl

Brown Fish Owl

Grey-faced Tit Babbler

Indochinese Green Magpie

Great Hornbill

Lanceolated Warbler

Pallas's Grasshopper Warbler

Manchurian Reed Warbler

Cambodian Tailorbird

Mekong Wagtail

Asian Golden Weaver
Day 1 Arrival in Siem Reap - 6th March
Today is purely an arrival day in Siem Reap. Upon arrival we will meet our local guide and transfer the short distance to our comfortable hotel in order to rest in preparation for a big day at Angkor Wat the following day. In the evening we will have dinner in a pleasant restaurant in town after a brief excursion to see Lyle's Flying Foxes in the trees in a nearby park. Night in Siem Reap.

Day 2 Angkor Wat Temples
Today we will combine birding with culture at the world famous Angkor Wat; a stunning setting for birding. Arriving at dawn we will take advantage of the cool hours of the day to enjoy some birds among the forest which surrounds the temple complex with key species being White-throated Rockthrush, Hainan Blue Flycatcher, Pale-legged Leaf Warbler and Forest Wagtail. The tall trees lining the "back door" to Angkor Wat itself are a good place to see a variety of arboreal birds including Oriental Pied Hornbill, Common Hill Myna, Lineated Barbet, Black-winged Cuckooshrike, Thick-billed Green Pigeon and Red-breasted Parakeets while raptors such as Shikra and Black Baza should be present too. We are likely to see Blue Rockthrush actually on Angkor Wat itself!

After the early morning rush of bird activity we will move into Angkor Wat itself to take in the atmosphere of this majestic temple complex and examine the intricate bas-reliefs particularly the famous "Churning of the sea of milk" which is impressive in both size and detail. Our birding guide is also a qualified temple guide so any questions will be answered in detail and for those who prefer to just take it all in a climb to the highest parts of the temple provides a great view. Before lunch we will also look for Alexandrine Parakeet at Ta Proumh temple which was made famous by the movie "Tomb Raider". Here the massive roots of trees, climbing around ruined temples, are sure to make the cameras come out for a few holiday snaps!

We will rest for a few hours in our comfortable hotel, after lunch, and then as things get cooler head out to enjoy Bayon temple which is the most unique location with huge faces in place of the normal temple roofs. Some of the carvings here have a distinctly avian flavor to them and it is amusing to see how many species can be identified before we head back to the massive moat of Angkor Wat to see if we can locate Brown-backed and, possibly, Silver-backed Needletails as they come to drink. Depending on the mood of the temple guards we may also have an opportunity to look for Brown Boobook here too before enjoying some great local cuisine. Overnight in Siem Reap.

Day 3 Prek Toal – Tonle Sap Great Lake
A short bus ride will take us to our boat across the Tonle Sap, Cambodia's mighty lake, and we can watch the sun rise as we head towards the entry to Prek Toal reserve and the smaller boats that will take us down the small creeks where our target species await. While we will be targeting regional specialities such as Spot-billed Pelican, Painted Stork, Lesser Adjutant as well as two endangered species; Greater Adjutant and Milky Stork; we are sure to see a large number of commoner water birds including Great Cormorant, Purple Heron, Yellow Bittern, Asian Openbill, Intermediate Egret, Oriental Darter, Indian Cormorant and White-breasted Waterhen. For those that like large raptors, Grey-headed Fish Eagle will be an impressive bird. Cruising along at water level is a nice way to appreciate large numbers of large waterbirds and allows us to spot species like Black-headed Ibis, Storks and Pelicans at eye level and in flight overhead.

After lunch on a floating restaurant we will head back across the Tonle Sap and find some traditional agricultural areas, including lotus ponds and rice fields, for late afternoon birding. This type of habitat can be good for passerines such as Dusky Warbler, Lanceolated Warbler and even Siberian Rubythroat and Pallas's Grasshopper Warbler although given how skulking they are it is unlikely that we will get them all at this one site – more chances at other sites along the way though! Other good birds to search for here are White-browed Crake, Oriental Pratincole, Chestnut-capped Babbler and Striated Grassbird before heading back to our hotel. Overnight in Siem Reap.

Day 4 Ang Trapaeng Thmor
Originating as a reservoir on the Angkorian Highway, Ang Trapaeng Thmor was rebuilt as a man-made reservoir during the Khmer Rouge regime in 1976. The reservoir is now a Sarus Crane reserve administered by the Wildlife Conservation Society (WCS) with over 300 of these magnificent birds congregating to feed in the dry season along with another 198 recorded bird species, 18 of which are globally threatened. A day trip to this site will give us another chance of many of the key birds from the previous day as well as provide fine views of good numbers of Sarus Crane. The sharpii subspecies of Sarus Crane found in Southeast Asia is endangered with an estimated population of fewer than 1000 individuals and ecotourism in Cambodia contributes greatly to habitat conservation of this species here.

If we did not see Greater Adjutant or Milky Stork at Prek Toal we have another opportunity to track down these rare species here and by March the water will be limited, concentrating birds into flocks. A few pairs of Black-necked Storks frequent this site along with many of the large water birds seen at Prek Toal, such as Black-headed Ibis, Painted Stork, Spot-billed Pelican, Oriental Darter, Asian Openbill and Lesser Adjutants. A few pairs of Bengal Floricans breed here during the dry months though it is wary and a treat rather than a certainty to see. Other grassland species here include Blue-breasted Quail, Oriental Skylark, Indochinese and Australasian Bushlarks, Richard's, Paddyfield and numerous Red-throated Pipits, Yellow-bellied Prinia, Oriental Reed Warbler, Pallas's Grasshopper Warbler and Red Avadavat.

There are a variety of habitats here from wetlands to scattered woodland giving us a chance to see a large number of species in a day and other possibilities include Black-crowned Night-heron, Yellow, Cinnamon and Black Bitterns, Watercock, Cotton Pygmy-goose, Knob-billed (Comb) Duck, Bronze-winged and Pheasant-tailed Jacanas, Black Kite, Eastern Marsh and Pied Harriers, Dark-necked Tailorbird, Yellow-vented Bulbul, Plain-backed Sparrow and Black-collared Starling. This has also got to be one of the best places in the world for Lanceolated Warbler which winters here in extraordinary numbers and on our last tour we counted over 20 birds in one drainage channel.

Visiting this site as well as Prek Toal will mean that we can enjoy our birding at a relaxed pace and see a large proportion of the species of these habitats instead of being rushed and this is also one of the last places to see Eld's Deer in the wild, a critically endangered species which is an important part of the landscape. Overnight in Siem Reap.

Day 5 Florican Grasslands - Tmatboey
This promises to be a day with some very special birds indeed if everything goes to plan. Starting early we drive to the Florican Grasslands where we will enjoy breakfast in the field; local guides will have located Bengal Florican for us so we should be able to eat our breakfast as we enjoy watching this Critically Endangered bird as it struts around the dry grassland. Blue-tailed Bee-eater is common here as is Australasian (Horsfield's) Bushlark although it is not always easy to get a good view and we will also spend time looking for Manchurian Reed Warbler a species with a very small world range and poorly understood migratory habits. We have another opportunity here to appreciate the magnificent Sarus Crane and Oriental Pratincole and we may also find species such as Eastern Marsh Harrier, Asian Pied Starling, Spotted Redshank, Little Ringed Plover, Streaked Weaver and if we are very lucky Barred Buttonquail or Small Buttonquail. If the weather has been right we might even be fortunate enough to bump into a migrating Oriental Plover at this site – well we can dream hey?

Having lunch at a restaurant along the way we will head into the dry dipterocarp forest ended up at our simple accommodation at the village of Tmatboey. Tmatboey is a remote Khmer village of 220 families situated in the centre of the Northern Plains of Cambodia, within the Khulen Promtep Wildlife Sanctuary, the country's largest protected area. The Tmatboey Ibis Site is a conservation project set up by the Wildlife Conservation Society together with the Cambodian Government and Tmatboey village. Once it was realised that the site had potential for birdwatching tourism a local committee was elected which built the guest accommodation and with training from SVC provides the services for the birdwatching groups that visit. In return for the income that this brings, the villagers have signed no hunting and land conversion agreements. The Eco-Lodge is comprised of a central recreational thatched building and 4 surrounding bungalows each with 2 double en-suite rooms with solar powered electricity. The accommodation is basic but comfortable.

Tmatboey is one of only two known nesting sites in Asia for Giant Ibis which use large trees in the forest away from the village, whilst White-shouldered Ibis are found closer to the village where they are reliant on the grassland clearings amongst the dipteropcarp forest. So after we have settled in to our accommodation we can take a short walk through the open forest to where the White-shouldered Ibis usually comes to roost at sunset. With a little luck we will also find a few Giant Ibis alongside them. As we search for these species we are likely to find Woolly-necked Stork as well as commoner woodland species including Small Minivet, Common Woodshrike, White-browed Fantail, Indochinese Cuckooshrike, Rufous-winged Buzzard and many others. Overnight at Tmatboey.

Days 6 - 7 Tmatboey
We will have two full days in the open forests here and at dawn we can look for Giant Ibis as they leave their roost sites to feed in small pools in the forest. We may need to walk considerable distances in the heat to locate our targets here but the area is flat so there is no real problem and our local guides look after us extremely well, somehow producing ice-cold water for us as if by magic. The locals should have some day roost of owls nailed down for us and there is a good chance of Brown Fish Owl, Brown Wood Owl, Spotted Wood Owl and Spotted Owlet. This area is also good for Woodpeckers and we will be making a concerted effort to locate Great Slaty Woodpecker, White-bellied Woodpecker, Black-headed Woodpecker, Greater & Common Flamebacks, Greater & Lesser Yellownapes and the rarer Rufous-bellied and Yellow-crowned Woodpeckers.

This is a very rich area for a wide range of species and we will also be looking for Collared Falconet and White-rumped Falcon and there is also a chance for Pale-capped Pigeon on the treetops in the early morning where we are also likely to see Van Hasselt's Sunbird and Stork-billed Kingfisher. Numerous other species are present including Chinese Francolin, Blossom-headed and Red-breasted Parakeets, Neglected Nuthatch (a recent split from Chestnut-bellied Nuthatch), Burmese Shrike, Black-hooded and Black-naped Orioles, Golden-fronted Leafbird, Common and Large Woodshrikes, Indochinese and Large Cuckooshrikes, Chestnut-capped Babbler, Lesser-necklaced Laughingthrush, Brown Prinia, Radde's, Two-barred and Yellow-browed Warblers, Rufous Treepie, Hair-crested Drongo, Vinous-breasted Starling and Red-billed Blue Magpie. At dusk we will look for Oriental Scops Owl, Indian Nightjar and Savanna Nightjar. The most important thing is that we have allowed enough time at this wonderful site to ensure that we get satisfying views of both species of Ibis. Overnight at Tmatboey.

Day 8 Tmatboey – Boeng Toal
A final morning at Tmatboey will allow us to leave with the sound of Giant Ibis at its roost tree if we have not already witnessed this amazing and prehistoric scene. There will be some time to search for any elusive species before we leave for our next destination: Boeng Toal.

The afternoon will be spent birding in another area of dry dipterocarp woodland where we have time to find any of the species key to this habitat that we have not already seen. Perhaps Collared Falconet, Rufous-bellied Woodpecker or any of the other rarer birds and in this area there is a small breeding population of Indian Spotted Eagles; a sighting of an individual from Southeast Asia's only known population of this bird would be something special. Overnight at Boeng Toal.

Day 9 Vulture Restaurant - Kratei
In Asia Vulture populations have been reduced to tiny remnants, being wiped out completely where they were once common in most of their range. An eco-tourism project run by the Sam Veasna centre ensures that locals farm their cattle without use of drugs that are harmful to Vultures and visiting birders pay for a cow with which to feed the birds. Close-up sightings of Red-headed, Long-billed and White-rumped Vultures will be our aim as they feed on a diclofenac-free cow and this should be a very memorable experience and one which presents some great photo opportunities. Sometimes other raptors and mammals come to join the feeding frenzy but seeing some of Asia's most endangered raptors should make for some great birding.

After a morning at the Vulture Restaurant site we will make our journey to the town of Kratei on the banks of the Mekong River. After the more rustic accommodation of the previous few nights we will be able to chill out in a comfortable hotel here with afternoon birding in rice fields and lotus pools where we can find Pallas's Grasshopper Warbler, Black-backed Swamphen, Asian Golden Weaver, Baya Weaver, Black-browed Reed Warbler and many others. Overnight at Kratei.

Day 10 Kratei – Keo Seima
Our morning is spent on the waters of the Mekong River in search of a regional endemic: Mekong Wagtail. From small motor-powered boats we hope to get really close to this bird which has a global range of just the lower stretches of the Mekong. We will locate the birds on small, rocky islets and as this is the nesting season we should find them carrying nest material and behaving in an interesting way. Another target here is Small Pratincole and Indian Spotbilled Duck and large numbers of Little Cormorant are also likely. We will also spend time looking for a mammalian target species – Irrawaddy Dolphin – which have been reduced to a small population here.

After our boat trip we will make the journey to Keo Seima Protected Forest. Seima Protected Forest is the most recent addition to the Cambodian birding circuit and the eco-tourist project is in its infancy but the aim is again to follow the successful model at Tmatboey, in effect trading the benefits of ecotourism for conservation agreements from the local communities. The forest is home to a great variety of habitats with bamboo, evergreen and dry dipteropcarp predominating and this reflects on the superb variety of birds present.Here, among other things, we will be hoping to extend our Woodpecker list. This is a particularly easy location to see the magnificent Great Slaty Woodpecker but we will also be hoping for Laced, Heart-spotted and Black-and-buff Woodpeckers too. Overnight at Mondulkiri Hotel

Day 11 Keo Seima
We can spend all day in the forests here which support healthy populations of many of Southeast Asia's scarcest species of birds and mammals. We will be spending our time looking for the key species such as Orange-headed Partridge, Germain's Peacock Pheasant, Red-vented Barbet, Scaly-breasted Partridge and perhaps if we are very lucky, Pale-headed Woodpecker. This is a healthy piece of forest and our chance of seeing Great Hornbill is good particularly if we find fruiting tree which will also hold Barbets, Bulbuls, Green Pigeons and Golden-crested Myna. Another regional endemic here is Grey-faced Tit Babbler and we also have a good chance of finding Green Peafowl.

Mammals found here include Black-shanked Douc, Yellow-cheeked Crested Gibbons and Northern Pig-tailed Macaque, all of which we have a good chance of seeing. There is the possibility of a night drive too which could turn up some interesting mammals such as Civets or Giant Flying Squirrel. Overnight at Mondulkiri Hotel.

Day 12 Dakdam Highlands
These highlands are on border region with Vietnam and will give us access to some highland species that we will have no other chances of seeing on this trip. Few tours have visited this site so there are plenty of possibilities to discover something unexpected but it is a good location for Black Eagle, Speckled Piculet, Pin-tailed Green Pigeon, Black-browed Fulvetta, Fire-breasted Flowerpecker, Black-throated Sunbird, Crimson Sunbird as well as regional specialities such as White-cheeked Laughingthrush and Indochinese Green Magpie. Overnight at Mondulkiri Hotel.

Day 13 Keo Seima – Phnom Penh
Our last morning in Cambodia will be spent revisiting the Seima protected Forest looking for any targets not yet seen, there are some real treats lurking in the forest here and there is a realistic chance of finding Bar-bellied Pitta. Then we will make a long drive towards Cambodia's rapidly growing capital city, Phnom Penh, where in wetland scrub on the city's outskirts will are able to find a species endemic to Cambodia and unknown to science until 2009 – Cambodian Tailorbird. This is a great way to end our Cambodian trip, with an endemic species, before checking into a comfortable hotel for our final night and dinner together. Overnight in Phnom Penh.

Day 14 End of tour - 19th March
After breakfast you will be transferred to Phnom Penh airport for the onward flight back to your home country.
Leaders: Nick Upton and local guides.

Ground Price: £3350.00 - Siem Reap/Phnom Penh

Airfare: £650.00 - £750.00 (Approx) - UK/UK

Single supplement: £175.00
Note: Single supplement is not valid for Tmatboey and Boeng Toal. However if room is available at the time at these sites then single accommodation can be arranged at no further charge.

Deposit: £500.00

Group size: Minimum for tour to go ahead 5 and maximum 10 with 2 leaders.

Included in cost: Accommodation, transport, all meals, English-speaking guide, all entrance fees and permits, road tolls, boat trips, water.

Not included: International airfare, travel insurance, visas, alcoholic drinks, tips and items of personal nature.

Accommodation: Mostly the accommodation will be in comfortable, air-conditioned hotels although the nights at Tmatboey will be in simple cabins with fans and mosquito nets and the night at the Vulture Restaurant will be in a tented camp.

Tour Code: Cambodia is a developing country which means that at times travel around the country can be slow. Most habitats are fairly open and birding is done by scanning wetlands and listening and watching for movement in open forests. Towards the end of the trip birding in denser forests will mean that birding is a little more difficult and requires more patience.

Expect the weather conditions to be hot, with typical midday temperatures being 35C at this time of year. There could perhaps be some rain in the East of the country but mostly it is expected to be dry throughout.
Cambodia Tour Report - 2011
Cambodia Tour Report - 2012

Cambodia Tour Report - 2016

Cambodia Photo Gallery
Receive our e-newsletter:
Join the Zoothera e-mailing list for up-to-date news on new tours, tour reports and special offers.
e-mail [email protected] to sign up.