Our base for this wonderful tour is the fabulous Eco-Lodge Itororó, located at an altitude of 1,150m in the Serra do Mar mountain range near Nova Friburgo and about 140 km to the north of Rio de Janeiro. Set amidst the species-rich Atlantic Rainforest, the lodge is nestled in its own private valley of 50 acres, and is located within the 58.790ha Tres Picos State Park. The lodge offers comfortable accommodation together with great birding opportunities and easy access to a whole host of other birding sites within the local area. With streams and a pool, together with large landscaped gardens, an array of flowering & fruiting trees and plants, the grounds alone attract a wealth of bird species such as Spot-winged Wood-Quail, Maroon-bellied Parakeet, Plovercrest, Spot-billed Toucanet, Brassy-breasted and Golden-chevroned Tanagers and Uniform Finch. Each day we will make excursions to a variety of different habitats and eco-systems, ranging from the highlands of Pico de Caladonia where specialities include Bay-chested Warbling-Finch, Diademed Tanager and Itatiaia Thistletail down to the wetlands and lowland rainforest of Guapi Acu where White-headed Marsh-Tyrants dance across the water and Masked Ducks skulk in the surrounding vegetation. We believe this tour provides just the perfect mix of easy birding combined with plenty of time to relax and enjoy the feeding stations and hummer feeders all set in a wonderful environment. And there really are some awesome birds to find such as the enigmatic Three-toed Jacamar, Red-legged Seriema, Brazilian Antthrush, Sharpbill, Pin-tailed Manakin, and a cracking assortment of endemic hummers and tanagers to keep the most ardent birder and keen photographer happy!
With Andy's 16 years of experience leading tours in this bird rich part of Brazil you will not be in better hands. Join us at the wonderful Itororo Eco-Lodge and discover Atlantic rainforest birding at its best.
Tuesday 14th - Wednesday 22nd May 2019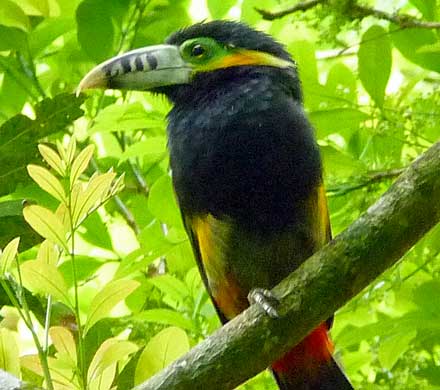 Leader: Andy Foster

Ground Price: £1850.00 - Rio de Janeiro/ Rio de Janeiro

Airfare: £650.00 - £750.00 (Approx) - UK / UK

Single supplement: £375.00

Deposit: £500.00

Group size: Maximum 10.

Included in cost: Accommodation in twin rooms en-suite, transfer to/from Rio airport, ground transport throughout, all entrance fees to national parks and nature reserves, all meals from lunch on 14th to breakfast on 22nd May, mineral water, tea and coffee and services of leaders.

Not included: International airfare, insurance, drinks, tips, and items of a personal nature.

Accommodation: This is a great lodge, rooms are of a good standard and en-suite.

Tour Code: This tour is a standard birding tours with regular birding walks along roads and well marked trails. Most days see us depart after breakfast and return just before dinner, taking picnic lunch during the day. The weather is unpredictable and you need to allow for all weathers. It can rain as we are in a rainforest habitat! Be prepared for all eventualities.