The Balearic Migration Special
Saturday 13th October – Saturday 20th October 2018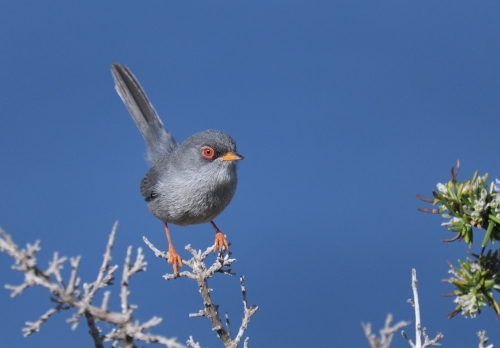 Another unique ZOOTHERA tour will see us enjoying the best of the Mediterranean's Autumn migration magic as we visit the Balearic Islands of Ibiza, Formentera, Mallorca and Cabrera. We'll be visiting these beautiful islands during the Autumn migration period and hoping to find a rarity or two, as well as enjoying the fantastic weather, scenery and food that the region is famous for. There will still be plenty of resident birds present, as well as some lingering breeding species to add to the mix. This is definitely a voyage of discovery as we are visiting at a time when other birdwatchers wouldn't necessarily visit, but the mere fact it's Autumn adds a certain spice to proceedings, so who knows what we will find. We begin on the seldom-visited (in birding terms) island of Ibiza where we will visit a variety of coastal areas on our migrant quest, as well as hopping on a ferry to the smallest of the Balearic islands - Formentera. We will be searching for Balearic Warbler, Audouin's Gull and Eleonora's Falcon, as well as migrants. Our base for the first 4 nights will be the delightful Villa Rosa, which is conveniently located to get the best from this beautiful island. Moving on to Mallorca via a short domestic flight and we will visit the main sites of S'Albufera National Park, Formentor Peninsula and Cuber Reservoir, as well as visiting Spains answer to Fair Isle - the island of Cabrera. Our base will be a quaint, traditional hotel allowing easy access to all of the main birding sites, with excellent food and it will be pretty hard to leave! Amongst some superb possibilities we hope to find Balearic Woodchat Shrike, Balearic Spotted Flycatcher, Balearic Crossbill, Moltoni's Warbler, crakes, shearwaters, warblers, and as many rarities as we can!
Targets:
Balearic Warbler

Marbled Duck

Western Swamphen

Red-knobbed Coot

Balearic Shearwater

Scopoli's Shearwater

Cinereous Vulture

Audouin's Gull

European Scops-Owl

Eleonora's Falcon

Balearic Woodchat Shrike

Moustached Warbler

Balearic Warbler

Moltoni's Warbler

Dartford Warbler

Sardinian Warbler

Spectacled Warbler

Western Bonelli's Warbler

Balearic Spotted Flycatcher

Spotless Starling

Balearic Crossbill

the excitement of migration birding!
Day 1
UK - Ibiza
- 13th October
Arrivals into Ibiza from one of the many local airports across the UK or Europe. We will meet you upon arrival and then it's just a short 20
minute drive to our wonderful accommodation for our stay on Ibiza - Villa Rosa. This
contemporary house is set in wonderful gardens with a fantastic pool, the house has 6 bedrooms, is full of light and sunny space with hotel-style design and luxury in every room. The main living space is hugely impressive with 3 sets of patio doors & windows, and there's a fine dining table inside and out where we can enjoy our meals. And its just a short drive of a few minutes to nearby restaurants if we decide to eat out. Night in Ibiza.
Days 2 - 4 Ibiza - Formentera
The focus of our time on Ibiza will be to check out the coastal areas for Autumn migrants on this relatively underwatched island, with the aim to find some unusual species, all at a relaxed pace, enjoying the scenery and numerous small cafes!
Close to our excellent accommodation we can see
Booted Eagle,
Yellow-legged Gull,
Thekla and Greater Short-toed Larks,
Zitting Cisticola,
Cetti's Warbler and Sardinian Warbler,
whilst European Bee-eaters will have mainly moved out but there should still be a few lingering individuals present. Migrants could include
Collared Pratincole,
Eurasian Wryneck, Red-footed Falcon, Tawny Pipit and others. And we will a special effort to locate the endemic
Balearic Warbler, whilst Eleonora's Falcon can often be seen over our villa and
Audouin's Gull are present along a nearby beach.
One of the best birding sites in Ibiza is the saltpans and scrub at Las Salinas, and is one of the better spots to try and find Balearic Warbler. Waders should be moving through and all the usual suspects are possible such as Collared Pratincole, Little and Temminck's Stints, Kentish Plovers etc. This area can be a migrant trap and we are hoping for some other good migrants around the scrub and pine trees, with our sights set on finding a major rarity!
Santa Eulalia has Ibiza's only river and could be another migrant trap with Great Reed Warbler, chats, flycatchers and thrushes all moving through at this time of year.
A highlight of our time here will be a visit to the small island of Formentera, which is not visited at all by birders but could be an excellent migrant spot in the right conditions. We will take a short ferry journey from which Balearic Shearwaters should be seen, and explore this island, taking a packed lunch with us. Back on Ibiza, the 'mountain' of
Atalaia is cloaked in pine trees and is a good site for Balearic Crossbill and Firecrest.
Cala D'Hort is another good spot for Balearic Warbler, and the views of the small offshore islands where Eleonora's Falcons breed is truly stunning.
Nights in Ibiza.


Days 5 - 7 Ibiza - Mallorca - S'Albufera National Park - Cabrera

We have almost 3 full days to explore the wonderful island of Mallorca, visiting the best sites this island has to offer. After a short internal flight we will head to the impressive wetlands of S'Albufera National Park.The network of lagoons and pools surrounded by tamarisk scrub and the odd pine tree could well hold some interesting migrants, and it will be interesting to see if any of the breeding birds are still lingering such as Moustached Warbler. Other possibilities include Greater Flamingo, Red-crested Pochard, Marbled Duck, Western Swamphen, Red-knobbed Coot, Water Rail, Spotted, Little & Baillon's Crakes, Black-crowned Night-Heron, Purple and Squacco Herons, Little Bittern, Eurasian Bittern, Western Osprey, Western Marsh Harrier, Black-winged Stilt, Eurasian Stone-Curlew, Little and Temminck's Stints, Little Ringed and Kentish Plovers, Curlew Sandpiper, Marsh, Green, Wood, Common Sandpipers, Gull-billed and Whiskered Terns, Woodchat Shrike (nominate form), Savi's and Great Reed Warblers, and hopefully Common Waxbill.
We can also visit Cuber Reservoir for Red Kite, possibly a migrant Black Kite, Eurasian Crag Martin, Pallid and Common Swift, and there's also a good chance of Cinereous Vulture.
Formentor Peninsular is truly spectacular and this headland could well hold migrants and resident species such as Balearic and Scopoli's Shearwaters, Montagu's Harrier, Eleonora's Falcon, Balearic Woodchat Shrike (Badius), Golden Oriole, Common Nightingale, Spotless Starling, Ortolan and Corn Bunting. With the recent increase in records of Pallid Harrier across much of Europe we can always hope for one of these majestic raptors. Eleonora's Falcons will have finished breeding but the sight of small flocks wheeling across the clear blue sky would be a sight to behold. Autumn migrants we hope to encounter include Yellow-browed Warbler, Common Rosefinch & others.

The Bocquer Valley can be a migrant trap in the right conditions, with a mix of resident and migrant species such as Red-legged Partridge, Eurasian Scops Owl, Western Bonelli's Warbler, Common Redstart, Pied and Balearic Spotted Flycatchers, Whinchat, Balearic Crossbill, Blue Rock Thrush, Firecrest and Cirl Bunting.

Cabrera Island is the main island of a small archipelago off Mallorca's south coast and is home to breeding Moltoni's and Balearic Warblers. We hope to find both species here amidst the Mediterranean maquis scrub, dotted with Buckthorn, Junipers and Olive trees. Potentially this island could be an amazing migrant trap as it is Spain's equivalent of Fair Isle having previously hosted the countries' first Cretzschmar's Bunting and Semi-collared Flycatcher. If the winds are coming form the east one can hope for a true rarity and no doubt our first site to search will be the scrub around the lighthouse near the port. The boat trip of an hour could give us some close ups of Balearic and Scopoli's Shearwaters as well. Nights in Majorca.

Day 8 Majorca - UK - End of Tour - 20th October
Depending on flight times we may be able to check the nearby marshes before transferring to the airport for our return flights to UK and the end of the tour.
Ground Price:

£1450.00

- Ibiza/Palma
Single supplement:

£250.00
Group size: Minimum of 4 and maximum 10.
Included in cost: Accommodation in twin/single rooms en-suite throughout, all meals, bottled water, some drinks, transport, all reserve entrance fees, domestic flight to Majorca, boat rides to Formentera & Cabrera, and services of English-speaking guides.

Not included: International airfare, insurance, most drinks, tips and items of a personal nature.
Accommodation: We will be based at the wonderful Villa Rosa in Ibiza. This 6-bedroom property has a large open pool terrace, spacious design, private swimming pool and plenty of room to relax in if you decide not to venture out on one of our excursions. In Mallorca we will use one of a couple of conveniently located properties depending on group size, all of which have en-suite rooms and great facilities.

Tour Code: A relaxed birding tour for all levels of ability and fitness. Leisurely walking, very occasionally over moderately rough terrain, is the only physical requirement on most days. Most birding is done close to our vehicle, though we will need to walk to see some of the local specialities or explore some of the sites. The weather at this time of the year is generally warm, dry and pleasant although some showers could occur and would be great to find migrating species.

Receive our e-newsletter:
Join the Zoothera e-mailing list for up-to-date news on new tours, tour reports and special offers.
e-mail [email protected] to sign up.