Armenia - The Western Palearctic Hotspot
Monday 14th May – Saturday 26th May 2018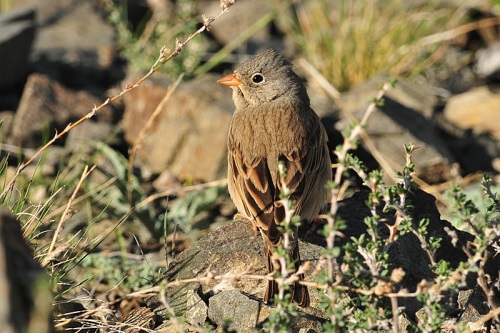 Fabulous Armenia is located at the crossroads of Europe, the Middle East and Asia in the extreme south-east of the Western Palearctic. It is a small, rural, sparsely populated country located in the Caucasus region and despite its small size holds a variety of great birding habitats including large wetlands and marshes, deciduous forest, lush meadows, semi-desert and steppe. The majestic snow-covered peaks of the Transcaucasian mountains dominate the countryside with deep canyons and wooded gorges, lakes and fast-flowing rivers, and picturesque wildflower-filled valleys. With such a variety of habitats it is no wonder that the bird life is equally varied and it is the number of key species that just creep into the Western palearctic here that make this an unmissable destination. Such mouth-watering delights as White-headed Duck, Caspian Snowcock, Caucasian Black Grouse, Eastern Rock Nuthatch, Persian Wheatear, White-throated Robin, Upcher's & Menetries Warblers, Radde's Accentor and Grey-necked Bunting are all possible.
It is only relatively recently that Armenia has become known to western birders, but this amazing country is definitely one of the most rewarding destinations in the entire Western Palearctic. So why not join Zoothera on this fantastic new tour?
Targets:
Marbled Duck

White-headed Duck

Pygmy Cormorant

Caspian Snowcock

Caucasian Black Grouse

Lammergeier

Lesser Spotted Eagle

Levant Sparrowhawk

White-tailed Lapwing

Armenian Gull

Syrian Woodpecker

Eastern Rock Nuthatch

Western Rock Nuthatch

Sombre Tit

Persian Wheatear

Finsch's Wheatear

Bimaculated Lark

White-throated Robin

Wallcreeper

Semi-collared Flycatcher

Green Warbler

Upcher's Warbler

Menetries Warbler

Paddyfield Warbler

Mountain Chiffchaff

Radde's Accentor

Alpine Accentor

Red-fronted Serin

Crimson-winged Finch

Mongolian Finch

Desert Finch

White-winged Snowfinch

Pale Rock Sparrow

Grey-necked Bunting
Day 1

UK - Yerevan

- 14th May
International flight from UK to Yerevan and upon arrival we will transfer to a nearby hotel. Please note this is purely an arrival day and no birdwatching activities are planned as flights often arrive late in the evening. Night in Yerevan.


Day 2

Yerevan - Vedi Hills - Caucasus Wildlife Refuge


We will start the day with breakfast in the hotel, then travel to the town of Vedi where on the outskirts it is possible to observe Isabelline, Black-eared and Finsch's Wheatears, Trumpeter & Desert Finches, and Rufous-tailed Bush Robin. Following a nice picnic lunch we will continue to the Caucasus Wildlife Refuge Center (CWR), where we will search for Long-legged Buzzard, Lammergeier, and both Black and Griffon Vultures. Night at the Urtsadzor Eco Lodge.


Day 3 Caucasus Wildlife Refuge - Ourts Mountains - Yerevan
We will have an early breakfast before exploring the surrounding area and the foothills of the Ourts Mountains. Here we can observe other semi-desert birds including Chukar, Lesser Grey Shrike, Eastern Orphean Warbler, Greater Short-toed Lark, Black-headed & Corn Buntings and many others. There will be a picnic lunch on the way and then a return to Yerevan in the afternoon. Dinner and overnight stay will be in a hotel in Yerevan.


Day 4

Yerevan - Dilijan


Breakfast is at the hotel before our departure to Dilijan and the nearby Beech and Oak forest where we will observe a variety of forest birds including Steppe Buzzard (ssp. menetriesi), European Honey Buzzard, Lesser Spotted Eagle, Black, Green, Middle Spotted and Lesser Spotted Woodpeckers, Eurasian Golden Oriole, Semi-collared and Red-breasted Flycatchers, Greenish Warbler, Hawfinch, Song Thrush and others. After lunch will visit Haghartsin Monastery to see more of the forest birds and to catch those which we missed during the first part of the trip. Dinner and overnight stay will be in a hotel in Dilijan.
Early morning departure to the Pambak Mountains in 4WD vehicles to see Caucasian Black Grouse and other high mountain species. Although the grouse is the main target of today, other species such as Tawny Pipit, Wallcreeper, White-winged Snowfinch, Alpine Accentor, and others can also be observed. Today we will have a fine picnic lunch set amidst dramatic scenery. When returning from the subalpine zone, we will make a stop in the forest to observe Mountain Chiffchaff. After passing Dilijan we will drive through Semenovka village where will make a short stop to observe
a variety of birds
. Dinner and overnight stay will be in the vicinity of Lake Sevan
Day 6

Sevan - Selim - Yeghegnadzor


We will start the morning with breakfast in the hotel before leaving the densely forested hills and travelling along the south-western shore of Lake Sevan (one of the largest highland lakes in the world) , visiting Gull Island, where we can view the regions largest colony of Armenian Gulls, plus Ruddy Shelducks can also be seen here. Other species in the vicinity include Barred and Marsh Warblers, and then drive to the vicinity of Lichk village, where some small lakes attract a wide variety of waterbirds including Black-necked Grebe, as well as some raptors such as Marsh Harriers, Long-legged Buzzard, and Northern Goshawks. There should also be a few Citrine Wagtails and Rosy Starlings present here today. Afterwards we will drive through the Vardenis Mountains to look for Rock Sparrow and Ortolan Bunting. Night in Yeghegnadzor.


Day 7

Yeghegnadzor - Vardenis - Yeghegnadzor
Early morning departure to the Vardenis Mountains in 4WD vehicles with the primary aim to find Caspian Snowcock. We will spend most of the morning here scanning the rocky slopes in search of our target bird and with persistence we should obtain good views. Whilst scanning here we should see a good selection of other mountin species such as Alpine Swift, Crimson-winged Finch, Red-fronted Serin, Alpine Accentor, Rock Bunting and others. Then we will visit Noravank Gorge, where we will have lunch at a unique café made inside a natural cave. Afterwards we will visit Noravank Monastery, where we will have an opportunity to observe Golden Eagle, Long-legged Buzzard, European Roller and other species. Night in Yeghegnadzor.
Day 8

Yeghegnadzor - Sisian Plateau - Goris


Early morning departure to Sisian Plateau for a wide variety of species including Common Quail, Short-toed Eagle, Lesser Kestrel, Bimaculated Lark, Rufous-tailed Rock Thrush, Eastern Olivaceous Warbler, and others. Moving on to the Arpa river gorge (old road to Jermuk town), we can expect mountain and semi-desert birds including Lammergeier, Egyptian Vulture, Blue Rock Thrush, White-throated Robin and the much-wanted Upcher's Warbler. Night in Goris.


Day 9 Goris - Shikahogh - Meghri
After breakfast we will continue our journey south, along the way we will pass the Shikahogh part of Zangezur Biosphere Complex covered with mature forest. Here we will have several stops in the forest to look for
Great, Middle-spotted, Lesser-spotted and Green Woodpeckers,
Common Nightingale,Red-breasted and Semi-collared Flycatchers, Eastern Orphean & Green Warblers, and many others. Later we will pass the Meghri mountain ridge and reach juniper woodlands, which is a good area for Sombre Tit. Lunch will be served in a restaurant on the way. After finishing here we will continue our route along the Iranian border that is marked by the Araks river leading to Meghri. Here it is possible to see Iranian villages and their unique construction. We will check in a hotel in Meghri and later have an evening walk in the nearby orchards to observe Levant Sparrowhawk and Syrian Woodpecker. Night in Meghri.
Day 10 Meghri - Kapan
After an early breakfast in the hotel we will begin travelling towards Kapan and visit several semi-desert gorges for Persian Wheatears, Upcher's and Eastern Orphean Warblers and Woodchat Shrike. Lunch will be served in a restaurant. Later we will visit some nearby orchards in order to find the stunning Menetrie's Warbler. After lunch we will travel towards Kapan, making several birding stops on the way. Night in Kapan.
Day 11 Kapan - Jermuk - Yeghegnadzor
After breakfast we will travel back north, birding en-route. Our first stop will be at the Arpa river canyon on the old road to Jermuk town. Here we will aim to observe Lammergeier and Egyptian Vulture, Golden Eagle, Peregrine Falcon (ssp brookei), Blue Rock Thrush, and other cliff nesters. Lunch will be served in a restaurant on the way. Later we will travel to Yeghegnadzor town, birding en-route. Night in Yeghegnadzor
Day 12 Yeghegnadzor - Armash - Yerevan
We will start the day with breakfast in the hotel and will then travel to Armash fish-ponds. Here we primarily aim to observe many species of water birds including a variety of herons, egrets, ducks and shorebirds. Among target species there are White-tailed Lapwing, Marbled Teal, Ferruginous Pochard, White-headed Duck, Glossy Ibis, Squacco & Purple Herons, Little Bittern, Spoonbill, Pygmy Cormorant, Gull-billed, White-winged and Whiskered Terns, Blue-cheeked Bee-eater, Lesser Short-toed Lark, Reed, Great Reed, Paddyfield, Savi's and Menetrie's Warblers, Black-headed Wagtail, and many others. There will be a picnic lunch in natural surroundings on the way.

We will also visit some nearby dry hills to look for White-throated Robin, Finsch's and Eastern Black-eared Wheatears, and Grey-necked Bunting, and if we are very lucky Pale Rockfinch or Trumpeter Finch as well - both of which are irregular here at the northern edge of their breeding distribution. And if our luck is in we could find the equally irregular Mongolian Finch. Other species possible in this area include Greater Short-toed and Crested Larks, Isabelline Wheatear, Woodchat Shrike and Rock Sparrow.
Night in Yerevan.
Day 13 Aragats - Yerevan

- End of Tour

- 26th May

Today we will start with breakfast in the hotel before making an excursion to the volcanic slopes of Mount Aragats, passing several landscape zones in one day. The first stop will be in a dry zone to find Bimaculated Lark, then we will stop near the forest to observe some forest raptors, such as Short-toed Eagle, Lesser Spotted Eagle, Booted Eagle, etc. The other stops on the way to the high mountain Lake Kari are aimed to observe various steppe birds, such as Western Rock Nuthatch, Radde's Accentor, Bluethroat (ssp. magna), and Siberian Stonechat, and high mountain birds, such as Alpine Accentor, Wood Lark, Horned Lark (ssp. penicillata), Water Pipit (ssp. koutelii), possibly White-winged Snowfinch and Crimson-winged Finch. On the way back we will visit Hamberd Fortress where we will have lunch in a local restaurant. We will then return to Yerevan in the afternoon. and depending on the schedule there may be some free time or there will be a direct transfer to the airport and onward journey back to the UK and the conclusion of a wonderful tour
Single supplement:

£350.00
Deposit: £400.00

Group size: Minimum for tour to go ahead 6 and maximum 9 with 2 leaders.


Included in cost:
Accommodation in twin rooms, mostly en-suite, all meals including soft drinks & bottled water, all entrance fees, all transport throughout in minivan and 4x4's, and services of leaders and an English speaking guide.


Not included:
International airfare, visa fee, insurance, drinks, tips, and items of a personal nature.


Accommodation:
Considering this tour is venturing into the relatively unknown, we will be using local 4-star hotels and guesthouses. Although please bear in mind we are going to be well off the tourist trail, we are staying in the best available hotels closest to the birding sites.


Tour Code:
This is definitely an exciting tour as we will stray a long way off the tourist circuit into areas rarely visited by other western birders. The weather can be highly variable from below freezing with snow in the mountains through to hot in the semi-deserts. The amount of physical effort required is generally easy to moderate although it may be necessary to walk up some steep grassy slopes to view high altitude species if the snow level is high. There are no compulsory health requirements for this tour.


Receive our e-newsletter:
Join the Zoothera e-mailing list for up-to-date news on new tours, tour reports and special offers.
e-mail [email protected] to sign up.