West Java & Sumatra 2016
Saturday 3rd September – Friday 23rd September

In this exciting ZOOTHERA adventure we visit bird-rich west Java, as well as exploring the mysterious island of Sumatra, collectively part of the

endemic-rich region of the Greater Sundas. Our birding begins on Java where we visit two of the most famous locations on this wonderful island, firstly at Gunung Gede-Pangrango National Park whose peaks reach over 3000m and which is home to Javan Hawk-eagle, Javan Trogon, Javan Tesia, Javan Whistling-thrush and Javan Fulvetta amongst many other endemics. Then we travel to the remote Gunung Halimun National Park where amidst the largest unbroken tract of pristine rainforest in Java we search for Javan Barred Owlet, Spotted Crocias, Javan Sunbird and White-breasted Babbler. Next we travel by boat across the Sunda Strait to the beautiful lowland rainforest at Way Kambas National Park in the south of Sumatra. Here we will search for many of South-East Asia's most wanted species such as the endangered White-winged Wood-duck, Storm's Stork and Oriental Bay Owl amongst a dazzling selection of kingfishers, trogons, broadbills, flycatchers and babblers. Then we make our way via a short internal flight to the relatively wild and unexplored slopes of Gunung Kerinci National Park, where we spend most of our time over 1600m in superb montane forest. The range in altitude and habitats here attracts such mouth-watering and near mythical species such as the little-known Schneider's Pitta and rare Sumatran Cochoa. We will spend our final days along the Tapan Road, which transects great low elevation forest and is one of the best sites on the island for a number of Sumatran endemics and Sundaic specialities, including Sumatran Leafbird, Marbled Wren-Babbler and Cream-striped Bulbul. With smoldering volcanoes and tall mountains flanked by pristine moss-encrusted forests, lowland rainforest, lakes, wetlands and secret rivers hiding some incredible birds this is undoubtedly a trip of a lifetime!
Targets:
Yellow-throated Hanging-Parrot

Javan Coucal

Javan Banded Pitta

Spotted Crocias

Javan Sunbird

Javan Cochoa

Rufous-fronted Laughingthrush

Pygmy Tit

Black-winged Myna

Storm's Stork

White-winged Wood-Duck

Salvadori's Pheasant

Chestnut-bellied Partridge

Large Frogmouth

Bonaparte's Nightjar

Cinnamon-headed Green-pigeon

Schneider's Pitta

Graceful Pitta

Sumatran Trogon

Sumatran Cochoa

Sumatran Wren-babbler

Sumatran Treepie

Blue-masked Leafbird
DAYS 1- 2 UK – Jakarta - 3rd to 4th September
Following an overnight flight to Jakarta on the island of Java we will transfer to a nearby hotel for the night.


DAY 3 Jakarta - Pamunakan - Gunung Gede National Park (Java)
An early start will see us driving to Pamanukan for the endemic Javan White-eye and White-capped Munia, as well as having a good chance of Javan Plover. From here we will set out on the drive to the forest-clad mountain slopes of Gunung Gede National Park for a 3 night stay and will hopefully arrive in time to spend the late afternoon finding our first endemics. Night at a pleasant hotel at Cibodas, situated right at the base of the mountain.

DAYS 4 – 5 Gunung Gede-Pangrango National Park
What a place to wake up to and explore, with almost all of Java's endemic birds to be found here we are sure of a great start to the tour. We will

concentrate on the lower to middle sections starting at around 1300m where we will explore the area from a good trail that transects the mountain through the forest. We will be on the look out for endemics such as Chestnut-bellied Partridge, Javan Hawk-Eagle, Javan Trogon, Javan Kingfisher, Flame-fronted and Brown-throated Barbets, Javan Whistling-thrush, Rufous-tailed Fantail, Sunda Blue Robin, Crescent-chested and White-bibbed Babblers, Pied Shrike-Babbler (a recent split from White-browed), Javan Fulvetta, Rufous-fronted Laughingthrush, Pygmy Tit, Javan Grey-throated White-eye, Javan Tesia and White-flanked Sunbird. To stand any chance of finding Javan Cochoa we will need to hike up the steep trail that bisects the mountain to a campsite high up the mountain for an overnight stayOther species we can encounter here include Sunda Cuckoo (a recent split from Oriental), Orange- backed Woodpecker, Lesser and Sunda Cuckooshrikes, Sunda Forktail, Indigo Flycatcher, Sunda Thrush, Orange-spotted and Sunda Bulbuls, Black-winged Flycatcher-shrike, Chestnut-fronted Shrike-Babbler, Horsfield's Babbler, Olive-backed Tailorbird, Sunda Warbler, Mountain Leaf-warbler, Blood- breasted Flowerpecker, Streaky-breasted Spiderhunter (split from Grey-breasted) and Tawny-breasted Parrotfinch. Night birding could reveal Javan Frogmouth, Javan and Sunda Scops-owls (split from Collared), Javan Barred Owlet and Salvadori's Nightjar. Mammals present here include Javan Langur, Grizzled Leaf Monkey, Javan Ferret-Badger and Sunda Stink Badger. 1 night camping and 1 night back at our hotel at Cibodas.


DAYS 6 - 7 Gunung Gede NP - Cibodas Botanical Garden – Halimun National Park
After a last chance to find any species we may still need this morning, such as Javan Kingfisher and Yellow-

throated Hanging-Parrot, both of which are to be found on the lower slopes of the mountain and around the botanical garden we will drive to Halimun National Park, which protects the largest area of rainforest in Java. Neatly situated inside the forest, is a comfortable research station with accommodation for visitors, accessed by a rough unsurfaced road transecting excellent lowland rainforest. 2 nights at Cikiniki Research Station.
The beautiful Gunung Halimun National Park provides a wide altitudinal range from 600m to 1927m and by utilizing a good network of trails through stunningly pristine primary forest we can find some very special birds. In particular along the Loop Trail we will look for Dark-backed Imperial-pigeon, Sumatran Green-pigeon, Spotted Whistling-thrush and Javan Trogon. If we didn't see Javan Hawk-eagle at Gunung Gede we will make a special effort to find one here. Amongst the numerous mixed-species feeding flocks new endemic species to watch out for include White-breasted Babbler, White-bellied Fantail, Javan Sunbird, Sunda Minivet and Spotted Crocias. A good selection of more wide ranging birds can be found here such as Brown-backed Needletail, Rufous Piculet, Checker-throated Woodpecker, Malaysian Cuckooshrike,
Grey-cheeked Bulbul, Yellow-bellied Warbler and Streaky-breasted Spiderhunter. Javan Gibbon can be a rather prominent feature here and we should get some nice views of this interesting species.


DAY 8 Gunung Halimun NP – Carita
We can have the first few hours of daylight to continue our exploration before driving to Carita and our comfortable hotel situated along the coast. We will probably head up into a nearby patch of forest for some night birding as Javan Frogmouth, Brown Boobok and Sunda Scops-Owl are present. Night at Carita.

DAY 9 Carita - Jakarta
This lowland area consists of pools and marshes surrounded by scrub and mangroves where we should pick up a lot of common species including the regular herons and egrets, Sunda Teal, Black-backed Swamphen, Ruddy-breasted and White-browed Crakes, Pink-necked Green Pigeon, Cave Swiftlet, Collared Kingfisher, Racket-tailed Treepie, Bar-winged Prinia, Plain-throated Sunbird and Javan Munia. We will also visit a small patch of forest at Curug Gendang in search of the stunning Javan Banded Pitta, whilst other specialities present here include Javan Owlet, Banded Kingfisher, Black-naped Fruit-Dove, Grey-cheeked Green-Pigeon, Black-banded Barbet, Banded Broadbill, Grey-cheeked Tit-Babbler, Crescent-chested and Black-capped Babblers, Sunda Minivet and Fulvous-chested Jungle-Flycatcher. In the afternoon we will drive to a nice hotel close to Maura Angke Marsh for an overnight stay,

DAY 10 Maura Angke Marsh – Pulua Dua – Way Kambas (Sumatra)
This morning we will visit Maura Angke Marsh where we will look for Black-winged Myna and Sunda Coucal. Plenty of other birds are usually present such as Sunda Teal, Purple Heron, Bar-winged Prinia, Olive-backed Tailorbird and many others. After a couple of hours birding here we will drive to Pulua Dua and then travel across the Sunda Strait on an exciting three hour boat crossing to Way Kambas in Sumatra, where we will head to our base for the next three nights. Arriving in the afternoon we should have plenty of time to begin our exploration of this wonderful area.


DAYS 11 -12 Way Kambas


Way Kambas National Park protects 130,000 hectares of superb lowland rainforest, rivers and swamps, with lowland dipterocarp forest predominating. From the conveniently situated research station at Way Kanan we have easy access to the trails in search of a stunning variety and selection of some of South-East Asia's most wanted species. However, we may initially spend time exploring the swamps and open forest along the Way Kanan river, travelling upstream in small dug-out canoes to Rawa Gajah (Elephant Swamp) and to Alang Alang for White-winged Duck. Our main goal here is the endangered and elusive White-winged Duck, which still survives here in reasonable numbers. Further exploration downstream to Pertama Swamp and Kali Biru Pos will open up possibilities to see Lesser Adjutant, Storm's Stork, Lesser and Grey-headed Fish Eagles, Silver-rumped Swift, Blue-eared
 Kingfisher, Cinnamon-headed Green-Pigeon, Black-and-red Broadbill, Malaysian Blue Flycatcher and White-chested Babbler. However, we will spend most of our time along the trails in the search of a whole suite of great birds that includes Crested Fireback, 
Crested Partridge, Jerdon's Baza, Black-thighed Falconet, Little Green-Pigeon, Blue-rumped Parrot, Blue-crowned Hanging-Parrot, Wrinkled and Black Hornbills, Rufous-backed Dwarf Kingfisher, Red-crowned, Blue-eared and Brown Barbets, Rufous Piculet, Sunda, White-bellied, Crimson-winged, Checker-throated, Grey-and-buff, Maroon and Buff-necked Woodpeckers, Rusty-breasted, Plaintive and Violet Cuckoos, Raffles's,

Chestnut-breasted, Chestnut-bellied, Red-billed and Black-bellied Malkohas, Diard's, Red-naped and Scarlet-rumped Trogons, Whiskered Treeswift, Green, Dusky, Banded and Black-and-yellow Broadbills, Malayan Banded Pitta, Fiery Minivet, Cream-vented, Hairy-backed, Yellow-bellied, Olive-winged, Red-eyed and Buff-vented Bulbuls, Black-winged Flycatcher-shrike, Greater and Lesser Green Leafbirds, Grey-chested and Rufous-winged Flycatchers, White- crowned Forktail, Dark-throated Oriole, White-breasted Woodswallow, the rare Malaysian Rail-Babbler, Fluffy-backed Tit-Babbler, Short-tailed, Chestnut-winged, Chestnut-rumped, Black-capped, Sooty-capped, Ferruginous, Scaly-crowned, Rufous-crowned, Moustached and Black-throated Babblers, Chestnut-backed Scimitar-babbler, Rufous-tailed Tailorbird, Rufous-tailed Shama, Black Magpie, Yellow-breasted and Crimson-breasted Flowerpeckers and White-bellied Munia. Way Kambas has a reputation for providing the ultimate night birding experience and is undoubtedly an excellent locality for nocturnal species. It has proved to be the place to see Large Frogmouth and the near-endemic Bonaparte's Nightjar in recent years. Other interesting possibilities include Gould's and Sunda Frogmouths, Reddish Scops-owl, Oriental Bay-owl and Malaysian Eared-Nightjar. Mammals are a prominent feature of this fantastic park, with a constant backdrop of Agile and Siamang Gibbons calls resounding across the forest. There are also populations of Sumatran Tiger and Asian Elephants here but the chances of seeing them are very slim, but our last tour found a superb Leopard Cat.


DAY 13 Way Kambas - Padang (Central Sumatra) - Gunung Kerinci National Park
Following a final couple of hours birding at Way Kambas, we will drive to Bandar Lampung and fly to Padang in Central Sumatra via Jakarta. Upon arrival in the early afternoon we will set out on the long drive to Kerinci National Park, and a comfortable homestay in the small village of Keresek Tua which will be our base for the next 4 nights.


DAYS 14 – 16 Kerinci - Seblat National Park


The wonderfully remote Kerinci-Seblat is Indonesia's second largest national park located at 1600m in southwest Sumatra. The summit is 3805m and the wide altitudinal range has created an excellent diversity of lowland to alpine habitats with lakes, wetlands, montane hill forest and alpine woodland. We will concentrate our efforts in the beautiful montane forest along a narrow trail that leads to the summit
of the volcano. High amongst many prizes are the endemic Red-billed Partridge, Bronze-tailed Peacock-pheasant, Salvadori's Pheasant, hopefully Schneider's Pitta, the endemic Rusty-breasted and Sumatran Wren-Babblers (the latter split from Long-billed), and the incredibly rare Sumatran Cochoa. Quietly walking the trails will give us chances of some more 'gettable' specialties and endemics such as Shiny Whistling-thrush, the harder Sumatran Whistling-thrush, yet more Sundaic endemics including Sumatran Trogon, Orange-spotted Bulbul, Lesser Forktail, Sunda Blue Robin and Indigo Flycatcher, Sunda Cuckooshrike, Sunda Minivet, Black-capped White-eye, Sunda Warbler, Sunda Laughingthrush, Sumatran Treepie and if we are really lucky the elusive Giant Swiftlet. Other species include Barred Cuckoo-dove, Wedge-tailed Green-pigeon, Mountain Imperial-pigeon, Fire-tufted Barbet, Greater Yellownape, Long-tailed Broadbill, Blue Nuthatch, Lesser and White-browed Shortwings, Rufous-vented Niltava, Mountain White-eye, Mountain Leaf-warbler, Grey-throated and Golden Babblers, Pygmy and Eye-browed Wren-babblers, Chestnut-capped Laughingthrush and Long-tailed Sibia. Once again night birding is a feature here with Barred Eagle-owl, Rajah's Scops-owl, Sumatran Owlet (split from Collared), Salvadori's Nightjar and Sumatran Frogmouth all possible. This is such a wild and remote region and is still home to a small population of the endangered Sumatran Rhinoceros and Sumatran Tiger but the chances of seeing one are extremely remote. There has also been Golden Cat, Clouded Leopard and Hog Badger reported from here, so we shall keep our fingers crossed for something unusual on the mammal front!


DAY 17 Sungai Penuh – Tapan Road
Today we can either pay one last visit to the forested slopes of Gunung Kerinci or drive to the famous Tapan Road and begin our exploration of this wonderful region. Night at Sungai Penuh.


DAYS 18 - 19 Tapan Road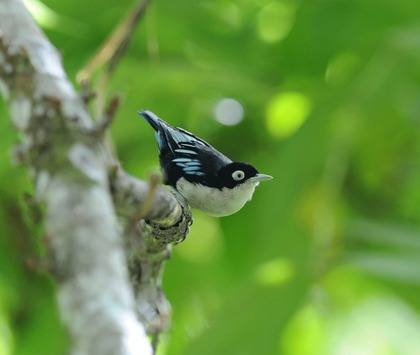 We will spend two full days birding along the Tapan Road between Sungai Penuh and Muara Sako, which gives us better chances of finding those Sumatran endemics and other specialities which inhabit the low elevation forest. In particular we will target species such as Bronze-tailed Peacock Pheasant, Graceful Pitta, Blue-masked and Sumatran Leafbirds, Cream-striped, Sumatran and Spot-necked Bulbuls and Sumatran Drongo. There are also numerous other goodies and spectacular Sundaic species present here such as Blyth's Hawk-Eagle, Rufous-bellied Eagle, Little Cuckoo-Dove, Sumatran Green Pigeon if we are very lucky, White-crowned, Bushy-crested, Helmeted, Wreathed and Rhinoceros Hornbills, Banded Kingfisher, Red-bearded Bee-eater, Gold-whiskered and Black-browed Barbets, White-tailed, Rufous-chested and Rufous-browed Flycatchers, Black-and-crimson Oriole, Ruby-throated Bulbul, Cinereous (split 
from Ashy) and Streaked Bulbuls, Brown Fulvetta, Hill and Bar-winged Prinias, Black Laughingthrush, Spot-necked Babbler, Marbled Wren-babbler, Temminck's Sunbird, Spectacled Spiderhunter and Crested Jay.


DAY 20 Tapan Road - Padang
Our last morning's birding to catch up with any species we may still need, before departing on the long drive to Padang for an overnight stay.


Days 21 Sumatra - Jakarta - UK - End of Tour - 23rd September
This morning we will transfer to the local airport and fly back to Jakarta in plenty of time to connect with our evening flight back to the UK and conclusion of wonderful tour.
Leaders: Nick Bray and Royke Mananta.

Ground Price: £3550.00 – Jakarta/Jakarta
Airfare: £710 - £800 (approx) - UK/UK
Zoothera Tour Prices Explained
Single supplement: £365
Deposit: £600.00
Group size: Minimum for tour to go ahead 4 and maximum 8
Included in cost: Accommodation in twin rooms en-suite (mostly), all meals including picnic lunches where necessary, all entrance fees to National Parks, bottled water, transport throughout in air-conditioned vehicles, and services of leaders.
Not included: International airfare, insurance, departure tax, drinks, tips and items of a personal nature.
Accommodation: All hotels and lodges vary in quality from good to basic, but all are within easy reach of the areas we wish to bird, eliminating long travelling days. In the main cities we will stay in very good hotels, at Gunung Gede we stay at a hotel or villa, Gunung Halimun we stay at Park HQ/Research Station with shared facilities & Way Kambas has a great lodge close to the park entrance. At Kerinci we will be at a homestay and Sungai Penuh at basic hotel.
Tour Code: This is definitely a tour for the more adventurous birder, prepared to stay at basic accommodation and do the right things to see the toughest birds. And be prepared to put up with leeches! Walking is not too difficult but at Gunung Kerinci it can be fairly strenuous and

muddy. We will generally take picnic lunches unless close to our lodge/hotel where we will take a restaurant lunch. The weather is generally warm to hot and can be unsettled at this time of year, so expect some cooler weather in the mountains and with chances of rain, especially in the afternoons.
2013 tour report - click here
2013 tour photo gallery - click here

Receive our e-newsletter:
Join the Zoothera e-mailing list for up-to-date news on new tours, tour reports and special offers.
Click Here to sign up.
The air holidays and flights shown are ATOL protected by the Civil Aviation Authority.
Our ATOL number is 10436. Please see our Terms and Conditions for more information.