Thailand Pitta Special..!
Saturday 24th June - Monday 3rd July 2017
Southern Extension Monday 3rd - Friday 7th July 2017

This very special shorter tour to Central Thailand is a little different in that it provides a superb opportunity to see a number of very special birds that are usually far easier to see during the wet-season than earlier in the year. In partricular we will focus our attentions on finding Eared, Blue-winged, Hooded and Blue Pittas at two of the best National Parks in Thailand: Khao Yai and Kaeng Krachen. Our itinerary will be flexible as we will act on the current birding situation and any news received as to the best hotspots for these species. At this time of year breeding will be in full swing and this can be a photographers dream as up to six species of broadbill, Banded and Oriental Dwarf Kingfishers, and the scarce Asiatic Golden Weaver amongst others often provide superlative close views. There will be plenty of other species as well, and potential other targets include Siamese Fireback, Black-thighed Falconet, Large Scimitar-babbler, Red-legged Crake, and we can always hope for a Coral-billed Ground-Cuckoo as well!
Often at this time of the year certain species are staked-out by Thai photographers and in most summers there is a special site for Eared Pitta which is viewable from a discreet distance. In the past couple of summers there have also been other stake-outs for species such as Hodgson's Frogmouth and even Giant Pitta in other parts of the country and we will keep any interested persons informed if this happens again this summer.
This tour is only available for a select group of 3 - 6 birders plus our expert local guide, which is so essential for tropical forest birding, ensuring an extremely personalised and quality tour.
Targets:
Coral-billed Ground Cuckoo

Wallace's Hawk-Eagle (ext)

Black-thighed Falconet

Banded Kingfisher

Oriental Dwarf Kingfisher

Ruddy Kingfisher (ext)

Brown-winged Kingfisher (ext)

Rufous-collared Kingfisher (ext)

Rufous Piculet (ext)

Great Slaty Woodpecker

Black-headed Woodpecker

Crimson-winged Woodpecker

Long-tailed Broadbill

Green Broadbill (ext)

Silver-breasted Broadbill

Banded Broadbill

Black-and-red Broadbill

Black-and-yellow Broadbill

Tickell's Brown Hornbill

Hooded Pitta

Blue-winged Pitta

Blue Pitta

Eared Pitta

Mangrove Pitta (ext)

Malayan Banded Pitta (ext)

Asian Golden Weaver

Days 1 - 2
UK - Bangkok
- 24th to 25th June
Overnight flight with British Airways to Bangkok arriving early morning of Day 2 and then we will drive to Khao Yai for a 3 night stay.

An early start will see us staking out the first of a series of trails in search of Eared Pitta. Hopefully we will hear the tell-tale rustling in the leaf litter that often gives away the presence of this much-wanted species and it can often be rather bold and confiding once tracked down. This is also a good area for Blue Pitta and a number of other shy species such as Siamese Fireback and Silver Pheasant can also be seen. This National Park is also good for Long-tailed, Banded and Dusky Broadbills, and we can hopefully get sopme very nice views of these colourful species, whilst there are always chances of locating the much-wanted Coral-billed Ground Cuckoo.
Other species that can be found here include Great Eared Nightjar, Red-headed and Orange-breasted Trogons, Green-billed Malkoha, Little Spiderhunter, Verditer Flycatcher, Striped Tit-babbler, White-bellied Erpornis, Spangled Drongo and Common Green Magpie. By thoroughly exploring the park we can also hope to see Collared Owlet, Great-eared Nightjar, Great Pied and Wreathed Hornbills, Mountain Imperial-pigeon, Blue-bearded, Blue-throated and Chestnut-headed Bee-eaters, Banded Kingfisher, Blue-eared, Moustached and Green-eared Barbets, Asian Fairy Bluebird, White-rumped Shama, Indian Roller, Rosy and Ashy Minivets, White-crowned Forktail, Dark-necked Tailorbird, Yellow-vented and Fire-breasted Flowerpeckers, Van Hasselt's and Crimson Sunbirds, and both Black-throated and White-crested Laughingthrushes. Other animals present here include Asian Elephant, Pig-tailed Macaque, White-handed Gibbon, Sambar, Muntjac, East Asian Porcupine, and we have even seen Dhole, Gaur and Asiatic Black Bear here as well. 3 nights at Khao Yai.
DAY 5

Khao Yai - Phetchaburi


An early start will see us driving towards the Gulf of Thailand to the Phetchaburi area where we can see a good variety of

common south-east Asian birds around the mangroves, lagoons, fields and marshes. Species in the area include Little Green Heron, Chinese Pond-heron in breeding finery, Pacific Reef Egret, Bronze-winged and Pheasant-tailed Jacanas, Black-capped and Collared Kingfishers, Germain's Swiftlet, Indochinese Bushlark, Pied Fantail, Mangrove Whistler, Brown-throated Sunbird, Golden-bellied Gerygone, Yellow-vented Bulbul and Plain-backed Sparrow amongst others. Weavers will be in breeding plumage and a totally different proposition to the bland-looking plumages most birders are used to when visiting in winter and we should find Streaked, Baya and the rarer Asiatic Golden Weaver in nesting colonies beside the road. We may also have time to take a boat out ot the sandspit at Laem Pak Bia to view Malaysian Plover.
Once we have finished here we will drive to Kaeng Krachen for a 4 night stay. After checking in to our superbly situated accommodation near the park entrance we can do some night birding and try to find Collared Scops-owl and Large-tailed Nightjar.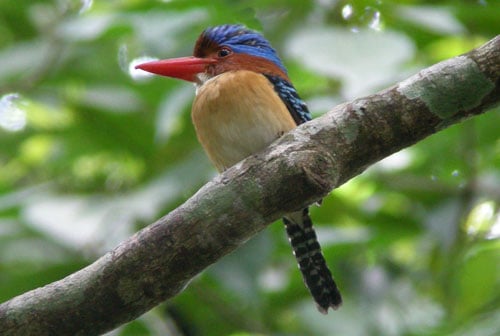 An early start will see us driving to the entrance of Kaeng Krachen National Park and we have three full days to explore the hill forest and lowland evergreen forest of the largest National Park in Thailand, which protects 3,000 square kilometres of pristine habitat and the richest avifauna in the whole country. Our visit here gives us the best possible chance of observing Blue-winged and Hooded Pittas, as well as further chances of Eared and Blue Pittas. Hopefully there will be a stake-out for some of these species, which will definitely make things easier!
Birding is done mainly from the 36 kilometre long entrance road and a series of trails and by visiting in this wet season period we have a better chance of seeing a number of sought-after species than earlier in the year. Prominent amongst these species are the much-wanted broadbills and we could see up to six species: Black-and-red, Black-and-yellow, Long-tailed, Silver-breasted, Dusky and Banded Broadbills. This is also a great time of year to see Banded and Oriental Dwarf Kingfishers, Red-bearded Bee-eater, Great Slaty, Bamboo and Crimson-winged Woodpeckers.
Amongst many other fantastic possibilities here we can find Grey Peacock-pheasant, Thick-billed and Yellow-vented Pigeons, Collared Scops-owl, Tickell's Brown Hornbill, White-browed Piculet, Common Flameback, Greater Yellownape, Grey-and-Buff Woodpecker, Chestnut-breasted Malkoha, Great, Red-throated, Moustached, Green-eared and Blue-eared Barbets, Black-thighed Falconet, Large-tailed Nightjar, Heart-spotted Woodpecker, Vernal Hanging-parrot, Violet, Asian Emerald, Indian and Banded Bay Cuckoos, Black-naped Oriole, Red-headed and Orange-breasted Trogons, Asian Fairy Bluebird, Himalayan Swiftlet, Brown-backed Needletail, Great Iora, Large Woodshrike, Sultan Tit, Rosy, Grey-chinned and Swinhoe's Minivets, Flavescent and Ochraceous Bulbuls, Dark-necked Tailorbird, Yellow-bellied and Sulphur-breasted Warblers, Hill Blue Flycatcher, Blyth's Shrike-babbler, Large and White-browed Scimitar-babblers, Spot-necked, Collared and Golden Babblers, Black-throated Laughingthrush, Pin-tailed Parrotfinch, Crested Jay and the extremely localised Ratchet-tailed Treepie. Some nightbirding could give us Brown Hawk-owl, Asian Barred Owlet and Collared and Oriental Scops-owls.

One afternoon we may visit a special site depending on previous reports, where there is a bird hide overlooking a small pool and it is sometimes possible to observe some interesting species coming to drink and bathe. This can be a very good place with such hard-to-see birds such as Scaly-breasted and Bar-backed Partridges, Kalij Pheasant, Red-legged Crake, Large Scimitar-babbler and occasionally an Eared Pitta. Nights at Kaeng Krachen.
Day 9 Kaeng Krachen – Bangkok
We will leave our options open for this morning, either making a return visit to the National Park or visit a nice patch of dry dipterocarp forest where we can look for the spectacular Black-headed Woodpecker, along with Rufous Woodpecker, Spotted Owlet, Purple Sunbird and other species. After lunch we will head out on the drive back to Bangkok and the end of our wet season birding in amazing Thailand. Night in Bangkok.
Day 10

Bangkok - UK
- Monday 3rd July
Late morning flight back to UK and conclusion of a wonderful tour.


SOUTHERN EXTENSION: 3rd July - 7th July
Day 10

Bangkok - Phuket - Sri Phang Nga

- 3rd July
I

f continuing with our southern Thailand extension we will take a morning flight to Phuket



and then drive to Phang Nga mangroves for the afternoon. Species we will look for include
Ruddy Kingfisher, Mangrove Whistler, Mangrove Pitta,
Copper-throated Sunbird, White-chested Babbler and Pacific Swallow
. Also we will try Phang Nga Bay mangroves for
Mangrove Pitta, Brown-winged Kingfisher, Ashy Tailorbird, Chestnut-bellied
Malkoha, Streak-breasted Woodpecker and Rufous-bellied Swallow.
Day 11
Sri Phang Nga National Park
We will have a full day in Sri Phang Nga National Park targetting Malayan Banded Pitta, Green Broadbill, Rufous-collared Kingfisher and Chestnut-naped Forktail. Other species to look for include Banded Woodpecker, Grey-and-buff Woodpecker, Bushy-crested Hornbill, Gould's Frogmouth, Whiskered
Treeswift, and Wallace's Hawk-Eagle amongst others.
Day 12

Sri Phang Nga National Park
We'll spend another day in Sri Phang Nga to make sure we get our target birds. Other species may include Blue-winged and Hooded Pittas, Rufous Piculet, Purple-naped Sunbird, Blue-banded Kingfisher and many other southern species.
Day 13

Sri Phang Nga NP - Phuket - Bangkok
This day will be used to find any of our main targets that we
have not found, be it in the forest or the mangroves.
We may
well visit some nearby sites for Spotted Wood Owl, Blue-throated
Bee-eater, Malaysian Plover and other species on our way back to Phuket airport, depending on any new local information received.
Night at airport hotel, Bangkok.
Day 14

Bangkok - UK/Europe/USA - End of Tour

- 7th July
Transfers to Bangkok airport for our international flights and end of the tour.
Nick Upton lives in Bangkok and runs the highly acclaimed Thaibirding.com website. He has been active in the local birding scene for many years and his services as a tour guide are much in demand. No one is better prepared to show us the special birds of Thailand than him. Nick also co-leads our other Thailand tours as well.



Ground Price (Main Tour):

£1350.00

- Bangkok/Bangkok
Ground Price (extension):

£750.00
Airfare:

£650.00 - £700.00

(Approx) - UK/UK
Single supplement (main):
£150.00
Single Supplement (ext):
£65.00
Deposit:
£400.00

Group size:

Minimum for tour to go ahead 3 and maximum of 6.
Included in cost: Accommodation in twin rooms en-suite, all meals (including bottled water and soft drinks/sodas), transport in air-conditioned minibus throughout the tour, boat trip if req'd, domestic flights (Bangkok - Phuket return), all reserve entrance fees and services of the leaders.
Not included: International airfare, insurance, alcoholic beverages, tips, and items of a personal nature.
Accommodation: The lodges and hotels used on this tour range from standard to good, all with en-suite facilities. We will stay in the best available lodges/guest houses close to the birding sites.
Tour Code: This is a specialised tour where early starts and late finishes can be expected. Most of our birding walks will be of a usual slow pace and relatively easy along easy trails and often along roads. Expect a typically wet season/tropical climate with days being hot and humid and aftenoon showers are to be expected. This is undoubtedly THE best time to have a realistic chance of seeing pittas and other special birds that breed here at this time of year. It will take a certain tenacity and perseverance as we track them down but in this case, the end definitely justifies the means! If there are stake-outs for Hodgson's Frogmouth or Giant Pitta then we will keep any interested persons informed of these developments - but this would necessitate taking domestic flights and extra cost.





Receive our e-newsletter:
Join the Zoothera e-mailing list for up-to-date news on new tours, tour reports and special offers.
Click Here to sign up.
Previous Tour Reports: 2015 tour update
2012 Species list January 2012 Tour 1 January 2012 Tour 2 Jan/Feb 2013


Recommended Books, CD's and more from NHBS. Click on - Buy from NHBS - to go straight to website!



The air holidays and flights shown are ATOL protected by the Civil Aviation Authority.
Our ATOL number is 10436. Please see our Terms and Conditions for more information.