Spain, The Straits & Morocco - Birding Two Continents
Saturday 30th September - Saturday 7th October 2017




Legend has it that Hercules used his incredible strength to separate the continents of Europe and Africa, creating the Straits of Gibraltar. This tour makes use of outstanding local knowledge and expertise to bring them back together for you! Our experience of the area and local contacts mean we can take you where other guides fear to tread! The point at which Africa and Europe meet is the epicentre for one of the world's most spectacular bird migrations. Every year in spring and autumn, millions of birds make the 14 km journey across the Straits of Gibraltar, making use of uplifts and thermals rising off the Rock of Gibraltar and the stunning Moroccan peak of Jebel Musa. An estimated 250,000 raptors pass over this rugged terrain during these periods, as well as untold thousands of journeying passerines and seabirds. On this trip we will experience the very best of two continents from fantastic locations in both Spain and Morocco. As well as being at the heart of the thrilling migration spectacle, we will look for Marsh Owls, Bald Ibis and Barbary Macaques as well as the seabirds and cetaceans of the Straits on a boat excursion and Moroccan specialities in both mountain and wetland sites. The culture on the two sides of the Straits is as fascinating as the wildlife spectacles, full of rich flavours and colours and engaging people. There'll be plenty of time in the itinerary to relax in the shade, sharing tapas or sipping mint tea, and watch the vibrant tapestry of local life unfold before you.
This tour can offer be offered at anytime of the year but both spring and autumn offer the very best opportunities to see the migration and specialist species from both sides of the veil!


Targets:
Marbled Teal

Ferruginous Duck

White-headed Duck

Purple Swamphen

Red-knobbed Coot

Balearic Shearwater

Corys Shearwater

Scopoli's Shearwater

Atlas Long-legged Buzzard

European Honey Buzzard

Spanish Imperial Eagle

Short-toed Eagle

Golden Eagle

Bonelli's Eagle

Booted Eagle

Egyptian Vulture

Griffon Vulture

Rüppell's Griffon Vulture

Barbary Falcon

Lesser Crested Tern

Moroccan Marsh Owl

Barbary Falcon

Lesser Crested Tern

Brown-throated Martin

European Bee-eater

Iberian Green Woodpecker

Levaillant's Green Woodpecker

Little Swift

Black Wheatear

Black-eared Wheatear

Iberian Grey Shrike

Algeriensis Great Grey Shrike

Moussier's Redstart

Short-toed Lark

Thekla Lark

Tawny Pipit

Iberian Chiffchaff

Moustached Warbler

Short-toed Treecreeper

Rock Bunting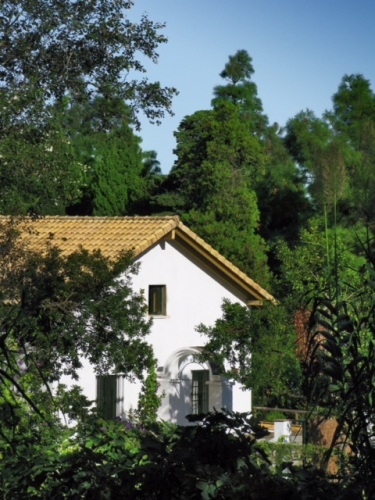 Day 1

UK - Malaga or Gibraltar - Tarifa
- 30th September
After travel from Malaga or Gibraltar airport (via pick-up or under your own steam), you will arrive at the beautiful ecolodge of Huerta Grande, our base for the first two nights. The Lodge sits within the Alcornocales Natural Park and the grounds are a peaceful forest made up of a mixture of cork oak, pines and eucalyptus. After checking in we'll explore and look for migratory species like Pied Flycatchers, Iberian Chiffchaffs and Common Redstarts which can be found resting, alongside regular residents like Firecrest, Crested Tit, Hawfinch and Short-toed Treecreeper.
Once you have unwound from your journey, we will visit one of several local raptor watch points at which you can relax and enjoy the spectacle of hundreds of Honey Buzzards, Booted Eagles, Short-toed Eagles, Griffon Vultures, Black Kites and White Storks swirling overhead. We will use local knowledge of the effects of weather conditions and wind direction to select the best location. Given the right weather, any day can witness spectacular raptor movements and spring and autumn are particularly good times of year for birds journeying between Europe and Africa. Other likely species include Lesser Kestrel, Hobby, Peregrine, Sparrowhawk, Osprey, as well as Golden and Spanish Imperial Eagle. Obtaining close views of this spectacle is one of the special events to witness in this important migratory flyway; indeed it is one of the best migration spectacles that Europe has to offer. Of course, for those in the group preferring a spot of sun-bathing or relaxing at the delightful and friendly Huerte Grande the option will be available to you!
Day 2 Tarifa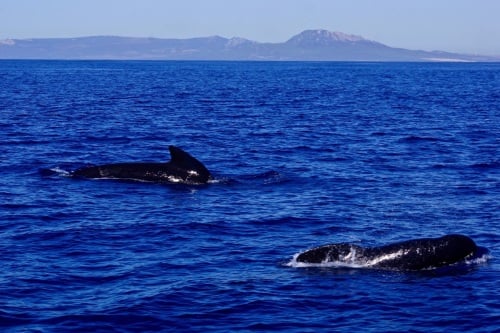 We will spend the morning looking skyward at a raptor watchpoint as increasing thermals allow raptors to leave their roosts and continue on their journey.
Following our raptor-fest, weather permitting we will take our boat trip into the Strait itself in search of cetaceans and seabirds. Striped, Common and Bottlenose Dolphins are all seen regularly and there is also a population of around 200 Long-finned Pilot Whales in the area. This is a fascinating species of cetacean, and by choosing to cruise in a relatively small boat, we should be able to get some close encounters if they are in the mood!
Many seabirds use the Straits as a flyway between the Mediterranean Sea and Atlantic Ocean, and we should be able to see feeding groups of Cory's and Balearic Shearwaters & Northern Gannets, with the occasional pelagic skua and petrel also putting in an appearance. Amongst the Cory's Shearwater's we will also look for Scopoli's Shearwater. They are sometimes regarded as separate species and could be split at some stage in the future. Following our boat trip and if tidal conditions are right we will head to the intertidal habitat of Los Lances. Here we'll see a variety of gulls, terns and waders on the wetlands, and hopefully larks, pipits, buntings, wheatears and hunting raptors on the adjacent fields.
Day 3 Cross the Straits to Ceuta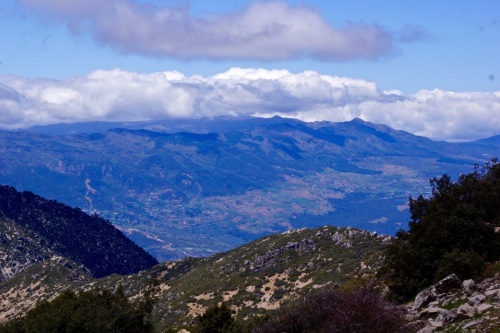 We'll take the 8am ferry this morning from Tarifa to the Spanish enclave of Ceuta, from where we will cross the border into Morocco.
We will then pause to settle into Morocco at the majestic rocky promontory of Jebel Musa to observe migrating raptors and storks and the first of the African species such as African Blue Tit and African Chaffinch.
We then head to the lagoon of Merja Zerga, the last known wintering ground for the now probably extinct Slender-billed Curlew. Although sadly the curlews have gone, this is an important area for migratory terns, gulls, waders and often Ospreys. It can be a treasure trove of migratory shorebirds and seemingly anything might turn up. Following an extensive search of this famous birding site on foot and by boat, we will head to some nearby scrub and marshland on a private site to look for roosting and hunting Moroccan Marsh Owls.
We then travel on to our first overnight stay in Morocco, in the bustling city of Larache. A quick visit to the main square may well provide some urban birding surprises such as a colony of Little Swifts that come and go despite the busy markets.
Day 4 Morocco, Chefchouen

After breakfasting in Larache, we will visit the nearby Loukkos Wetlands which are great for Purple Swamphen, Marbled Duck, White-headed Duck and Red-knobbed Coot and, with luck, Ferruginous Duck. We'll keep our eyes peeled for Moustached Warbler and the marshes are also home to the last breeding Reed Bunting population in Africa.
We will then head for the last stronghold of truly wild Barbary Macaques in Morocco, the Forest of Bouhachem in the Rif mountains. As well as looking for the macaques there will be further chances to look for African specialities such as Maghreb Magpie and the beautifully intact mountain woodland hosts many migratory passerines along with Levaillant's Green Woodpecker.
Next it's on to the charming town of Chefchouen, where we will spend the night. After checking into our hotel, you will have time to wander amongst its picturesque blue houses and buildings.
Day 5 Morocco, Talassamtane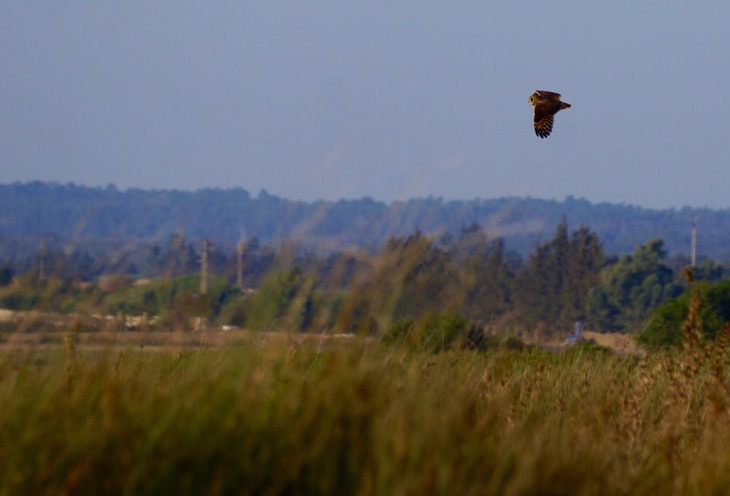 Today we will use 4x4 vehicles to visit the nearby Talassamtane National Park, one of the best preserved mountain forests in Morocco. Here we'll find species typical of higher altitudes Black Wheatear, Blue Rock Thrush and Rock Bunting along with migrating raptors passing through the impressive mountain range. And the mountains should also yield Atlas Long-legged Buzzard and the simply unmistakable Moussier's Redstart.
We will then return to Chefchouen for a refreshing mint tea with a good opportunity to wander the beautiful market stalls or raptor watching from the hotel rooftop.
Day 6 Return to Spain

Heading back towards Ceuta for our ferry back to Spain, we will visit the Oued Laou river for chances of
subpersonata
Pied Wagtail, Barbary Falcon and
brookei
Peregrine Falcon.
As we travel along the coast we can make stops to observe migratory raptors along the coast, hopefully encountering species like Egyptian and Griffon Vultures, Booted and Short-toed Eagles and Lesser Kestrel - and maybe even Lanner Falcon!
We'll then make our own crossing in the comfort of our ferry, before heading back to our home-from-home at Huerte Grande.
Day 7 Tarifa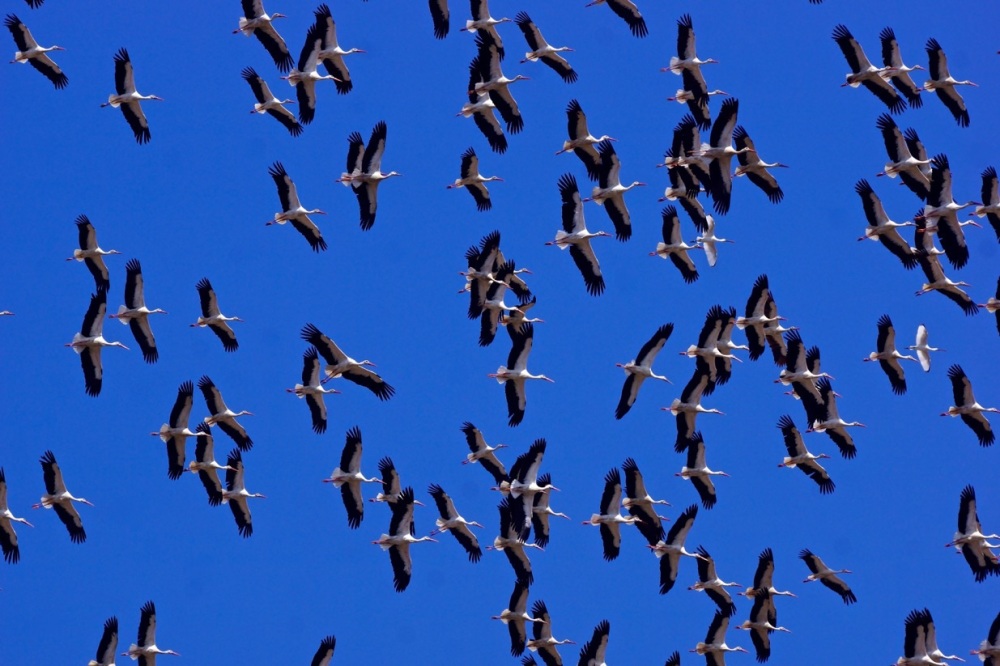 We have a full day around Tarifa today and we'll be making the most of the varied birding sites nearby. We may not have to cover them all but we'll make sure we select the absolute best according to the weather conditions of the day.
Local sites include the vast natural basin of La Janda, a large, extensively farmed area, which was a hugely important wetland before it was drained for agriculture in the late 19th and early 20th century. Birds still use the remaining wetland fragments in great numbers and pools here often contain groups of Wood Sandpipers, Ruff, Black-winged Stilts, Glossy Ibis and the odd Green Sandpiper. Additionally we'll have a chance of seeing Black-shouldered Kite, Bonelli's Eagle and Spanish Imperial Eagle.
We can also visit some roadside cliffs nearby to see the intriguing Northern Bald-Ibis. Thirty birds were released here as part of a reintroduction programme, which had its first success in 2008, when a pair laid two eggs. This was probably the first attempt to breed in the wild in Spain for 500 years - the last definite reference to the Northern Bald Ibis breeding in Spain is from a 15th-century falconry book!
Time permitting we will head to the cliffs and caves above Bolonia, which affords amazing views of the straits and roosting Griffon Vultures along with several species of raptors. Looking down from the high cliffs we can also see the ruins of the Roman town of Baelo Claudia, considered to be the most complete Roman town ruins yet uncovered in Spain. From here we will head to several different inland raptor watch points and areas where we may encounter feeding vultures, which with luck could include Rüppell's Griffon Vulture. This vulture is a species that occurs throughout Central Africa in the Sahelian region, but since 1992 has occurred as a vagrant in the Straits with annual records since 1997.
DAY 8

End of Tour
- 7th October
Today, after a final delicious Huerta Grande breakfast, we say goodbye and return to Malaga/Gibraltar Airport for our return flight back to the UK and conclusion of a wonderful tour.
Leaders
: Simon Tonkin, Niki Williamson & local guides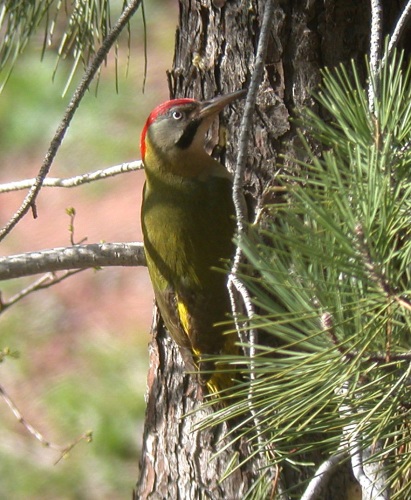 Ground Price:

£

1495.00

- Madrid/Madrid
Airfare:

£250.00 - £350.00 (Approx) - UK/UK
Single supplement: £150.00
Deposit:

£400.00



Group size:

Minimum for tour to go ahead 5 and maximum of 10 with 2 leaders
Included in cost:
Accommodation in twin rooms en-suite, all meals including picnic lunches, bottled water, snacks, transport throughout, all park entrance fees, and services of local guides and leaders.


Not included: International airfare, insurance, visa fee, departure tax, drinks, tips, and items of a personal nature.
Accommodation: In twin or double rooms as requested (please remember we are visiting areas way off the regular tourist circuit) but all rooms have private bathrooms. Food is excellent and we cater for ALL dietary requirements. We only stay in the best available accommodation close to the birding sites.
Tour Code: This is a standard birding tour for anyone with a modest level of fitness. Long days in the field with early starts are expected, but walking is easy, and we will allow plenty of time during the day for rest and refreshment. The weather will be predominantly hot and dry throughout the tour, but higher areas could see some precipitation. A fleece and raincoat will be needed for the mountains.



All photos copyright www.ingloriousbustards.com (except Levillant's Green Woodpecker and Moussier's Redstart copyright Zoothera Birding)
Receive our e-newsletter:
Join the Zoothera e-mailing list for up-to-date news on new tours, tour reports and special offers.
Click Here to sign up.

The air holidays and flights shown are ATOL protected by the Civil Aviation Authority.
Our ATOL number is 10436. Please see our Terms and Conditions for more information.