SE China 2017
Monday 24th April – Monday 8th May 2017

In this exciting ZOOTHERA tour we target some of Asia's rarest and most enigmatic birds as we visit areas of south-east China seldom visited by western birders. During this adventure we will begin our adventure by visiting the Minjiang Estuary, which is undoubtedly the best place in the world to see the Critically Endangered Chinese Crested Tern, whose world population may not exceed 50 individuals. Moving on to more remote areas we will explore the new site of Emei Feng, which is the current 'hot-spot' for the most-wanted bird in south-east China and one of the rarest 'pheasants' in the world - Cabot's Tragopan. From here we travel to the rural countryside around Wuyuan, in search of the exceedingly rare Courtois's Laughingthrush, a species only discovered 12 years ago and which has a world population of around 200 individuals – and has only been seen by a handful of western birders. We will then travel to the wader and migration hotspot of Rudong and this area has been labelled the best site in the world for seeing Spoon-billed Sandpipers. This is their last staging post before leaving for their breeding grounds in eastern Russia and we have a chance of seeing one in its breeding finery if we are lucky. A multitude of other migrant waders should also be seen, as well as endemics such as Reed Parrotbill and Japanese Swamp Warbler.
Add to this a fine supporting cast including Chinese Bamboo-partridge, White-necklaced Partridge, Elliot's, Silver and Koklass Pheasants, Nordmann's Greenshank, Asiatic Dowitcher, Saunder's Gull, Fujian Fulvetta, Short-tailed Parrotbill, Hartert's Warbler, Spotted Elachura, Grey-sided Scimitar-babbler as well as a whole host of spring migrants to add a little more 'stardust' to an already incredible tour jam-packed with quality birds. Spring Migration will be in full flow and we should see a good selection of 'eastern vagrants' such as Siberian Blue Robin, Siberian Rubythroat, Red-flanked Bluetail, Blyth's Pipit, Thick-billed, Lanceolated, Two-barred Greenish, Pallas's, Radde's and Dusky Warblers, Siberian, White's and Eye-browed Thrushes, and Meadow and Pallas's Reed Buntings amongst many others.
Targets:
Cabot's Tragopan

Elliot's Pheasant

Silver Pheasant

White-necklaced Partridge

Black-faced Spoonbill

Little Curlew

Long-billed Plover

Spoon-billed Sandpiper

Saunder's Gull

Chinese Crested Tern

Pied Falconet

Reed Parrotbill

Short-tailed Parrotbill

Japanese Swamp Warbler

Pechora Pipit

Narcissus Flycatcher

Courtois's Laughingthrush

Buffy Laughingthrush

Siberian Thrush

Grey-sided Scimitar-babbler

Fujian Fulvetta

Indochinese Yuhina

Hartert's Warbler

Siberian Blue Robin

Spotted Elachura

Fujian Fulvetta

Fork-tailed Sunbird

Pallas's Reed Bunting

numerous migrants
Days 1 - 2

UK/Europe/USA - Shanghai

- 24th to 25th April
Following an overnight flight we will arrive in Shanghai (Pudong) the following morning and begin our exploration of this fascinating country by taking a short internal flight to Fuzhou. Night Fuzhou
A

long the rocky coastline of Fujian, the wide-open mudflats of the Minjiang Estuary provide the best opportunity in the world to see the Critically Endangered Chinese Crested Tern, who has a population estimated at less than 50 individuals. Presumed extinct up to 15 years ago, a small population has been found breeding off Taiwan and there have been erratic occurrences at other sites in south-east Asia but nowhere is as reliable as here. There should hopefully be a few individuals in perfect breeding plumage loafing on the mudflats in company with flocks of Great Crested Terns. This is one of those very special species that most birders have never really considered it a possibility of seeing - until now that is! At this time of the year migration is in full swing and there will be numerous species present and definitely the odd surprise or three! Many waders should be present including Red-necked Stint, Sharp-tailed Sandpiper and Far Eastern Curlew, and there could also be Saunder's and Black-tailed Gulls as well. Depending on our success with the terns we could explore the fields around the estuary which usually prove attractive to tired migrants and possibilities include Japanese Quail, Amur Falcon, Little Whimbrel, Chinese Penduline-tit, Siberian Rubythroat, Yellow-browed, Dusky and Radde's Warblers, Blyth's and Richard's Pipits, Japanese Reed, Black-faced, Yellow-browed, Little and Chestnut-eared Buntings and White-shouldered Starling among many possibilities. In the afternoon we can visit Fuzhou Forest Park and follow one of the trails up into the hills in search of the shy White-necklaced Partridge. Night in Fuzhou.
Day 4 Fuzhou Forest Park - Emei Feng
We will return to the beautiful Fuzhou Forest Park for the first few hours of the morning, following a network of trails that head up into the hills through superb forest where the monotonous calls of Great Barbets resound, and we can look for Collared Owlet, Rufous Woodpecker, Blue Whistling-thrush, Slaty-backed Forktail, Chestnut Bulbul, Indochinese Yuhina, Huet's Fulvetta, Orange-bellied Leafbird, both Grey-sided and Streak-breasted Scimitar-babblers, Spotted Elachura, Large Woodshrike, Red-billed Blue Magpie, both Lesser and Greater Necklaced Laughingthrushes, Grey-chinned and Scarlet Minivets, Grey-headed Parrotbill, White-bellied Erpornis, Fork-tailed Sunbird, and if we are very lucky, Pale-headed Woodpecker. This is also a good place for migrants and lingering winter visitors such as Whites, Grey-backed and Pale Thrushes, Pallas's and Yellow-browed Warblers, Daurian Starling and Tristram's Bunting all possible. After birding here we will set out on the drive to the relatively unknown Emei Feng in Fujian Province, arriving in the late afternoon and a perfect time to look for the incredibly shy Elliott's Pheasant that can sometimes be seen feeding at the edge of small fields and forest clearings. Night at Emei Feng.
Days 5 - 6
Emei Feng Nature Reserve
(1528m)

An early start will see us entering the reserve and slowly driving up into the mountains in search of our main target Cabot's Tragopan, a species which is endemic to south-east China. Although this is currently the best site in the country to find this species, it is still very shy and moves quietly through the bamboo but emerges onto the tracks to take grit in the early mornings and late evenings. This mountain's other main prizes are the endemic White-necklaced (Rickett's) Partridge and Elliot's Pheasant for which we will make a special effort to find, and there are also good chances of Koklass and Silver Pheasants as well.
As we descend the mountain into the bird rich subtropical forest we will have plenty of time to fully explore this seldom-visited area and other species present include Barred Cuckoo-dove, Speckled Piculet, Bay and White-backed Woodpeckers, Great Barbet, Chestnut-vented Nuthatch, Brown Dipper, Bull-headed, Tiger and Long-tailed Shrikes, Blue-throated and Ferruginous Flycatchers, Small Niltava, Lesser Shortwing, Chestnut-bellied Rock-thrush, Mountain and Black Bulbuls, Blyth's and Green Shrike-babblers, Daurian Redstart, Golden and Vinous-throated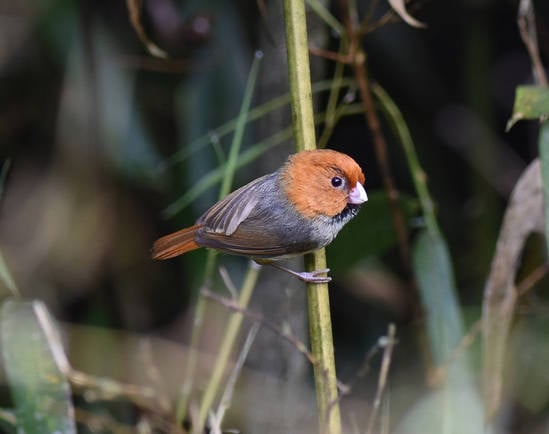 Parrotbills, Fujian (split from Grey-hooded) Fulvetta, Huet's (split from Grey-cheeked) Fulvetta, Striated and Black-chinned Yuhinas, the endemic Yellow-bellied and Yellow-cheeked Tit, Grey-Chinned Minivet, Brownish-flanked and Yellowish-bellied Bush-warblers, Sulphur-breasted, Bianchi's, White-spectacled, Alstrom's, Rufous-faced and Chestnut-crowned Warblers, Hartert's Warbler (split from Blyth's Leaf-warbler), Kloss's Leaf-warbler (split from White-tailed Leaf-warbler), Red-billed Leiothrix, Black-chinned and Indochinese Yuhinas, Buffy and Lesser Necklaced Laughingthrushes, Spotted Elachura, Pygmy Wren Babbler, Yellow-browed Tit, Brown Bullfinch and Oriental Greenfinch. Meanwhile a visit to the highest accessible area of this mountain could yield Brown Bush-warbler and Buff-throated warbler amongst others. At night we can hear Mountain Scops-owl and Collared Owlet. Nights at Emei Feng.
Days 7 - 9

Emei Feng - Wuyuan

After some final birding this morning we will drive some 7 hours to Wuyuan for a three-night stay. One of the most important recent discoveries in Asian birding was made in 2000 when local ornithologists discovered a population of Courtois's Laughingthushes at Wuyuan. Previously known from two museum specimens collected in 1919 it has spent 'time' lumped within Yellow-throated Laughingthrush but is now, quite rightly, given full species status. It is a fascinating bird and unlike nearly all other laughingthrushes it nests in loose colonies, and more amazingly has only been found nesting in large trees within small villages in the remote, traditional countryside. A strange bird indeed and one that only a handful of western birders have yet encountered and we shall count ourselves extremely privileged to see such a rare and beautiful bird. Less than 200 individuals are known to date, making this one of the rarest birds in the world. The area we will search is a complete contrast to most of the lowlands of south-east China, retaining much of the original way of life with small, picturesque villages situated amongst the rice fields that are still worked using traditional methods.
Birds are numerous in this area and amongst a whole host of other possibilities we can find the delightful Pied Falconet, as well as Mandarin Duck, Chinese Bamboo-Partridge, Black Baza, Chinese Sparrowhawk, Long-billed Plover, Large Hawk-cuckoo, Indian Cuckoo, Crested Kingfisher, Grey-capped Woodpecker, White-throated Needletail, Swinhoe's and Grey-chinned Minivets, Brown-chested Jungle-flycatcher, Narcissus Flycatcher, Japanese White-eye, Fujian Niltava, Brown-breasted, Chinese and Chestnut Bulbuls, Dollarbird, Black-winged Cuckooshrike, Dusky and Grey-cheeked Fulvettas, Collared Finchbill, White-crowned Forktail, Chinese Hwamei, White-browed, Masked and Moustached Laughingthrushes, Rufous-faced Warbler, Black-throated Bushtit, Short-tailed Parrotbill, Grey Treepie, and both Black-collared and Red-billed Starlings. Nights in Wuyuan
in east Jiangxi Province
Day 10

Wuyuan - Shanghai - Rudong
This morning we will fly to Shanghai and upon arrival we will drive
for around an hour to an area of marshes and reed

beds, where we can search for the stunning endemic Reed Parrotbill. The parrotbill is usually rather inquisitive and very active as it flies over the reeds before perching on a tall stem to survey its territory. The other key species here is Japanese Swamp Warbler, which usually betrays its presence by its diagnostic song flight where it rises high into the air before parachuting back into the reeds. There are a number of other birds here and considering it is migration time, anything could possibly turn up. We may well see Eurasian Bitterns here, as well as migrating Japanese Sparrowhawks or Amur Falcons, Pacific Swifts, Chinese Penduline-tit, the hulking Manchurian Bush-warbler, Vinous-throated Parrotbill or even Pallas's Reed Bunting amongst many other possibilities.
We can spend the rest of the day checking out various migration hot-spots and this is a particularly good area for waders with species such as Terek Sandpiper, Grey-tailed Tattler, Long-toed and Red-necked Stint, Oriental Pratincole and Sharp-tailed Sandpiper. Our previous visit found Little Curlew, Citrine Wagtail, Narcissus, Mugimaki and Asian Brown Flycatchers, Red-throated and Pechora Pipits, Yellow-browed, Pale-legged and Eastern crowned Warblers, as well as a stunning Chinese Grosbeak. After a late lunch we will drive for a few hours to Xiao Yang Kou, or more simply known as Rudong. Night in Rudong.
This is the single best site in the whole of China, and arguably the most accessible reliable site in the world for Spoon-billed Sandpiper, one of the world's rarest and most enigmatic waders. We have timed our visit to give us a chance of seeing these exceedingly rare birds in their splendid brick-red breeding finery just before they depart for their breeding grounds in north-east Russia – something that very few western birders have had the privilege to witness. It will take some finding in this vast area, especially considering that tens of thousands of shorebirds pass through here each Spring, so we'll need a good slice of luck as well! Indeed, it is possible

to see over thirty species of wader here in a day! Amongst a superb selection of other waders we can find such sought-after species as Lesser and Greater Sandplovers, Far Eastern Curlew, Pacific Golden Plover, Great Knot, Kentish Plover, Broad-billed, Sharp-tailed and Terek Sandpipers, Spotted Redshank, Red-necked and Temminck's Stints and Grey-tailed Tattler. There are also good opportunities to find the highly-prized Asiatic Dowitcher and Nordmann's Greenshank amongst huge flocks of more familiar waders. The recently discovered White-faced (or Swinhoe's) Plover and Black-faced Spoonbill are also a distinct possibility here. Further searching of the mudflats should reveal Gull-billed Tern and if we are lucky, a fine Saunder's Gull. At this time of year migration will be well underway and this opens up a whole new realm of possibilities to add to the resident population. The nearby Magic Forest is a local migrant trap where many surprises can turn up and we could find Grey-streaked, Dark-sided, Yellow-rumped and Taiga Flycatchers, Brown Shrike, Siberian Rubythroat, Siberian Blue and Rufous-tailed Robins, White-throated Rock-thrush, Siberian, Eye-browed, Pale and Grey-sided Thrushes, Forest Wagtail, Olive-backed and Pechora Pipits, Black-browed Reed-warbler, Dusky, Arctic, Pale-legged and Claudia's Warblers and Chestnut, Chestnut-eared and Elegant Buntings. Other species we may encounter in the general area include Falcated Duck, Yellow Bittern, Intermediate Egret, Pied Harrier, Grey-headed Lapwing, Oriental Turtle-dove, Black-capped Kingfisher, Lesser Coucal, Pacific Swift, Chinese Grosbeak, Ashy Minivet, Chinese Blackbird, Azure-winged Magpie, Japanese White-eye, Meadow and Black-faced Buntings and Crested Myna. Nights in Rudong.
Day 14 Rudong - Shanghai
We can spend the morning around the estuary and woodland looking for recently arrived migrants and new birds will almost certainly delay our departure! We could well find Lesser Cuckoo, Radde's and Two-barred Warblers, and Tristram's, Little and Meadow Buntings. During our last visit we managed to find a beautiful Japanese Paradise-Flycatcher, both Blue-and-white and Elisae's Flycatchers, Lanceolated Warbler and Japanese Grosbeak. In the afternoon we will return to Shanghai and stay at an airport hotel.
Day 15

Shanghai - UK and End of Tour

- 8th May
Transfer to the international airport and onward journey back to the UK/Europe/USA and the conclusion of a wonderful tour.
Leaders: Nick Upton and local guides.
Ground Price:

£2695.00 - Shanghai/Shanghai
Single supplement:

£350.00
Group size: Minimum for tour to go ahead 5 and maximum 9 with 2 leaders.

Included in cost: Accommodation in twin rooms, mostly en-suite, all meals, all entrance fees, 2 internal flights, all transport throughout, and services of leaders and an English speaking guide.
Not included: International airfare, visa fee, insurance, drinks, tips, and items of a personal nature.
Accommodation: Considering this tour is venturing into the relatively unknown, most of the hotels and lodges used on this tour are of a reasonably good standard. Although please bear in mind we are going to be well off the tourist trail! But we are staying in the best available hotels closest to the birding sites.
Tour Code: This is definitely an exciting tour as we will stray a long way off the tourist circuit into areas hardly visited by any other western birder. Expect good food, reasonable hotels, some long drives and a mixture of weather. Above all, you need to expect the unexpected! This is definitely not a standard tour and we will spend long days in the field and will need to be especially persistant to find some of the target species. For example, at the Rudong Estuary it may be necessary to wade across

the mudflats to get closer to some of the more distant shorebirds. And there may be some long walks in the mountains or a lot of waiting in the coach for some of the pheasants, so a large dose of patience will be required. The weather is generally unsettled at this time of year, so expect some cooler weather and odd showers during the first week, followed by warmer weather during the second week.
2012 tour report - SE China 2012.
2012 photo gallery - SE China Gallery 2012.

2015 tour report - SE China 2015.
2015 photo gallery - SE China Gallery 2015.





Receive our e-newsletter:
Join the Zoothera e-mailing list for up-to-date news on new tours, tour reports and special offers.
e-mail info@zootherabirding.com to sign up.





Recommended Books, CD's and more from NHBS. Click on - Buy from NHBS - to go straight to website!