New Page
Friday 1st April - Wednesday 13th April - 2016
Cuba is the largest of the Caribbean Islands, and is surrounded by pristine palm fringed sandy beaches and covered in lush tropical forests. It hosts a wealth of birds that include 25 endemics of which 17 are globally threatened. Amongst the profusion of avian delights we shall search out a whole host of Neotropic species, as well as many North American birds that spend the winter here. Superb birding awaits us, with endemics such as Cuban Trogan, Cuban Tody, Cuban Solitaire, Cuban Vireo etc. A big attraction is to see the smallest bird on Earth the Bee Hummingbird, so our visit is timed to coincide with this tiny birds most vocal period as they proclaim their territories from the tops of the highest leafless trees. Come with us to this island of avian delights
Cuban Vireo

Cuban Blackbird

Cuban Grassquit

Bahama Mockingbird

Cuban Amazon

Stygian Owl

Cuban Emerald

Cuban Pewee

Cuban Martin

Western Spindalis

Cuban Bullfinch

Thick-billed Vireo

Key West Quail-Dove

Great Lizard Cuckoo

Greater Antillian Nightjar

La Sagre's Flycatcher

Red-legged Thrush

Olive-capped Warbler

Cuban Oriole
MAIN TOUR:
Day 1 Arrive Havana, Cuba – 2nd April
Please try arrive today in the morning. This may mean an overnight flight. If your flight schedule does not work with this then please contact us and we will arrange an extra night in Havana. Once everyone has arrive we will then drive to La
Guira National Park where we will stay at the Hotel Mirador, San Diego de los
Baños. As long as everyone has arrived in Havana by lunchtime we may get some first day birding around the hotel or en-route. Night Hotel Mirador (D)


Day 2
La Guira National Park
– 3rd April

We have all day to search this wonderful area of woodland for species such as Olive-capped Warbler which is only found in Pine trees, Cuban Bullfinch, Cuban Grassquit, Western Spindalis, Cuban Trogon and especially Cuban Solitaire. Night Hotel Miradorquit, Western Spindalis, Cuban Trogon and especially Cuban Solitaire.
Overnight Hotel Mirador. (B,Picnic L,D)
Day 3 Bogota - Medellin - to Piha Reserve – 4th - April Overnight Hotel Mirador. (B,Picnic L,D)
birding we will take the long drive to east to Cayo Coco. This will take most
of the day but we will make stops along the way, especially at a reservoir
close to Havana, which can be rewarding for waterfowl. Night Cayo Coco (B,PL,D)
2 full days will be spent birding the Piha reserve. Main Targets here include Highland Tinamou, Black Tinamou, Semicollared Hawk, Blue-fronted Parrotlet, Stygian Owl, Lanceolated Monklet, Tooth-billed Hummingbird, Green-crowned Brilliant, Stiles's Tapaculo, Parker's Antbird, Rufous-rumped Antwren, Rufous-browed Tyrannulet, Golden-breasted Fruiteater, Chestnut-capped Piha, Multicolored Tanager, Black-and-gold Tanager, Purplish-mantled Tanager and Red-bellied Grackle. 3 Nights Piha Reserve. (B,L,D)
Day 6 Piha Reserve - Urrao – 13th Nov After some final birding in the Piha Reserve we will spend most of the day driving to Urrao. Our Main Targets en route include Colombian Chachalaca, Orange-chinned Parakeet, Spectacled Parrotlet, Greyish Piculet, Bar-crested Antshrike, Apical Flycatcher, Antioquia Wren and Rufous-naped Greenlet. Night at Urrao (B,L,D)
Days 7 - 8 Starfrontlet Reserve – 14th - 15th Nov

This morning we will set off on the climb up to the Starfrontlet Reserve. The best way to make this easy is to use the horses provided for this journey. On arrival we will bird

the reserve where several of our target species come to feeders. We will then have a full day to continue our exploration of this fabulous area. Main Targets will include Rusty-faced Parrot, Andean Pygmy-Owl, Dusky Starfrontlet, Black-billed Mountain Toucan, Urrao Antpitta, Ocellated & Paramillo Tapaculos, Black-collared Jay, Chestnut-bellied & Black-throated Flowerpiercers, White-capped and Red-hooded Tanagers 2 Nights Starfrontlet Reserve (B,L,D)


Day 9 Starfrontlet Reserve - Medellin – 16th Nov After making our way back down the mountain we will continue on to Medellin. Our Main Targets en route include Colombian Chachalaca, Orange-chinned Parakeet, Spectacled Parrotlet, Greyish Piculet, Bar-crested Antshrike, Apical Flycatcher, Antioquia Wren and Rufous-naped Greenlet.

Night at Medellin (B,L,D)
Day10 Medellin - Bahia Solano – 17th Nov This morning we make a quick stop for some specific species near Medellin after which we will take a flight to Bahia Soleno on the coast. Our Main Targets around Medellin will be Yellow-headed Manakin, Stiles' Tapaculo, Red-bellied Grackle, Chestnut-collared Swift. Night at El Almejal (B,L,D)
Days 11 - 13 Bahia Solano – 18th - 20th Nov The area around our fabulous beach front lodge offers superb birding and here and nearby areas include amongst others: Main Targets: Crimson-bellied Woodpecker, Baudo Oropendola, Grey-chested Dove, White-necked Puffbird, White-fronted Nunbird, Black-tipped Cotinga, Blue Cotinga, Purple-throated Fruitcrow, Scarlet-thighed Dacnis, Blue Dacnis, Scarlet-and-white Tanager, Fulvous-vented Euphonia, Rose-faced Parrot, Saffron-headed Parrot, Great Curassow, Plumbeous Hawk, Dusky Pigeon, Great Green Macaw, Choco Toucan, Northern Barred Woodcreeper, Black-headed Antthrush, Streak-chested Antpitta, Brownish Flycatcher, Sirystes, Ocellated Antbird and more. 3 Nights at El Almejal (B,L,D)
Day 14 Bahia Solano - Medellin - Home or Apartadó – 21st Nov After some final birding in the Bahia Solano area we will take a flight to Medellin and if you are finishing our main tour you will then depart for Bogota. If you going onto our extension then you will fly to Apartadó. Depart International Flight or Night at Apartadó (B,L,D)

Sooty-capped Puffbird extension: Day 14 Apartadó – 21st Nov If you going on to our main tour you will be flying to Apartadó Night Apartadó.
Days 15 - 16 Apartadó to Bocas – 22nd, 23rd Nov From Apartadó we will take a 1 hour drive, followed by a 30 minute boat ride to Bocas. Our main targets here will include Sooty-capped Puffbird, Sapphire-bellied Hummingbird, Black Antshrike, Bare-throated Tiger-Heron and Northern Screamer. 2 Nights Bocas (B,L,D) Day 17 Bocas - Medellin - Bogota – 24th Nov Today we we will return to Medellin and then fly to Bogota for our international departing flights. (B,L)
Leaders: Steve Bird, Gina Nichol & Diego Calderon With less than 6 participants it will be led By Diego only.
Ground Price: Main Tour: £3799.00
Sooty-capped Puffbird extension: £1050.00
Airfare: £Approx £850 - UK-UK Please note that flight costs can vary a lot on route taken and time of booking.
Zoothera tour prices explained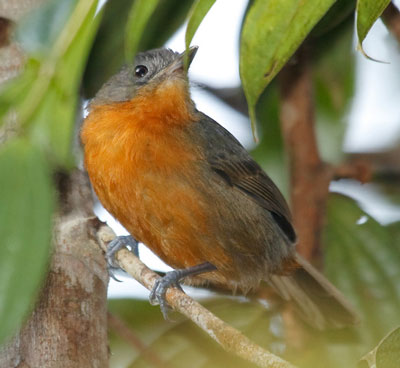 Single supplement: Main Tour: £395.00 Single supplement: Extension: £98.00
Deposit: £500.00

Group size: - minimum 6 and maximum 8
Included in cost: Accommodation in twin rooms, mostly en-suite, some with shared facilities, all meals from dinner on 8th Nov to lunch on 31st March, drinks including up to 2 beers a day with meals, all transport, airport tansfers, all entrance fees, water, coffee and daily snacks and services of all leaders and local guides.
Not included: International and domestic airfare, insurance, drinks, tips, and items of a personal nature. Accommodation: Our hotels and lodges vary in quality from excellent to very basic in Bocas where a rugged visitor centre was built and is the only place to stay, but all are within easy reach of the areas we wish to bird. Note that depending on how many single rooms requested these may not always be available in which case you will be required to share, especially as some accommodations have limited rooms. Note that where the temperature is generally warm to hot, most hotels and lodges do not offer hot water. They say they do not need it!
Tour Code: This is a focused birding tour with all day birding. Many of the areas we visit have been visited by few birders which is what makes this such an interesting tour. To see a good amount of endemics and specialities you need to be prepared for long days. We will generally begin with a 4.30am to 5.00am start and either have an early breakfast or take a picnic breakfast with us. Lunches will be either picnic or a restaurant depending on our schedule. All in all this works very well and maximises our birding opportunities. The weather can be variable at this time of year, so expect some cooler weather and warm weather. Note that birds are far more active in rain than in sunshine!
Receive our e-newsletter: Join the Zoothera e-mailing list for up-to-date news on new tours, tour reports and special offers.
Click Here to sign up.
Recommended Books, CD's and more from NHBS. Click on - Buy from NHBS - to go straight to website!
The air holidays and flights shown are ATOL protected by the Civil Aviation Authority. Our ATOL number is 10436. Please see our Terms and Conditions for more information.