Namibia - Etosha Special!
Monday 13th July – Friday 24th July

Etosha National Park in Namibia offers one of the best African safari experiences imaginable. Covering 22,270 square kilometres Etosha is one of Africa's finest and most dramatic national parks, and epitomises all those wonderful wildlife films we marvel at on television. By spending seven nights at three different lodges we will have a rather unique opportunity to fully explore and get the best out of this amazing area. One of the major features here is the abundance of waterholes, which at this time of year attracts countless animals to drink and offers unparalled viewing. All three of the lodges have thier own floodlit waterholes, which we can walk to during the night and offers another unique experience. The parks roads are of a good standard and give easy access to all the major habitats, from typical African savannah, muddy rivers and grassland to dense thorn scub and large areas of acacia. We will search for Lion, Leopard, Cheetah and Black Rhino, as well as encountering numerous herds of Springbok and Black-faced Impala, Giraffes and Zebra. If we are lucky we could also encounter Aardvark or even Aardwolf as well. And let's not forget that this park is also rich in birds as well with such delights as Blue Crane, Northern Black Korhaan, Burchell's Sandgrouse, Double-banded Courser, Secretarybird, Violet Wood-Hoopoe, and many other possibilities amongst the 340+ other species recorded here. Anyone with a love of nature should visit here at least once in their lives to witness the spectacle of birds and game, in what must rank as one of Africa's greatest wildlife experiences. We also visit the stunning Waterberg Plateau where we can search for Hartlaub's Francolin, Ruppell's Parrot and Rockrunner, as well as Bushbaby and Small Spotted Genet. With good roads, perfectly located lodges, excellent food, stunning scenery and fantastic wildlife this holiday will deliver the ultimate African experience.
TARGETS:
Blue Crane

Hartlaub's Francolin

Swainson's Spurfowl

Burchell's Sandgrouse

Burchell's Courser

Namaqua Sandgrouse

Northern Black Korhaan

Secretarybird

Rufous-cheeked Nightjar

White-bellied Sunbird

Rosy-faced Lovebird

Ruppell's Parrot

Monteiro's Hornbill

Crimson-breasted Shrike

Violet Woodhoopoe

Bare-cheeeked Babbler

Groundscraper Thrush

Dusky Lark

Kalahari Scrub-robin

Rufous-eared Warbler

Rockrunner

Carp's Black Tit

Golden-breasted Bunting

Shaft-tailed Whydah

Bushbaby

Lion

Leopard, Cheetah

Black Rhino

Elephant, Giraffe

Southern Oryx, Burchell's Zebra

Spotted Hyena

Damara Dik-Dik
DAYS 1 - 2 UK – Windhoek - Daan Viljoen Park 13th - 14th July
Following an overnight flight from UK to Windhoek via Johannesburg, our birding will begin almost immediately after dropping our bags in the vehicle! Some of the commoner species to be seen on leaving the airport should include Namaqua Dove, Rock Martin, both Little and White-rumped Swifts, Cape Wagtail, Grassveld Pipit, Fork-tailed Drongo, Cape Glossy Starling and many others. We will then go to our hotel and check-in and depending on flight arrival times could have a few hours to visit a nearby site where we hope to find some very good birds, such as Short-toed Rock-thrush, Ruppell's Parrot, Monteiro's, Red and Yellow-billed Hornbills, Rockrunner, Pearl-spotted Owlet, and a fine trio of Pin-tailed, Shaft-tailed and Long-tailed Whydahs. Night at Sun Karros, Windhoek.
DAY 3 Windhoek - Waterberg Plateau
Rising almost 200 metres above the surrounding African bush, the Waterberg Plateau with its dramatic brick-red sandstone formations and thick green vegetation, forms an island of colour above the flat acacia covered plains. The park covers 405 square kilometres and was originally created in 1972 as a haven for several rare and endangered species of the Caprivi region of Namibia such as Cape Buffalo, Sable and Roan Antelopes and Tsessebe. Before getting to Waterberg Plateau Park, we will visit the Otjiwarongo Sewerage ponds for chances of species including Hottentot Teal, Hamerkop, and loads of waterfowl. We will stay at Waterberg Park for one night and it is a good spot to try and locate species we have previously missed out on, especially near-endemics such as Ruppells' Parrot, Violet Wood-hoopoe, Carp's Black Tit, Rockrunner and Hartlaub's Francolin. There's a whole range of good birding around this area with such delights as Cape Vulture, Pale Chanting Goshawk, Bradfield's, Yellow-billed, Damara and African Grey Hornbills, Golden-tailed Woodpecker, Klaas's, Diederik, Black, Great-spotted, Levaillant's, African and European Cuckoo, Short-toed Rock-thrush, Ashy Tit, Bleating Warbler and Cape Penduline-tit. As dusk approaches we could even see Orange River Francolin, Honey Badger, Small Spotted Genet or a Porcupine coming in to drink at some small pools. We will also spend a little time spotlighting along the road at night in search of Lesser Galago (Bushbaby). This is a great place to search for wildlife and will make a superb ending to our tour. Night at Waterberg Plateau Park Resort.
DAYS 4 - 6 Waterberg Plateau - Etosha - Okaukuejo
After breakfast we will move towards the world-renowned Etosha National Park, covering 22,270 square kilometres this is one of Africa's finest and most dramatic national parks. The word 'Etosha' means "big white place", which refers to the great Etosha Pan that dominates the centre of the park. The pan is simply the floor of a large, shallow inland lake, one hundred kilometres long by fifty-six kilometres wide, which long ago dried up. The rest of the park comprises gravel beds, open grassland, savannah, thorn thicket and mixed woodland, and during our stay here we will visit all the major habitats. Water-holes can be found all over the park and it is at these that we will concentrate our efforts to look for Elephant, Giraffe, Greater Kudu, Burchell's Zebra, Leopard, Lion, Spotted Hyena, and the rare Black Rhino. Cheetahs are also possible, and out on the open plains we may find herds of Springbok, Black-faced Impala, Gemsbok and Blue Wildebeest, alongside Black-backed Jackal, Warthog, Red Hartebeest and the tiny Damara Dik-Dik. This is a very exciting park as there are just so many birds to get out of the vehicles for, especially raptors, and we may well see White-backed, White-headed and Lappet-faced Vultures, Bateleur, Brown Snake-Eagle, Tawny and Martial Eagles, African Hawk-eagle and many more! Other possibilities include Red-necked Spurfowl, Little Sparrowhawk, Black Cuckoo, Common Scimitarbill, Capped Wheatear, Black-backed Puffback, Brubru, Southern White-crowned Shrike, Red-billed Buffalo-weaver, and both Spectacled and Chestnut Weavers. By late afternoon we should have reached the Okaukuejo Resort in Etosha where we will spend the next 3 nights. At times the waterhole at Okaukuejo is regarded as the best waterhole in the world to view large mammals ranging from Elephants and Lions, to the endangered Black Rhino and many more antelope species. It is one of the major features of Etosha that we can walk to the floodlit waterholes at night at all three lodges and gain a rather unique insight into animals behaviour as they come in to drink.
Amongst the astonishing array of 340 bird species recorded here we will be looking for Ostrich, Blue Crane, Kori Bustard, Swainson's Spurfowl, Red-crested Korhaan, Double-banded Courser, Spotted Thick-knee, Secretarybird, Spotted Eagle-owl, Meyer's Parrot, Sabota, Spike-heeled, Pink-billed, Red-capped and Clapper Larks, Violet Wood-hoopoe, Southern White-crowned, Crimson-breasted, Red-backed and Lesser Grey Shrikes, White Helmetshrike, Black-faced and Southern Pied Babblers, Wattled Starling, Long-billed and Grassveld Pipits, Marico, Scarlet-chested and White-bellied Sunbird, Melba and Scaly-feathered Finch, Yellow-bellied and Burnt-necked Eremomelas, Carp's Black Tit, Chestnut Weaver, Blue Waxbill, Golden-breasted Bunting, and both Paradise and Shaft-tailed Whydahs. Raptors are well represented with 35 species being recorded, from Bateleur and Martial Eagle to the tiny Pygmy Falcon, and we could see up to 12 different ducks include White-backed Duck, Hottentot Teal and South African Shelduck. Our time spent in this park will be very special and there will be wonderful opportunities for photography, as well as being able to take our time to watch the wildlife and fully appreciate Etosha in all its glory. Three nights at Okaukuejo Resort, Etosha.
DAYS 7 - 8 Okaukuejo - Halali (Etosha)
After spending some time birding around the area we will set off towards the middle camp at Halali, which is good for Harlequin Quail, Red-billed Francolin, Helmeted Guineafowl, Greater Kestrel, Violet Wood-hoopoe, African Scops-owl, White–faced Scops-owl, Crimson-breasted Gonolek, Sharp-billed Honeyguide, Chat Flycatcher, Bare-cheeked and Southern Pied Babblers, White-crested Helmet-shrike, Pirit Batis, Rufous-eared Warbler, flocks of Red-billed Quelea, Grey-backed Sparrow-lark and many other species. This area is already very good for Leopards, so our eyes will be peeled!!! The floodlit waterhole at night might give us more Black Rhinos and a very slight chance for Marsh Owl. Two nights at Halali.
DAYS 9 - 10 Halali - Namutoni (Etosha)
Today we will drive to our next accommodation at Namutoni Fort, which is situated inside the park and is our base for the next two nights. From here we will be exploring the eastern side of Etosha, a very good area to see Leopards and also very good for sightings of Giraffes drinking at waterholes. Early morning we enter the park and late in the morning we will return to the lodge for lunch and an afternoon 'siesta' before setting out on safari in the mid-afternoon for another game and birdwatching drive. This area might also produce species such as Crested Francolin, Swainson's Spurfowl, Kori Bustard, Red-crested Korhaan, Northern Black Korhaan, Burchell's Sandgrouse, Verreaux's Eagle-owl, Lappet-faced Vulture, Red-necked Falcon, Temminck's Courser, Violet Wood-hoopoe, White-browed Scrub-robin, Burnt-necked Eremomela, Yellow-breasted Apalis, Black-faced Babbler, Long-tailed Paradise-whydah, good chances of Secretarybird, and the much-wanted Blue Crane. Two nights at Namutoni.
DAY 11 Namutoni - Otjiwarongo Sewage Ponds - Windhoek
From Etosha National Park we travel back to Windhoek, stopping to check out the sewage ponds at Otjiwarongo. Our last visit here produced several Allen's Gallinules, Black Crake, African Jacana, Southern Pochard, African Reed Warbler, and plenty of other commoner birds. We should arrive back in Windhoek by early evening after a long travelling day where we can enjoy our final dinner together.
DAY 12 Windhoek - UK 24th July
Depending on flight times we may be able to visit some nearby sites for a few hours birding this morning before heading to the airport and our flight back to the UK and conclusion of a very special tour.
Leaders: Nick Bray and Charles Rhyn.
With less than 7 participants, this tour will be led by Charles Rhyn.

Ground Price: £2350.00 – Windhoek/Windhoek
Airfare: £900 - £1100 (approx) - UK/UK
Zoothera Tour Prices Explained
Single supplement: £245.00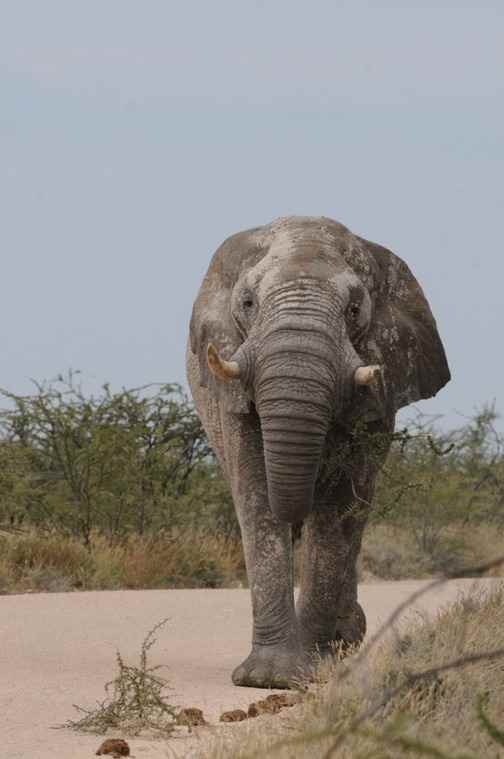 Deposit: £500.00
Group size: Minimum for tour to go ahead 5 and maximum 10 with 2 leaders.
Included in cost: Accommodation in twin rooms mostly en-suite, all meals including picnic lunches, bottled water, transport throughout, all park entrance fees, and services of local guides and leaders.
Not included: International airfare, insurance, departure tax, camera fees, drinks, tips and items of a personal nature.
Accommodation: All hotels/lodges are all of a good standard and are en-suite. The lodges at Etosha have a variety of accommodation and are excellently situated inside Etosha National Park, so we do not have to go very far to start seeing mammals. The grounds of each lodge are superb for birding and have their own waterholes which you can easily walk to. We will return to the lodges for lunch and a short siesta every day, as our game drives are usually held 7am - 12am and 3pm - 6pm approximately.
Tour Code: This is a fairly easy tour. Walking is of an easy nature but once inside Etosha we are restricted to staying inside our vehicle, although the roads are good. It is the middle of the dry season, so some areas could be quite dusty. We expect most days to be warm to hot. Opportunities for photography are excellent!
Receive our e-newsletter:
Join the Zoothera e-mailing list for up-to-date news on new tours, tour reports and special offers.
Click Here to sign up.

The air holidays and flights shown are ATOL protected by the Civil Aviation Authority. Our ATOL number is 10436. Please see our Terms and Conditions for more information.