Ecuador's Southern specialities!
Saturday 14th January – Friday 03rd February

The bird rich country of Ecuador has always had a lot to offer the travelling birder and our new tour to Southern Ecuador will fill in many gaps with rare, exciting and seldom seen birds. Our tour is designed to find some of the very special birds of this region, with many of the sought after species not able to be found on other regular routes in Ecuador. With the skills of our knowledgable local guide we will be looking for incredible birds such as Jocotoco Antpitta, Long-wattled Umbrellabird, Orange-throated Tanager and Esmeraldas Woodstar amongst a host of other highly localised and sought after species. We will take in many well known sites plus several new areas that have been seldom visited yet offer a fantastic birding. By staying at lodges owned by the Jocotoco Foundation we will also be supporting vital conservation projects which help to protect many rare and endemic species. Hummingbird feeders will allow incredible views of these avian gems, while forests laden with epiphites will hold flocks of gaudy tanagers. If you want a thorough trip to Southern Ecuadors in search of species not found in other parts of this fabulous country then this trip is for you!
Fiery-throated Fruiteater

Neblina Metailtail

Long-wattled Umbrellabird

Esmerelda's Woodstar

Jelski's Chat-Tyrant

Piura Hemispingus

Violet-throated Metailtail
Day 1
Arrive - Guayaquil
-
Sat 14th Jan
Arrive in Guayaquil and spend the night in a hotel.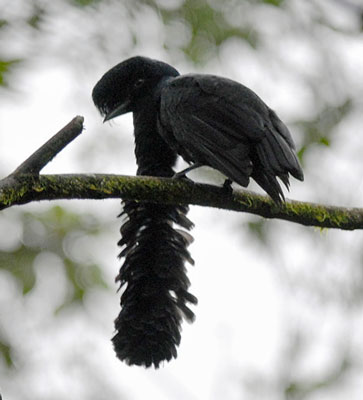 Day 2
Guayaquil - Manglares-Churute - Buenaventura
Early start for a one hour drive to the Manglares-Churute reserve. The main reason for our early start is to have the chance to spot the Horned Screamers which often sit in the tree tops and can even be visible from the road. Nearby flowering bushes may hold Amazilia Hummingbird and Western Emerald, then we move on to a trail in dry forest to look for Tumbesian endemics like Pacific Royal-Flycatcher, Ochraceous Attila, Jet Antbird, Orange-crowned Euphonia and others. If the tide is low we visit the edge of the mangroves here for Mangrove Warbler and a chance on Rufous-necked Wood-Rail. When it starts to get warm we drive for a few hours to Puerto Jelí and some more mangrove and wetland birding. Masked Water-Tyrant, Short-tailed Field-Tyrant, Parrot-billed and Chestnut-throated Seedeatersand and Vermilion Flycatcher are just some species we look for along with more widespread wetland birds that could include Pied-billed and Least Grebes, Wattled Jacana, Snail Kite, Purple Gallinule, Southern Lapwing, Ringed Kingfisher, Black-necked Stilts, Savanna Hawk, and possibly Pearl Kite or Roseate Spoonbill. In the afternoon we drive on for another hour up to the Buenaventura reserve and the Umbrellabird lodge which is owned and operated by the Jocotoco Foundation. By staying at lodges owned by this foundation we are supporting vital conservation projects which protect many rare and endemic species. if time permits we shall make a first try for Long-wattled Umbrellabird at a nearby lek.
Night Umbrellabird Lodge.
Day 3
Umbrellabird Lodge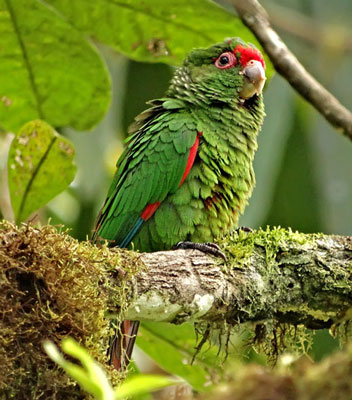 Today we have a full day to explore the Buenaventura Reserve which is between 600 – 1200m and holds some of the country's most threatened species.We shall look for the endemic El Oro Parakeet and with luck also El Oro Tapaculo and the near endemic bellied Woodnymph. Amongst the lush epiphite laden trees many other birds occur including Gray-backed Hawk, Scaled Fruiteater, Rufous-winged Tyrannulet, Club-winged Manakin (at a lek), Ochraceous Attila, Slaty Becard,
Guayaquil Woodpecker, White-tipped Sicklebill and with some luck we may catch up with an undescribed subspecies of Speckled Tanager. Hummingbird feeders at the lodge will be very busy with Brown Inca, Violet-bellied Hummingbird and possibly
Wedge-billed Hummingbird

. Many more widespread species should include

White-necked Jacobin, Brown Violetear, Green Thorntail, Rufous-tailed Hummingbird, Andean Emerald, Green-crowned Brilliant and Long-billed Starthroat.
Mixed flock could contain species like Scaly-throated Foliage-gleaner, Streaked Xenops, Wedge-billed Woodcreeper and Western Slaty Antshrike, Fawn-breasted Tanager, Silver-throated Tanager, Golden-winged Manakin, W
hite-bearded Manakins,

Loja Tyrannulet and
maybe even

Brownish Twistwing. We have a second opportunity to look for the incredible Long-wattled Umbrellabird at one of the two leks and often a
troop of South American Coatis work their way through the dining area and Rufous-headed Chachalaca comes to the fruit feeders. Night Um
brellabird lodge.


Days 4 - 6
Buenaventura - Urraca Lodge
Today we will spend a litle of the morning birding the trails below the lodge. We then have a long drive
to the Jorupe reserve and Urraca Lodge in the far southwest. We may stop in Zaruma to look at feeders in a private garden and we will also break up the journey with a stop near El Empalme to look for White-headed Brush-Finch. A

t 650 meters high, Jorupe lodge lies near the town of Macara right at the Ecuadorian and Peruvian border. Once here w

e may be greeted with Watkin's Antpitta, Pale-browed Tinamou, Whooping Motmot, White-tailed Jay, Plumbeous-backed and Ecuadorian Thrushes, White-edged and Yellow-tailed Orioles and others around the lodge as they come to the fruit and corn feeders. Over the next two days plenty of other species will vie for our attention and nearby we could see Scarlet-fronted and Gray-cheeked Parakeets, Henna-hooded Foliage-Gleaner, Blackish-headed Spinetail, Gray-breasted Flycatcher,

Ecuadorian Piculet,

Scarlet-backed Woodpecker, Baird's Flycatcher, Pacific Elaenia, Ecuadorian Trogon, Gray-backed Hawk and Red-billed Scythebill to mention just a few. We
will make a day-trip up to Utuana at higher altitude as this site holds several range-restricted species and we may need two chances to see everything. Gray-headed Antbird, Chapman's Antshrike, Rufous-necked Foliage-Gleaner, Black-cowled Saltator, Piura Hemispingus, Bay-crowned Brush-Finch, Jelski's Chat-Tyrant and Black-crested Tit-Tyrant are the main targets. We could also see

Tumbes Swift and Chesnut-collared Swallow, while the

feeders here have Rainbow Starfrontlet and Purple-throated Sunangel. Night at Urraca lodge.
Day 7 Urraca - Utuana
This morning we will depart early for Utuana and look for any birds we may missed yesterday. We then have a few hours travel to Vilcabamba. This small town is in the 'valley of longevity' as many people are known to be very old here. We shall look for a few waterbirds and Plumbeous Rail in the outskirts of town before arriving at our nice hotel here. Night Utuana

Day 8 Utuana - Tapichilaca
Another early morning departure as we head for Cerro Toledo. We will start by searching along the tree-line and look for the near-endemic Neblina Metaltail, as well as Rainbow-bearded Thornbill and Glowing Puffleg. If we are lucky and find some mixed species flocks we could come across a variety of species such as Masked and Lacrimose Mountain-Tanagers, Plushcap and Pale-naped Brush-Finch, Yellow-whiskered Bush-Tanager, Rufous-crested Tanager, Torrent Duck, Fasciated Tiger-Heron and Mouse-colored Thistletail. Most of our birding is along quiet secondary roads. Lower down we may find Red-hooded Tanager and Bearded Guan and flocks with more widespread mountain species. After packed lunch we drive another hour down to Tapichalaca Lodge at 2450 meters it is set in Montane temperate forest. New hummingbirds here will be Flame-throated and Amethyst-throated Sunangels, Rufous-capped Thornbill, Long-tailed Sylph and Chestnut-breasted Coronet. Night Tapichalaca lodge

Day 9 Tapichilaca Lodge


Today after breakfast we will make the short pilgrimage along the reserve trails to the feeding station where up to four Jocotoco Antpittas come daily to enjoy the easy tasty worms served by of the park rangers which is a technique created by Angel Paz in Northern Ecuador and now works with several species of Antpittas in diferent Ecuadorian sites. We can also hope to see White-throated Quail-Dove come in to feed on corn. Birds in the forest are plentiful and include such species as Orange-banded Flycatcher, Bearded Guan, Red-hooded Tanager, Grass-green Tanager and Bar-bellied Woodpecker amongst others. Sometimes they have Chestnut-naped and Undulated Antpitta coming in to feed and we may at least hear them as well as Slate-crowned and Rufous Antpittas. In the afternoon we will wait for Golden-plumed Parakeets coming in to nest-boxes and try for Barred Fruiteater, Black-throated Tody-Tyrant, Gray-breasted Mountain-Toucan, White-capped Tanager. At dusk we will try for Swallow-tailed Nightjar near the lodge and possibly Andean Potoo and White-throated Screech-Owl. Night at Tapichalaca lodge.

Day 10 Tapichilaca - Yankuam
After some early morning birding around the lodge we head north for a couple of hours to the Cajanuma entrance of the Poducarpus National Park. Roadside birding may yield Bearded Guan, Andean Toucanet,Cliff Flycatcher and Pale-footed Swallow. After packed lunch we have about four hours drive to Yankuam lodge in the Cordillera del Condor. We will stop along the way if we see something interesting while driving. Night at Yankuam lodge.

Day 11 Yankuam
Today we will spend all day birding the roadside south of the lodge. Our main target here is the spectacular Orange-throated Tanager, at this the only relaible site in the world. They move around in family groups and are usually heard before seen. The east slope foothills hold many species including a number of Amazonian birds that just creep into the Andes. The whole area is very rich and the possibilities here are many. The birding here can be very exciting and amongst the endless possibilities are Zimmer's Antbird, White-bellied Pygmy-Tyrant, Fiery-throated Fruiteater, Gray-tailed Piha, Black-and-white Tody-Flycatcher and Golden-winged Tody-Flycatchers Red-billed Tyrannulet, Olive-chested Flycatcher, Hairy-crested Antbird, Yellow-cheeked Becard, Striolated Puffbird, Blackish Pewee, Bamboo Foliage-Gleaner, Rufous-tailed Foliage-Gleaner, Paradise, Turquoise, Green-and-gold and even Yellow-backed Tanagers, Yellow-shouldered Grosbeak, Black-and-white Hawk-Eagle and Military Macaw. Flowers at the lodge have Glittering-throated Emerald and sometimes Amethyst Woodstar, while Uniform and Chestnut-headed Crakes call from around the lodge and at dusk Band-bellied Owl can be heard and with luck seen. Night at Yankuam lodge.

Day 12 Yankuam
All day along the road like yesterday. More things to look for could be White-throated Woodpecker, White-eyed Tody-Tyrant,

Hairy-crested Antbird, Dusky Spinetail, Lanceolated Monklet, Striolated Puffbird, Masked Tanager, and many common species. Hummingbirds will have to be seen in 'the wild' as the lodge doesn't have feeders and that is obviously much more difficult but possibilities include Gray-breasted Sabrewing, Black-eared Fairy, Fork-tailed Woodnymph, Green Hermit, Buff-tailed Sicklebill and Golden-tailed Sapphire. Night at Yankuam lodge.

Day 13 Yankuam - Copalinga
Early departure for a couple of hours drive to Paquisha and a stake-out for Bluish-fronted Jacamar, the only known territory in Ecuador. Many other birds in this secondary habitat are present like Black-billed Seed-Finch, Blackish Rail, Olive-chested Flycatcher, Black-throated Hermit, Rusty-fronted Tody-Flycatcher, Striped Manakin, Lined Antshrike and the distinctive amazonian subspecies of Southern Beardless-Tyrannulet which is sure to be a split. We then have a couple of hours drive to Copalinga lodge near the Bombuscara entrance to the Poducarpus National Park. Flowers and feeders here have Wire-crested Thorntail, Violet-headed Hummingbird, Violet-fronted Brilliant, Green Hermit and often Spangled Coquette and sometimes Little Woodstar. Fruit-feeders can at times be busy with a nice selection of tanagers as well as Black-billed Thrush and Speckled Chachalaca. At the time of writing they are feeding a Gray Tinamou above the lodge and at dusk we shall visit a nearby stake-out for Blackish Nightjar. Night Copalinga Lodge.

Day 14 Copalinga Lodge


Today we will spend all morning on the wide trails at Bombuscara. Foothill Elaenia is often seen in flocks here, and we have chances of sought after species such as Coppery-chested Jacamar, White-breasted Parakeet, Lanceolated Monklet, Black-streaked Puffbird, Andean Cock-of-the-Rock and Amazonian Umbrellabird which are all present but can be difficult. The lodge allows access via several trails to excellent montane forest from 1000 to 1500 meters. Here Foothill Antwrens skulk in the undergrowth as well as Yellow-breasted Antwrens, Olive Finch, White-backed Fire-Eyes and White-shouldered Antshrike. Mixed species flocks may have Scarlet-breasted Fruiteater, Crimson-bellied Woodpecker, Golden-eared Tanager, Ash-browed Spinetail, Golden-winged Tody-Flycatchers and withluck Equatorial Graytail. After lunch at the lodge we will bird the old Loja-Zamora road. Flocks here can be very good with Gray-mantled Wren, Ashy-throated Bush-Tanager, Streaked Xenops, Chestnut-vented Conebill and Lemon-browed Flycatcher. Amongst the flowering shrubs we could see Glittering-throated Emeralds, Violet-headed Hummingbird, Wire-crested Thorntai, Equadorian Piedtail and Long-tailed Sylph. Speckled Chachalacas roost in a nearby tree every evening and in the rivers we may find Torrent Duck, White-capped Dipper and Fasciated Tiger-Heron. Night at Copalinga lodge.

Day 15 Copalinga - Saraguro
Morning birding around Copalinga or along the old Loja-Zamora road, then a couple of hours drive to
Huashapamba and Acanama forest near Saraguro. We will spend some time to look for the near-endemic Red-faced Parrot.

We may well see Gray-breasted Mountain-Toucan and Hooded Mountain-Tanager while waiting. Night in Saraguro.

Day 16 Acanama Forest - La Union
We will spend all morning at the Acanama forest to look for some really special birds such as Cresent-faced Antpitta and Chestnut-bellied Cotinga. Many other birs will be present and could include Andean Pygmy-Owl, Mountain Caracara, Black-headed Hemispingus, Masked and Black-chested Mountain-Tanagers, Golden-crowned Tanager and Mouse-coloured Thistletail. We then have a few hours drive up to La Union for the night. We shall break up the journey with a stop at a stake-out for Streak-backed Canastero with chance on both Black-billed and White-tailed Shrike-Tyrant. Night at a nice hotel with pool and jacuzzi.

Day 17 Yunguilla - El Cajas NP
Morning at the nearby Yunguilla reserve for Pale-headed Brush-Finch, arguably one of the rarest birds on earth with about 100 pairs only in this reserve. While we look at them we may also see Gray-browed Brush-Finch, Andean Slaty-Thrush, Slaty-backed Nightingale-Thrush, Line-cheeked Spinetail and Chestnut-crowned Antpitta. We then have about an hour drive up to Cuenca were we have a nice trout-lunch before heading up to the higher parts of the El Cajas National Park and look for the endemic Violet-throated Metaltail. We may also see Tawny Antpitta and Mouse-coloured Thistletail. At the highest parts we bird some polylepis patches for Giant Conebill, Tit-like Dacnis, Blue-mantled Thornbill and Ecuadorian Hillstar. We may also see Andean Tit-Spinetail and Many-striped Canastero before heading down to a nice hotel in Cuenca.
Night Cuenca
Day 18
El Cajas NP - End of Tour
- 26th Jan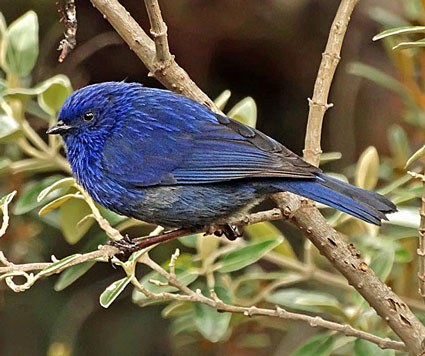 The Llaviucu lake at the lower part of the El Cajas National Park doesn't open until 8 am so we will have a slower morning before walking the trails here and look for Andean Coot, Andean Teal and Andean Gull, Ecuadorian Rail, Black-tailed Trainbearer and Rufous-chested Tanager. If needed we may stop at the higher parts if we missed something yesterday. We will then have a few hours drive to Guayaquil and the airport in time for evening flight home and end of trip.

Esmeraldas Woodstar - extension!
Days 19 - 20
Ayampe
– 27th to 28th Jan

We will start off with some shorebirding at the salt-pans and some birding in the desert scrub for Necklaced Spinetail, Gray-and-white Tyrannulet, Band-tailed Sierra-Finch, Parrot-billed Seedeater and with luck Sulphur-throated Finch. The salt-pans will give a good opportunity to practice north American waders identification and we should get nice views of Chilean Flamingos. After lunch we drive 2 hrs up to Ayampe and start our search for the rare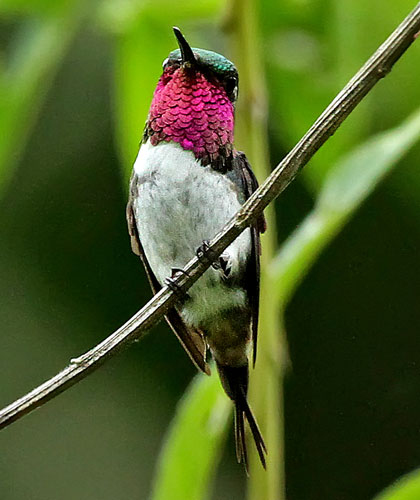 Esmeraldas Woodstar. This species is only possible to see during a short season in the year and we have timed this extension to be within the best period to find it. The following day we have a full day to search for this much sought after species as well as a host of other Tumbesian species, most of which we have seen before but surely there will be a few that we haven't seen on the trip.
2 Nights in Ayampe
Day 21
Ayampe - End of Tour
– Wed 29th Jan

Depending on what we have seen, we may start along rio Ayampe again or head south with stops in the desert and at the mangroves at Puerto Honda for another try for Rufous-necked Wood-Rail and Mangrove Warbler. Then to the airport for late afternoon flight home.

Leaders
:
Roger Ahlman

Ground Price:
Main Tour
£3350.00
- Guayaquil/Guayaquil
Single supplement

:

Main Tour
£TBA

Single supplement

:

Extension
£TBA
Group size: Maximum 10.
Included in cost: Accommodation in twin rooms, en-suite, all meals, ground transport throughout, entrance fees, water and snacks and services of leaders.
Not included: International airfare, insurance, drinks, tips, and items of a personal nature.
Accommodation: Our hotels and lodges vary in quality from excellent to medium quality, and all are within easy reach of the areas we wish to bird. By staying in several Jocotoco foundation lodges we will be helping out by providing valubale income to several very important projects. Note that these lodges have limited number of rooms and single rooms are not available.
Tour Code: This is a standard birding tour with all day birding. We will generally take picnic lunches unless close to our lodge where we will take a restaurant lunch The weather can be unsettled at this time of year, so expect some cooler weather and possible cold weather with good chances of a shower or two. Note that birds are far more active in rain than in sunshine!


Receive our e-newsletter: Join the Zoothera e-mailing list for up-to-date news on new tours, tour reports and special offers.
e-mail info@zootherabirding.com to sign up
Recommended Books, CD's and more from NHBS. Click on link to go straight to NHBS website!