Colombia specialities clean-up 1.
Main Tour - March 11th - March 22nd 2015
Plus Hooded & Cundinamarca Antpitta extension 22nd - 25th March 2015


This is the first of 2 special tours designed and led by Colombia's number 1 guide Diego Calderon. The emphasis of the two itineraries is to see all the rare, endemic, newly described and difficult species that are missed out on our regular Colombia tours. Specifically designed for people who have already been to this fabulous country, Tour 1 focuses on the White Sand, Varzea, and Terra Firma Forests of Mitu where we will spend 6 days in search of a mouth-watering array of species, followed by a return to Bogota. We will then spend 2 nights in the Cerulean Warbler reserve where we will search for many more specialities including Gorgeted Wood-Quail, Niceforo's Wren and Upper Magdalena Tapaculo. Moving on to Ocana we expect to find the sought after Recurve-billed Bushbird and much more before ending this fantastic trip. For those wanting even more we have a couple of days extension to see Cundinamarca Antpitta and the mythical Hooded Antpitta, the latter at a site Diego has had good success with and no other company has ever visited. This is the first of two unique speciality clean-up trips and it is expected to fill very quickly with only 8 participants maximum. Book quickly if interested. Check out our Clean-up 2 tour in Nov 2015.

Yellow-throated Spadebill

Azure-naped Jay

Gould's Jewelfront

Collared Gnatwren

Lemon-throated Barbet

Rufous-tailed Xenops

Blue-fronted Starfrontlet

Golden-bellied Starfrontlet

Green-bellied Hummingbird

Cherrie's Antwren

White-naped Seedeater

Black-bellied Thorntail
MAIN TOUR:
Day 1 Arrive Bogota, Colombia – Overnight Bogota – Wed 11th March
After your arrival in Bogota you will be met and transferred about 25 minutes to our accommodation on the outskirts of this vast city.
Night Bogota (B,L,D)
Days 2 - 6 Bogota - Mitu – 12th – 16th March
This morning we will take a flight from Bogota to the new and exciting birding hotspot of Mitu, close to the Brazilian border. Located in the Rio Negro Basin of the Amazon this superb area takes in part of the Guianan Shield and as such contains habitats ranging from tall forests to black rivers, interesting rock formations and most importantly for us the extensive White Sand Forest. We will spend 5 days in this endemic bird area and our aim will be to see as many of these target birds as possible. High on our list will be Azure-naped Jay, Orinoco Piculet, Grey-bellied and Chestnut-crested Antbirds, Spot-backed and Yellow-throated Antwrens, the duidae race of Fuscous Flycatcher which is going to be named Chamizal Flycatcher and White-naped

Seedeater. We will of course be looking for other special birds such as Red-fan Parrot, Blackish Nightjar, Straight-billed Hermit, Black-bellied Thorntail, Bronzy Jacamar, Brown-banded Puffbird, Tawny-tufted Toucanet, Rufous-tailed Xenops, Bar-bellied Woodcreeper, Black Bushbird, Cherrie's Antwren, Imeri Warbling-Antbird, White-plumed Antbird, Guianan Cock-of-the-Rock, Pompadour Cotinga, Purple-breasted Cotinga, Saffron-crested Tyrant-Manakin, Yellow-crowned Manakin and Black Manakin. The whole area has many trails going through a variety of habitats including many different sections of the White Sand Forest, Varzea and Terra Firme. Birds are plentiful and we can expect to see good numbers each day. The following list is a sample of other birds this under birded area could produce. Black-faced Hawk, Harpy Eagle, Red-throated Caracara, Black Caracara, Scarlet Macaw, Red-bellied Macaw,

Maroon-tailed Parakeet, Dusky-billed Parrotlet, Cobalt-winged Parakeet, Black-headed Parrot, Orange-cheeked Parrot, Paradise Jacamar, Yellow-billed Jacamar, Great Jacamar, Pavonine Quetzal, Amazonian Umbrellabird, Chestnut-capped Puffbird, Spotted Puffbird, Rusty-breasted Nunlet, Spot-throated Woodcreeper, Lemon-throated Barbet, Rufous-capped Antthrush, Thrush-like Antpitta, Chestnut-belted Gnateater, Fasciated Antshrike, Blackish-gray Antshrike, Pearly Antshrike, Amazonian Antshrike, Dusky-throated Antshrike, Cinereous Antshrike, Rufous-tailed Antwren, Pygmy Antwren, Plain-throated Antwren, White-flanked Antwren, Long-winged Antwren, Gray Antwren, Ash-winged Antwren, Gray Antbird, Dusky Antbird, White-browed Antbird, Black-faced Antbird, Black-chinned Antbird, Silvered Antbird, Black-throated Antbird, Bicolored Antbird, Scale-backed Antbird, Pale-bellied Mourner, Citron-bellied Attila, Gould's Jewelfront, Collared Gnatwren, Guianan Gnatcatcher, Cinnamon Tyrant-Manakin, Rusty-fronted Tody-Flycatcher, Yellow-browed Tody-Flycatcher, Brown-headed Greenlet, Musician Wren, Short-billed Honeycreeper, Paradise Tanager, Opal-rumped Tanager, Opal-crowned Tanager, Yellow-bellied Dacnis, White-bellied Dacnis, Moriche Oriole and Plumbeous Euphonia.
5 nights Mitu (B,L,D)

Day 7 Mitu – Bogota – Chicaque – 17th March
Today we will check for any missing targets near town and then take a midday flight back to Bogota. As long as we have no delays we should have just enough time for a quick visit to Chicaque where our main target will be the Golden-bellied Starfrontlet which can now sometimes be seen coming into feeders around the lodge. Black Inca is pretty reliable and several other species here could include Silvery-throated Spinetail, Matorral (Pale-bellied) Tapaculo, Rufous-browed Conebill, Golden-fronted Redstart and Moustached Brush-Finch. Note the success of this visit will be very dependent on the traffic situuation, but nevertheless we will try.


Night Bogota (B,L,D)
Days 8 - 9 Bogota – Bucaramanga – Cerulean Reserve – 18th – 19th March
This morning we will take a flight to Bucaramanga, where we then have a long drive to reach our

destination a fabulous 545 acre forest, known as the Cerulean Warbler Bird Reserve. We will spend most of our time searching the Broad-leaf Forest which is a core wintering area for this rapidly declining warbler and haven for many other species of birds. Our targets here will include Gorgeted Wood-Quail, Cinnamon Screech-Owl, Black Inca, Chestnut-bellied Hummingbird, Indigo-capped Hummingbird, Parker's Antbird, White-bellied Antpitta, Long-tailed Tapaculo, Upper Magdalena Tapaculo, Yellow-throated Spadebill, Golden-winged Manakin, Yellow-browed Shrike-Vireo, Niceforo's Wren, Turquoise Dacnis and if time and weather permit we might get high enough to see Mountain Grackle. The Recurve-billed Bushbird also lives here but is very difficult, while other interesting birds should include Highland Tinamou, Lined Quail-Dove, Buff-tailed Coronet, Green-crowned Brilliant, Schwartz's Antthrush, Rusty-breasted Antpitta, Rufous-breasted Flycatcher, Black-bellied Wren, Bicolored Wren, Spectacled Parrotlet, White-tipped Swift, Moustached Puffbird, Chestnut-crowned Gnateater, Bar-crested Antshrike, Brown-billed Scythebill, Rufous-naped Greenlet, Golden-winged Warbler, Yellow-tufted Dacnis, Plumbeous-crowned Tyrannulet, Metallic-green Tanager, Yellow-backed Oriole and Black-headed Brush-Finch.
2 Nights Cerulean Reserve (B,L,D)


Days 10 - 11 Cerulean Reserve – Ocaña – 20th – 21st March


After some final birding in this wonderful reserve we will spend most of the day driving to our next destination of Ocaña. Here the small reserve of unique subtropical dry cloud forest offers the best chance to see the spectacular Recurve-billed Bushbird only recently rediscovered in Colombia. More easily heard than seen we will spend time in it's habitat of Bamboo. The forests here also contain several species that are restricted to eastern Colombia and parts of Venezuela, including Black-fronted Wood-Quail, Lazuline Sabrewing, Gray-throated Warbler, Black-headed Tanager, Stripe-breasted Spinetail, and Moustached Brush-Finch along with a good variety of other birds such as Chestnut-bellied Thrush, Speckled Tanager, Short-tailed Emerald, Moustached Puffbird, Bar-crested Antshrike, Rufous-naped Greenlet, Black-headed Brush-Finch, Lined Quail-Dove, Whiskered Wren and Orange-billed Nightingale-Thrush.
2 Night Ocaña (B,L,D)
Day 12 Ocaña – Bucaramanga – Bogota – 22nd March
We should have time for some last minute birding around the reserve before heading to Bucaramanga and our domestic flight to Bogota, which should arrive mid to late afternoon. For those leaving today make sure your international departing flight is late evening or if this is not possible we can arrange an extra night in Bogota. (B,L)
Hooded & Cundinamarca Antpitta extension:

Day 12 Ocaña – Bucaramanga – Bogota – 22nd March


For those continuing on to our Antpitta extension you will overnight in Bogota. (B,L,D)
Day 13 Monterredondo – 23rd March
Today we will drive about 2 hours out of Bogota to Monterredondo which has been designated an important bird area.This is upper montane cloud forest and is the preffered habitat of the critically endangered Cundinamarca Antpitta and our focus today is to try and see this prized and declining endemic. Aside from the sought after Antpitta we have chances for a variety of other species including Green-bellied Hummingbird, Crested Quetzal, Chestnut Woodquail, Cliff Flycatcher, Golden-winged Manakin and White-capped Tanager.We have very outside chance of both Greater Schythebill and Spectacled Prickletail but we would need to be very lucky.
We then return to Bogota and catch a domestic flight to the Central Andes. Night Bogota. (B,L,D)

Day 14 Bogota – Central Andes – 24th March
Today we will set off in search of one of Colombia's most sought after and mythical - the Hooded Antpitta.


We have all day to search for this incredibly rare and seldom seen species at a secret site only known by our guide Diego. You cannot see this bird on any other companies tour. Diego was the first person to ever get a photo and a video of this superb species in the wild. Since then he has made a number of successful trips and shown this bird to just a very few and very happy birders. Our timing is perfect, as this bird is only vocal for a short period of time during the year which gives us the very best chance of seeing it. With very little known about this bird it will be an absolute thrill to find and see it. Patience is required and sitting for long periods on the forest floor, coupled with drab coloured clothing and silence. There may well be a few distractions such as Stiles Tapaculo, Masked Saltator, Red-ruffed Fruitcrow, Chestnut Wood-quail and Cauca Guan but our real aim is to see Hooded Antpitta.
Night town in secret town in Central Andes (B,L,D)
Day 15 Central Andes – Bogota – End of Tour – 25th March
We will have half a day of birding before taking our flight from back to Bogota and our international flight home (B,L)
Leaders: Steve Bird, Gina Nichol & Diego Calderon.
With less than 6 participants it will be led By Diego only.
Ground Price: Main Tour: £3595.00 includes domest flights
Antpitta extension: £995.00 includes domestic flights
Airfare: £UK-UK Please note that flight costs can vary a lot on route taken and time of booking. Note all domestic flights are included in the tour itinerary. You only need to add your international flight.
Zoothera tour prices explained
Single supplement: Main Tour: £345.00
Hooded Antpitta: £165.00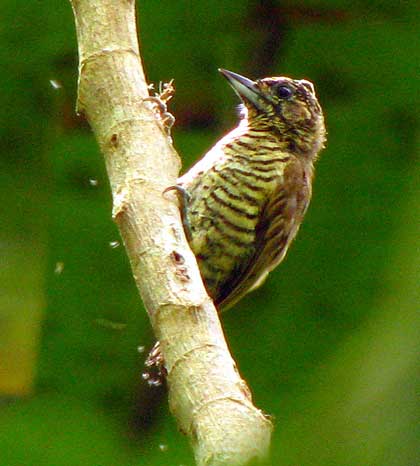 Deposit: £600.00

Group size: - minimum 6 and maximum 8
If group going on the Antpitta extension falls short of the minimum of 6 a small supplement may be required for it to be viable.
Included in cost: Domestic flights, Accommodation in twin rooms, mostly en-suite, some with shared facilities, all meals from dinner on 11th March to lunch on 22nd March, and if doing the extension dinner on 22nd March to Lunch on 25th March, drinks including up to 2 beers a day with meals, all transport, airport tansfers, all entrance fees, water, coffee and daily snacks and services of all leaders and local guides.
Not included: International airfare, additional night in Bogota on 22nd if needed by those only doing main tour and unable to get an evening return flight, insurance, drinks, tips, and items of a personal nature.

Accommodation: Our hotels and lodges vary in quality from excellent to rather basic, but all are within easy reach of the areas we wish to bird. Note that depending on how many single rooms requested these may not always be available in which case you will be required to share, especially as some accommodations have limited rooms. Note that where the temperature is generally warm to hot, most hotels and lodges do not offer hot water. They say they do not need it!

Tour Code: This is a focused birding tour with all day birding. Many of the areas we visit have been visited by few birders which is what makes this such an interesting tour. To see a good amount of endemics and specialities you need to be prepared for long days. We will generally begin with a 4.30am to 5.30am start and either have an early breakfast or take a picnic breakfast with us. Lunches will be either picnic or a restaurant depending on our schedule. All in all this works very well and maximises our birding opportunities. The weather can be variable at this time of year, so expect some cooler weather and warm weather. Note that birds are far more active in rain than in sunshine!

Receive our e-newsletter: Join the Zoothera e-mailing list for up-to-date news on new tours, tour reports and special offers.
Click Here to sign up.
Recommended Books, CD's and more from NHBS. Click on - Buy from NHBS - to go straight to website!
The air holidays and flights shown are ATOL protected by the Civil Aviation Authority. Our ATOL number is 10436.
Please see our Terms and Conditions for more information.